A lot happened on and about HIVE during the last 10 days or so, this was exciting, interesting and exhilarating for the blockchain users. Among many other things, most of that was because of raise in HIVE price. This increases the value of the rewards of all of the contests on HIVE.
Unfortunately, Lockdown is still in place in most parts of the world. Hopefully, you'd be utilizing this time at home in positive activities and creativity. Build-It's Weekly Contest is a chance for you to share them with the rest of us.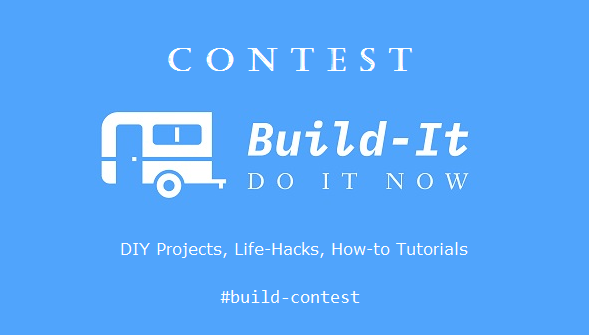 See RULES & REWARDS sections for the details of Upvotes and Rewards
Besides this WEEKLY CONTEST, a couple of Build-It's other initiatives in this regard are:
We believe all of these efforts will encourage the fellow HIVE Community Members to play their part in supporting, empowering, and strengthening the blockchain with their hard work, as well.

#Build-it is a community, born out of the need to empower and strengthen DIY (Do It Yourself) projects, How-to tutorials, and life hacks.

Among many others, Build-It was set up as a means to encourage and reward high-quality DIY Projects and How-to Tutorials.
We are among the first tribes that have completely moved to HIVE Blockchain. As we mentioned earlier, and we all agree on, HIVE Blockchain is our home now. Build-it.io's native token, BUILD, is available for trading on HIVE ENGINE BUILD as well, following is our announcement post:
Our Token "BUILD" Is Now Available On Hive-Engine!

CONTEST
Those, who are regular participants of Build-It Contest, know the details but those who are new to this Contest, please go through the details in RULES and REWARDS Sections carefully and follow all the rules and requirements, we don't want your hard put efforts to go in vain for any little mistake in following the rules and requirements.
DETAILS OF THE CONTEST:
Write a post or make a video in the following categories:
DIY Project: This must be your own original project.
How-to Tutorial: This is about what you are good at and others can learn a thing or two from you.
NOTE: Videos can be posted on 3Speak, but don't forget to use the recommended tag, also write a brief description and explanation of your project or tutorial.
---
Previous WINNERS

RULES:
Wherever necessary, include pictures/s to simplify the learning process in the written tutorial.
Only entries published from Build-It and/or Build-It Community Page are acceptable as the valid entries.
Use #build-contest as the first tag.
Re-hive/Re-blog this post for visibility and to get others (Friends & Followers) involved.
Share the link of your entry in the comment section of this post.
Cross-posting is highly prohibited. Please prepare your article as a new one and submit.
Follow our vote curation trial https://hive.vote/dash.php?trail=build-it&i=1 (optional)
Purchase our BUILD TOKENS FROM HIVE ENGINE https://hive-engine.com/?p=market&t=BUILD (optional)
END DATE: Submit your entries not later than 11:59 p.m. 8th May 2020 (GMT).

REWARDS:
@diverse and @Mobi72 will be the judges of this contest.
Thanks to @ashikstd, the top three (3) entrants will receive extra vote support from @minniowsupport, and @innerblocks as a tip for their hard work and also for adding value to the Hive ecosystem.

---
Are we adding value to the HIVE ecosystem? Consider delegating some HP to us to help influence our votes on these content creators. Or follow our curation trail (@build-it):
https://hive.vote/dash.php?trail=build-it&i=1
Please subscribe and post from our community page as well as using at least one of our tags ( #diy #how-to #build #build-it #doityourself) for extra vote support. Click HERE to subscribe and post on our community.
---
If you'd like to sponsor our weekly contest, please share with us how'd you want to support it in the comment section below.
Build-It.io Official Links:
Website: https://www.build-it.io/
Discord: https://discord.gg/DMz9Edq
Twitter: https://twitter.com/Buildit_DIY
Facebook: https://www.facebook.com/build.it.DIY.official
Instagram: https://www.instagram.com/build_it_now_official/
Telegram: https://t.me/build_it_diy
Reddit: https://www.reddit.com/r/Build_It/
Pinterest: https://www.pinterest.com/BuildIt_DIY/