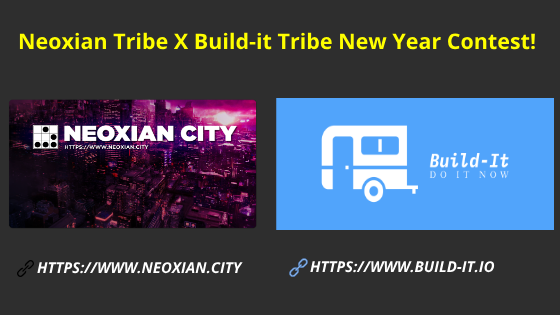 ---
Build-it and Neoxian City are bundling their powers and hosting a great contest!
In this New Years season, we want to support engagement and creativity, which is why we've collaborated with the Neoxian City Tribe to reward every valid contribution. The total prize pool contains 205 liquid steem, 1,950 BUILD tokens and 1,950 NEOXAG tokens in an attempt to make this a reality.
Extended deadline
Because we know that creativity (and writing) can't be forced, we decided to extend the deadline of this contest with two more weeks. This is to make sure that every DIY-er, How-to-er has enough time to find the needed inspiration, create the project and of course, to write the entry post about the project.
We realized that 1 week was too short for this, and we hope to see a lot of entries in the next two weeks.
New deadline: Tuesday February 4th, 23.59 CET
---
Some information about the Neoxian City tribe
If you ever visited the discord, you probably know that it's active almost 24/7. We have members active around the clock, making it an interesting tribe for a lot of people. The tribe was built by @neoxian, who is a well-known and respected Steem witness and runs a bank on our beloved blockchain as well.
Within the Neoxian City Tribe almost all content is allowed. Artists can share their art using the Neoxian tag, while writers can publish their posts as well. Spam, plagiarism, broadly offensive, threats of physical violence or scams are not allowed. More info about this tribe can be found here or visit the Neoxian City Discord Community.
Please take note that if you are planning on sharing your link in the post-promotion channels only, you are in the wrong place. A certain level of activity is expected by the members to be able to participate in giveaways and to share your content.

---
About the Build-it tribe
Build-it is a fairly new platform on the Steem blockchain born out of the need to empower and strengthen DIY (Do It Yourself) content, How-to tutorials and life hacks. Build-it was set up to encourage and reward high-quality DIY and How-to projects.
Our token "BUILD" is available on Steem-engine and Steemleo dex where you can exchange the token for Steem or (even better) stake your earned tokens. The tokens can be earned from curation as well. Our recommended tags are #diy, #build-it, #how-to, #doityourself, #build. We use our curation account @build-it.curator for curation and rewarding all valid DIY and How-to content and projects.
Use the Build-it frontend for all DIY and How-to tutorial projects and contents. For any question or assistance, visit Build-it's discord community

---
These two tribes are bundling their powers to host this contest
And this is a great opportunity for you to start sharing your DIY or How-to content and at the same time earn some nice Steem or other tokens as a prize. Not only will you be having fun creating something yourself, but you can also instantly monetize this project by publishing it on Build-it. Here's the original contest post where all instructions can be found as well. Of course, you can also read the info below:
We want every participant to create something from scratch, it could be anything as long as it is yours and not stolen or plagiarized. Having done that, you'll then document it in a single post or a video (both are accepted). Try to do it in a creative and engaging way, so others can interact with it.
Some cool ideas from the orginal contest post
*A recipe for any tasty dish of your choice
*Handmade Tealight cabin
*How to build a Christmas tree
*How to Make Orange Slice Ornaments
*How to Make Pipe Cleaner Christmas Ornaments
*Create a Unique Piece of Art Using Acrylic Pouring Technique
*Turning Concrete Floors Into Faux Wood With PAINT! And many more...
---
The prizes are worth it
Check out what you can win in this contest:
Both Neoxian and Build-it are contributing 92.5 liquid Steem each and 1950 NEOXAG and BUILD tokens respectively.
First place - wins 100 liquid STEEM + 1,000 staked BUILD tokens and 1,000 staked NEOXAG tokens.
Second place - wins 50 liquid STEEM + 500 staked BUILD tokens and 500 staked NEOXAG tokens
Third place - wins 25 Liquid STEEM + 250 staked Build tokens and 250 staked NEOXAG tokens
Fourth place - wins 10 Liquid STEEM - 100 staked BUILD tokens and 100 staked NEOXAG tokens
Fifth place - Wins 100 staked BUILD tokens and 100 staked NEOXAG tokens respectively.
---
As in any contest, you have to follow a few rules:
Participants MUST have staked BUILD or NEOXIAN (at least 10 staked tokens each) tokens in order to participate in this contest. Tokens can be bought at Steem Engine and Steem Leo Dex.
Document your article in a step-by-step format using original pictures in an understandable way.
Use Build-It frontend or Neoxian-city to publish your post. Both are accepted.
Use #build-contest or #neoxian-contest as your first tag.
Share the link to your post in the comment section of this post. (Note: entries that left the comment on the original contest announcement will count as well)
The first 20 Resteems Of the original contest post will be rewarded with 1 liquid STEEM each from @build-it.
Tag anybody you know will be interested in this contest and get a small upvote on your comment.
You have to stake at least 10 BUILD tokens to participate in the future contests (NOTE: This rule is not valid for the first time participation).
Submit your entries Tuesday February 4th, 23.59 CET.
The Judges of this contest are Just Nouks(#5753), Diverse(#0730), Neoxian(#3936) & Raymondspeaks(#3164).
---
Happy DIY-ing! And good luck in the contest!

Accounts to keep tabs with on Steemit
Accounts to keep tabs with outside Steemit
---
Are we adding value to Steem platform? Consider delegating Steem power to us to keep rewarding this amazing DIY and How-to contents:
100 SP | 1,000 SP | 5,000 SP | 10,000 SP | 50,000 SP | 100,000 | 500,000 SP | 1,000,000 SP

It is our pleasure to bring you SteemNavi, our second initiative after Build-It.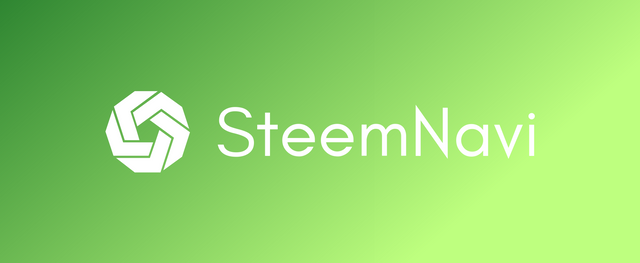 SteemNavi is a springboard site to help you navigate the STEEM ecosystem with ease.
---
Build-It information and resources