Feliz y Bendecido día!!! Agradecida con el universo un nuevo día para escribir!!! De esta manera nos entretenemos en estos días de cuarentena y a la vez aprendemos algo nuevo hoy es un tutorial de una delicada flor realizada con cinta que recicle de los demás lazos espero sea de su agrado esta explicado en una secuencia de imágenes e tratado de explicarlo de una manera sencilla para que todos puedan atreverse a hacerlo es fácil si sigues los pasos, en dado caso que tengas una duda escríbeme estaré feliz de ayudarte, puedes dejar un comentario tal vez tu duda también sea la de alguien mas y así nos vamos ayudando. todos los materiales son de fácil acceso los encuentras en las mercerías.
Me e propuesto realizar un tutorial diario, los de Soutache son mas largos tal vez los haga en dos partes para que no se vuelvan tediosos por que en el texto son largos aunque en la practica son muy didácticos y prácticos de todas maneras me gustaría saber que opinan o que te gustaría aprender mas seguido.
Happy and Blessed day !!! Grateful to the universe a new day to write !!! In this way we entertain ourselves in these days of quarantine and at the same time we learn something new today is a tutorial of a delicate flower made with tape that recycles from the other ties I hope it is to your liking is explained in a sequence of images and tried to explain it A simple way for everyone to dare to do it is easy if you follow the steps, in case you have a question write me I will be happy to help you, you can leave a comment maybe your question is also someone else's and so we are helping each other. all the materials are easily accessible you find them in the haberdashery. I have proposed to carry out a daily tutorial, Soutache's are longer, maybe I will do them in two parts so that they do not become tedious because in the text they are long although in practice they are very didactic and practical anyway I would like to know that think or that you would like to learn more often.

Agradezco al Universo por este nuevo día de trabajo. Realmente creo que en esta vida todos somos maestros, en algunos casos nos toca ser los alumnos, y en otros los maestros de alguien más, siempre lo que resistimos persiste en nuestra vida, en la vida tendremos muchos obstáculos, personas que no nos agradan pero estamos allí para enseñar algo, así como a veces llegaran personas que serán como una hermosa y cálida luz que nos alumbran la vida y nos guían por el camino que debemos ir, ubícate en lo que quieras, y con lo que has aprendido lucha y sigue adelante
Espero les guste a todos ustedes con estos tutoriales intento encender esa llama creativa que todos tenemos, que esto sea solo un eslabón para que se prenda tu creatividad y le des ese toque personal que eres tú.
I thank the Universe for this new day of work. I really believe that in this life we are all teachers, in some cases we have to be the students, and in others we are someone else's teachers, always what we resist persists in our life, in life we will have many obstacles, people who do not like us but We are there to teach something, just as sometimes people will come who will be like a beautiful and warm light that illuminates our lives and guides us along the path that we must go, locate yourself in what you want, and with what you have learned fight and continue forward
I hope you all like it with these tutorials I try to light that creative flame that we all have, that this is just one link for your creativity to catch on and give it that personal touch that is you.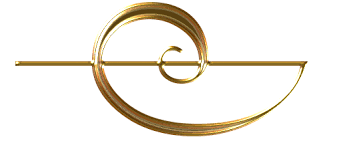 MATERIALES:
Cinta razo 1 centímetro de ancho por 42 centímetros de largo
Cinta razo 2.5 centímetros de ancho por 42 centímetros de largo
2 Apliques plano de 1 centímetro de diámetro
6 Piedras tipo perla de 4 milímetros cada una
Aguja e Hilo
Encendedor
2 Gancho para el cabello tipo caimán
Tela gruesa o fieltro
Silicon en barra
Tijera
Amor, coraje y paciencia ... ¡Paso a paso aprenderemos!
MATERIALS:
Tape tape 1 centimeter wide by 42 centimeters long
Razo tape 2.5 centimeters wide by 42 centimeters long
2 Applique flat 1 centimeter in diameter
6 pearl stones of 4 millimeters each
Needle and thread
Lighter
2 Alligator Hair Hook
Thick fabric or felt
Silicon stick
Scissors
Love, courage and patience ... Step by step we will learn!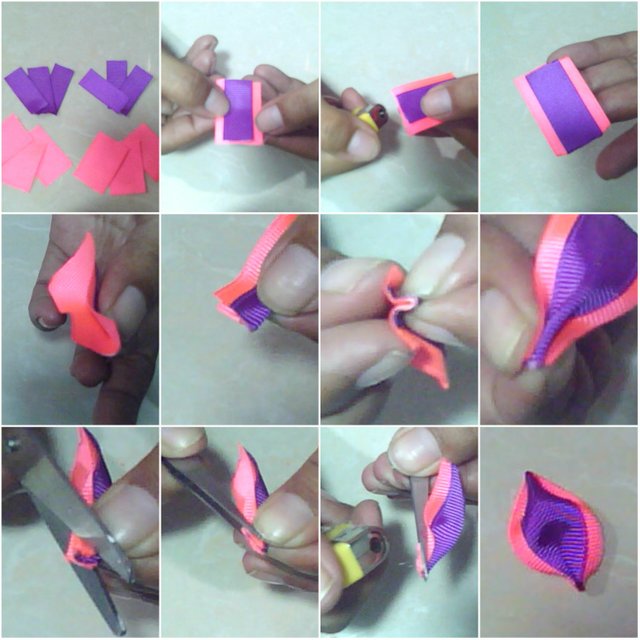 PASO 1: Para hacer una flor cortar 6 piezas de 1 centímetro de ancho por 3.5 centímetros de largo y 6 piezas de 2.5 centímetros de ancho por 3.5 centímetros de largo, coloca una sobre otra como te muestro en la imagen 2 quemar las puntas con el encendedor ahora debemos doblar una de las puntas a la mitad, hacia abajo luego volver a doblarlas hacia arriba como ves en la foto 7 agárralas con fuerza y cortar en diagonal por abajo aproximadamente 3 milímetros, puedes agarrar con la pinza y quemar con el encendedor, en la otra punta doblarlas hacia arriba y quemar con el encendedor para que se peguen, realiza estos pasos para realizar los 6 pétalos.
STEP 1: To make a flower cut 6 pieces 1 centimeter wide by 3.5 centimeters long and 6 pieces 2.5 centimeters wide by 3.5 centimeters long, place one on top as you I show in image 2 burn the tips with the lighter now we must fold one of the tips in half, downwards then fold them up again as you see in photo 7 hold them tight and cut diagonally below about 3 millimeters, you can grab with the tongs and burn with the lighter, at the other end fold them up and burn with the lighter so that they stick together, follow these steps to make the 6 petals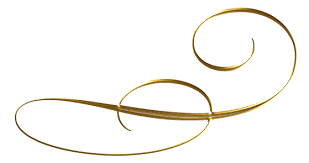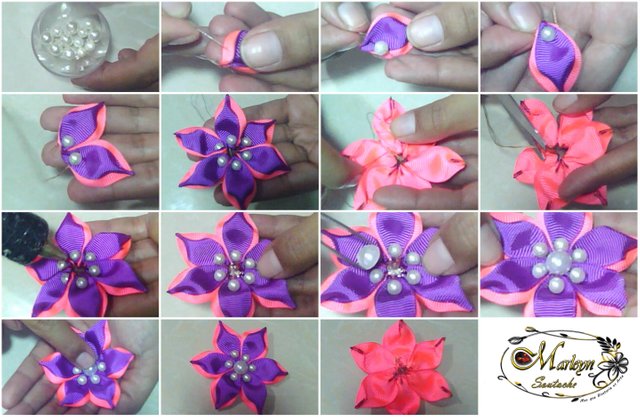 PASO 2: primero coloca la pistola de silicon a calentar. Ahora vamos a cocer los pétalos, con una aguja e hilo... Con cuidado introduce la aguja al primer pétalo ahora introducir una perla de 4 milímetros en la aguja y volver a pasar la aguja por el otro lado del pétalo para que la perla quede en el centro del pétalo realiza este mismo proceso en los siguientes 5 pétalos al terminar cocer por atrás y cortar el hilo sobrante, ya con la pistola de silicon pre calentada coloca una gota de silicon caliente en el centro del pétalo y con ayuda de la pinza pegaremos el aplique plano de 1 centímetro de diámetro en el centro, ahora realiza un poco de presión para que se fije bien, por atrás puedes colocarle un poco mas de silicon para rellenar el espacio que queda abajo.
STEP 2: First place the silicone gun to heat. Now we are going to cook the petals, with a needle and thread ... Carefully insert the needle into the first petal, now insert a 4 mm pearl into the needle and pass the needle through the other side of the petal so that the pearl remains In the center of the petal, carry out this same process on the following 5 petals when you finish cooking from behind and cut the excess thread, using the pre-heated silicone gun, place a drop of hot silicone in the center of the petal and with the help of the clamp We will glue the flat applet of 1 centimeter in diameter in the center, now apply a little pressure to make it secure, you can put a little more silicone on the back to fill the space below.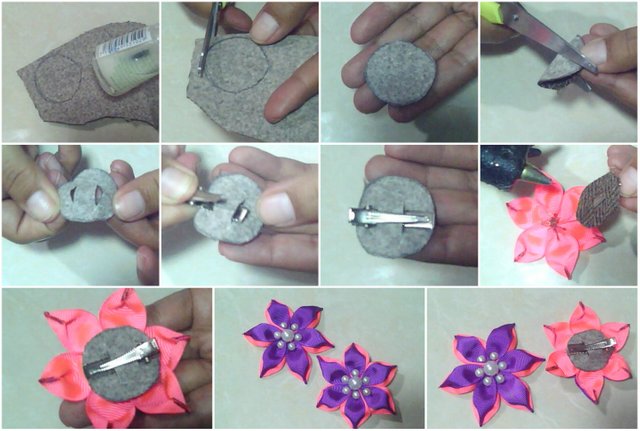 PASO 3: Con ayuda de una pintura de Uñas realice un diámetro de 2.4 centímetros en un trozo de tela gruesa, con cuidado cortarlo y doblarlo por la mitad para realizar 2 cortes debe quedar como te muestro en la imagen numero 5 ahora el gancho para cabello tipo caimán introducirlo por adentro de la tela que acabamos de cortar ahora colocar silicon caliente por encima y pegarlo a la flor que ya realizamos de esta manera tenemos listo nuestra delicada y hermosa flor realiza los mismos pasos para hacer la otra y así tener el par se vera hermoso en el cabello.
STEP 3: With the help of a nail paint make a diameter of 2.4 centimeters on a piece of thick fabric, carefully cut it and fold it in half to make 2 cuts should be as shown in the image number 5 now the hook for alligator hair insert it inside the fabric that we have just cut now place hot silicone on top and stick it to the flower that we already made in this way we have our delicate and beautiful flower ready perform the same steps to make the other and thus have the pair will look beautiful in the hair.


Si tienes una duda escríbeme un comentario, estaré feliz de ayudarte con cualquier detalle, Espero que mis diseños les gusten tanto como a mí me gusta, aprendan con placer ...!

Nunca olvides que el Poder es Querer y si quieres Puedes...
Eres Luz eres Energía, TU PUEDES ... Que el universo infinito Conspire para que todo siempre sea mejor ... Se les quiere ...

Venezuela FE
Somos Seres Abundantes! Qué las energías del universo vibren en sintonía con las de cada uno de nosotros en armonía! Cuidemos nuestras palabras, acciones y pensamientos!
If you have a question, write me a comment, I will be happy to help you with any details, I hope you like my designs as much as I like, learn with pleasure ...!

Never forget that Power is Wanting and if you want you can ...
You are Light, you are Energy, YOU CAN ... May the infinite universe Conspire so that everything is always better ... They are loved ...

Venezuela FAITH
We are Abundant Beings! May the energies of the universe vibrate in tune with those of each of us in harmony! Let's take care of our words, actions and thoughts!