Feliz y Bendecido día, E realizado un tutorial de un pequeño lazo de flor con cinta de organza echo a mano con mucha paciencia y amor Espero se diviertan realizándolo así como yo, lo e explicado paso a paso en una secuencia de imágenes e tratado de explicarlo de manera sencilla para que todos puedan atreverse a hacerlo es fácil si sigues los pasos, en dado caso que tengas una duda escríbeme estaré feliz de ayudarte, lamento haber perdido la continuidad diaria no tenia Internet...
Happy and Blessed day, E made a tutorial of a small flower bow with organza ribbon hand made with a lot of patience and love I hope you have fun doing it just like me, I explained it step by step step in a sequence of images and tried to explain it in a simple way so that everyone can dare to do it is easy if you follow the steps, in case you have a question write me I will be happy to help you, I regret that I lost the daily continuity I did not have the Internet. ..
La motivación es lo que te pone en marcha, el hábito es lo que hace que sigas (Jim Ryun) ...
Motivation is what gets you going, habit is what keeps you going (Jim Ryun) ...

Materiales para el par de lazos:
Cinta de Organza 2.5 centímetros de ancho por 3 metros de largo color de su elección
Circulo de tela gruesa de 3.5 centímetros de diámetro
Silicon en Barra
2 Aplique plano color de su elección
par de Gancho para el cabello tipo caimán
Encendedor
Pinza punta fina
Amor, coraje y paciencia ... ¡Paso a paso aprenderemos!
Materials for the pair of ties:
Organza ribbon 2.5 centimeters wide by 3 meters long color of your choice
3.5 cm diameter thick cloth circle
Silicon in Barra
2 Apply flat color of your choice
Pair of Alligator Hair Hook
Lighter
Fine nose pliers
Love, courage and patience ... Step by step we will learn!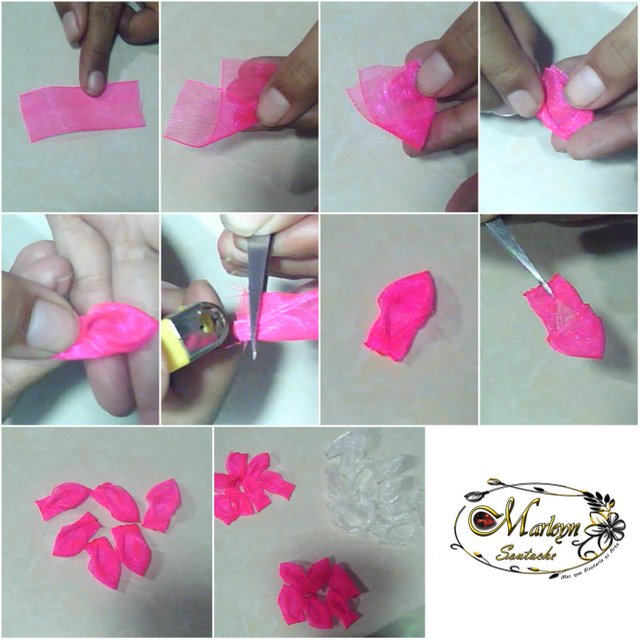 PASO 1: Con amor y animo comencemos, en este primer paso te explicare como hacer los pétalos, esta flor consta con 3 etapas para la parte de abajo son 10 pétalos de 8 centímetros cada uno, para la segunda etapa o el medio son 7 pétalos de 6 centímetros cada uno y la parte de arriba son 6 pétalos de 5 centímetros cada una. Con e encendedor quemaras ambas puntas y doblaras en diagonal la cinta como te muestro en la imagen 2 y ahora volverás a doblar la cinta hacia adentro que quede una parte arriba de otra como ves en la imagen 3, al llegar al a esta etapa vas a doblar cada punta de abajo hacia adentro sostenerlo con la pinza y quemar con el encendedor para sellar quedara como ves en las dos ultimas imágenes es fácil todo esta en la practica. Realiza este mismo proceso en todos los pétalos.
STEP 1: With love and encouragement let's begin, in this first step I will explain how to make the petals, this flower consists of 3 stages for the bottom part are 10 petals of 8 centimeters each, for the second or middle stage there are 7 petals of 6 centimeters each and the upper part is 6 petals of 5 centimeters each. With the lighter you will burn both ends and bend the tape diagonally as I show you in image 2 and now you will fold the tape back in so that it remains one part above the other as you see in image 3, when you reach this stage you will bend each end from the bottom inwards hold it with the tweezers and burn with the lighter to seal it will be as you see in the last two images it is easy everything is in practice. Carry out this same process on all the petals.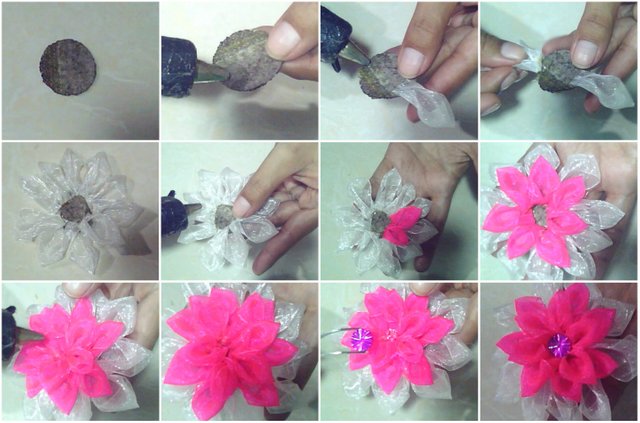 PASO 2: Enciende la pistola de silicon, en el circulo vamos a comenzar a pegar los pétalos grandes yo los realice en dos tonos para mostrarte el proceso y no se confundan, Comienza con una gota de silicon caliente en el circulo de tela gruesa, allí pegaremos el primer pétalo de nuestra flor, coloca otra gota de silicon y pega el segundo pétalo justo frente al que pegaste de primero para que estos dos te ayuden a llevar un orden una guía y así sigue pegando cada pétalo uno a uno hasta completar los 10 de abajo, al terminar vamos a pegar los 7 pétalos siguientes de 6 centímetros cada uno estos los vas a pegar en el medio de los pétalos que ya colocamos abajo, al finalizar realiza el mismo proceso con los 6 pétalos siguientes,al terminar de pegar los pétalos colocar una gota de silicon caliente en el centro y con cuidado colocar el aplique que elegiste.
STEP 2: Start the silicone gun, in the circle we are going to start gluing the large petals and I made them in two tones to show you the process and do not get confused, Start with a drop of hot silicone in the circle of thick fabric, there we will glue the first petal of our flower, place another drop of silicone and glue the second petal right in front of the one you glued first so that these two help you bring an order a guide and so on gluing each petal one by one until completing the 10 below, at the end we will glue the next 7 petals of 6 centimeters each, these will be pasted in the middle of the petals that we already placed below, at the end carry out the same process with the next 6 petals, when you finish gluing the petals, place a drop of hot silicone in the center and carefully place the applique you chose.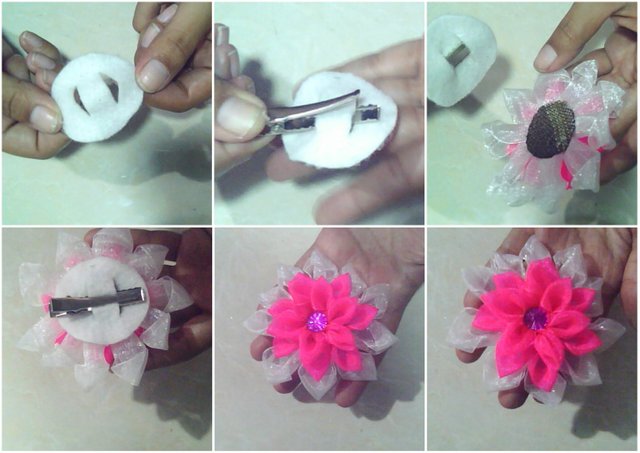 PASO 3: Cortar un segundo circulo de tela gruesa o fieltro del color mas parecido a las cintas del lazo realizar dos cortes en el centro como te muestro en la primara imagen por el medio introducir el gancho tipo caimán arriba colocar silicon caliente por todo el circulo, proceder a pegarlo sobre el lazo que armaste en el paso anterior de esta manera hemos terminado, repite los pasos para que realices el par de lazos espero te guste tanto como me gusto hacer este tutorial para ti.
STEP 3: Cut a second circle of thick fabric or felt of the color most similar to the ribbons of the bow make two cuts in the center as I show you in the first image through the middle insert the hook alligator type top place hot silicone around the circle, proceed to stick it on the bow that you assembled in the previous step in this way we have finished, repeat the steps so that you make the pair of ties I hope you like it as much as I liked doing this tutorial to you.

"Dime y lo olvido, enséñame y lo recuerdo, involúcrame y lo aprendo".
Benjamin Franklin.

Si tienes una duda escríbeme un comentario, estaré feliz de ayudarte con cualquier detalle, Espero que mis diseños les gusten tanto como a mí me gusta, aprendan con placer ...!

Nunca olvides que el Poder es Querer y si quieres Puedes...
Eres Luz eres Energía, TU PUEDES ... Que el universo infinito Conspire para que todo siempre sea mejor ... Se les quiere ...

Venezuela FE
Somos Seres Abundantes! Qué las energías del universo vibren en sintonía con las de cada uno de nosotros en armonía! Cuidemos nuestras palabras, acciones y pensamientos!
If you have a question, write me a comment, I will be happy to help you with any details, I hope you like my designs as much as I like, learn with pleasure ...!

Never forget that Power is Wanting and if you want you can ...
You are Light, you are Energy, YOU CAN ... May the infinite universe Conspire so that everything is always better ... They are loved ...

Venezuela FAITH
We are Abundant Beings! May the energies of the universe vibrate in tune with those of each of us in harmony! Let's take care of our words, actions and thoughts!