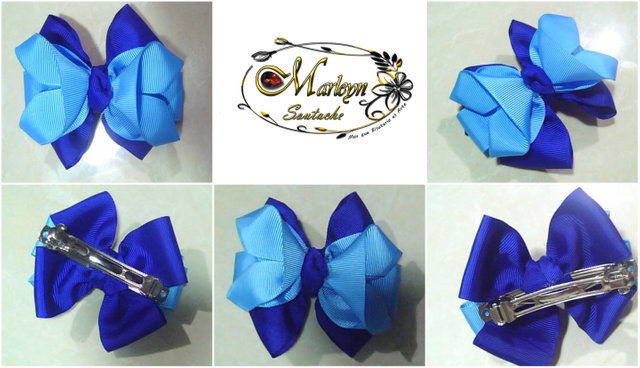 Feliz y bendecido día, este día les mostrare un lazo, diferente Te animo a que lo intentes es super fácil y didáctico queda hermoso y lo mejor esta echo a mano, este lazo es sencillo todos los materiales son de fácil acceso estos tutoriales los realizo con amor y con ese mismo amor y entusiasmo te enseño lo poco que se con mi toque personal y mis ganas de ayudar, así como también es una forma de distraer la mente en estos días de incertidumbre dejando todo en manos de Dios, este tutorial lo e realizado paso a paso explicado en una secuencia de imágenes e tratado de explicarlo de manera sencilla para que todos puedan atreverse a hacerlo es fácil si sigues los pasos, en dado caso que tengas una duda escríbeme estaré feliz de ayudarte.
Happy and blessed day, this day I will show you a bow, different I encourage you to try it, it is super easy and didactic it looks beautiful and the best is done by hand, this bow is simple all Materials are easily accessible, these tutorials are made with love and with that same love and enthusiasm, I teach you how little I know with my personal touch and my desire to help, as well as being a way to distract the mind in these days of uncertainty, leaving everything in the hands of God, this tutorial I have done step by step explained in a sequence of images and tried to explain it in a simple way so that everyone can dare to do it is easy if you follow the steps, in case you have a question write me I will be happy to help you.

MATERIALES para el par de Lazos:
Cinta razo 2.5 centímetros de ancho por 122 centímetros de largo
Cinta razo 4 centímetros de ancho por 80 centímetros de largo
Hilo y Aguja
Gancho para el cabello
Silicon en barra
Tijera
Encendedor
Amor, Animo y paciencia ... ¡Paso a paso aprenderemos!
MATERIALS for the pair of Ties:
Razo tape 2.5 centimeters wide by 122 centimeters long
Tape tape 4 centimeters wide by 80 centimeters long
Thread and Needle
Hairpin
Silicon stick
Scissors
Lighter
Love, courage and patience ... Step by step we will learn!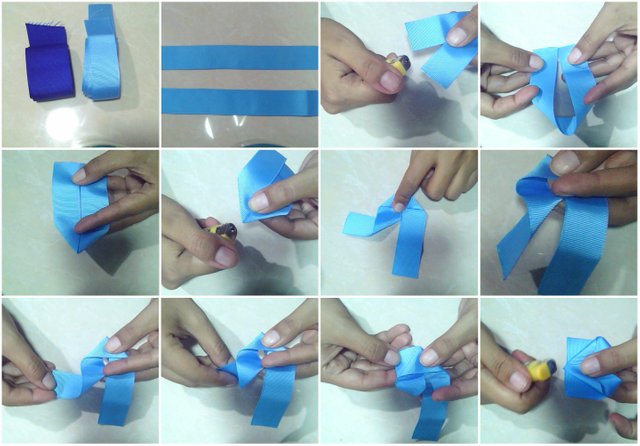 PASO 1: Cortar 2 tiras de 19 centímetros cada una, con el encendedor quemar las puntas y ahora vamos a doblarlas como muestro en la imagen 4, verificar que las puntas estén al mismo tamaño, quemar un poco la punta como ves en la imagen 6 ahora doblar hacia afuera una de las cintas y luego hacia adentro, realiza lo mismo en la otra cinta al realizarlo quema un poco la punta para que quede así mira la secuencia de imágenes para un mejor entendimiento.
STEP 1: Cut 2 strips of 19 centimeters each, with the lighter burn the tips and now we are going to fold them as shown in image 4, verify that the tips are the same size, burn slightly the tip as you see in image 6 now fold out one of the tapes and then inward, do the same on the other tape when doing it burns the tip a little so it looks like this look at the sequence of images for a better understanding .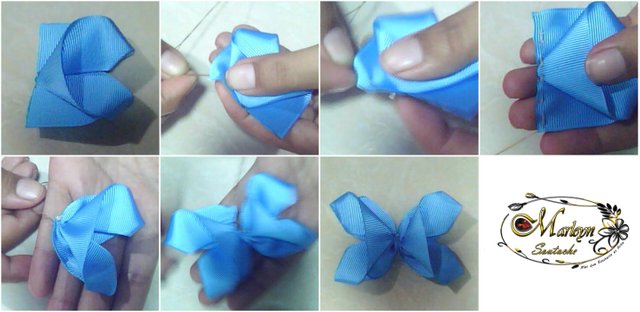 PASO 2: El paso anterior realizarlo 2 veces para la parte superior del lazo, Ya en esta etapa vamos a coser la cinta por toda la orilla con cuidado uniendo las dos partes que ya fabricamos.
STEP 2: Carry out the previous step 2 times for the top part of the loop. At this stage we are going to sew the tape all over the edge carefully, joining the two parts that we already made.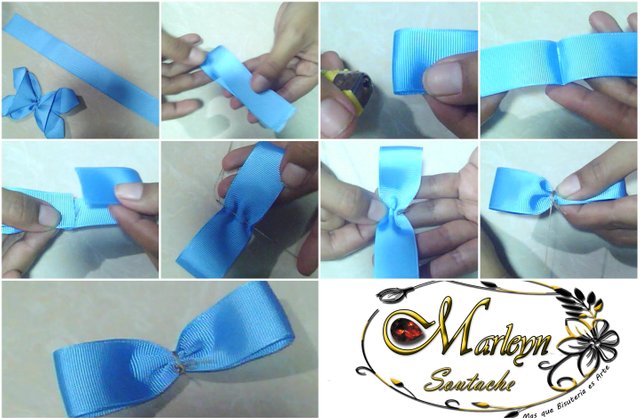 PASO 3: Cortar una tira de 20 centímetros de largo, doblarlo por la mitad, coloca por un momento la llama del encendedor y realiza presión con los dedos para que se marque, abrir la cinta y ahora doblar mitad y mitad como te muestro en la imagen 5, cocer con cuidado enrollar el hilo realiza un amarre y listo
STEP 3: Cut a strip 20 centimeters long, fold it in half, place the lighter flame for a moment and apply pressure with your fingers to mark it, open the tape and now fold half and half as I show you in image 5, cook carefully, wind the thread, make a tie and ready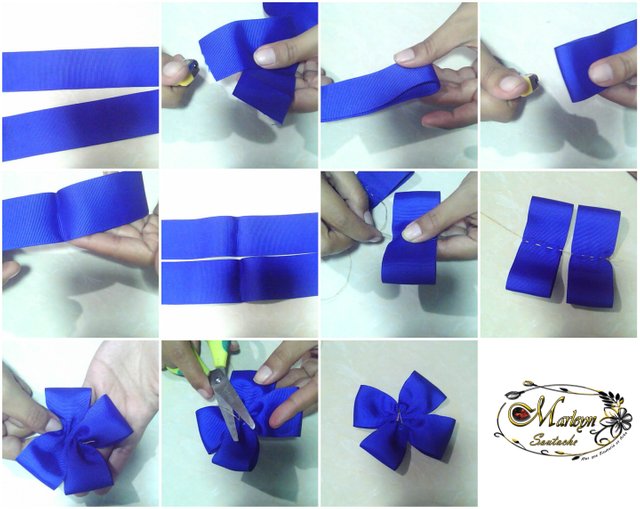 PASO 4: Cortar 2 tiras de 20 centímetros de largo por 4 centímetros de ancho cada una, con el encendedor quemar las puntas, doblarlas por la mitad realizando el mismo proceso que el paso anterior paso paso cocer ambas cintas con el mismo hilo, halar y coser te quedara como te muestro en la ultima imagen.
STEP 4: Cut 2 strips 20 centimeters long by 4 centimeters wide each, with the lighter burn the tips, fold them in half by performing the same process as the previous step step step sewing both ribbons with the same thread, pulling and sewing will fit you as shown in the last image.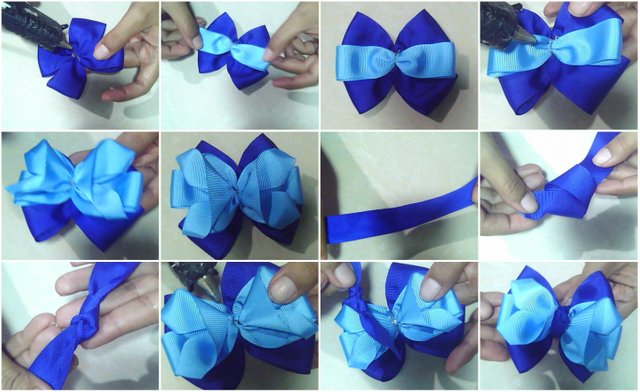 PASO 5: Ya casi terminamos. Vamos a armar lo que ya hemos fabricado pre calienta la pistola de silicon para su uso, en la parte de abajo estará el lazo doble azul oscuro que se hizo en el paso 4, coloca un poco de silicon y pegar sobre este el lazo que se fabrico en el paso 3, ahora volveremos a colocar unas gotas de silicon caliente y pegaremos el lazo que se realizo en el paso 1. tomaremos el restante de la cinta de 2.5 centímetros de ancho por 5 centímetros de largo aproximadamente y realizar un amarre sencillo y apretarlo ahora en el centro del lazo y justo en el centro donde quedo el amarre pegarlo sobre el lazo, como te muestro en las imágenes.
STEP 5: We're almost done. We are going to assemble what we have already made preheat the silicone gun for use, at the bottom there will be the dark blue double bow that was made in step 4, place a little silicone and paste on it the loop that is I made in step 3, now we will put back a few drops of hot silicone and we will glue the loop that was made in step 1. We will take the remaining tape of 2.5 centimeters wide by 5 centimeters long and make a simple tie and Now tighten it in the center of the loop and right in the center where the tie remains, paste it on the loop, as I show you in the images.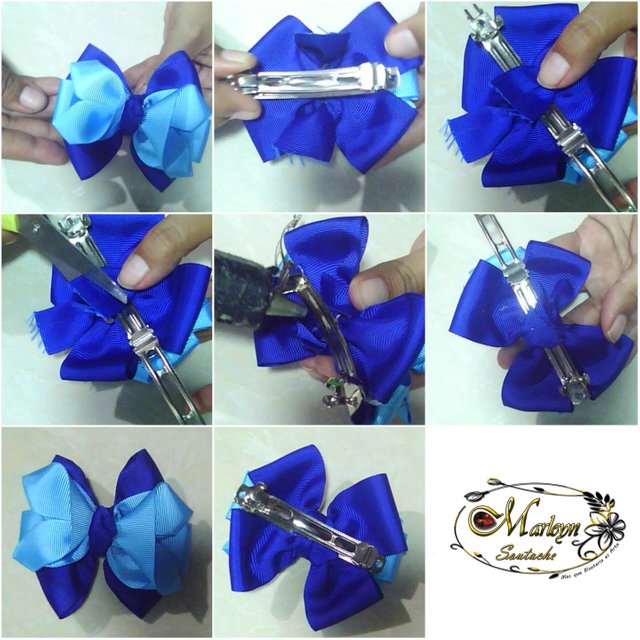 PASO 6: Ya casi esta listo ahora vamos a pegar el gancho por la parte de atrás del lazo, coloca un poco de silicon caliente en el gancho y pegarlo, halar hacia atrás la cinta que pegaste en el centro y marcar hasta donde debe llegar con cuidado cortar la cinta sobrante y quemar las puntas con el encendedor colocar silicon caliente y pegar sobre el gancho de esta manera le das mas resistencia para que no se suelte fácilmente y así listo hemos terminado, repite estos pasos para realizar el otro lazo y tener el par d seguro te quedara hermoso!
STEP 6: You are almost ready now we are going to glue the hook on the back of the loop, put some hot silicone on the hook and glue it, pull back the tape you glued in the center and mark how far it should go carefully cut the excess tape and burn the tips with the lighter place hot silicone and paste on the hook in this way you give more resistance so that it does not come off easily and so we are done, repeat These steps to make the other loop and have the pair d for sure will be beautiful!


Si tienes una duda escríbeme un comentario, estaré feliz de ayudarte con cualquier detalle, Espero que mis diseños les gusten tanto como a mí me gusta, aprendan con placer ...!

Nunca olvides que el Poder es Querer y si quieres Puedes...
Eres Luz eres Energía, TU PUEDES ... Que el universo infinito Conspire para que todo siempre sea mejor ... Se les quiere ...

Venezuela FE
Somos Seres Abundantes! Qué las energías del universo vibren en sintonía con las de cada uno de nosotros en armonía! Cuidemos nuestras palabras, acciones y pensamientos!
If you have a question, write me a comment, I will be happy to help you with any details, I hope you like my designs as much as I like, learn with pleasure ...!

Never forget that Power is Wanting and if you want you can ...
You are Light, you are Energy, YOU CAN ... May the infinite universe Conspire so that everything is always better ... They are loved ...

Venezuela FAITH
We are Abundant Beings! May the energies of the universe vibrate in tune with those of each of us in harmony! Let's take care of our words, actions and thoughts!