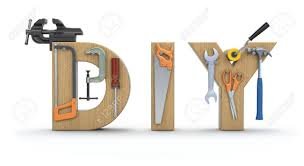 Do you ever get into a mood where you just feel like build something? Is there anything better than creating something out of nothing? Idk, maybe you are more creative than me, I can't paint, or draw or play guitar, but what I can do is build things. And since @build-it is doing a Do It Yourself (DIY) contest giving away 1750 Build tokens I figured I'd show off my DIY skills. If you are interested in participating in the contest click here for link.
I learned to build early on in childhood, I was only 10 years old when I got my first power tool. My dad was always incredibly busy when I was growing up so I begged him to teach me construction so I could help him with projects, which ultimately meant I got to spend more time with him. By the time I could drive I had learned everything I needed to build a house from the ground up.
But as I got older life happened, I joined the military, found different hobbies (like drinking and drugs LoL) so I stopped building things as an adult. Fast forward 15 years, I am now a disabled veteran who owns a home and has entirely way to much time on his hands, so I figured it was a good time to get a hobby to keep me busy. Then I remembered how much I use to enjoy building things and that got me thinking about all the projects that needed to be done around the house. Finally, I could put my skills to use for something important.
Since I hadn't built anything all by myself in a while I wanted to start with a project that wasn't too complicated, so I decided to go with a wood privacy fence around the yard. Sure putting up a fence is a big project, but it's not a hard one, it's actually pretty basic, to be honest. I just needed a plan of attack, so I made a drawing and I wrote down a list of tools and materials I needed to complete the job get the job started.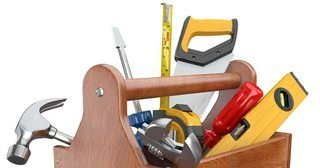 Tools needed:
Shovel
Posthole digger
Power Screwdriver
Miter Saw
Skill Saw
Tape Measure
Level
Twine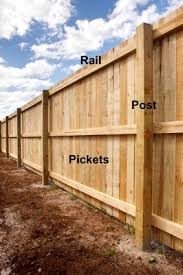 Materials Needed:
Cement (quick-dry)
Screws - 3-1/2" and 1-3/4"
4"x4"x8' Wood Posts
2"x4"x8' Wood Rails
6' Fence Pickets
---
Getting Started:
The first thing you want to do when you are starting a big project is to prepare the area you are going to be working in. You have to clear away any obstructions, then measure and lay down a guideline to make sure your fence will be straight. Take your time getting this right because it will save you a bunch of headaches later on. Mark every 8' foot on center so you know where to place your posts.
Breaking Ground: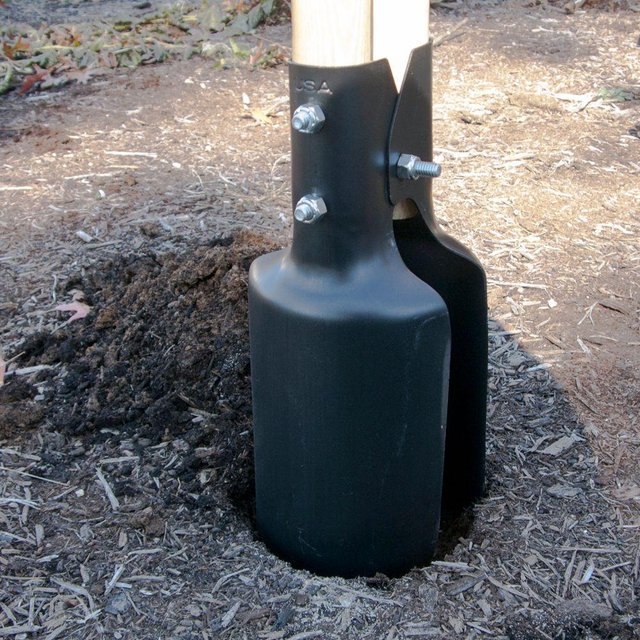 Now the manual labor (and fun) begins! LoL. First, you have to dig holes every 8 foot (on center) for the posts, make sure your measurements are correct (my dad always said "measure twice, cut once").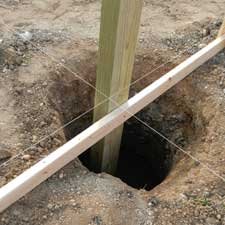 I used twine, a tape measure and boards to make sure the holes were perfectly in place and to make sure all measurements are perfect.
Being just a few inches off can really make a mess of things because your rails won't fit properly to the post.
You will most likely want to start with a spearheaded shovel to break ground especially if you have grass, but ultimately you will need a post hole digger so you can get the posts down deep enough to be sturdy while holding up a heavy wood fence. I would say at least 2 feet deep.
---
Post Up: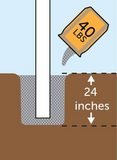 Once the hole is dug you will need to place a 4"x4"x8' post in it. To make sure the post stays level (on multiple sides) you will need to brace it with 2"x4"s and a few screws.
After it is level (on all sides), add a quick-set concrete mix and water. Let the cement dry for at least 1 hour while you move on to the next post hole(s).
---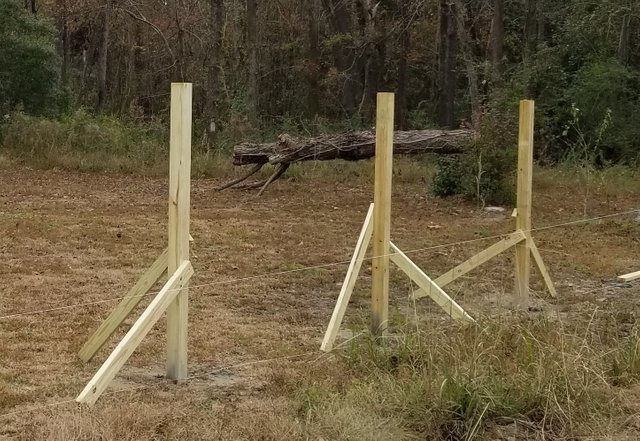 ---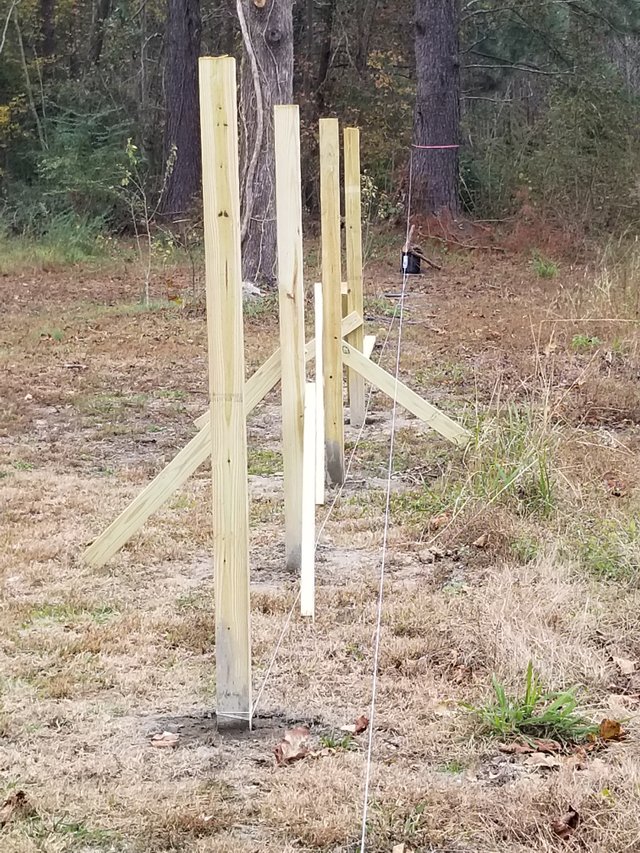 ---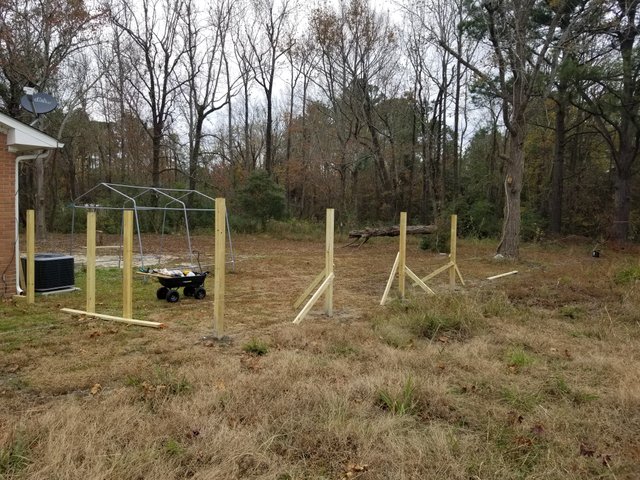 ---
After the posts are placed, level and the cement is good and dry you need to remove the braces from posts. This can be done quickly and easily with a power screwdriver. BOOM, now you have posts that are ready to hold and support a fence!
---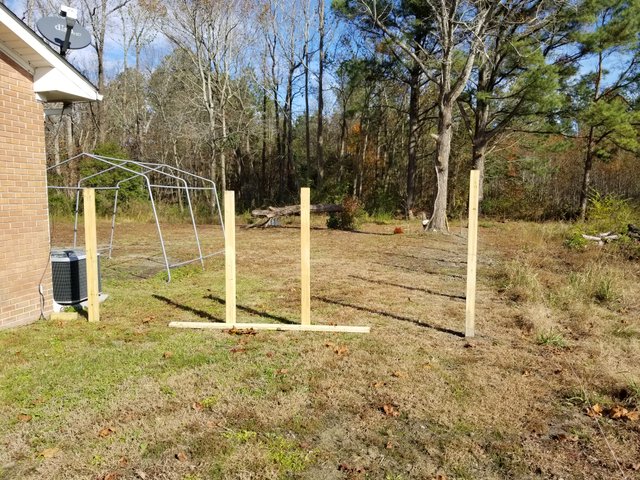 ---
Don't worry about the top of the posts being level with one another, the ground isn't always level and/or the post holes aren't always exactly the same depth, so this is common and something that you will come back to finish later.
---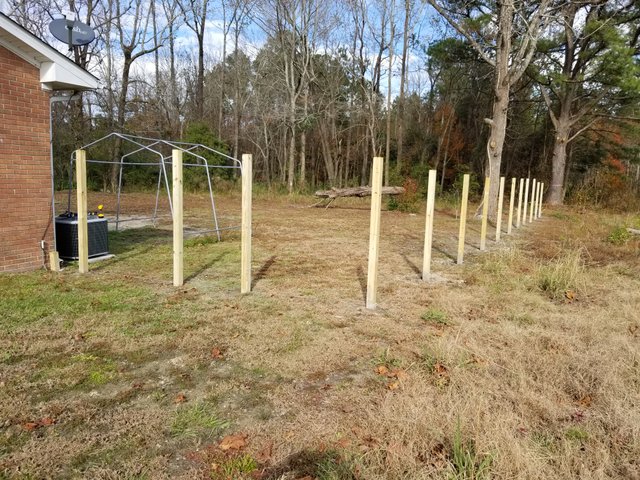 ---
Starting to look like a fence: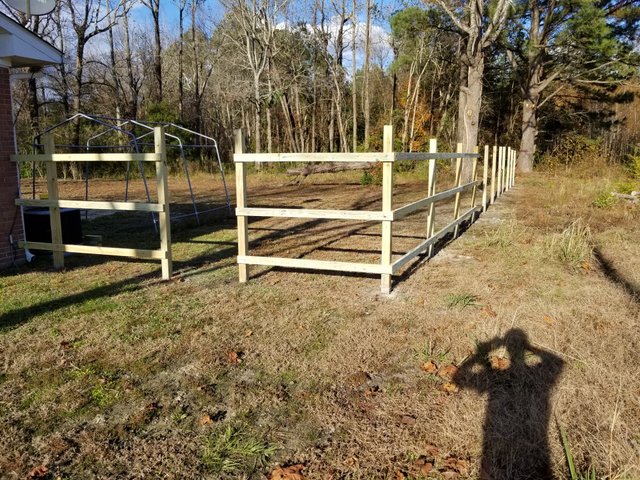 ---
After the posts are cemented in and ready the next step is to attach the rails that will hold up the pickets to the fence. This is probably the easiest part of building the fence :0)
Make sure all rails stay completely level as you attach them to the posts. Then use 3-1/2" screws to tack the rails to the posts. Two screws on each side of the rail will do the trick.
---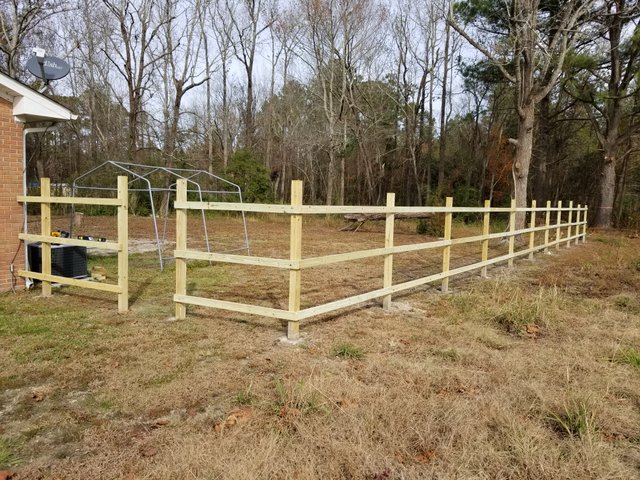 ---
Some people choose to use nails to apply the rails, which is also fine, just make sure you use the proper length and type of nail. I prefer to use screws over nails on nearly every project I can because they seem to hold better, but to each is their own.
---
Pickets Please: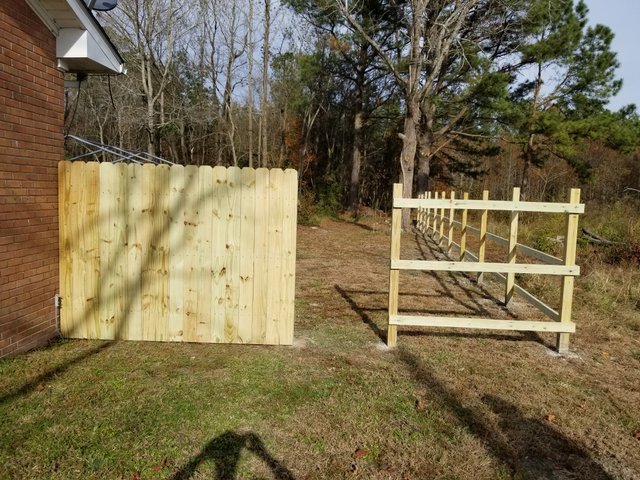 ---
Now that you are all done attaching the rails it's time to put the pickets up! When attaching these pickets I used 1-3/4" screws, six screws per board, two screws into each of the 3 rails, top, middle and bottom rail.
This can be done with nails but I have seen them pull out over time and I didn't want to have that problem in the future so I went with screws.
---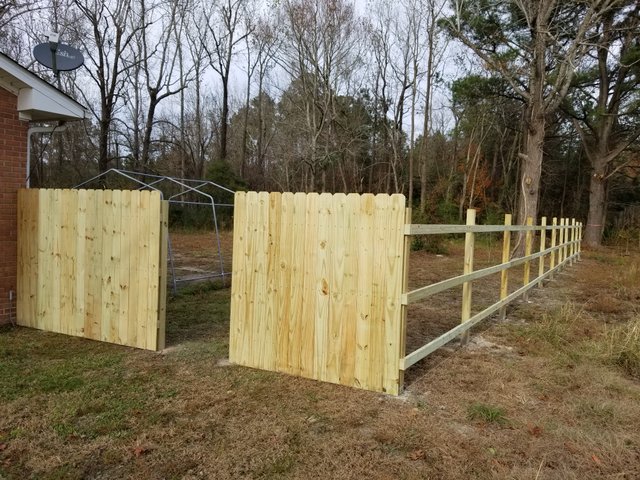 ---
Make sure to leave a little bit of room on the bottom so the boards don't sit on the ground, that will cause them to rot quicker. I left about an inch (or two), and since my ground isn't completely even that will help to line up the boards more easily.
---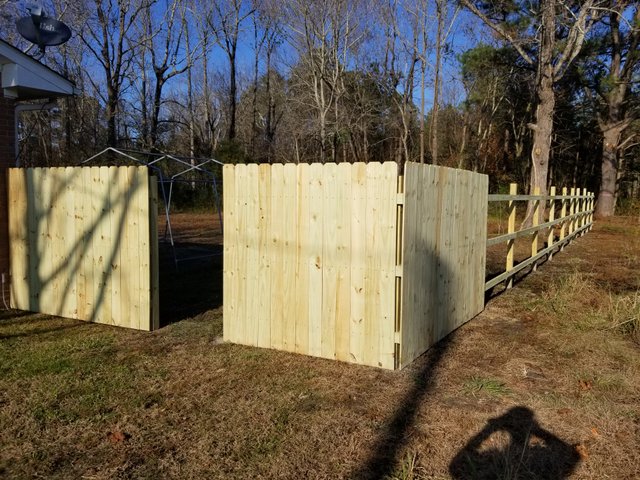 ---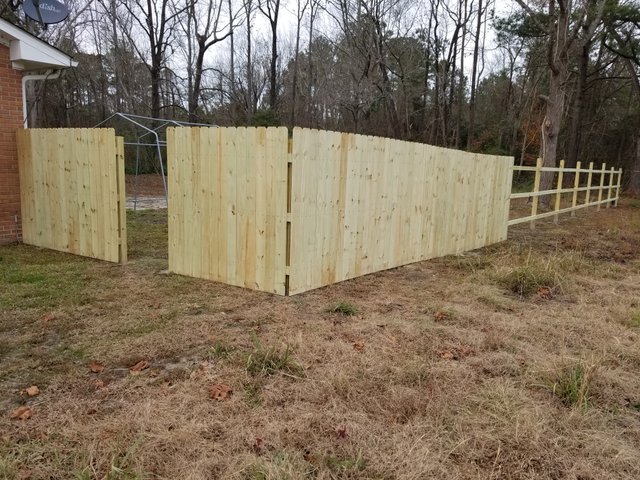 ---
The best way to attach them is with a level (verticle) and eyeball it. After the first one is level and screwed in, set the next picket up right next to the first one, make sure its level and the bottom is flush with the prior picket, then screw it in, so on and so forth until finished.
---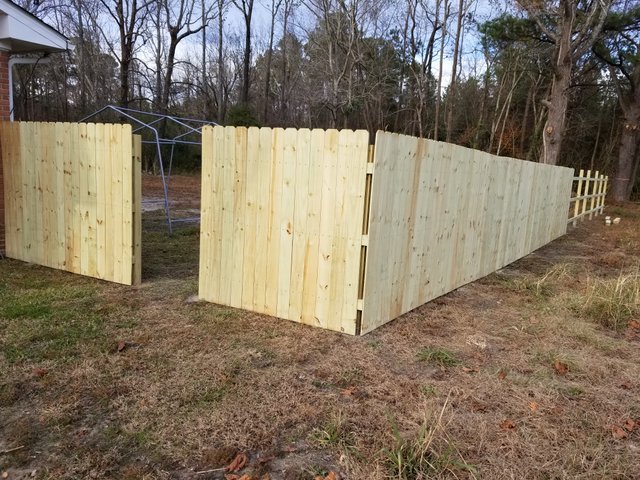 ---
Don't worry about leaving a gap between your pickets because they will shrink a little bit once they have been in the sun for a while, which ultimately ends up being that perfect space between the pickets.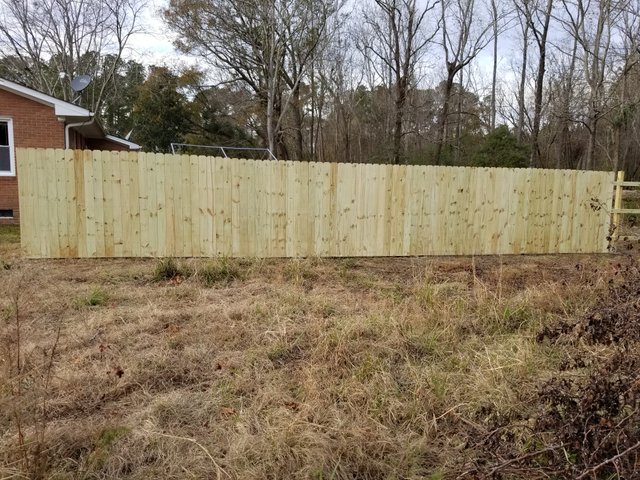 ---
Attaching the pickets is by far the most time-consuming part of the project, but take your time doing it properly and you will not regret it.
Make sure to step back occasionally and look at the fence as a whole, oftentimes you can't see mistakes when you are close up. Plus this will give you an opportunity to admire your work as you go ;)
---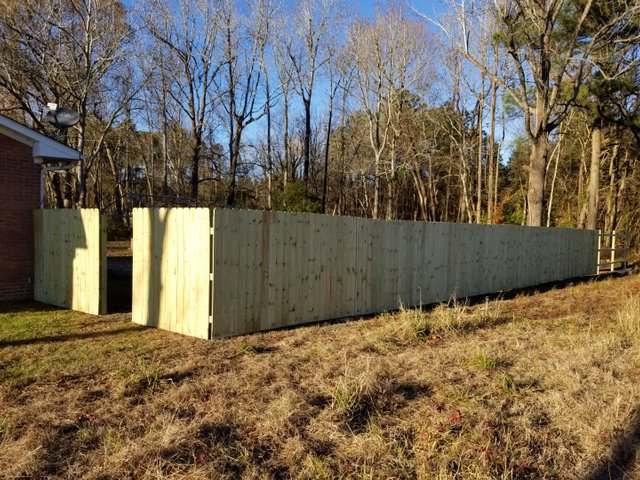 ---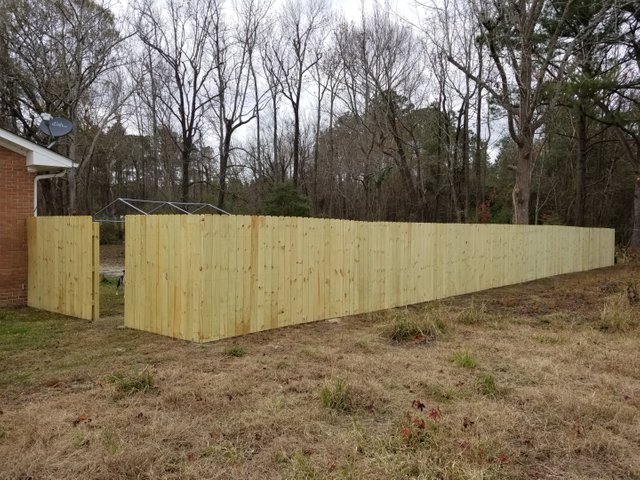 ---
After you finish the pickets it is time to stand back and have a beer while you appreciate the accomplishment of all your hard work.
It sure felt good to finish my first big project alone in well over a decade! It reminded me of how much I love building and how great it feels to create something out of nothing. Now on to bigger and better projects! ;)
---
Keep Building Friends