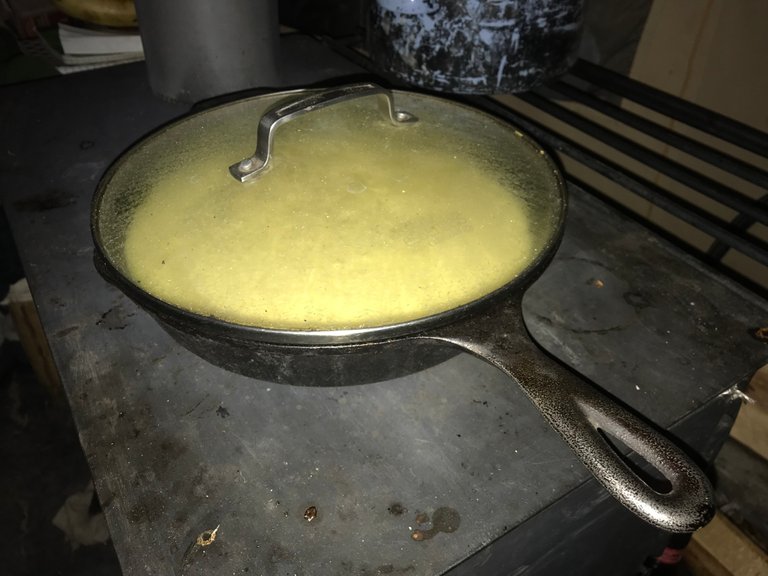 Chili is a great backcountry staple, when camping, but it's so much better with cornbread. And what is one to do when they are camping and without an oven to bake some cornbread in, or even a good ol' Dutch oven? Well, determined as I was to have some cornbread to go alongside my chili, I discovered that it is actually possible to cook cornbread in a pan on the stovetop as opposed to in an oven...
I have a cast iron skillet with a lid, so I figured I'd give it a try, with the main difference between the stovetop method and the typical baking method being the need to flip the cornbread like a pancake part way through its cooking process, in order to keep the bottom of the cornbread from burning. And sure enough, it works!
Just oil the cast iron skillet, pour the cornbread batter in, cover with lid, and keep a very close watch on it, so you flip in time, lest you have some burnt crust. I learned this lesson the hard way, but was able to salvage the cornbread by scraping most of the burnt bottom off...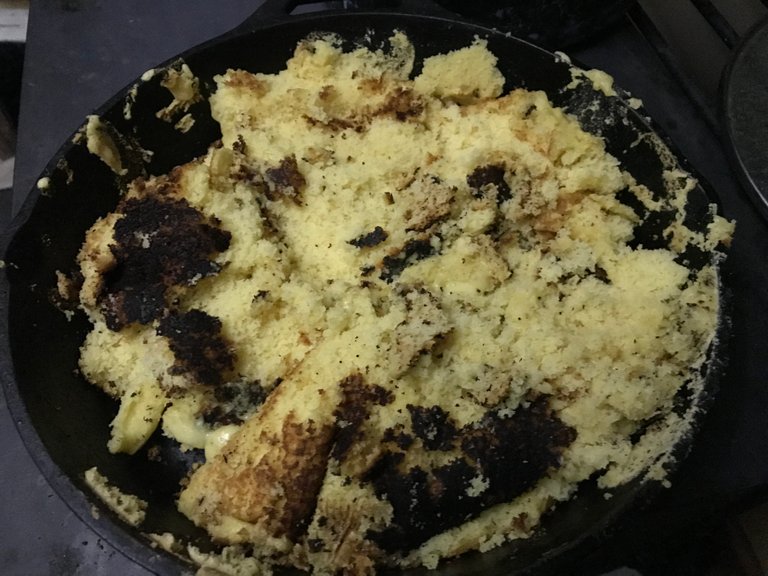 Do yourself a favor and save yourself the trouble, by flipping just a bit earlier than you may think, or checking often as the dough begins to rise.
I found that within ten minutes, it's time to flip, pretty much as soon as the batter has risen considerably is a good sign. At this point, I cut the cornbread in quarters, as I was unable to flip the entire pan at once, and then flip each piece one by one.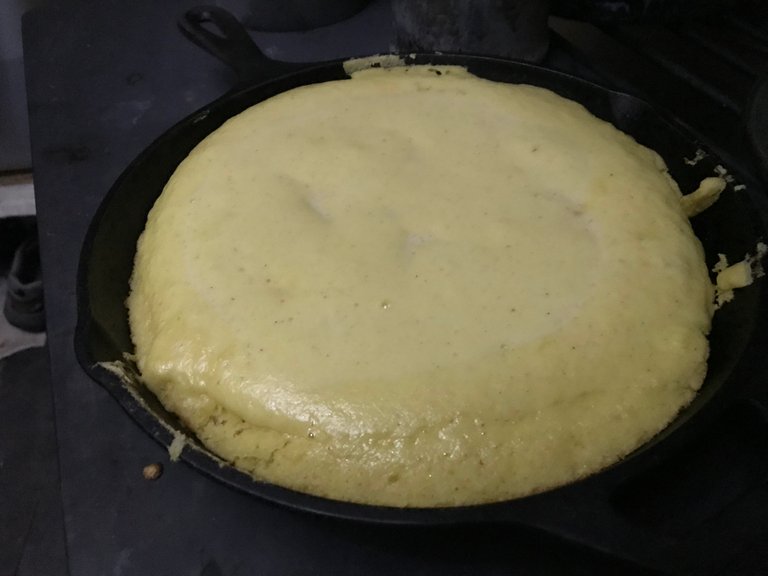 It might crumble a little, and fall apart just a bit, but that's fine by me, as long as I've got some edible cornbread to go with my tasty Chile! After flipping, I can take the skillet of the stove pretty much right away, as cast iron hold heat well and it only takes a minute or two to finish cooking at this point.
Then cut yourself a slice, top with some honey, and in my case throw it on top of my bowl of hot Chile because I don't have a plate. Then just enjoy!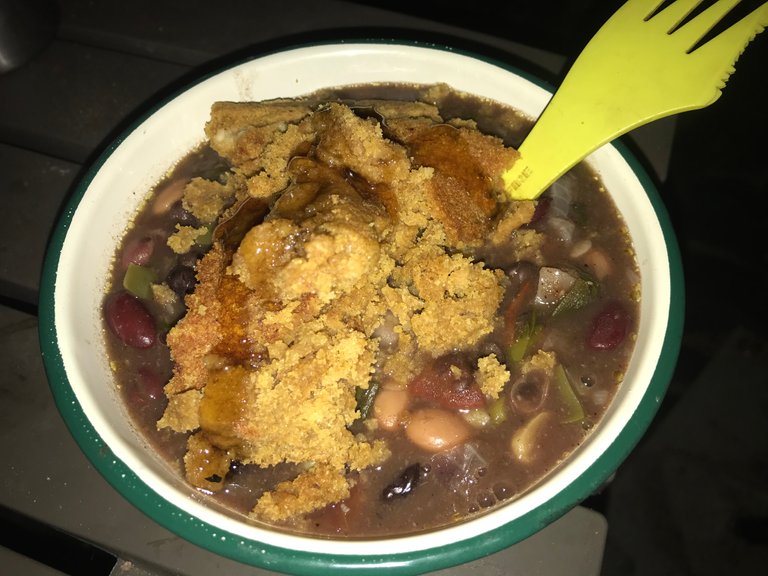 At first I used a pre-made cornbread mix, but then to save money and try out vegan cornbread, I bought some flour and cornmeal and began making my own. It turns out this homemade cornbread actually sticks far less than the pre-mix stuff (doesn't stick at all, actually), so it's way easier to flip, plus it's quite simple to make, it's considerably cheaper than the pre-mixed packets, and it's 100% vegan.
So I will share the recipe I've been using below, which I came up with by altering a recipe online just a bit to make it work for me. And I'll go ahead and share the recipe for my Chile as well, so any interested readers can enjoy a good hearty vegan meal of Chile and cornbread.
Vegan Cornbread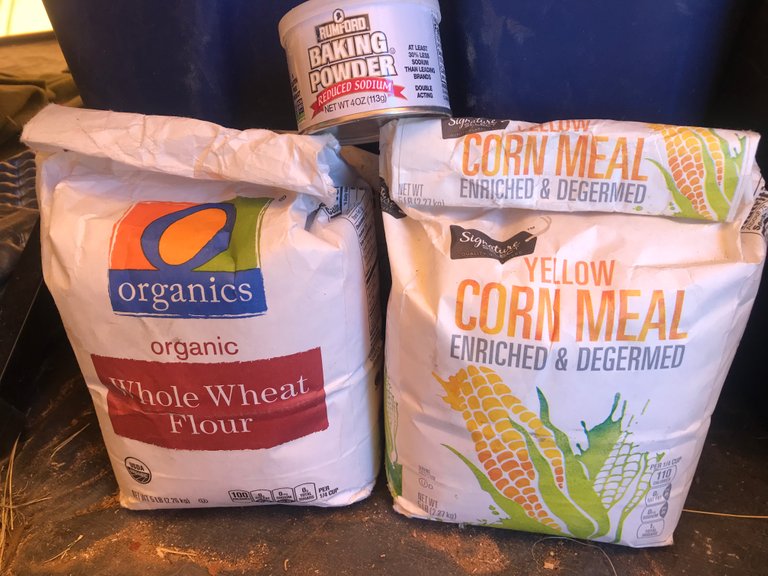 Ingredients:
1 1/4 cup cornmeal
1 cup flour
1 1/4 cup non- dairy milk (I use homemade almond milk, but any vegan milk will do, or even water in a pinch, or dairy milk would work fine if you're not vegan and it's all you have on hand...)
1/2 cup sugar
1/4 cup olive oil
1 tablespoon baking powder
1/2 teaspoon salt
Then just mix all ingredients together in a mixing bowl, and if it's too dry you may need to use up to 1 1/2 cup of milk, but I found 1 1/4 is enough for me (original recipe calls for 1 cup, but is absolutely not enough).
Then pour in the pan (I use a 10 inch cast iron skillet) and follow the directions above, or use a Dutch oven if you are camping and have one, or bake in an 8"x8" pan at 400 degrees F for 20 minutes or until done (when a toothpick comes out clean, shouldn't be more than 25 minutes).
And enjoy, best topped with honey, and served fresh, with Chili of course. Especially tasty on a cold winter night...
Vegetarian 3 Bean Habanero Chili
1 can organic garbanzo beans (chickpeas)
1 can organic black beans
1 can organic kidney beans
1 jalapeño pepper
1 habanero pepper
1 small onion
1 large or 2 medium organic tomatoes (or 1 can, diced)
10-12 cloves of garlic (or less, to suit your taste)
2 teaspoons chili powder
1 teaspoon each of salt and pepper, more or less to suit your taste
You can also use dry beans instead of cans, of course, in which case you may need to add a cup or so of water to replace the moisture content found in the canned beans; just soak the beans overnight first, and use a comparable amount, and cook longer, as canned beans are pre-cooked...
Use a large sauce-pan, or crock-pot, whatever you have on hand or prefer. Empty beans into the pan. Dice the onion and tomato, chop the peppers and garlic, and add to the pan along with all of the dry ingredients. If you like your chili especially hot, you can add a second habanero, but I found this was a bit hot even for me, and I like hot food, so be warned. Adding a second or third jalapeño as opposed to a second habanero was more to my liking to spice it up a bit without adding too much heat.
Then just simmer on low to medium heat for an hour or so. If using a crock-pot, you might let it cook for about 4 hours.
Alternatively, for more chili, and if you do not have habanero on hand, or prefer a more mild spicy chili, add a third can of beans of your choice and substitute two Serrano peppers for the single habanero. I like this version, and use either great northern beans or pinto beans as my fourth bean variety, but a second can of chickpeas or any type of beans that you like would work just fine.
To be authentic backcountry chili and cornbread, you've got to cook it over a wood stove or open fire, but it'll still taste good cooked inside with modern amenities...
Hope you enjoy the recipe ideas, and maybe someone else out there will find the method stove-top cornbread useful.