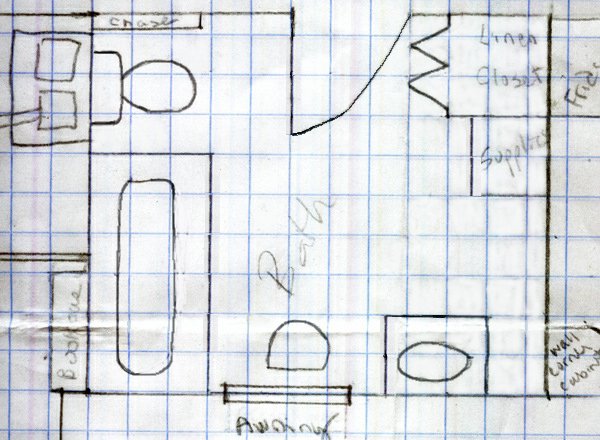 This is why there have been few posts in the last week. I started the estimating and sourcing materials for the bathroom early last week. When I got to the linen closet, I realized something. The current linen closet is right next to the chimney on the 2nd floor. This keeps the linens free from damp and mildew. It is not in a damp room, like a bathroom. But in this plan, neither thing is true.
There wasn't much I could do about the room it was in. But I could put it against the chimney and that would help, at least from October – April, to keep they dry.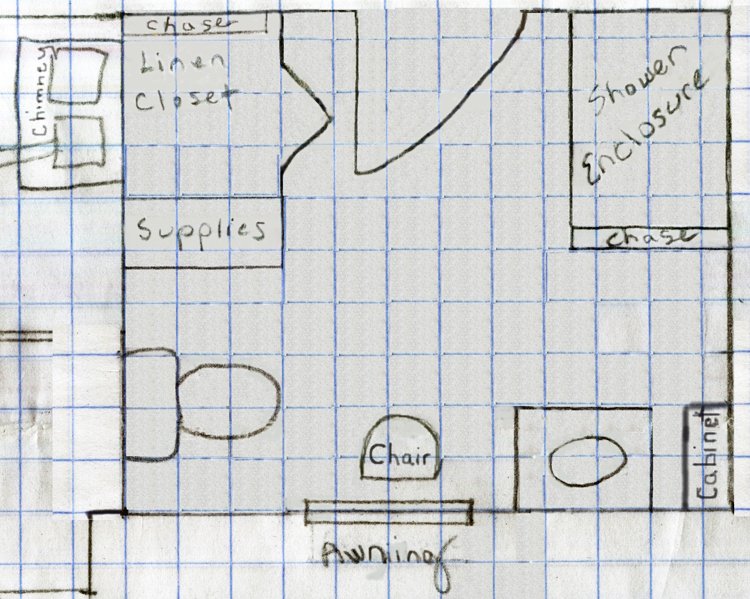 So I stopped estimating and started rearranging the bathroom, yet again. First, the linen closet went by the chimney. Then I had to stop again. We'd never finalized what size the tub would be besides it would not be a tub. So we went out one afternoon last week and priced shower enclosures. Sticker shock!
Swanstone enclosure in Cloud Bone, 36" deep x 48" long x 96" high, soap shelves optional
Swanstone Cloud Bone
I did not want tiles to scrub, just a very simple enclosure, much like the handicap tub we'd bought in 1983 because it had NO crannies, etc. to scrub. We found Swanstone enclosures at a local plumbing design place and a color to match the sink we'd bought in a tag sale, brand new. It was from 2008 and the color was almond. Well, almond isn't around anymore, so we had to get as close as we could.
American Standard Cadet Toilet in Linen, Door Style Toilet Tank Lever in Venetian bronze and Wood Toilet Seat in Walnut
We'd had a lot of condensation problems with the current toilet, so I wanted to find a tank that had the Aquaguard insulation in it. So my husband headed out to the local plumbing place and found the tank. The color closest to the sink was linen. He'd brought home 2 samples and that was the best one. So we had a toilet in linen, and a sink in almond.
That afternoon we went out again and found the Swanstone enclosure. The color that matched the toilet and sink best was Cloud Bone. We also found the shower base and that would be in Biscuit, a bit contrasting.
Delta Single Function Shower Head in venetian bronze; Delta Valve in Venetian bronze; Delta Venetian Bronze Shower Arm and Flange; Fixed Shower Rod with Hooks in Oil Rubbed Bronze
I found all the accessories for the shower after many hours of searching. As much as possible we are going with oil rubbed bronze or something close.
Pfister Ashfield waterfall, left; Dyconn Marion swivel, right
We had the sink and had seen a waterfall faucet at a cabinet place during the summer. We'd found the Pfister faucet, but the reviews weren't great. It seems faucets of this type have tiny screens inside and they plug up very easily, and the water doesn't flow.
So as a backup I looked at rustic faucets also and found the Marion. When we got to Lowes to buy the Pfister, they'd discontinued them. Our choice was made for us by others who had had too many problems, I guess. So we got the Marion instead.
Our sink, a Barclay Sienna Bisque Drop-In Oval Bathroom Sink with Overflow; Morriston 30-in Distressed Java Single Sink Bathroom Vanity with White Engineered Stone Top; Wilsonart Premium Jeweled Coral Laminate; Banbury Wall Mounted Cabinet
I'd seen a vanity with a sliding door online, but it left one side open. They had baskets in it. My husband wanted a completely closed vanity so when we saw this one in Lowes, it seemed just right. The color is darker than we'd like and it comes with a sink top. We will remove that and my husband will make a formica countertop for it with a backsplash.
I had been looking for dark wicker shelving and not finding it. All the trim is to be dark like the existing house, hopefully in old barn board like the existing. I came across this cabinet and the size and sliding door seemed perfect. I will have to stain it darker.
I like good clear light on either side of the vanity and spent a lot of hours searching for nice looking lights. I came across these. They are a little pricey but will be lovely in place. I have several of these lamp holders throughout the existing house, all holding plants.
Norwall Flourish Floral in Cream, Blue, Periwinkle, Pink Vinyl
Trying to find pretty paper is not so easy either. I found this; it is similar to the pattern in the existing bathroom.
TrafficMASTER Modular Natural Slate Sheet flooring
This flooring I had selected last year and fortunately is still available. I think it is very boring so will spice it up some.
Tabriz: Avesta 60" x 60"
Last year when I was trying to no avail to find pretty flooring, I came across Pura Vida floor cloths. They are made out of vinyl and you put them down like a rug. This one will be in the center of the bathroom floor.
We will be using pine 4 panel doors for room entry doors. They will be stained Min-Wax Jacobean.
Rough Iron Reverse Bevel Passage Heart Rim Latch Set
This is the type of hardware on all interior latching doors.
The linen cabinet and supplies shelving will have melamine shelves and pine louvered bifold doors, stained Jacobean.
The shower will have a curtain and liner. The small wall facing the vanity will have a chase with access panel as we have a water filter on the shower head. These have to be changed periodically.
There's a caned chair under the awning window. There will be a wall lamp with a shade over the toilet and we have a ceiling light shade already. My husband has to research vent fans still. We will need one with a nice outside cover as it will be on the front of the house. It took me a whole week to generate this estimate and find the stuff. But besides that, I think all we need to find is a drain assembly in oil rubbed bronze for the shower and perhaps a drain ring for the sink. But the worst of it is done.
I found that a lot of stuff would be discontinued so I started buying stuff as I found it. That took even more time. This room was harder to do than the kitchen!