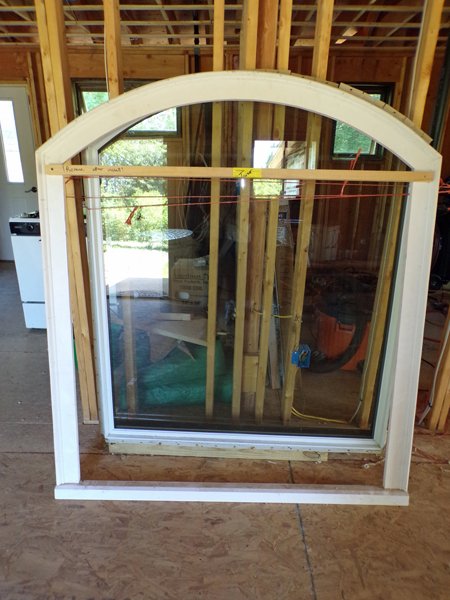 Some of you may remember the fiasco about trying to get a custom jamb extension built for this roundtop. The end result was no jamb extension. We had had this outside trim built at the same time, but no way to know if it was right until the window was taken out.
On Saturday morning, while he waited for our possibly new hay man to show up, he tried fitting it to the window (behind it). It fit perfectly. We hope to have a local cabinet maker make the jamb extension and now we can take him this frame as a perfect design. That will happen on Monday.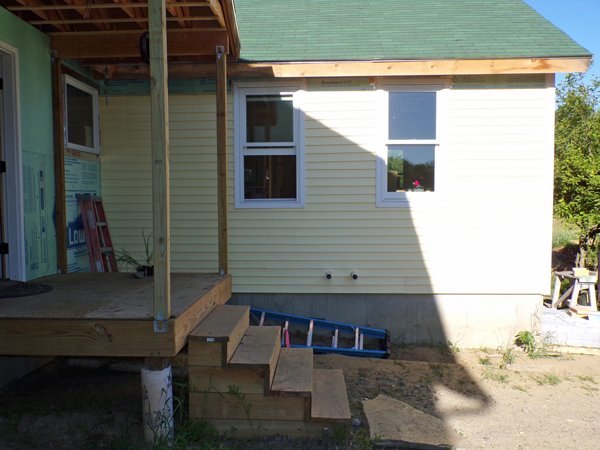 Once the haymen showed up, 1½ hours late, he really got started on the siding. He did the window frames first, having found a type of gorilla tape that will keep the corner joins together.
My mom and brother came for the afternoon, so there was a long break for lunch, but my brother helped him a little with the work.
My husband has been waiting for the Trex for the front porch floor. He can't build the sides until the floor is laid. He's put off siding the south side of the existing house for this reason. It will be done in siding resembling cedar shakes, but of the same color.
I think he intends to do some prep work on Sunday, between trips to take me to pick strawberries, and hulling the 2 flats I pick.