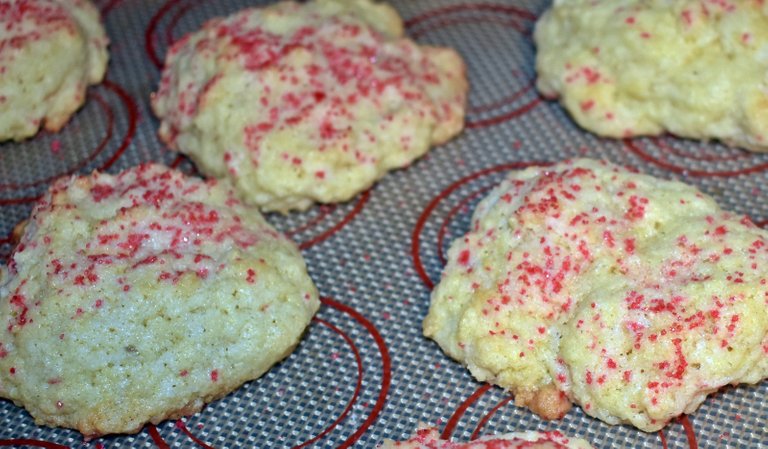 "I know what I was doing this day in ...." my mother posted on my FB timeline this morning. Yes, it's my birthday!
It's also Valentine's Day, of course and I took my kids (and a straggler) to a homeschool skating party today. We were asked to bring some food to share, so cue cookies! I'm not eating any of them myself this time - only tasted a bit of dough to make sure it was right. (I'm not eating carbs right now, so this is definitely not on the menu for me!)
Still, parties are the best excuse to make something fun - and give it all away (or so I tried...)
(BTW, if you're like me, and haven't roller skated since high school... go and give it a try again! It will give you a fresh dose of humility! I was almost skating after awhile, but it's going to take some more practice before I'm back in the swing of things!)
Anyway, this is my entry for this week's @foodfightfriday challenge.
Drop Sugar Cookies
(The "drop" part refers to how the dough is formed into cookies - as you will see in a bit.)
In your mixing bowl, cream together:
1 cup butter, softened (two sticks in the USA... approx 250g in the rest of the world.)
1 cup sugar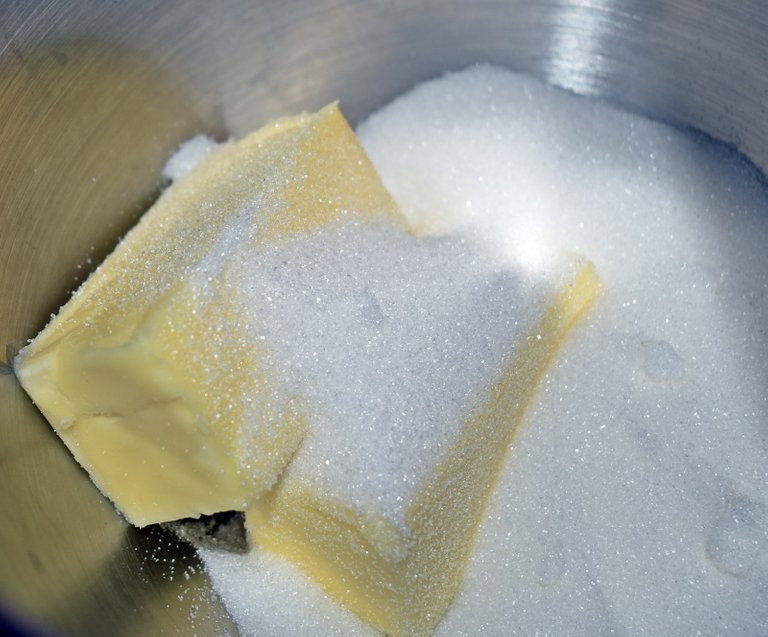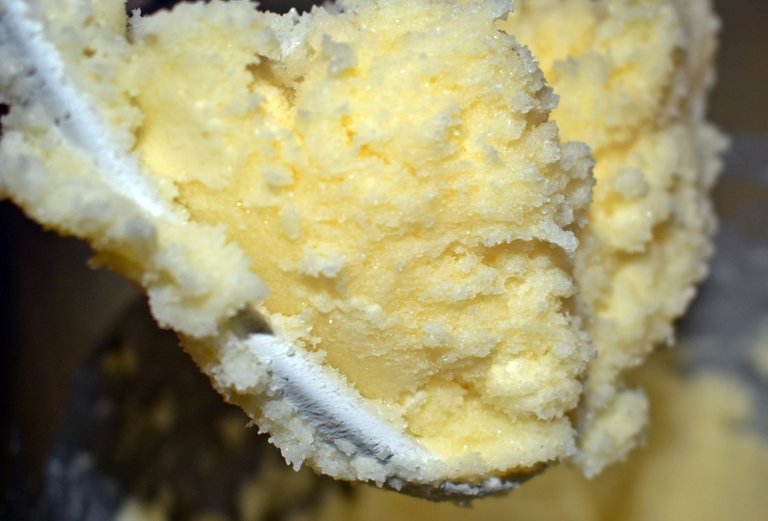 It should look like this when it's well creamed. Although some recipes will call for things in a different order, beginning by creaming your sugar and fat together is the safest method for getting good results!
Next, beat in:
3 eggs
1 teaspoon vanilla extract
(Yes, the picture shows one egg - I had to adjust the recipe below...)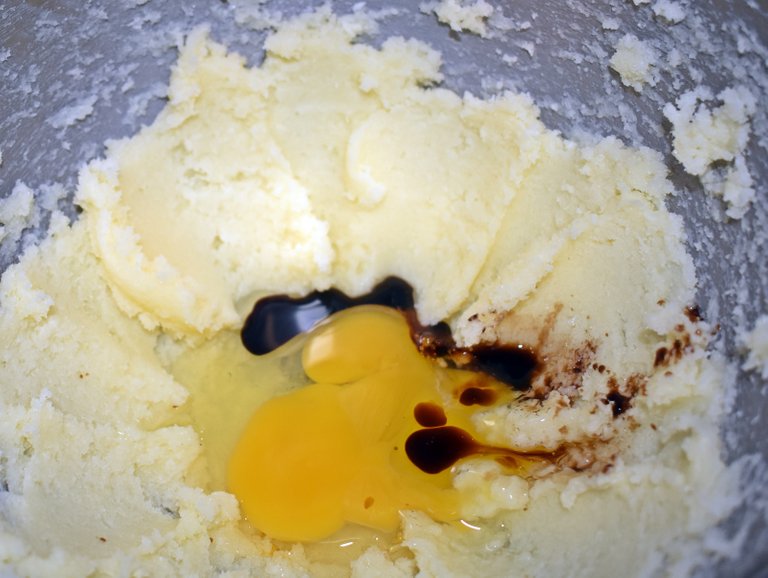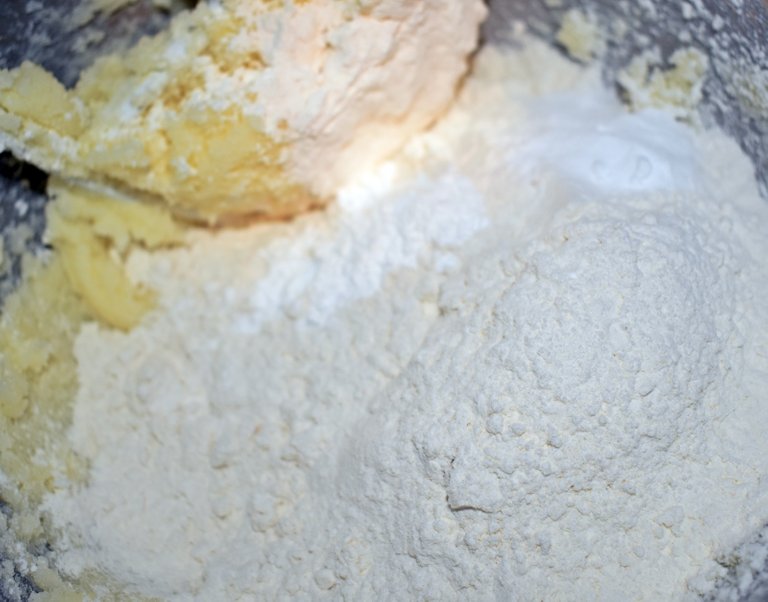 Stir in:
2 3/4 cup flour
1 teaspoon baking soda
1/2 teaspoon baking powder
But when I stirred this together (with only one egg), it looked like this...
This isn't going to "drop" from your spoons no matter how hard you try!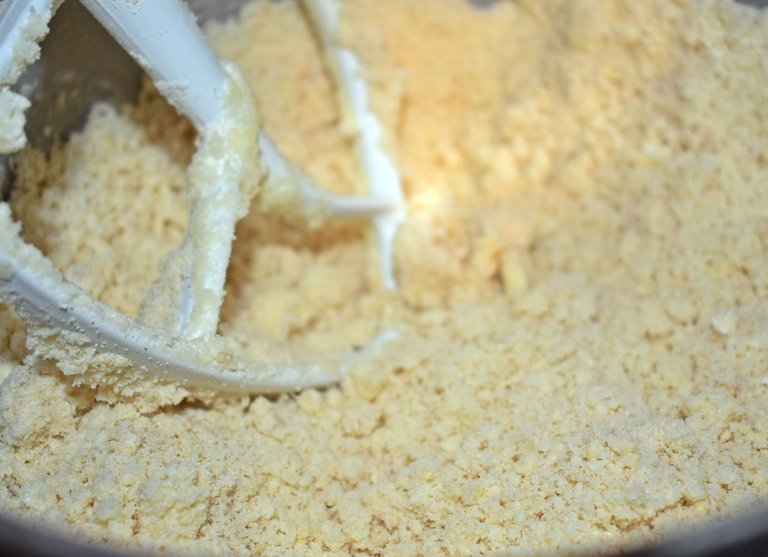 So, I added 2 more eggs (3 in all - as is reflected on the recipe now). Finally, the dough looked like it might work. (There's so much to be said for finding a recipe that really works for you!)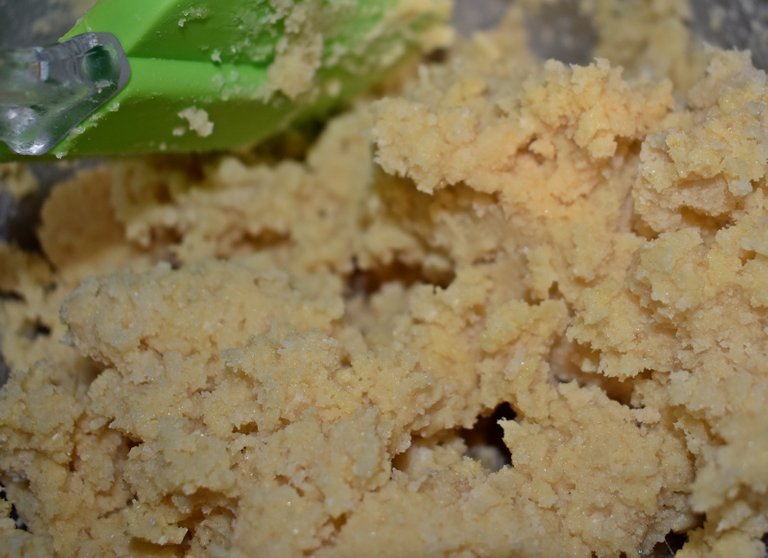 Use two spoons... Scoop with one spoon, scrape it onto the pan with the other.
Leave space for them to rise and spread. Decorate with sprinkles if you like (or wait and frost after baking.)
It should look something like this: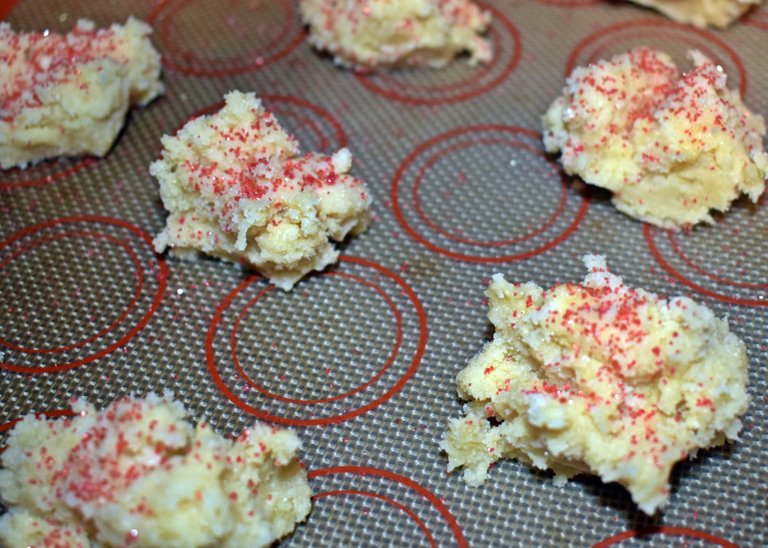 Bake at 375F for 8-10 minutes. Cool on the tray a few minutes, then move to a cooling rack.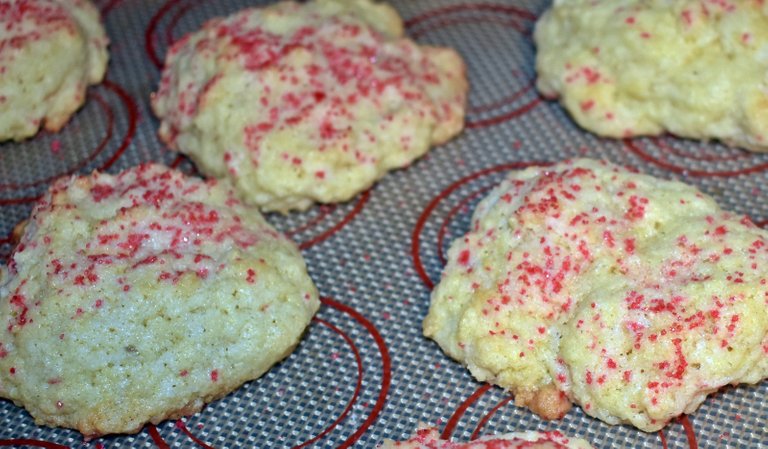 I managed to get rid of a few at the party, though most of the kids were too busy skating, and the adults were all "no thanks..." (sigh.)
My girls said they were great though!
Recipe Cards
Feel free to print and save these for home use.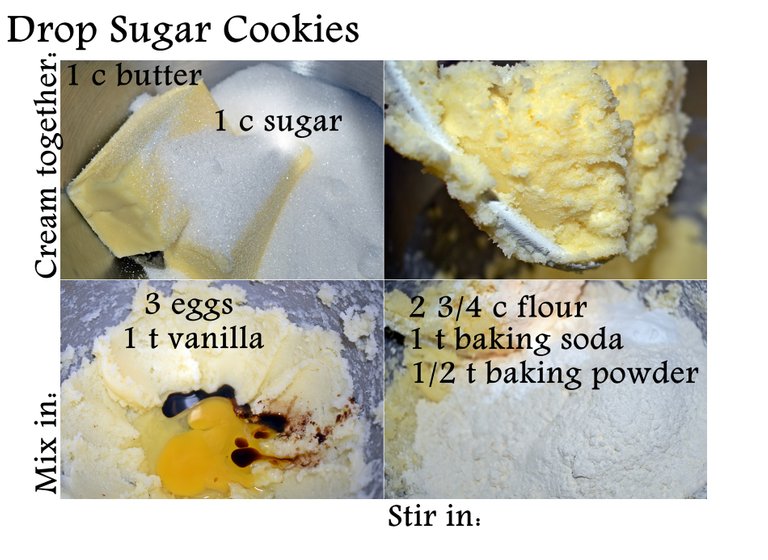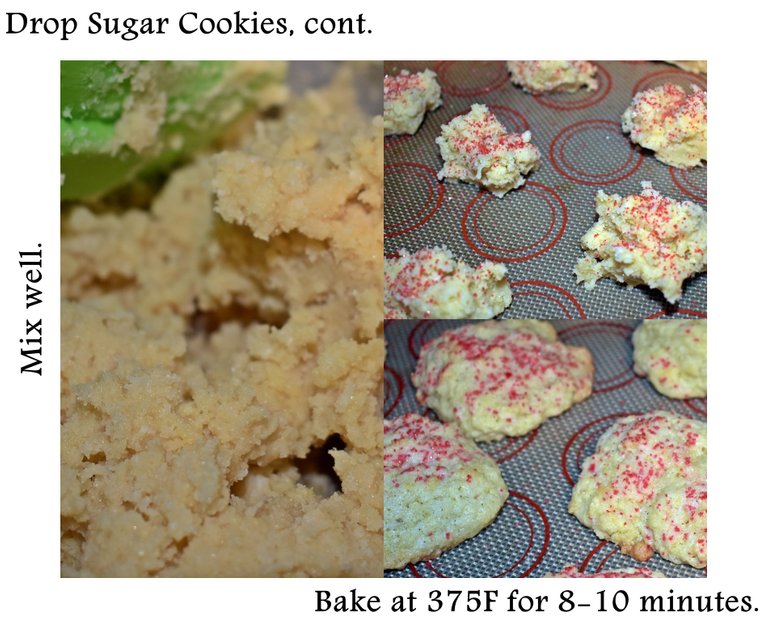 ---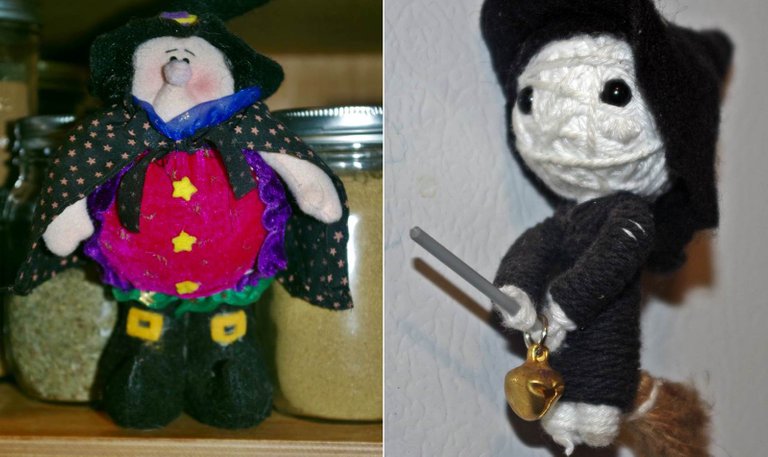 Two of my kitchen witches. One hung in my grandmother's kitchen as long as I can remember, so I have mine - adding a certain magickal spice to my cooking, presumably...
My grandmother's now lives in my mother's kitchen.
Previous recipes in Lori's Cookbook
(Links are for Steem... For Whaleshares and WeKu, simply place whaleshares.io or main.weku.io where the steempeak.com is.)
Holidays (Christmas, Thanksgiving, etc.)
Cranana-Chumpkin Bread
Cranberry-Berry Sauce (canning too)
Cranberry Juice Drink
Cranberry Swirl Cheesecake
Crustless Pumpkin Pie
Gravlax (Swedish Marinated Salmon)
Breakfasts
Basic French Toast
Buttermilk Pancakes - including low-carb and grain-free options.
Appetizers
Gravlax (Swedish Marinated Salmon)
Marinated Olives & Nuts
Easy Suppers
Dirty Mac & Cheese
Simple Cheeseburgers
Spanish Rice
Italian Meatballs
Spaghetti and Meatballs
Main Courses
Battered & Fried Prawns & Zukes
Fathead Stromboli
Garlic Curry Baked Drumsticks
Drinks
Side Dishes
Turmeric Rice
Garlic-Herb Bread
Breads
Cranana-Chumpkin Bread
No-Knead Bread
Fathead Dough - a grain free substitute for many bread situations!
Snacks
Oatmeal Chocolate Chip Cookies
Sauces
Spaghetti Sauce
Basic Salsa
Garlic-Herb Butter
Desserts
Cranberry Swirl Cheesecake
Crustless Pumpkin Pie
Peach Cornmeal Cobbler
Peach Crisp
Tapioca Pudding
DIY Ingredients
Canning
Rebel Canning - a general guide about what I do, and why I don't always follow USDA guidelines.
Cranberry-Berry Sauce
Cranberry Juice Drink
Meatballs and Spaghetti Sauce
Note: All photos are mine - Pentax K30, Samsung NX11, Kodak Z981 (hubby's camera), Nikon 7200.
Crossposted at Steem, Whaleshares, WeKu
---

Lori Svensen
author/designer at A'mara Books
photographer/graphic artist for Viking Visual
(Buy my work at RedBubble)
verified author on Goodreads
find me on Twitter
blogging on: Steem, Whaleshares, WeKu


---