After seeing so much empty space in my local supermarkets, I decided I needed to do some canning. In particular, a big bag of rice beckoned. I got onto my Outlaw/Rebel Canners on Facebook and asked for advice on what to do with rice as it has a tendency to turn to mush in the canner, especially as I would have to use my waterbath canner and go for longer than they do at sea level... Rice Pudding seemed to be the answer.
I found two recipes and decided to test them both - with both white rice and brown rice and see what happened, with the intention of making more of the winning recipe.
Then, there was the question of my fellow canners as to how long to waterbath it for. All the recipes called for pressure canning - and I don't have one of those... (Nor do I really want one.)
Here is a picture of our favorite: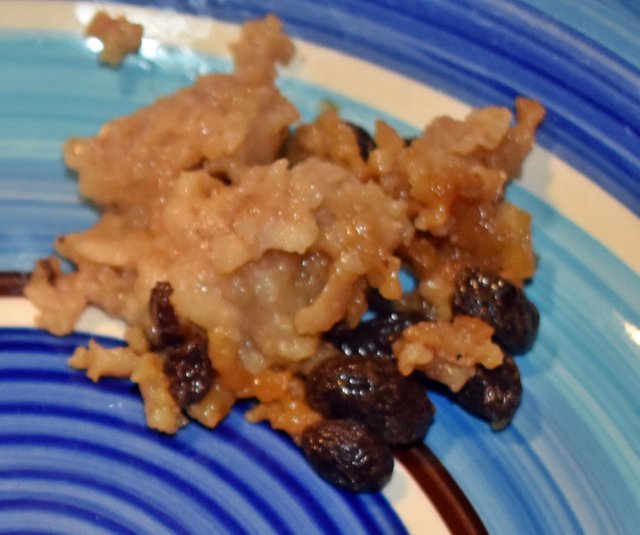 It had the best texture and the best flavor of all four types. But which one was it? And which one came in second? I was surprised... (As you can see, it was one of the ones with the raisins - and that's the recipe I'll give you below.)
This is my entry for this week's @foodfightfriday challenge.
Rice Pudding (Canned)
I am using pint jars. (If you use quarts, simply double the amounts.)
In each jar, put:
1/4 cup of white rice (or brown)
1/4 cup of raisins
1 Tablespoon sugar
1/8 teaspoon cinnamon
1/8 teaspoon nutmeg
(or 1/4 teaspoon pumpkin pie spice instead of cinnamon and nutmeg)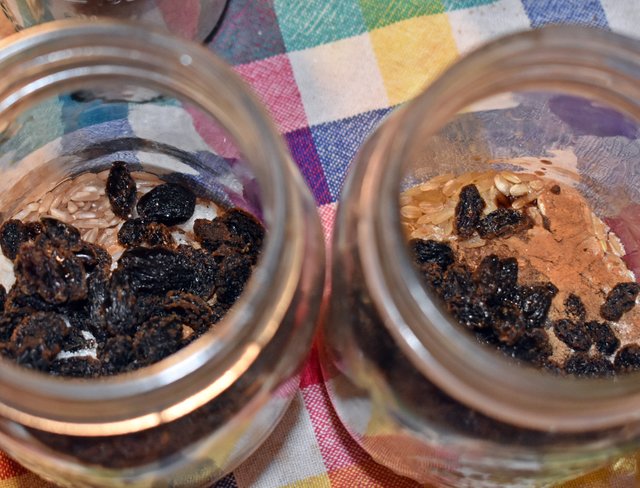 Over the dry ingredients, add:
1/4 teaspoon vanilla extract
3/4 cup water
fill with milk, leaving 1/2 to 1 inch headspace in each jar.
(I used almond milk so my husband could eat it.)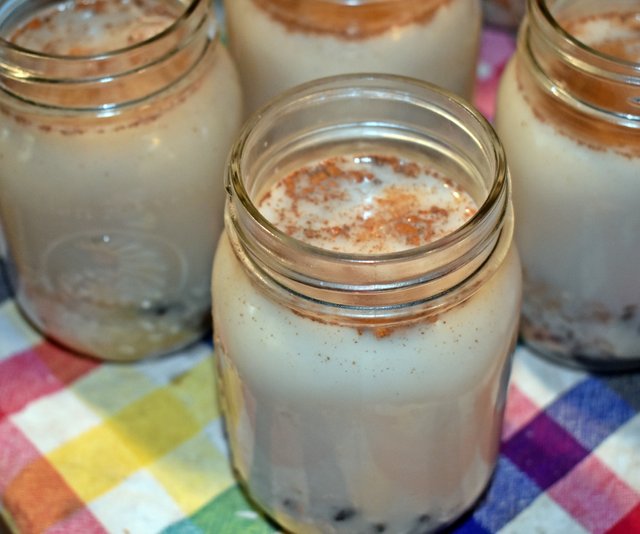 Put your clean lids and rings onto the jars and tighten (not too tightly.)
Pressure can for 20 minutes.
OR
Waterbath for about 40 minutes. (I did 60 minutes due to my altitude of 5100 feet.)
(Note: the USDA does not approve of home-canning something thick like rice pudding - and definitely not in a waterbath canner!)
Remove from the canner and listen for the "pings" that tell you the jars have sealed.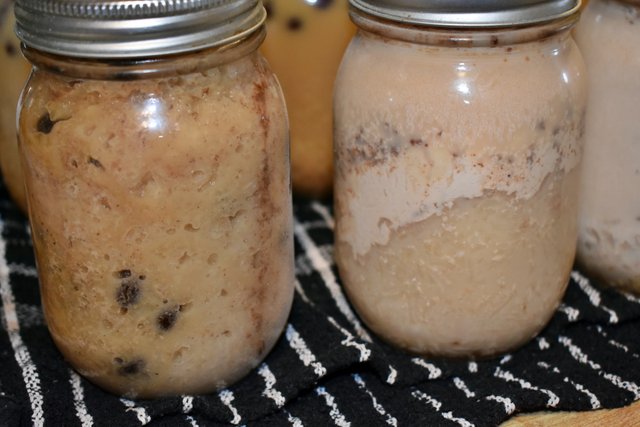 You can see the differences in the picture above. The one on the left used white rice, raisins, more flavoring (cinnamon and nutmeg) as well as vanilla. It also diluted the almond milk almost by half.
The one on the right looks like a bit of a mess (even though that one appears to have brown rice in it.) Has no nutmeg, nutmeg or vanilla. It didn't dilute the milk though.
And the results?
The worst one was the white rice without the raisins. The rice did what was to be expected after an hour in the water bath - it disintegrated. The texture, therefore, was poor. The taste was okay, but nothing too special.
In third place was a surprise. The brown rice pudding with raisins. The rice maintained its shape too well. The flavor was good, but the texture was a disappointment.
In close second place was the brown rice without the raisins. The rice held up very well and the flavor was good. It was more in line of what I would have expected from a good rice pudding, but it wasn't our favorite today.
The winner was the white rice with raisins. The texture was good, the rice held up and the flavor was excellent. If I were to do anything different, I'd probably use pumpkin pie spice for a little more depth of flavor and maybe can it a little longer for a more pudding-like texture, closer to that of the second place contender today.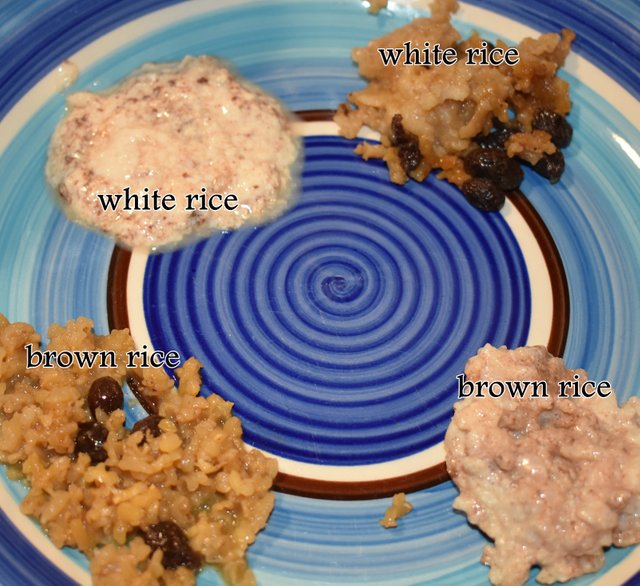 So, what happened? Why did a white rice pudding get the best texture of all? Why did the white rice hold together better than in the brown rice pudding in second place?
I think it's the raisins. My guess is that something in the raisins (maybe tannins or something) worked on the rice to keep the texture firmer than without the raisins. Of course, we also had a different kind of milk, so maybe I'll need to do another experiment comparing almond milk with regular milk with the winning recipe... but if I had to bet, I would place my money on the raisins being the champion ingredient here!
As usual, here is your:
Recipe Card
Feel free to print and save this for home use.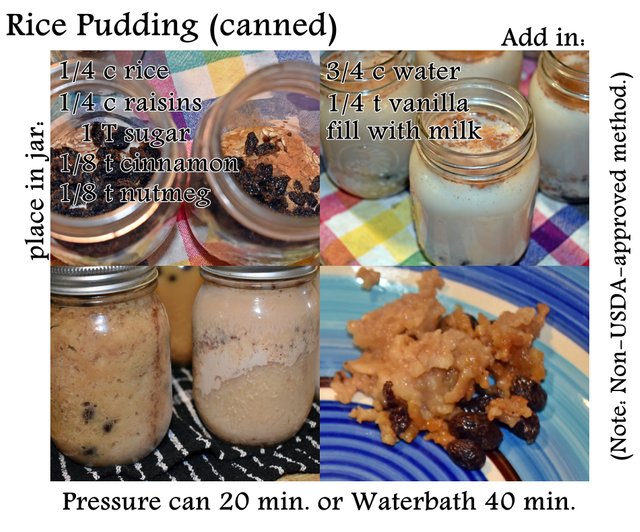 ---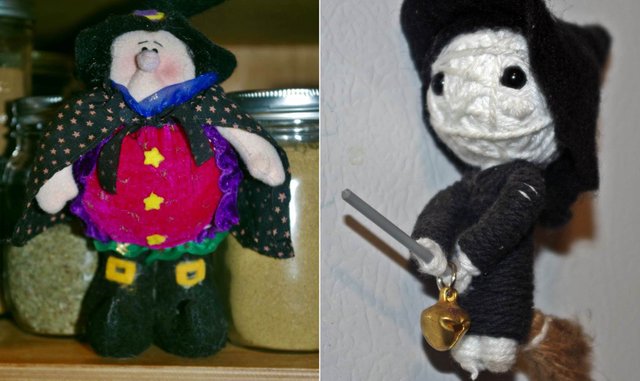 Two of my kitchen witches. One hung in my grandmother's kitchen as long as I can remember, so I have mine - adding a certain magickal spice to my cooking, presumably...
My grandmother's now lives in my mother's kitchen.
Previous recipes in Lori's Cookbook
Holidays (Christmas, Thanksgiving, etc.)
Cranana-Chumpkin Bread
Cranberry-Berry Sauce (canning too)
Cranberry Juice Drink
Cranberry Swirl Cheesecake
Crustless Pumpkin Pie
Drop Sugar Cookies - Christmas, Valentines, whatever you like!
Gravlax (Swedish Marinated Salmon)
Breakfasts
Basic French Toast
Buttermilk Pancakes - including low-carb and grain-free options.
Appetizers
Gravlax (Swedish Marinated Salmon)
Marinated Olives & Nuts
Easy Suppers
Dirty Mac & Cheese
Simple Cheeseburgers
Spanish Rice
Italian Meatballs
Spaghetti and Meatballs
Main Courses
Battered & Fried Prawns & Zukes
Fathead Stromboli
Garlic Curry Baked Drumsticks
Keto Fried Seafood
Drinks
Side Dishes
Turmeric Rice
Garlic-Herb Bread
Breads
Cranana-Chumpkin Bread
Nearly No Carb Keto Bread - demo only, follow the link to the recipe. (grain free)
No-Knead Bread
Fathead Dough - a grain free substitute for many bread situations!
Sweet Snacks
Brownies with Chocolate Ganache - made into a great birthday cake!
Drop Sugar Cookies
Oatmeal Chocolate Chip Cookies
Sauces
Spaghetti Sauce
Basic Salsa
Garlic-Herb Butter
Food as Medicine
Desserts
Cranberry Swirl Cheesecake
Crustless Pumpkin Pie
Peach Cornmeal Cobbler
Peach Crisp
Tapioca Pudding
DIY Ingredients
Canning
Rebel Canning - a general guide about what I do, and why I don't always follow USDA guidelines.
Cranberry-Berry Sauce
Cranberry Juice Drink
Meatballs and Spaghetti Sauce
Note: All photos are mine - Pentax K30, Samsung NX11, Nikon 7200.
---

Lori Svensen
author/designer at A'mara Books
photographer/graphic artist for Viking Visual
(Buy my work at RedBubble, TeePublic, PicFair and DeviantArt.)
verified author on Goodreads
(Buy my books at Books2Read and at LBRY)
find me on Twitter

---