Hello my dear Steemians,
The weather is beautiful here in sunny Phoenix so I have been working a lot outside lately, which means I have tackled many furniture projects!
Yesterday was especially cool because I was able to transform quite a dreary number into a really cute thang!
I didn't get a before pic which is super lame, but the table was all blonde wood and had been sitting outside for some time so it was pretty musty. My son was outside working with me and looked at the table and said, "Hey, that kind of looks like a window", and I was like "Damn, you're right." So I decided to transform it into a window pane table.
The first thing I did was clean off the whole table. I also gave it a light sand, which I only do if there seems to be a gloss on the piece. If it is raw wood already, I leave it alone.
Then I taped off the part of the table top that I was not spraying. I was super stoked because I had this awesome reflective spray paint and I used that to emulate window panes. Then once that dried, I carefully cut the edges around the places I sprayed and made the whole table top Tiffany Blue.
Then I put a little dark stain into the blonde wood, because blonde wood just isn't terribly popular anymore. The end result was this bad boy: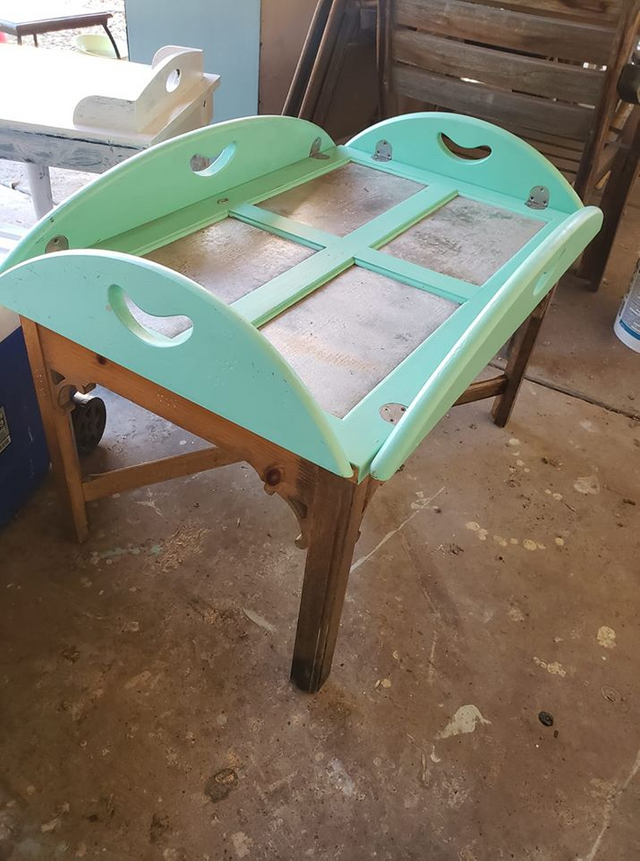 I really wish I had a before picture, because this table was pretty fugly. This is a total upgrade. It took a while because I also took the whole table apart. There were 8 hinges and 48 tiny screws, and I sprayed them all with the same spray I used to make the "window" and then put them all back on, and I really think they added a nice pop of color to the piece.
Something that I am seeing in the different shops that I work in (antique and furniture) is that color on wood is super popular right now. Many artists are painting just the outsides of dressers and leaving the drawers natural wood. This makes for a lovely combination.
I have plans to do that for a few pieces, but started on this one first because I felt inspired.
I hope to be able to do more blog posts this way, and actually take pics of my step by step process!
Hope you all have a lovely Valentine's Day!
xx - Beth