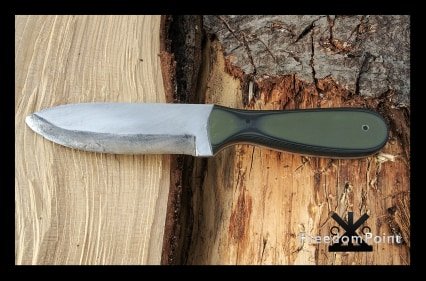 The other day I make the first post about this custom build, it was the one about applying the scales for the handles. This knife came together so smoothly that I forgot to get alot of pictures or video! That's ok, I was fully into the build, so I wasn't distracted trying to get alot of images.
Like I said before, this blade was designed with the idea of throwing it. When the guy ordered the knife, he gave me creative license to make him something amazing. Before the conversation ended he threw in something like "so to be honest, I'll probably love throwing it at trees". With that in mind I designed this knife to be blade heavy and to come out of the hand easily.
There were a couple of things about this build that I really enjoyed. One, was the back of the handle on the spine. I notched that into to match the finger groove on the bottom. This made the whole feel of the knife change. It is indented and comfortably fits the webbing between your thumb and pointer finger.
I tried to make sure that it didn't really take on any features of a chopper or a slicer. I tried to make sure that the center line didn't curve either up or down. Typically a knife will have some sort of curve to it to make using it easier. So a chopper is curved downward and a slicer is curved up. This helps to guide the energy that you are applying. Either you are trying to dig into something, or you might be slicing something.
Another things about this that was different is the scales. These scales are 1/4" and I normally use 3/8". Having less material to work with, I had to make sure that I didn't sand in too deep. I really didn't want to mess these scales up, especially since I ordered them just for this build!
I hope you all are enjoying my custom knives! I plan to continue creating until we leave here, or until my tools go into storage. If you are interested in a custom blade let me know. I accept Paypal and Crypto. If you are currently trying to liquidate your Steem, I'll sell for Steem!
I'm going to add this give of me throwing this knife again because I think it is super fun to see people throwing knives haha.
Be well
~The Yeti
Join me on Discord https://discord.gg/zyqFjJ3
https://steemit.com/@freedompoint