Hello, and welcome to my blog!
I've been waiting for some reasonably good weather to start my garden planting, and we're finally getting some. Where I live is on the edge between planting zone 4 and 5. It has started staying above freezing at night here, so the early crops can be planted now. There are still some things that I won't plant until the end of May because of possible frost danger, but potatoes can be planted now.
I have two garden plots at home, a large one in the back yard, and a smaller one in the side yard. Last year, we grew popcorn in the small side yard plot, so this year I'm planting potatoes in that plot. I usually plant 3 or 4 different kinds of potatoes every year, some because I like them, and some because they store well. I might add that I don't grow potatoes that I don't like, such as fingerling types. I've grown them in the past and found them hard to use for my cooking.
For the side garden plot, I chose to plant the red potatoes. I had prepared some of last year's crop of potatoes for this year's crop of seed potatoes a few days ago. You can read about that in the second half of my previous post, at this link.
https://peakd.com/gardening/@amberyooper/getting-some-work-done-in-the-greenhouse
Here's the red seed potatoes after being prepared. The smaller container holds the Adirondack Blue seed potatoes that I'll be planting at the community garden.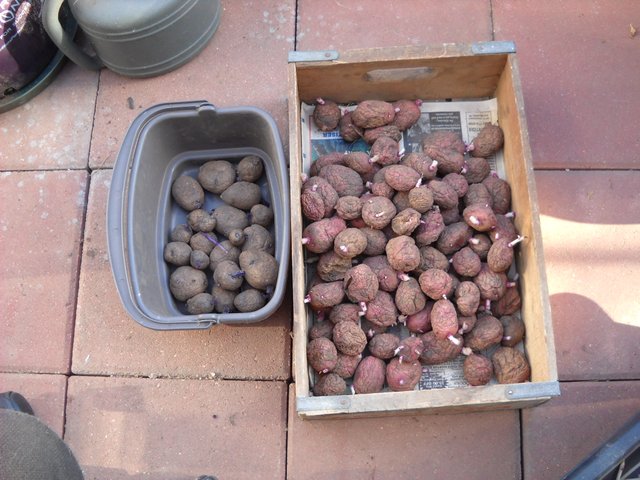 I dug four rows in the side garden for the seed potatoes. I didn't dig the rows very deep, only deep enough to cover the potatoes. The farther down you plant the potatoes, the deeper you have to dig to harvest them. Over the past few years, I have found it easier to harvest the potatoes if you "hill" the rows by pulling the dirt from between the rows up on the plants as they're growing. The digging is easier that way.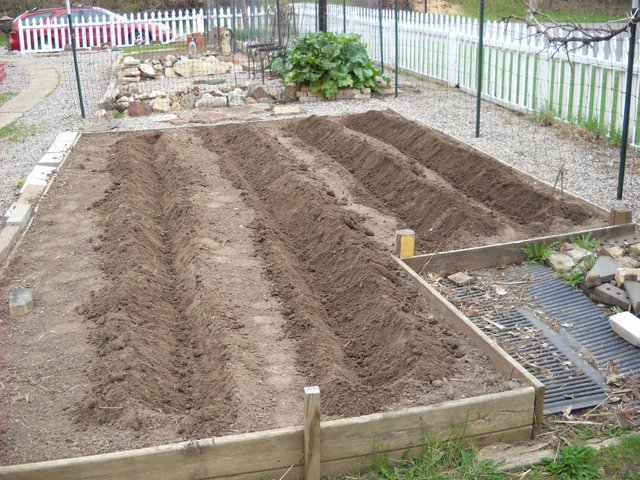 I placed the seed potatoes about 15-16 inches apart in the rows . I suppose you could put them a bit closer together, but I like to give them more room to grow, the plants take up a fair amount of space.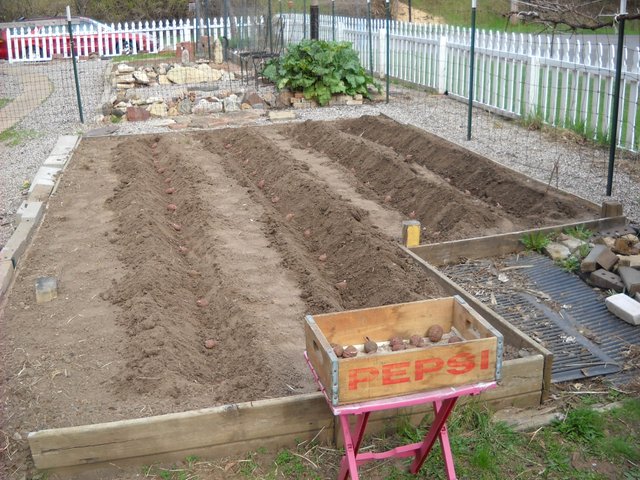 All that's left to do now is to cover up the seed potatoes with dirt. I just pull the dirt over the potatoes with a rake.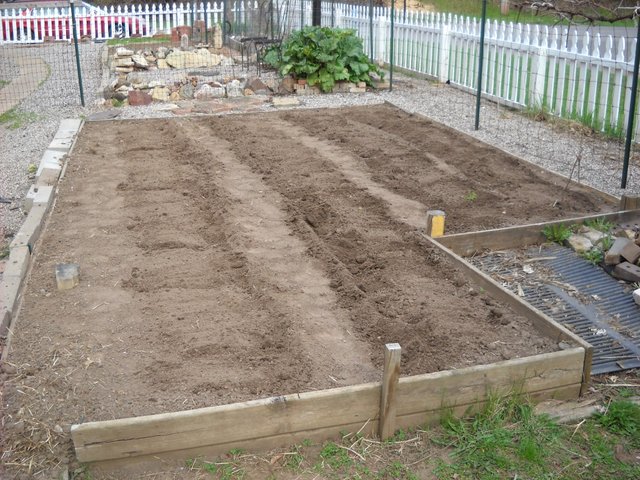 I still have some extra seed potatoes left after planting this garden bed. Now I have to decide if I want to plant these up at my community garden plot.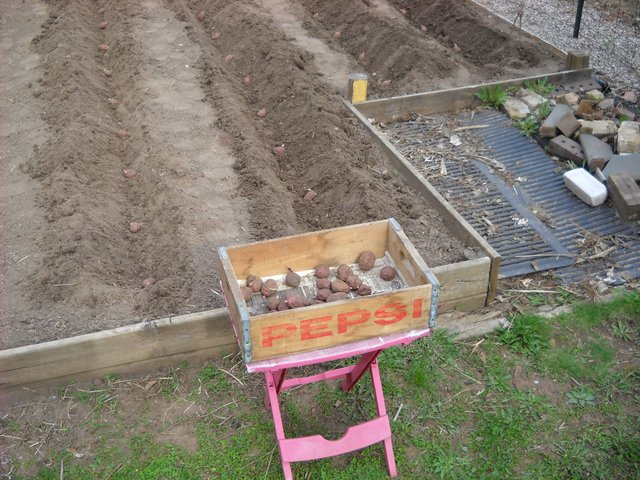 I still have Yukon Gold potatoes and russet white potatoes left to plant, as well as a small amount of the Adirondack Blue seed potatoes. I'm going to plant the white potatoes in the big garden bed in the back yard, and probably the Yukon Golds as well. I'll probably plant some of the Yukon Gold potatoes up in my community garden plot as well, I have plenty of space for them up there.
That's all I have for this post, thanks for stopping by to check it out!