Hello, and welcome to my page!
It's been a couple of weeks since I wrote my last post, I guess I've been distracted away from hive for a while. June is always a busy month for me. It's the first month of warm weather in this area, so a lot of projects get started, or restarted in June. Also, I've been spending on facebook at night again, and also binge watching episodes of Star Trek-Enterprise. This is the first time I've watched the series, so I was enjoying it a lot. I finished the last season last week, so now I'm getting back to my other internet activities.
I've been busy with my garden, getting everything planted and growing, trying to keep up with the early season weeds and the watering when we don't get enough rain. Everything is finally growing well, including the soup beans that I had to replant because the first planting didn't come up. I've managed to get some of the rows of potatoes hilled up, but not all of them. The last few rows of potatoes that I planted are just now getting getting tall enough to start hilling them.
Here's a look at the main garden in the back yard. I took this picture today.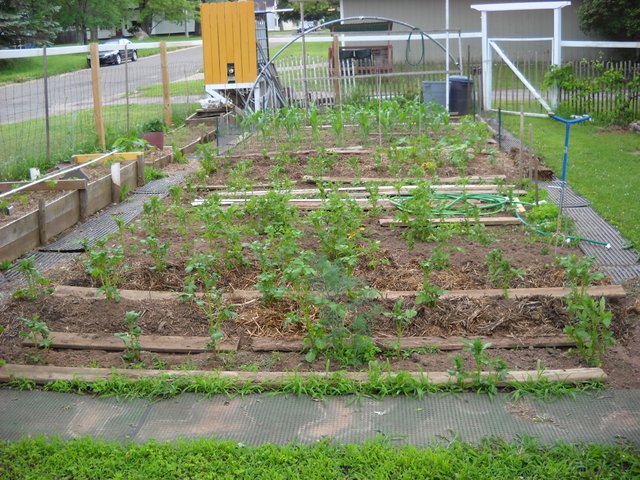 I've started working on some of my projects from last year that I stopped working on when winter set in. I'm finally getting back to working on rebuilding my little travel trailer, a project that I started on last summer. Apparently it's a multi-year project...
Since I finished rebuilding the back end of the trailer last year, I'm starting on the inside roof structure. The entire roof support structure needs to be reinforced, so that's what I've started on. I'll be writing about that in the near future. Here's a look at the trailer, from a few weeks ago.

I'm also starting to work on the flatbed for my Ford Ranger truck that I started on last year. I haven't gotten very far with that yet, but at least I've started on it again. Of course, I'll be writing more about that project also. I also have to get back to work on the exhaust system for the truck. I was working on that when it got too cold to work outside. I'm not driving the truck right now, so I don't feel like I have to hurry with that work.
Another project that I started on a week or so ago was rebuilding my old Schwinn stingray chopper bicycle. These bikes were only made for a couple of years from what I've read, 2004 and 2005. The one that I have has been sitting in the basement for more than a year with a bad back tire, so it was not usable. The back tire is a special 20 inch by 4-1/4 inch tire, so it's rather expensive to replace. I just didn't have the money last year to buy a new tire for it, but I found a more reasonable priced tire for it on line, so I want to get it working again. I'm also going to replace the extended front fork with a "springer" front fork that has provisions for a front wheel brake, something a lot of these chopper bikes didn't have. I don't have any older pictures of the bike that I could find, but here's a picture of it after I took the original front fork off the frame.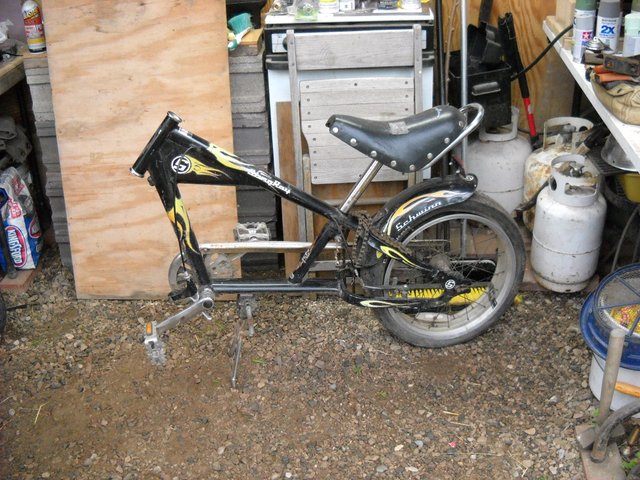 This is the original front fork.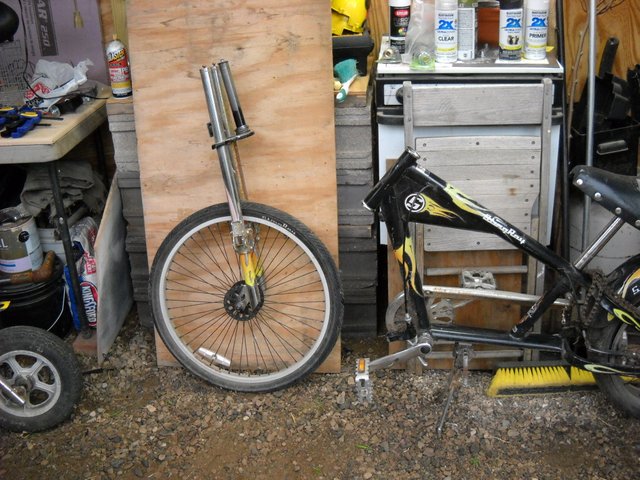 The bike should be an interesting project to work on, but I have to wait for the parts I ordered before I can get any farther on it.
On the few rainy days that we've had recently, I've spent some of my time working on a few Star Trek spaceship models, as well as wasting time on the internet. Hopefully, I'll get back to writing on my hive page again, now that I'm not quite so distracted by other stuff on the internet.
Well, that's all I have for this post, thanks for stopping by to check it out!