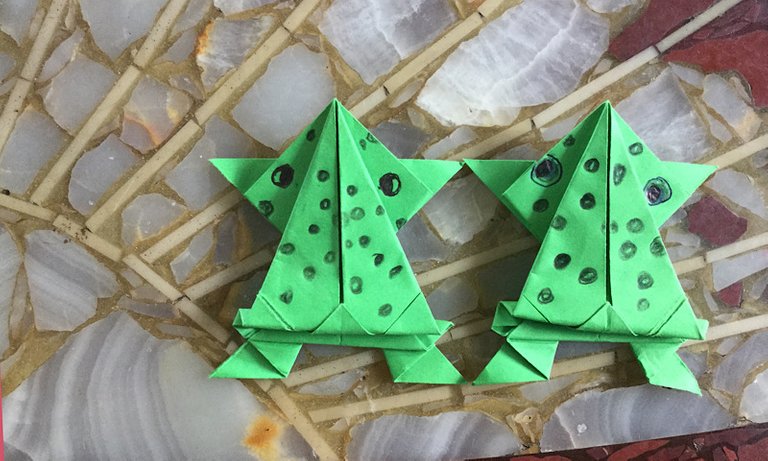 Today, I'm will teach you how to make a frog. All you need is paper. It is fun and easy to make. My sister love it a lot.
In this post I is a little different from another post that I made for origami. So, watch carefully from one step to one step.
---
How I Feel About My Frog?
---
     The first one is easy but at the step 8 is a bit hard.
     This frog I just make it one time then I know how to make it. I also teach my sister how to make it too. If I was you I really love it.
     This frog I learned from my dad laptop. This frog is very easy. My dad saids when he was young he knews how to make this frog.

     It is very fun even my friend near by also like it. They also ask me to tell them how to make it but they got lazy.
STEP 1

     First you need a square paper and cut it into a half. Also you have to fold it into a half too.

STEP 2

     Next you need to fold them both into triangles and fold it again but the opposite ways.

STEP 3

     Now, fold it like a square and fold it out like in the picture on the right.

STEP 4

     Then fold it like in the picture that I show you.

STEP 5

     Then fold it into triangles.

STEP 6

     Now make it into triangles again like in the picture on the right.

STEP 7

     Next you have to turn it another way and fold it into another triangles.

STEP 8

     This one a bit hard you have to fold the under paper to the top. Then you put the triangles into that paper in the photo.

STEP 9

     The last one you need fold to the top and under the frog body.

STEP 10

     The last one you need to make its eyes and do whatever you want to draw on it.

🙏 THANKS FOR READING 🙏
If you enjoyed this post, please upvote and reblog.