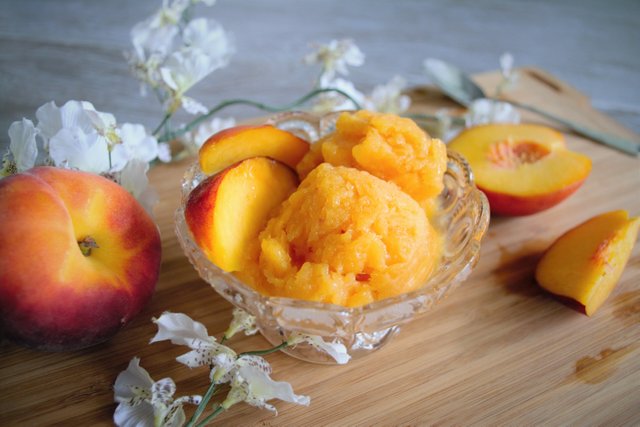 Salutations my friends!

---
Did you know peach season is upon us? Complete with these lovely flowers!
photo thanks to pixabay
---

Have I told you lately...
how much I love peaches. Sliced peaches, peach cobblers, peach pies and of course ice cream! Marketing has turned in to be quite an experience for all of us these days; shortages are evident throughout the stores. Many health, pantry and cleaning supplies are in short supply but thank goodness fruits and veggies are plentiful right now. Today I was successful! With peaches in hand I was on my way, one happy camper!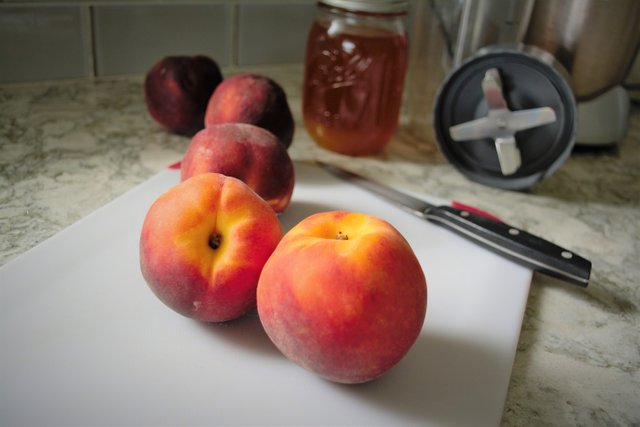 ---
Before I begin…
my kitchen countertops must be sanitized. With a toddler in the house and the Covid pandemic I decided it's time to equip the Bird nest with healthy, natural household cleaning products. In the past I purchased natural cleaning products but not only are they hard to find many don't include ingredients necessary to clean Covid-19 germs.
According to the CDC these three ingredients may be used to kill Covid-19 germs: 70% Isopropyl Rubbing Alcohol, Hydrogen Peroxide and Bleach. check it out here

Needless to say we have quite a few spills and drips to clean up these days!
---
This disinfecting countertop cleaner
is gentle enough to use on granite, marble and quartz tops. You'll find it won't scratch or leave streaks too. By including a small amount of dish soap, grease and dirt will disappear! Worried about that strong alcohol fragrance? No worries…Lemon, Orange and Lavender are three of my favorite essential oils to counter that antiseptic smell.
---
What do you need?
70% Isopropyl Rubbing Alcohol (2 cups)
Filtered Water (2 cups)
Dish Soap (1/2 tsp)
Your favorite Essential Oil (10 drops)
---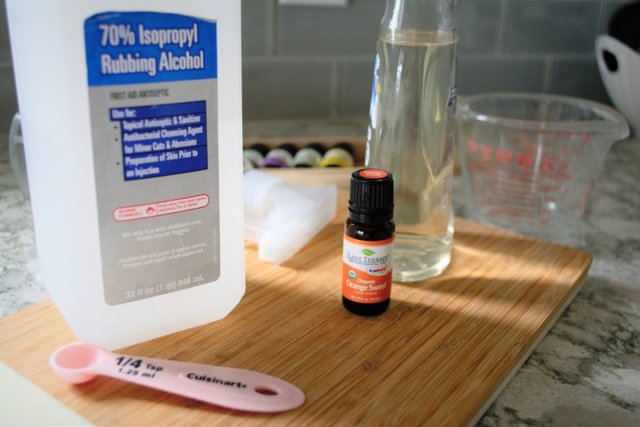 Recycle all of those empty spray bottles…
they're perfect to reuse. Combine all of the ingredients and give it a little shake-shake! Voila, disinfecting cleaning spray! I think you'll find the essential oils will leave your kitchen smelling fresh too.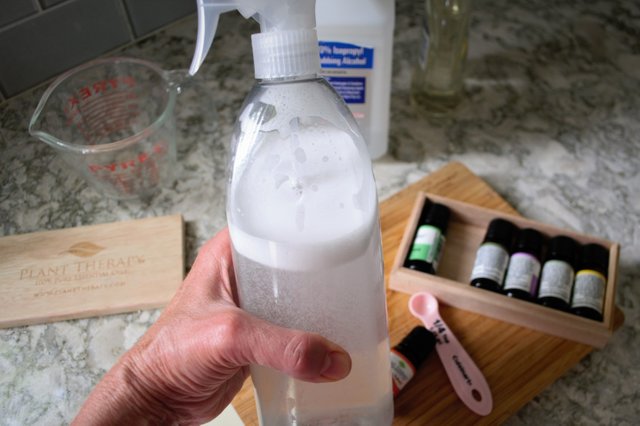 Countertops clean, check! Now let's get cookin!

Did I mention how hot it is today? My goodness! With the heat index over 100 degrees a nice cold dish of Peach Sorbet sounds pretty inviting!
---
Perfectly Peachy Sorbet

Fresh Peaches (qty. 4)
Honey or Maple Syrup (2 tsp.)
Lemon Juice (1 tbsp.)
---
Slice, peel and pit…
the peaches and into the blender they go. Did I tell you my neighbor gave me 2 pints of fresh honey? He has 8 hives and donates hundreds of pounds of raw honey to the local food pantry each year. Such a treat!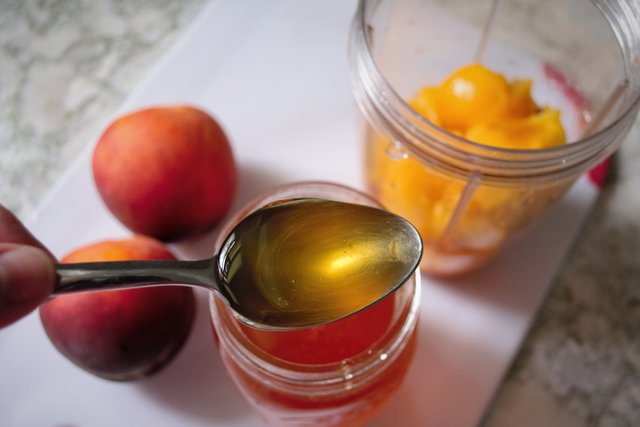 Fresh squeezed lemon…
rounds out the flavor!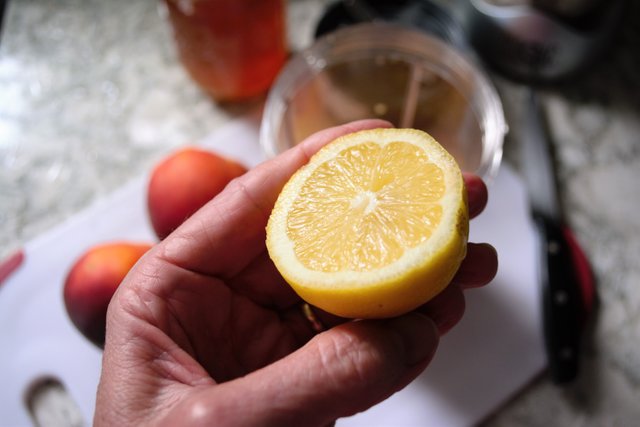 Blended peach delight
into the freezer we go. Now the tough part…waiting, lol.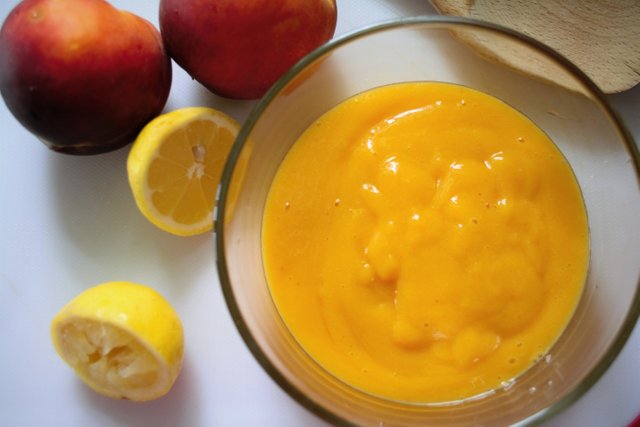 The perfect remedy for a hot summer day!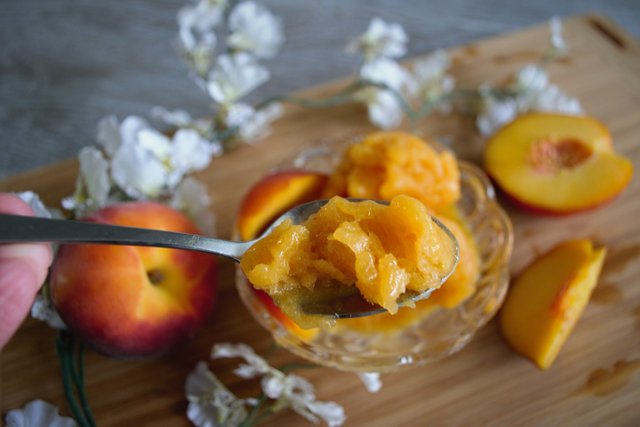 ---
Sorbet is such an easy summer dessert. Make it with berries, plums, pineapple, mangoes and even watermelon. (yes watermelon!) The options are endless! Your family and friends will love it. It's is so refreshing and a truly a great way include more fresh fruit in your day.
Thanks for stopping by! Stay healthy and don't forget to social distance!
---
And as always, blessings to you all!
---

---

---