As far as Sundays go this one is about as good as they get from a middle of winter in Australia perspective. It's 17°C and the sky is totally blue. A great day to slaughter something creepy with sharp implements and brute strength.
I'm over at my mother in-laws to deal with said creepiness and I brought along some properly sharp tools to make sure the slaughter was efficient and I dispatched the creepiness as quickly as possible.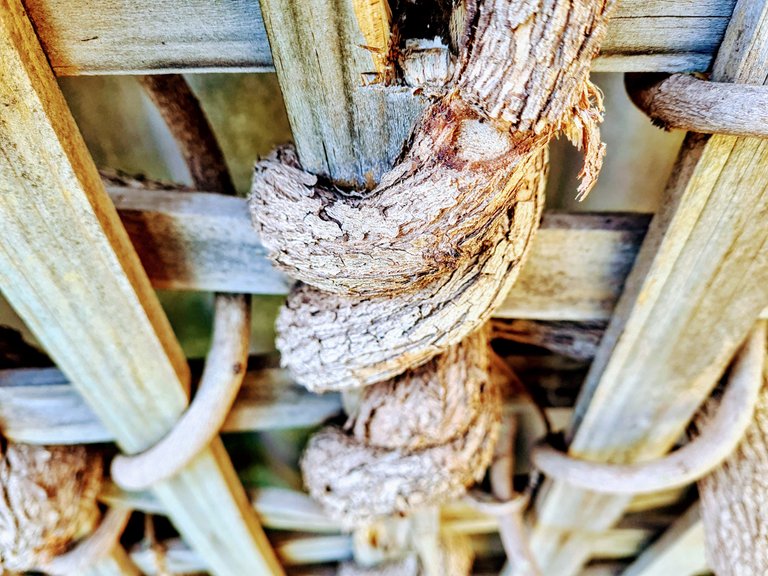 I'll be honest, the creepiness started innocently enough, just a small creep, little by little. But over the years it seems to have accelerated its creep exponentially and has now reached a level of creepiness that is untenable and certainly unacceptable. I'm sorry you creep, it's time to die.
I didn't waste any time once I arrived; With great manly strides I approached the creepiness, sharp cutting tools in hand, much like a Viking might approach an enemy upon the battlefield...Intent upon slaughter. Before too long, limbs were flying this way and that powerless against the manly strength of yours truly, and my deadly implements of death. Of course, all the while, my wife Faith was swooning with admiration for her mighty man-of-action as I hacked, sawed and bludgeoned with single-minded focus upon the destruction of creepy.
Naturally all that hacking and cutting, tearing and rending of the creepy brought up a powerful hunger within me and so...I stopped for a bite of lunch. Home made goulash pies were on the menu, and orange cordial...Food and beverages fit for a magnificent creepy-slayer like me. I'm still on lunch break right now, and figured I'd jot down some notes here...The Creepy Saga's must be recorded for posterity of course, Just as the Vikings would have done also.
I'll have to get back to slaughtering shortly though, after some ice cream, and flexing my muscles for my wife's admiration; I have to keep her keen right?
I hope y'all are having a great weekend.
Just in case you don't get it, I'm over here cutting away a creeper that the next door neighbour has allowed to run rampant. It's slowly tearing up the fence and has to go. We found out the neighbour (elderly) is now in a nursing home, so I figured I'd get the job done which would help him out and preserve my mother in-laws fence.
---
Design and create your ideal life, don't live it by default - Tomorrow isn't promised.
Be well
Discord: galenkp#9209