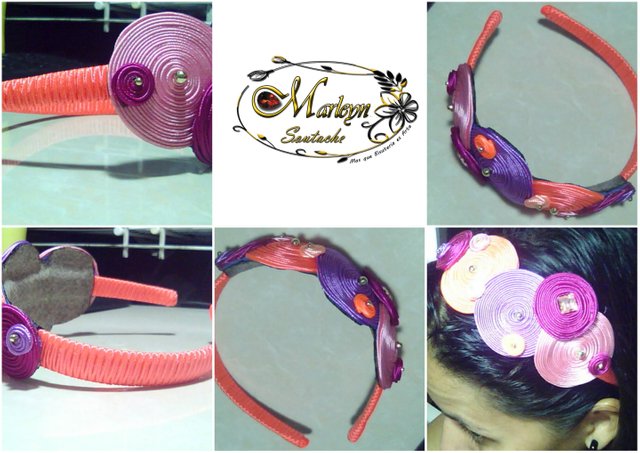 Feliz y Bendecido inicio de semana el día de hoy e realizado un cintillo o Diadema paso a paso, esto me a encantado por que lo realice con hilos sobrantes de otros trabajos así que estoy creando y reciclando.... estos días se me a complicado publicar por que mayormente estoy sin interne aun así seguiré dando lo mejor de mi para hacerlo lo mas constante posible. Sabes que aquí estoy cualquier duda escríbeme atrévete e inténtalo esto es solo una idea yo te daré las bases tu forjaras las columnas... Estos días de cuarentena incentive a mi madre a publicar lo ha echo super bien, así ella y ustedes se entretienen por acá te dejare su post aprendí mucho de ella es la mujer que mas admiro
Happy and Blessed start to the week today and made a headband or headband step by step, this enchanted me because I made it with leftover threads from other works so I am creating and recycling ... these days it has become difficult for me to publish because I am mostly without internship, even so I will continue giving my best to make it as constant as possible. You know that here I am any doubt write me dare and try it this is just an idea I will give you the bases you will forge the columns ... These days of quarantine I encourage my mother to publish she has done it very well, so she and you are entertained by here I will leave you her post I learned a lot from her she is the woman I admire the most

Todos los materiales son de fácil acceso, es probable que cambien los nombres según e país yo estoy en Venezuela y aquí se pueden conseguir en cualquier mercería.
Materiales: Base de Cintillo, Hilo o trenza de Soutache, Silicon liquido, Silicon en Barra con su pistola, Balines o pepitas de su elección yo utilice 5 de 1 milímetro y 3 de 4 milímetros, Aplique cuadrado de 1 centímetro engastado de Cristal, Tijera, Encendedor, Tela POP, Tela gruesa o cuero para la base de atrás.
Amor, coraje y paciencia ... ¡Paso a paso aprenderemos!
Materials: Base of Headband, Thread or Soutache braid, Liquid Silicon, Silicon in Bar with your pistol, Balls or nuggets of your choice and I use 5 of 1 millimeter and 3 of 4 millimeters, Apply square of 1 centimeter set with Crystal, Scissors , Lighter, POP cloth, thick cloth or leather for the back base.
Love, courage and patience ... Step by step we will learn!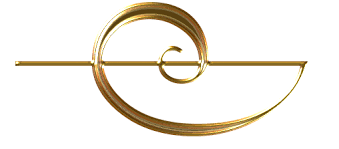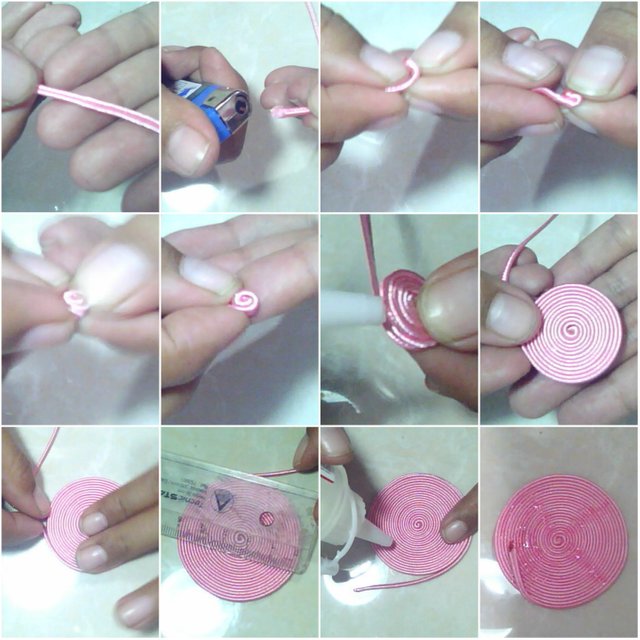 PASO 1: Con Animo y amor por lo que hacemos vamos a comenzar, Del hilo soutache del color que desees vamos a cortar 1.92 metros con el encendedor quemar las puntas con cuidado que no quede negro, doblar la punta hacia adentro con cuidado y comenzar a enrollar formando un circulo, si ya no puedes sostenerlo colocar sobre una mesa limpia y empieza a enrollarlo allí, te debe medir 5 centímetros de diámetro al terminar colocar silicon liquido por todo el circulo y pegar la punta. puedes ver la secuencia de imágenes que te e colocado.
STEP 1: With Courage and love for what we do we will start, From the soutache thread of the color you want we will cut 1.92 meters with the lighter, burn the tips carefully so that it is not black, carefully bend the tip inwards and begin to roll forming a circle, if you can no longer hold it, place it on a clean table and start to roll it there, it should measure 5 centimeters in diameter when you finish placing liquid silicone throughout the circle and paste the tip. You can see the sequence of images that I have placed on you.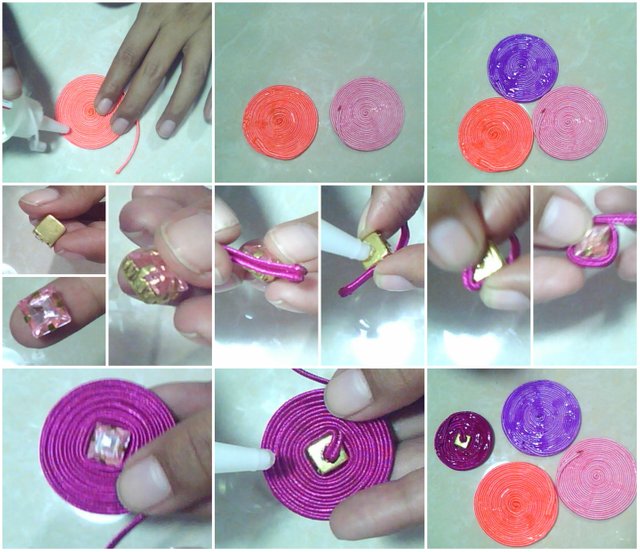 PASO 2: Continua el paso 1 dos veces mas, ahora vamos a forrar el aplique cuadrado como te muestro en la secuencia de imágenes, Untar un poco de silicon liquido en una de las orillas de la piedra y pegar el hilo dejando un sobrante de 1 centímetro aproximadamente que ese lo vamos a pegar en la parte de abajo del aplique, luego de hacer esto comienza a enrollar el hilo alrededor de la piedra al terminar untar silicon liquido por atrás y pegar la otra punta como hicimos en el paso 1.
STEP 2: Continue step 1 two more times, now we are going to line the square appliqué as I show you in the image sequence, Spread a little liquid silicone on one of the edges of the stone and glue the thread leaving a leftover of approximately 1 centimeter that we are going to glue on the bottom of the appliqué, after doing this, begin to wind the thread around the stone when you finish smearing liquid silicone on the back and gluing the other tip as we did in step 1.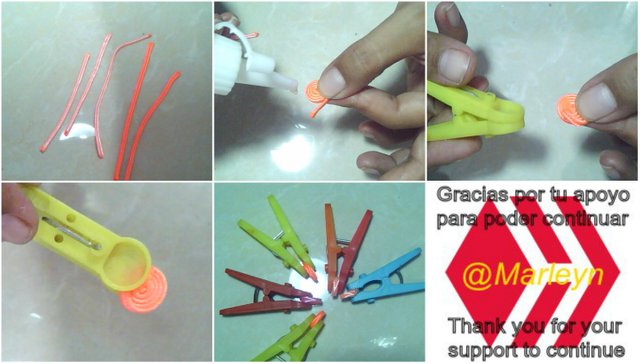 PASO 3: Continua realizando círculos de diferentes tamaños estos los e realizado con los hilos sobrantes de los otros trabajos yo no los desecho si no que los voy guardando en una bolsa, bueno realiza el circulo como te explique en el paso 1 y como son pequeños para que no se desarmen mientras seca el silicon yo les coloque una pinza de ropa. Puedes realizar tantos como gustes para colocárselos a nuestro cintillo o diadema.
STEP 3: Continue making circles of different sizes, these ones have been made with the leftover threads from the other works, I do not discard them, but rather keep them in a bag, well, make the circle as I explained in step 1 and how they are small so that they do not fall apart while drying the silicone and I put a clothespin on them. You can make as many as you like to put them on our headband or headband.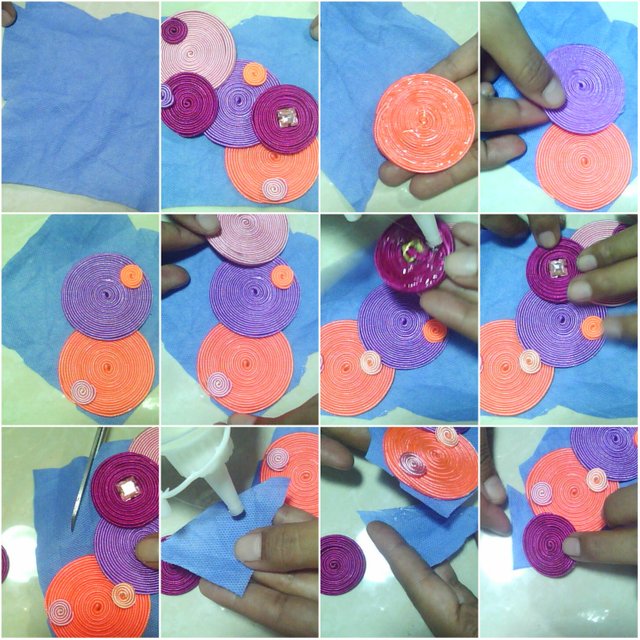 PASO 4:En esta etapa ya tenemos todos los círculos d hilo listos, y secos para moverlos cortar un trozo de tela de POP de unos 19 centímetros de largo por unos 15 centímetros de ancho, colocarlos de la manera que se quiere para que verifiques los detalles si te gusta comienza a pegarlos, yo los e pegado paso a paso y te lo muestro en las imágenes, a mi como utilice un trozo de pop de reciclaje me faltaba un pedazo y bueno corte y pegue como ves en la imagen 10 y 11.
STEP 4: At this stage we already have all the yarn circles ready, and dry to move them cut a piece of POP fabric about 19 centimeters long by about 15 centimeters wide, place them in the way that you want so you can check the details if you like start to paste them, I pasted them step by step and I show it to you in the images, as I used a piece of recycling pop I was missing a piece and well cut and paste as you see in the image 10 and 11.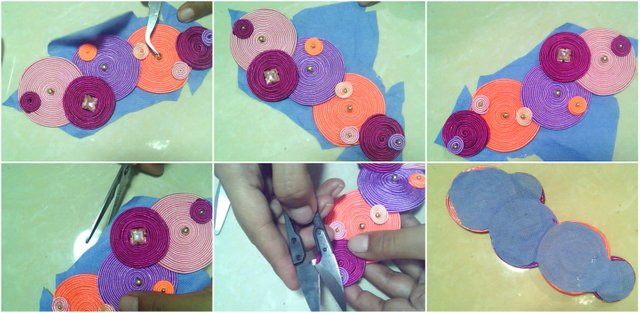 PASO 5: Al terminar de pegar los círculos de hilo, en el centro de cada circulo puedes pegarles un balin laminado o piedra de tu elección solo coloca una gota muy pequeña de silicon liquido y con ayuda de la pinza pegar la piedra cuidando de no ensuciar el resto de la pieza, al terminar cortar la tela sobrante allí te muestro una tijera que es perfecta para llegar a esas partes difíciles.
STEP 5: When you finish gluing the thread circles, in the center of each circle you can stick a laminated pellet or stone of your choice, just place a very small drop of liquid silicone and with the help glue the stone, taking care not to dirty the rest of the piece, when I finish cutting the excess fabric, I show you a scissor that is perfect for reaching those difficult parts.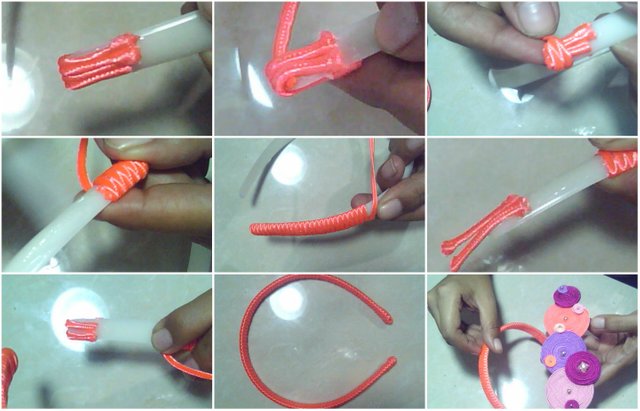 PASO 6: Ya estamos por culminar, vamos a forrar el cintillo esto si no lo realice con hilo reciclado porque es mucho para esto se necesitara aproximadamente 5 metros de hilo, no lo se con exactitud por que lo realice directamente desde el rollo de hilo no lo corte.Continuamos, ahora en la punta pegar dos hilos de aproximadamente 3 centímetros por la parte de atrás pegar una punta del hilo como te muestro en la imagen 2 y comienza a forrar el cintillo poco a poco puedes untar silicon liquido a medida que vas forrando.
STEP 6: We are about to finish, we are going to line the headband this if you do not do it with recycled thread because it is a lot for this it will take approximately 5 meters of thread, I do not know exactly why do it directly from the roll of thread do not cut it. We continue, now on the tip glue two threads of approximately 3 centimeters by the back glue one end of the thread as I show you in image 2 and begin to line the headband little Little by little you can spread liquid silicone as you line.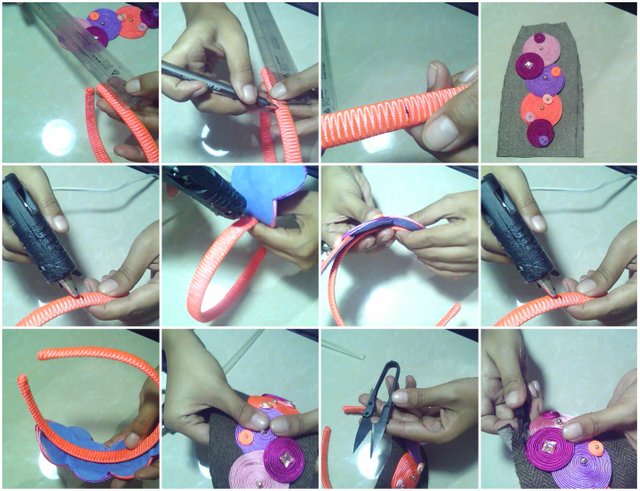 PASO 7: Ultimo paso ya casi terminamos vamos que tu puedes! Desde una de las puntas del cintillo mide 5 centímetros hacia arriba y marcarlo no te preocupes que eso no se va a ver marca en un cuero el largo de la pieza que ya realizaste en los pasos anteriores dejando de cada lado 2 centímetros demás mira la imagen 4, ahora coloca silicon caliente en la marca del cintillo así comenzamos a pegar la pieza colocando silicon caliente y realizando un poco de presión para que quede bien fijada, ahora la volteas colocar silicon caliente atrás y pegaremos el cuero en toda la pieza, con una tijera cortar el restante al terminar pasar el encendedor por toda la pieza para sellar los hilos.
STEP 7: Last step we are almost done, let's go! From one of the tips of the headband measures 5 centimeters up and mark it, do not worry that it will not be seen mark on a leather the length of the piece that you made in the previous steps, leaving 2 centimeters on each side, look at the image 4, now place hot silicone on the headband mark so we begin to glue the piece by placing hot silicone and applying a little pressure so that it is well fixed, now you turn it over to place hot silicone on the back and we will glue the leather on the entire piece, with a scissors cut the rest after finishing passing the lighter over the entire piece to seal the threads.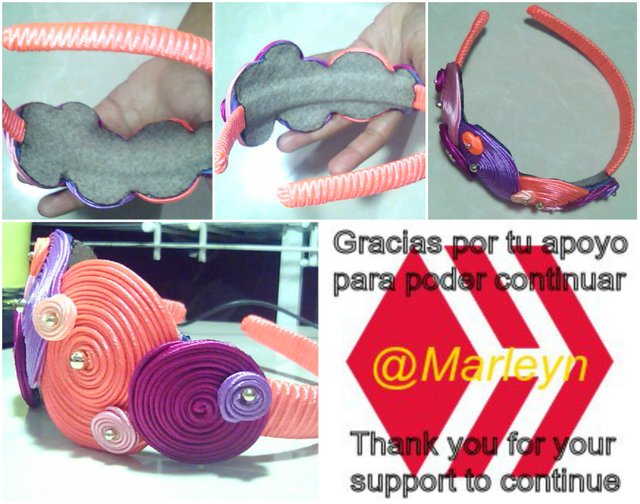 Si tienes una duda escríbeme un comentario, estaré feliz de ayudarte con cualquier detalle, Espero que mis diseños les gusten tanto como a mí me gusta, aprendan con placer ...!

Nunca olvides que el Poder es Querer y si quieres Puedes...
Eres Luz eres Energía, TU PUEDES ... Que el universo infinito Conspire para que todo siempre sea mejor ... Se les quiere ...

Venezuela FE
Somos Seres Abundantes! Qué las energías del universo vibren en sintonía con las de cada uno de nosotros en armonía! Cuidemos nuestras palabras, acciones y pensamientos!
If you have a question, write me a comment, I will be happy to help you with any details, I hope you like my designs as much as I like, learn with pleasure ...!

Never forget that Power is Wanting and if you want you can ...
You are Light, you are Energy, YOU CAN ... May the infinite universe Conspire so that everything is always better ... They are loved ...

Venezuela FAITH
We are Abundant Beings! May the energies of the universe vibrate in tune with those of each of us in harmony! Let's take care of our words, actions and thoughts!