---
I love christmas. Its characteristic colors are those that fill the spaces we love, reminding us that we are in a joyful and magical month. Today, I present a simple recipe to prepare and very fun to make with the children of the house.
In my case, everyone at home has encouraged us to decorate the little cup-cakes. Especially Carlos Luis, my oldest son. He is happy and very happy decorating his little cup-cakes. 😃😃
What I liked about this recipe is that it is not super sweet, it is not cloying. So it is perfect to be a soft dessert.😋😋
---
🎄☃️🎄☃️🎄☃️🎄☃️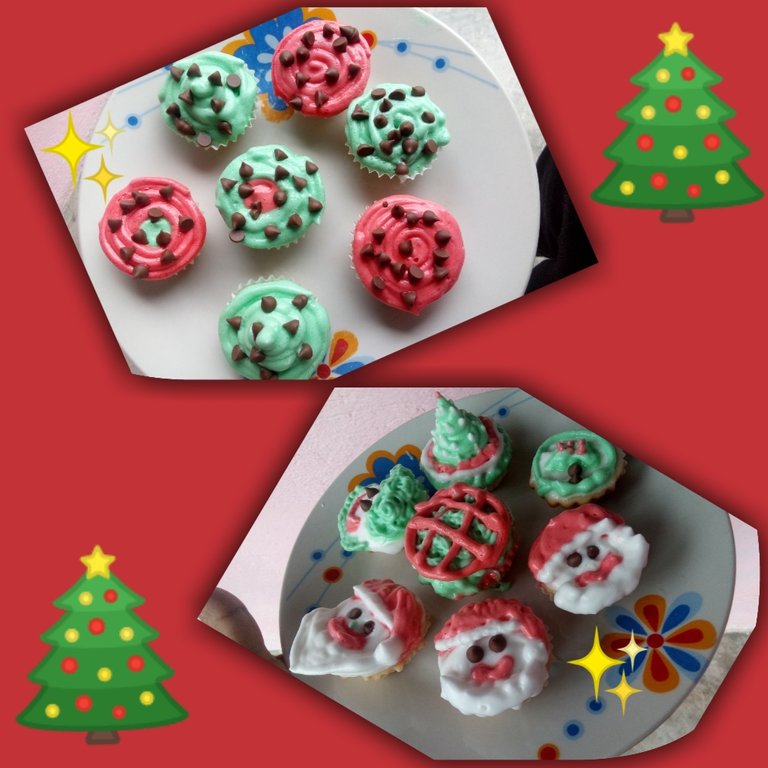 ---
🎄☃️🎄☃️🎄☃️🎄☃️
Ingredients:
200 gr. of butter.
350 gr. of wheat flour.
250 gr. of sugar.
Pinch of salt.
500 ml. milk.
Vanilla extract.
1 egg.
For the frosting:
1/3 cup of water.
1/4 of a teaspoon of cream of tartar.
1 sugar.
2 egg whites.
Colors: red and green.
Chocolate drops.
---
🎄☃️🎄☃️🎄☃️🎄☃️
Preparation:
In a large bowl type cup, place the butter, sugar, salt and flour. See figure 1. You must beat until all the ingredients are integrated, the resulting mixture will have a sandy texture. See figure 2. Now add the liquid milk, see figure 3. Then add the egg and the vanilla extract. See figure 4.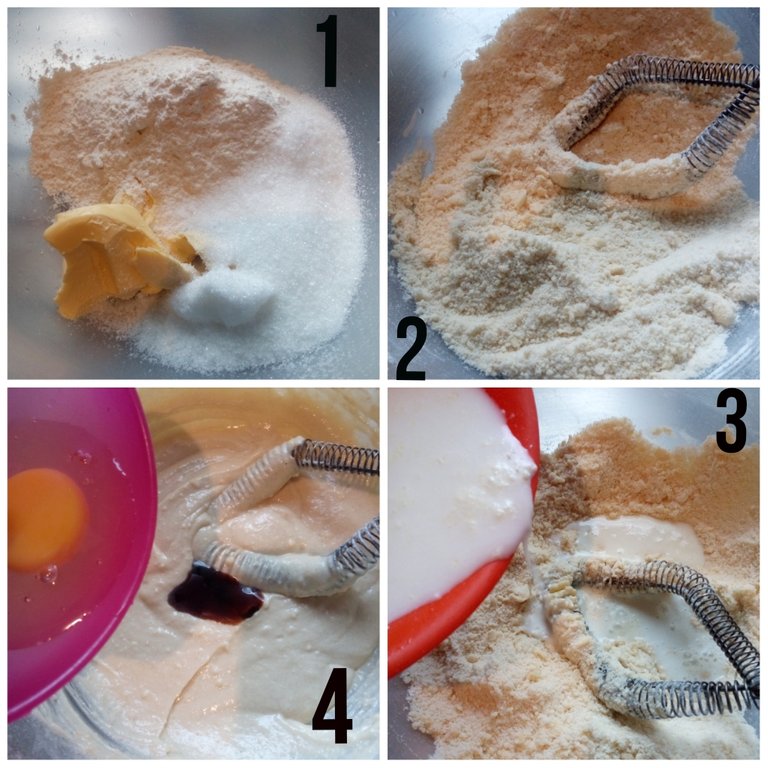 By obtaining a homogeneous mixture. See figure 5. Arrange the cups in their respective molds, fill with mixture one by one of these. See figure 6 and 7. Bake for 20 minutes, remove from heat. See figure 8.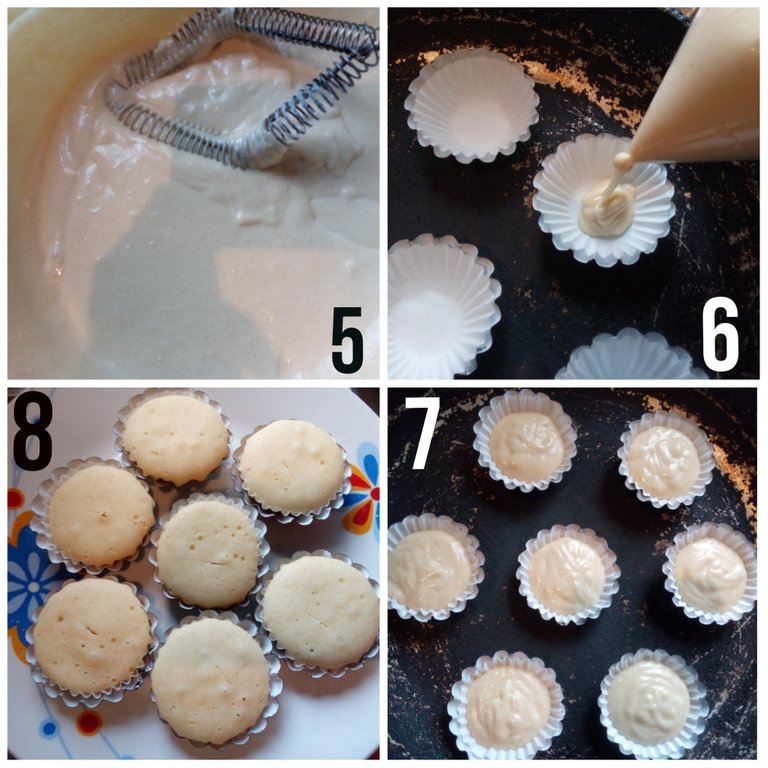 ---
For the frosting:
Place in a pot, the cream of tartar, water and sugar. See figure 1. Cook over medium heat, stir until reaching a boiling point. There should be a kind of transparent syrup. See figure 2. Separately, in a large cup, place the two egg whites and beat. Little by little we will add the syrup. See figure 3. After incorporating all the syrup, continue beating for a few more minutes. We'll know it's ready when peaks form. See figure 4. Separate portions into cups and add a different coloring to each one. Decorate the cup-cakes to taste.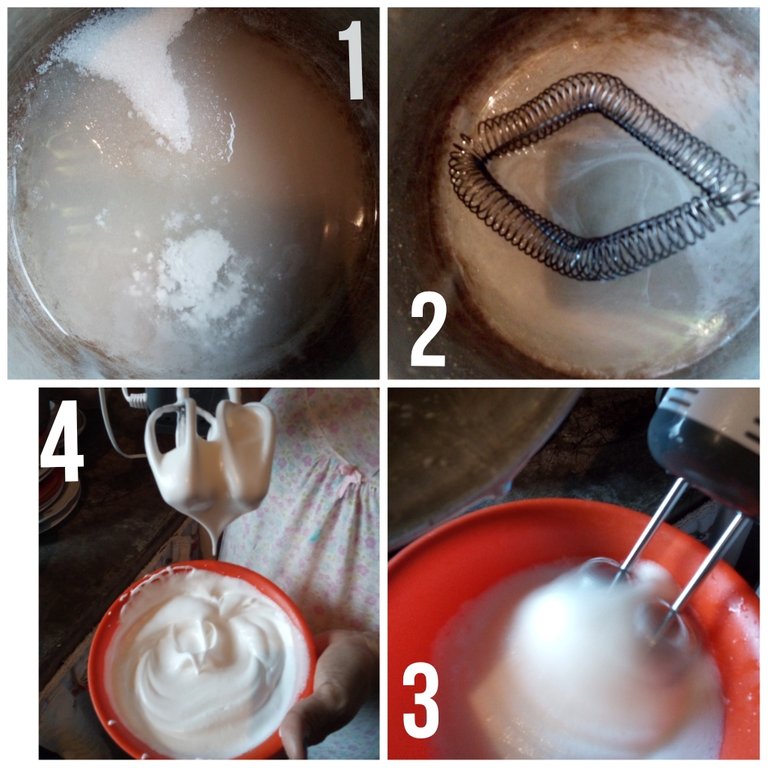 ---
My cup-cakes are ready, take a look: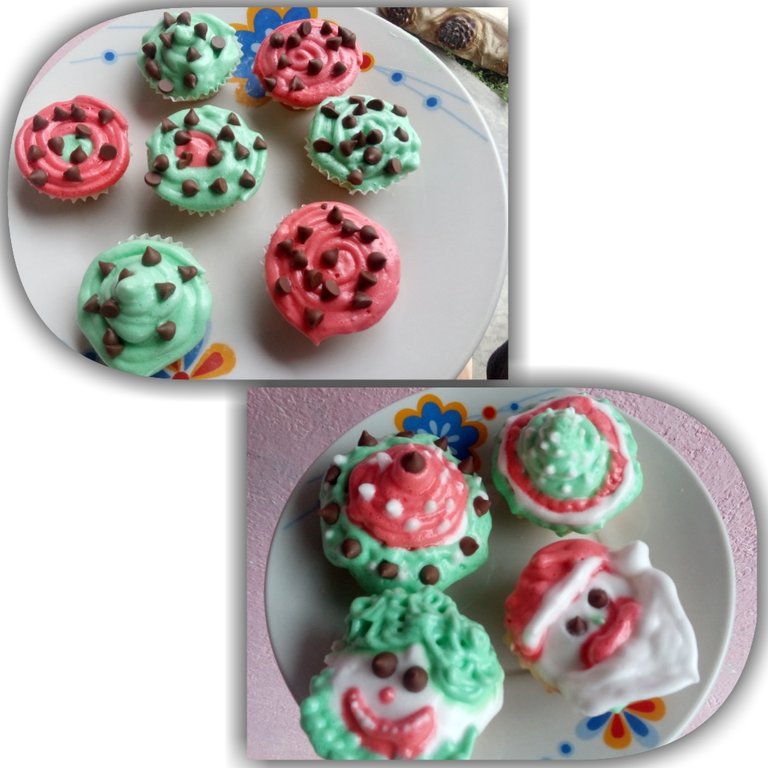 ---
For my part, being inspired by Christmas we have decorated with figures alluding to it. Among them: Santa Claus, Christmas tree and others in Christmas colors decorated with chocolate drops.