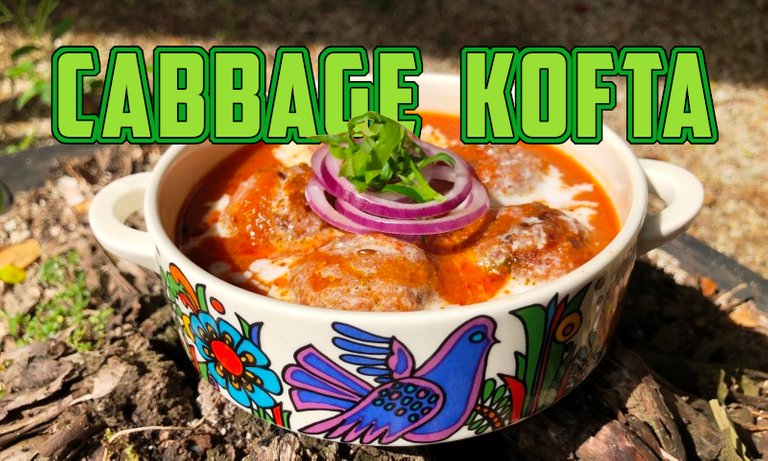 I decided to prepare one of my daughters' favorite dishes today, a bit of celebration for Srey-Yuu going back to school.
Qurator is also hosting "Hive Top Chef! | Deep Fried" this week, so I figured I would cook Cabbage Kofta and share it as an entry for this awesome weekly contest.

🥣 Cabbage Kofta 🧆
💚💛❤️ ITAL IS VITAL ❤️💛💚

     Once upon a time I shared my kofta-inspired veggie burger recipe with you Hivers, and the koftas in this recipe are a simpler version of my veggie burger recipe. Cabbage is the go-to ingredient to bond with the besan, but my whole family prefers amaranth leaves.
     Amaranth leaves are a common ingredient in Suriname, and we buy/pick them very often, but I was trying to cook without leaving the house for any ingredients when I made this.
     Cabbage was on hand, so cabbage it was, and I vegan clandestinely began frying they koftas while the @KidSisters were next door playing. Koftas have a tendency to go missing before mealtime when the whole family knows they are on the day's menu.

🥥 Cabbage Kofta Ingredients 🌶️

Cabbage Koftas

Tomato Gravy

⋆ minced cabbage - 2 cups
⋆ besan - 1 cup
⋆ cumin seeds - 1 tsp
⋆ red onion - 1 small
⋆ minced fresh coriander - 2 tsp
⋆ minced ginger - 1 tsp
⋆ minced garlic - 2 cloves
⋆ green chili - 1
⋆ sea salt - 1 tsp
⋆ tomatoes - 5 small
⋆ ginger - small knob
⋆ green chili - 1
⋆ cumin seeds - 1 tsp
⋆ asafoetida - ⅛ tsp
⋆ besan - 1 tbsp
⋆ coriander powder - 1½ tbsp
⋆ turmeric powder - ½ tsp
⋆ chili powder - ¼ tsp
⋆ paprika - ½ tsp
⋆ sea salt - ½ tsp
⋆ brown sugar - 1 tsp
⋆ sea salt - ½ tsp
⋆ coconut milk - 3 tbsp

👨‍🍳 Cooking Method 🔪

Cabbage Koftas
STEP 1

     Mince all the kofta ingredients and combine in a bowl.

     Mix by hand and squeeze ro release a bit of juice from the cabbage, this will hydrate the besan.

STEP 2

     With wetted hands, form your besan mix into ping-pong sized balls.

     Keep them in the refrigerator until use or fry immediately.

STEP 3

     Heat a pan with about 1cm of oil, and maintain a medium-low flame for frying.

     Fry your kofta balls in small batches, making sure to turn once in a while to prevent overcooking on one side.

STEP 4

     Remove from the oil with a slotted spoon when koftas are golden-brown.

     Hide these from your family members until you will need them for the tomato gravy.

     GUARD THEM WITH YOUR LIFE!!
Tomato Gravy
STEP 1

     Grind the tomatoes, ginger, and green chilies. After grinding, add the paprika, chili powder, turmeric powder, and coriander powder to the tomato puree.

     Keep this with the other ingredients near the stove, and we will begin cooking.

STEP 2

     Heat a few tablespoons of oil in a small pan and add the cumin seeds and asafoetida.

STEP 3

     Add the besan when the cumin is fragrant and turn the flame down to low.

     Saute the besan on low heat until the raw smell goes away.

STEP 4

     Now add the tomato puree and spice powders, and bring to a simmer.

     Simmer uncovered until reduced in volume by 50%.

STEP 5

     Add 1½ to 2 cups water to the tomato gravy, stir to incorporate and add the salt and sugar.

     Bring back to a simmer and cook a few minutes.

STEP 6

     Add the fried kofta balls, lower the flame to a very gentle simmer, partially cover, and cook 6 to 8 minutes.

     Top with the fresh coconut milk and any herbs or fresh onions you may have, serve.
     Congratulations, you've finished this relatively simple #plantbased recipe. Adapt the recipe to whatever ingredients are available to you locally. Here in Suriname, besan is sold in most corner stores.
     This dish is delicious with brown rice, but also awesome with rotis or any other non-fried Indian bread. It's already a heavy dish, so having it with puris or bhaturas might result in a long post-meal nap.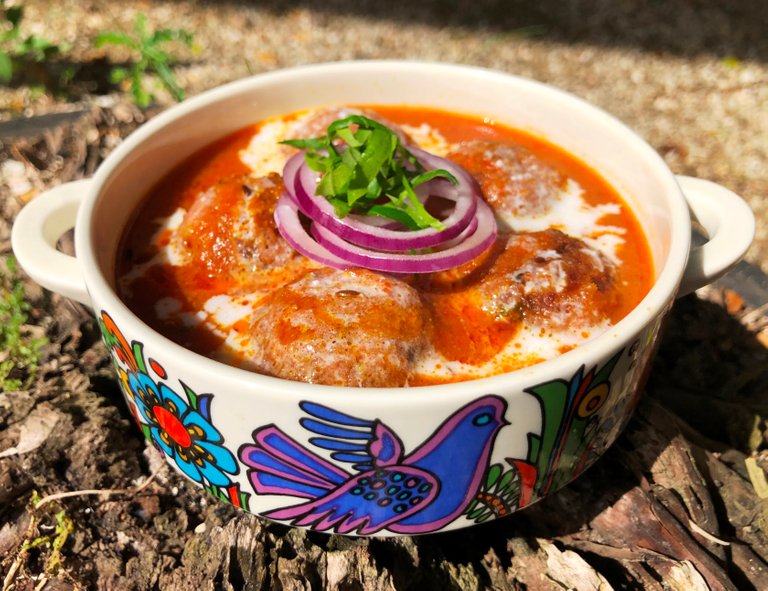 This recipe happens to be a version of a dish we frequenly included in our daily thali at our former Ital restaurant in Cambodia. Replace the cabbage with any leafy green or shredded vegetable you have available. Besan will bond it all, don't worry.
     Most importantly, eat with loved ones to increase the good vibes and upfulness. Bless up!!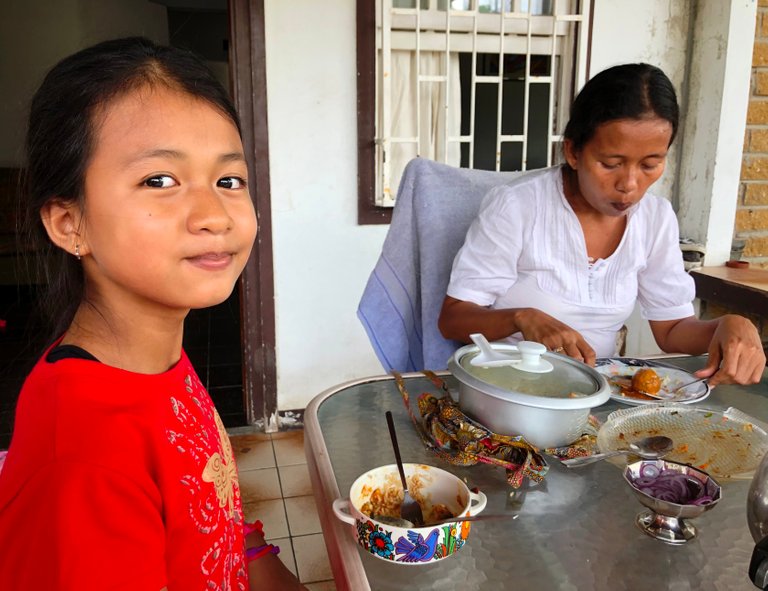 🙏 THANKS FOR READING 🙏
If you enjoyed this post, please upvote and reblog.