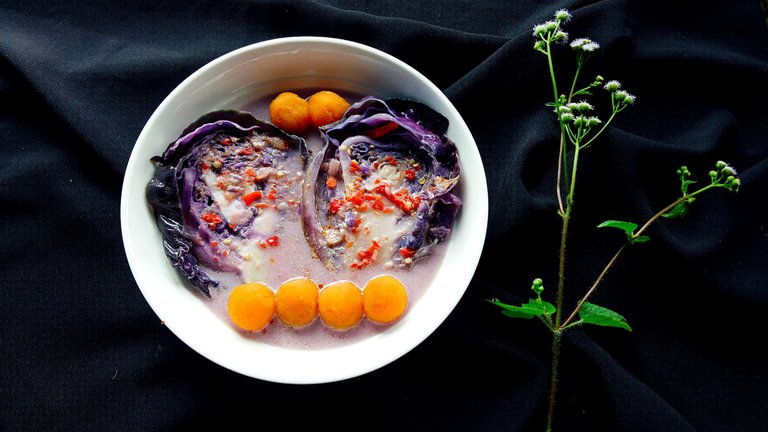 Purple cabbage has a pretty color. But unfortunately, purple cabbage is not very popular as the main dish because the natural color of the cabbage can contaminate and damage the color of other food ingredients.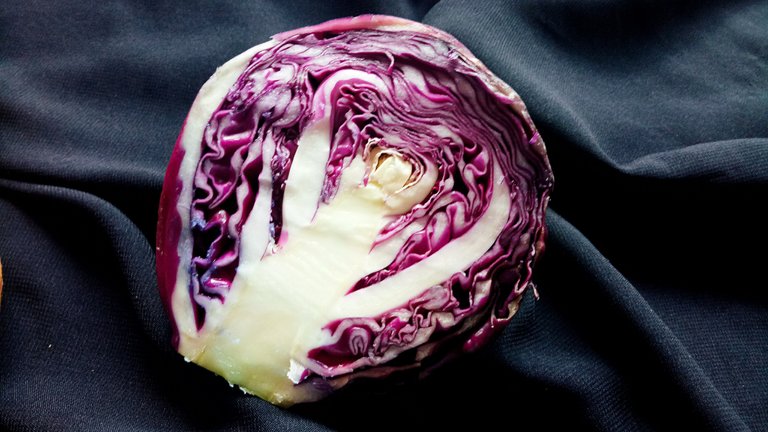 Food mixed with purple cabbage will be weird. That's why I rarely cook purple cabbage.
This time I tried to cook purple cabbage for a vegan curry. For the final stage of serving, I add steamed sweet potato as a filling complement.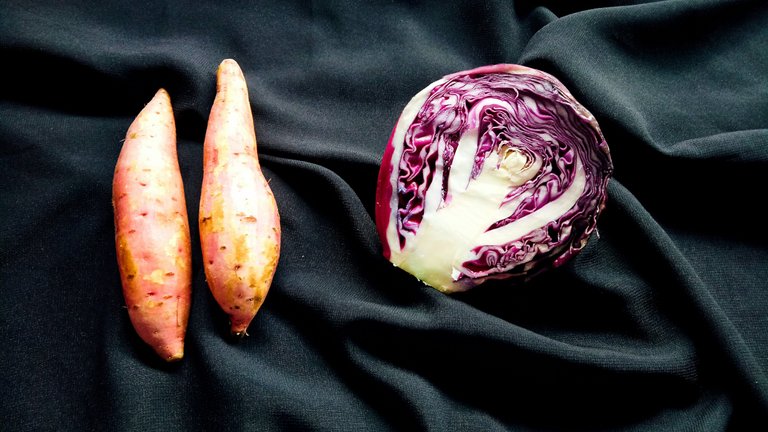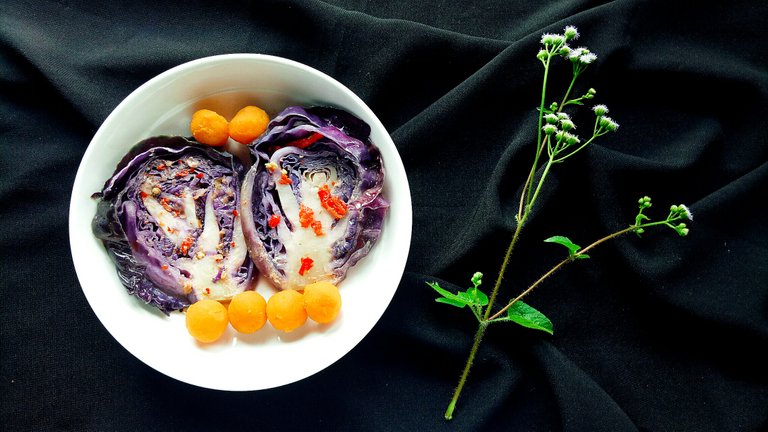 The results are quite good with good taste. Most importantly, the final look is devoid of terrible color. So I'm going to share how to cook "Vegan Curry Purple Cabbage"
---
---
---
Ingredients
Seasoning for curry paste, 5 pieces of red chili peppers, onion, garlic, pepper, salt, enough vegetable oil.
Purple cabbage, 200-300 grams
500 ml of coconut milk
100 grams of sweet potatoes or you can replace them with general potatoes
---
---
---
Cooking Instructions
Prepare about 100 grams of sweet potatoes or you can replace them with general potatoes. Steam or boil them while you cook the purple cabbage so you can save time.

---
---
---
Blend seasoning ingredients for curry paste. Or you can use about 3 tablespoons of ready to use curry paste.

---
---
---
Clean the purple cabbage and cut it into a shape following the cabbage vein pattern. I purposely don't cut it into small pieces like for serving stir-fried vegetables. This method will prevent the purple cabbage from crumbling when cooking the curry.

---
---
---
Stir fry the curry paste until fragrant.

---
---
---
Add the cabbage pieces carefully. Sauté briefly, then add coconut milk.

---
---
---
Cook for 3-5 minutes, not letting the cabbage get mushy. Keep the cabbage crispy in texture.

---
---
---
Serve with boiled/steamed sweet potatoes or potatoes according to your taste.


---
---
---
You can enjoy this dish as a dinner that warms your body or as a lunch that makes you excited.
What do you think about this purple cabbage curry dish? Have you ever tried a recipe similar to this one?