Sweet, brilliant red, a little spicy, a little tangy, a lot delicious. Minus the pretty swirl of dairy product, it's vegan. There are a couple of extra steps involved to roast the peppers and made candied walnuts.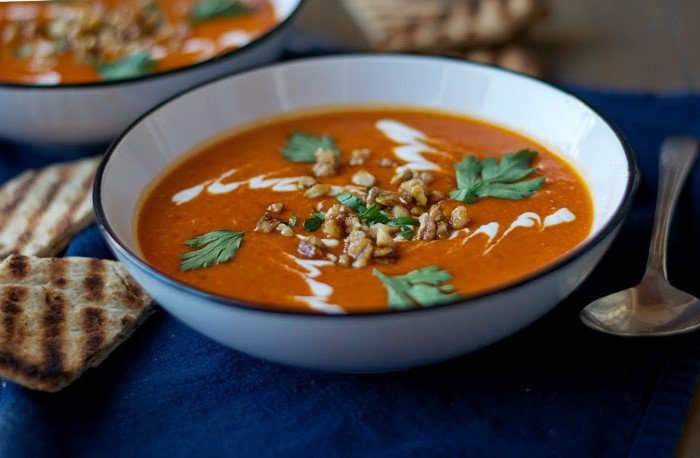 Most soup starts this way. Onion-and-celery art is optional.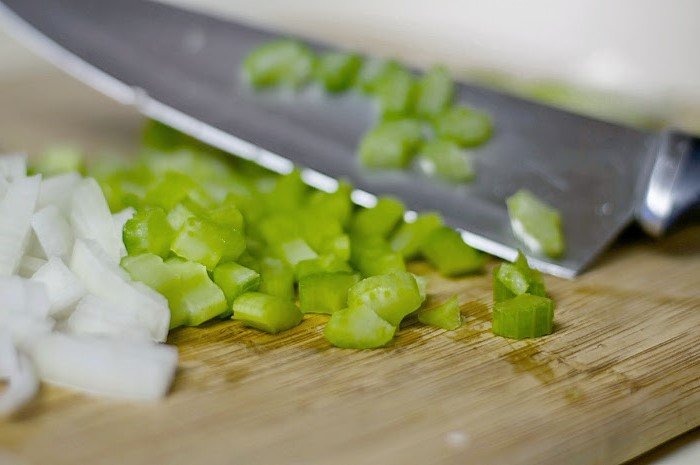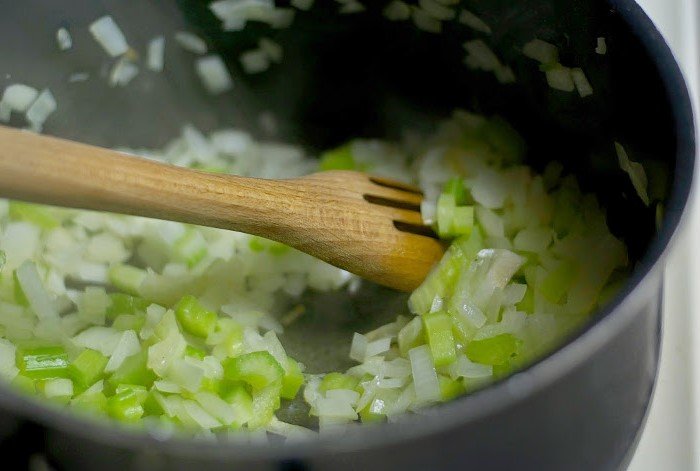 Like I said, you can certainly substitute these with a couple jars of marinated roasted peppers. But just look at that wrinkled… Face. I can only hope to look this good (and have a tan that nice) in old age.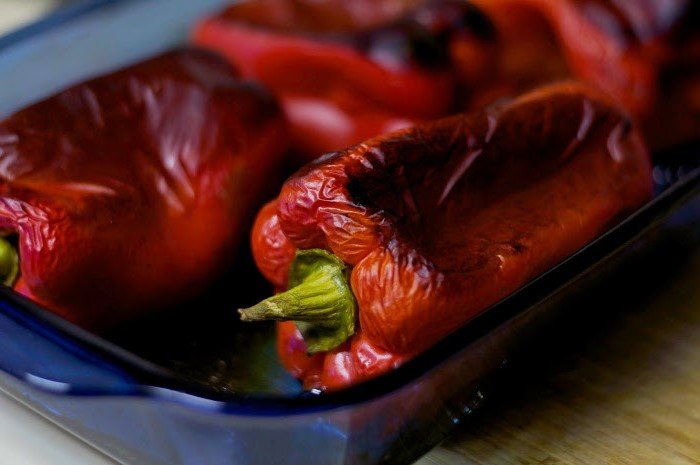 I also said that you can just buy candied nuts, but I can guarantee they won't be pomegranate molasses candied nuts. Pomegranate molasses has a fragrant, fruity tang you just can't replicate that easily. If you can imagine what pomegranate juice reduced to syrupy perfection tastes like, that's it (because that's exactly what pomegranate molasses is).
Other than that, it's a simmer-and-puree deal. The easiest to make, and even easier to love.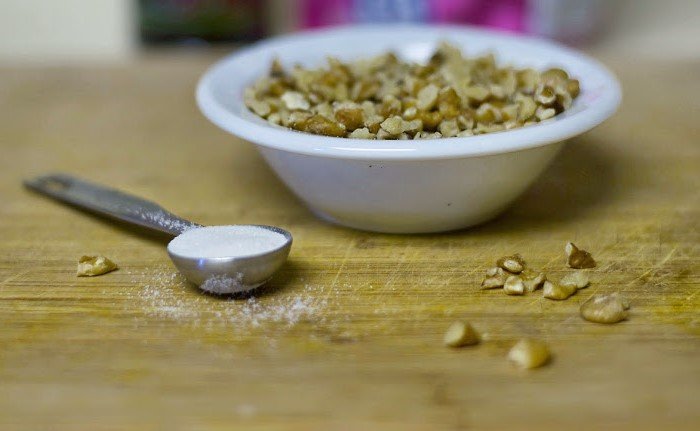 And if we need to grill up some flatbread and pay tribute to this soup's dip ancestors, we should most definitely do that. Say hello to your complete meal! It's not going to talk back, but, you know. Manners.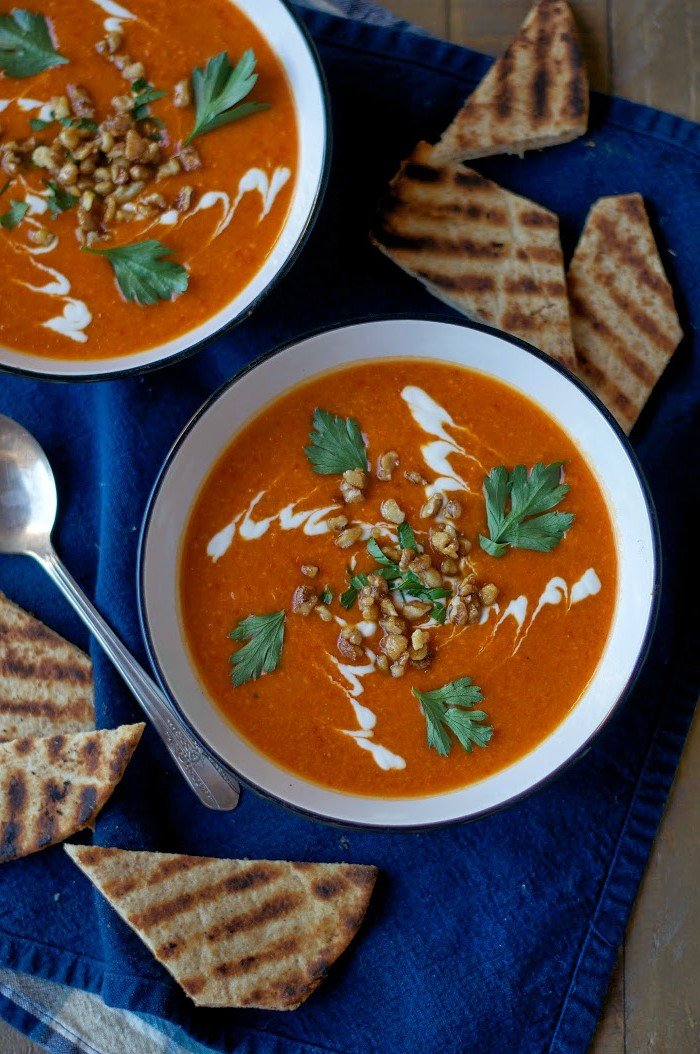 Sweet Potato Soup
For soup
4 red bell peppers
2 tablespoons olive oil
1 medium yellow onion, chopped
2 stalks celery, chopped
3 cloves garlic, minced
1 tablespoon ground cumin
1/2 teaspoon crushed red pepper
3 large sweet potatoes (about 2-3 lbs), peeled and chopped
6 cups water or vegetable stock
1/4 cup pomegranate molasses
Salt and pepper
Yogurt or cream, and/or fresh parsley, for topping
For candied walnuts
1/2 cup chopped toasted walnuts
4 teaspoons sugar
2 teaspoons pomegranate molasses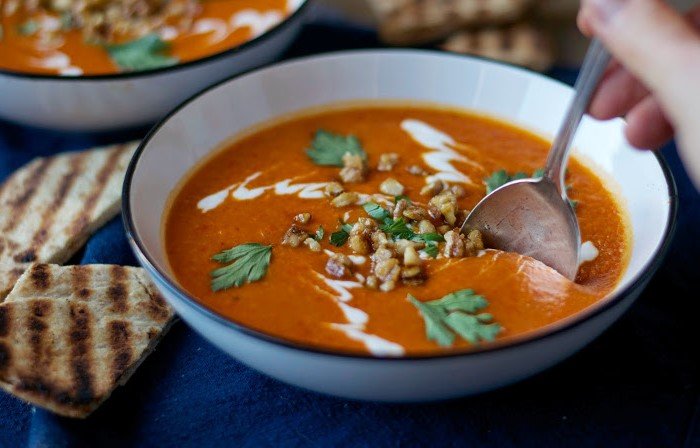 Instructions
Preheat oven to 450 degrees. (You can prep other soup ingredients while the peppers are being roasted.)
Place whole red peppers on a baking dish and roast until they are completely wrinkled and charred, about 45 minutes. Remove with tongs into a resealable plastic bag, or a dish with a tight-sealing lid, and seal until cool enough to handle.
Remove the stem and seeds from peppers and peel off the skin (it should slide right off). Coarsely chop pepper flesh and set aside.
Heat the oil on medium-high heat in a large pot on the stove. When shimmering, add onions and celery and saute until onions are soft, about 3 minutes. Add garlic, cumin, and crushed dried red pepper and saute for about 30 seconds more, until fragrant.
Add the sweet potatoes, roasted red peppers, and water or stock. Bring to a boil, then lower heat to low, add pomegranate molasses and simmer until sweet potatoes are tender, 25-30 minutes. (This is a good time to make the candied walnuts--see below.)
Remove soup from heat and puree in a blender or food processor (be careful when pureeing hot liquids). Then return to pot, season to taste with pepper and salt. Serve topped with candied walnuts, cream or yogurt, and/or fresh chopped parsley.
To make candied walnuts
If your walnuts are already toasted, combine them in a small skillet over medium-high heat with 4 teaspoons of sugar and 1 teaspoon of pomegranate molasses, stirring constantly, until sugar is melted and nuts are coated. If the walnuts are raw, toast them in the skillet, until fragrant and slightly browned, before adding the sugar and pomegranate molasses. Spread out on a plate or sheet of wax paper to cool.