Let me tell you about these darling vegetarian "meatballs." I'm not a vegetarian, but I used to be one, which means that both sides either trust me or completely distrust me. In this case, both should trust me — these are fantastic. The lentil-walnut-mushroom combo is an array of earthy, nutty flavors and varied textures.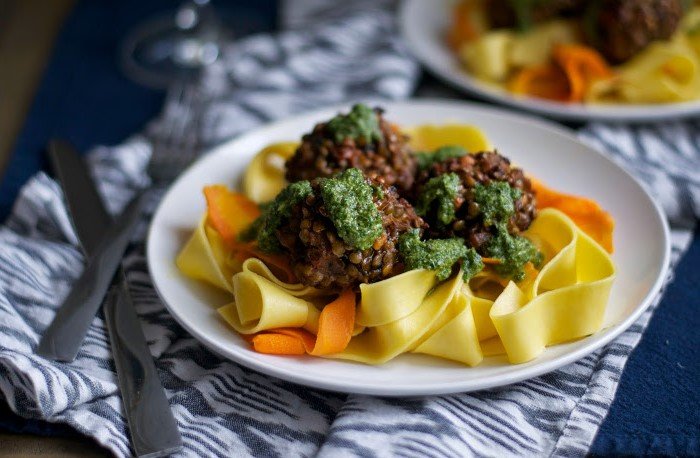 The dish itself is a bit of a project, with many steps and components. I haven't actually cooked from it until now. I only made slight adjustments to the recipe: using shiitake mushrooms instead of button and adding a bit of flour to make the mixture more cohesive. The second change may be related to the first one — I really have no idea whether the water content of the two is different. Just use your senses and see if the mixture wants to stay together, and if not, add a bit of flour. You got this… You're a meatball ninja.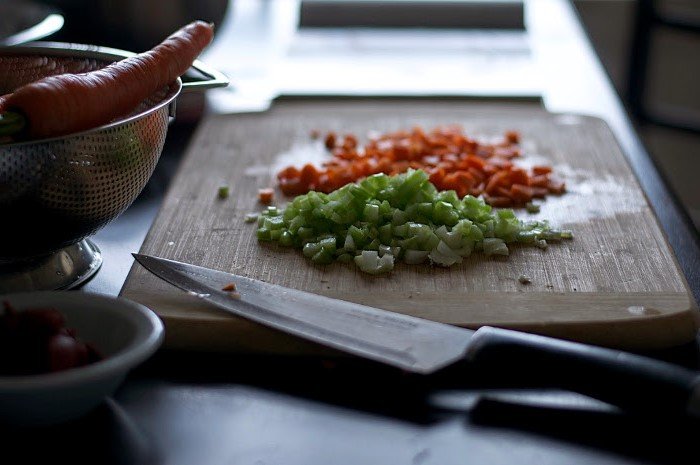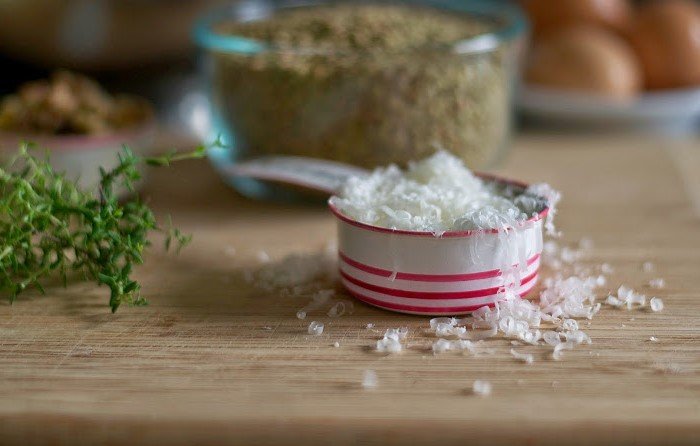 As for the carrot ribbon pasta and the pesto I used dill here because I love that bright, grassy, sassy thang — but basil will work very well too, obviously. Parsley is another great option. You have your own relationship with herbs and I'm just going to stay out of it.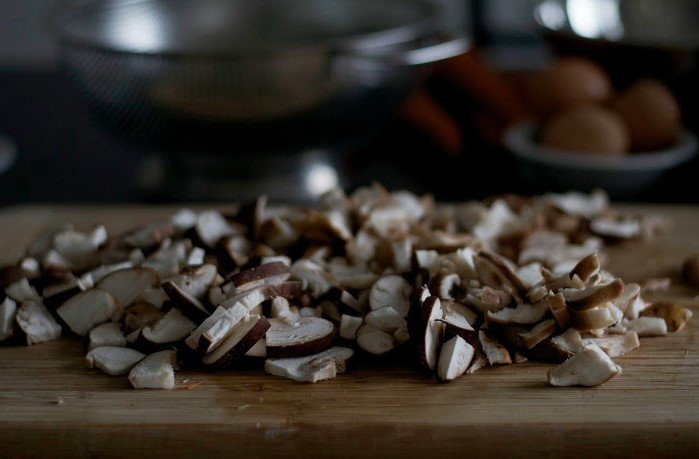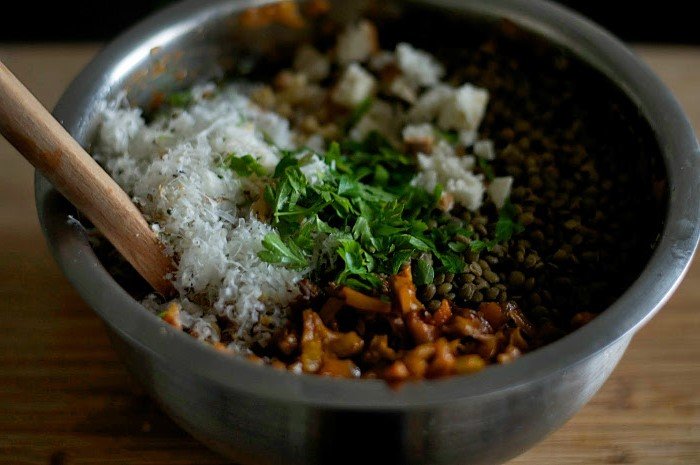 The thin carrot strips get a simple sauté to soften them before being tossed with pasta. After that: Plate, ball, dollop, and grate. Eat.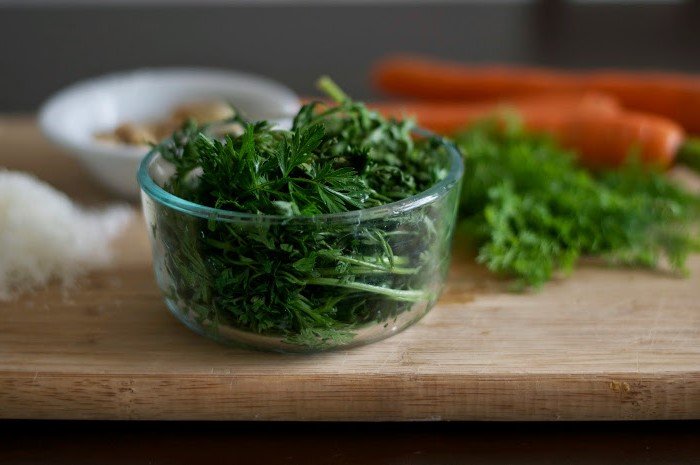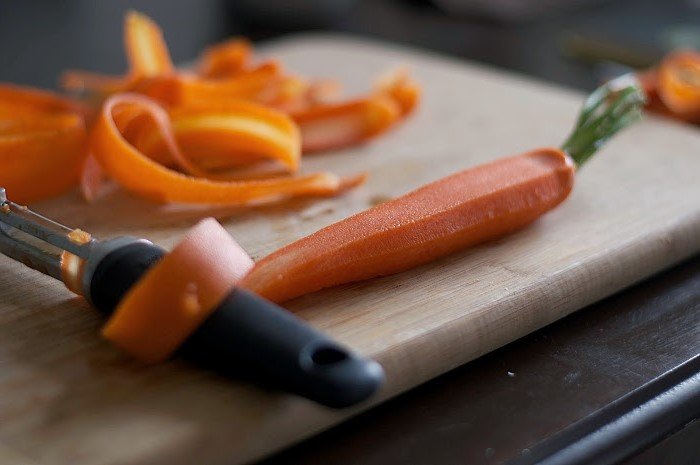 Vegetable Meatballs with Pappardelle
For veggie balls
2 cups lentils (any kind, probably--I used green ones)
1/4 cup + 2 tbsp olive oil, divided use
1 yellow onion, diced finely
2 carrots, diced finely
2 celery stalks, diced finely
1 garlic clove, minced
1 tbsp chopped fresh thyme
3 tbsp tomato paste
8 ounces button mushrooms (note: I used shiitake), wiped clean and sliced
2 tsp salt
3 large eggs
1/2 cup grated Parmesan cheese
1/2 cup bread crumbs
1/2 cup fresh parsley
1/4 cup finely chopped walnuts
1/4 flour (optional, if needed to bind mixture)
For pappardelle and pesto
1 bunch carrots with tops
1 garlic clove, minced
3 tablespoons chopped walnuts
1/2 cup basil or dill (I used dill--parsley would be great too)
1/4 cup freshly grated Parmesan cheese
1/2 cup olive oil, plus 2 tablespoons to sauté the carrots, plus more for pesto consistency as needed
Juice of 1 lemon, divided use
Salt and freshly ground black pepper
8 ounces dried pappardelle pasta
Freshly grated Parmesan, for serving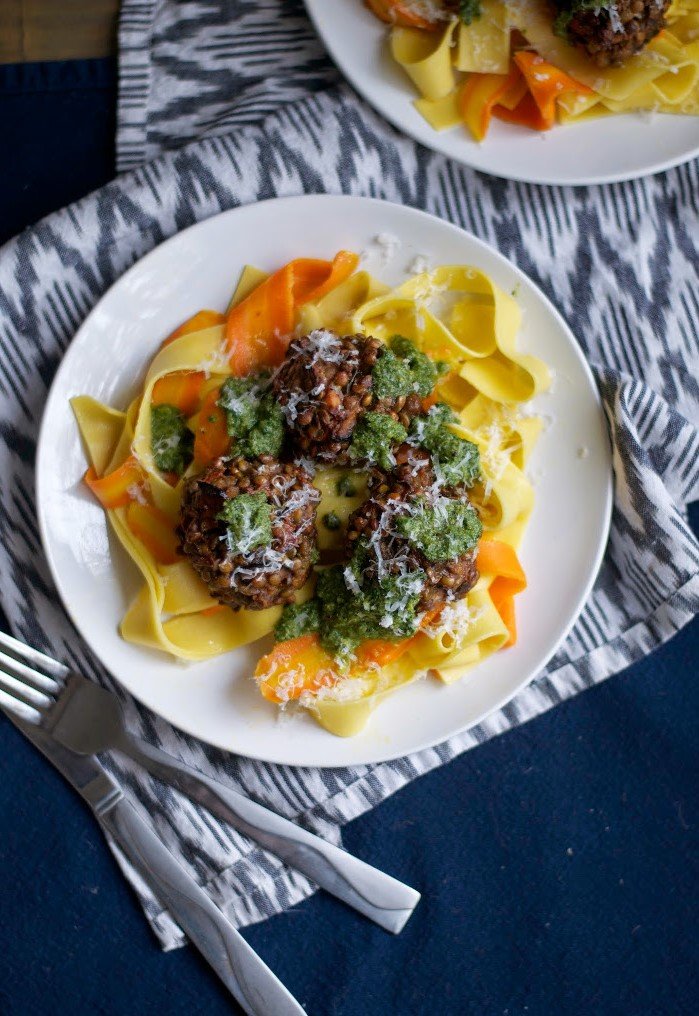 To make veggie balls
Bring lentils and 2 quarts of water to a boil in a large pot. Reduce to simmer and cook until the lentils are soft but not mushy, 20-25 minutes. Drain and let them cool.
In a large saute pan, heat up 1/4 cup of the olive oil and sauté the onion, carrots, and thyme over medium-high heat. Cook, stirring frequently, for about 10 minutes, until vegetables are starting to brown. Add the garlic and stir for 30 seconds until fragrant, then add tomato paste and cook, stirring constantly, for another minute or so. Add the mushrooms and cook, stirring frequently, until the liquid is absorbed. This might take around 15 minutes depending on what kind of mushrooms you used. Add salt, stir to combine, and let the mixture cool to room temperature.
When lentils and vegetable mixture are cool, stir them together and add eggs, Parmesan, bread crumbs, parsley, and walnuts and mix until well combined. Refrigerate mixture for 25 minutes.
Preheat oven to 400 degrees F. Drizzle the remaining 2 tablespoons of olive oil into a large baking dish and coat evenly.
After lentil mixture is chilled, try to form it into 1 1/2-inch balls. It won't come together as easily as ground meat, but it should hold if you pack them tightly. If the mixture is somewhat loose, stir in about 1/4 cup of flour until combined and try again. You should be able to get 24 balls from the mixture. Arrange them in the casserole dish.
Roast about 30 minutes until browned and cooked through.
To make pappardelle and pesto
Wash carrots and tops well and trim the leafy parts of the carrot tops. Set aside about 2 cups of the carrot tops and combine in a food processor or blender with garlic, walnuts, basil or dil, and Parmesan until smooth. Slowly drizzle in the olive oil. Season with lemon juice, salt, and pepper. Add more olive oil if needed for desired consistency.
Peel the carrots and use a peeler to slice them into thin strips. Heat 2 tablespoons of olive oil in a large sauté pan over medium heat and add the carrot strips. Saute for 3-5 minutes, until soft. Squeeze a bit of lemon juice over the carrots and toss to coat.
Bring a large pot of salted water to rolling boil and add pasta. Cook according to package directions (or your senses) until al dente, 8-10 minutes. Drain and add the cooked pasta to carrot strips and toss to combine. Serve pasta with meatballs, pesto, and freshly grated Parmesan.
Notes
Note that this recipe makes 2 dozen meatballs--twice as much as you need for the amount of pasta. Freeze the extras--or just, you know, eat them as is.