The chocolate glazed cake doughnuts were always my favorite. I loved the soft and buttery texture with the crispy sugar shell on the outside. It was perfection.
Krispy Kreme Doughnuts don't exactly fit into my macro stats for the day now that I'm an adult and make my own grown-up meal choices, so I have decided to make a healthier version.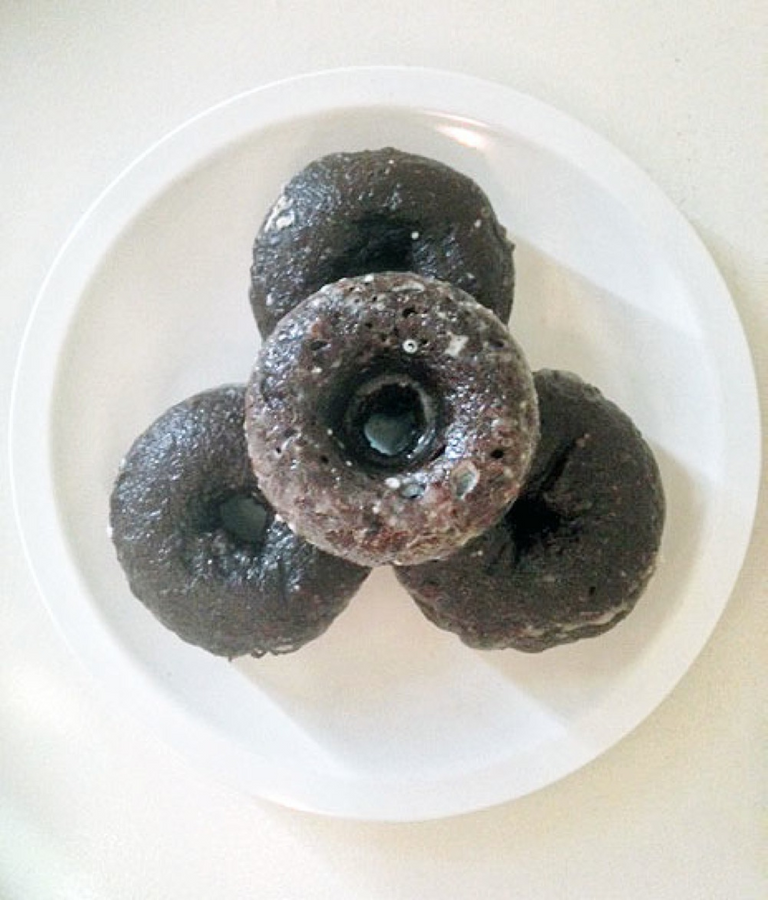 Chocolate Doughnuts Recipe
3/4 c WW pastry flour
1/4 c protein powder (chocolate or vanilla)
1/4 c dark cocoa powder
1 tbls instant coffee or espresso granules
3 tbls dark chocolate chips + 2 tbls coconut milk, melted together
1/4 c vanilla sugar
1/2 tsp baking powder
1/4 tsp pink sea salt
1/2 tsp baking soda
2 tbls coconut oil
1 flax egg (1 tbls ground flax + 3 tbls water--allow to gel)
1/4 c vanilla yogurt (I used soy by Trader Joe's)
1/4 c vanilla coconut milk (I use Trader Joe's)
1 tsp vanilla extract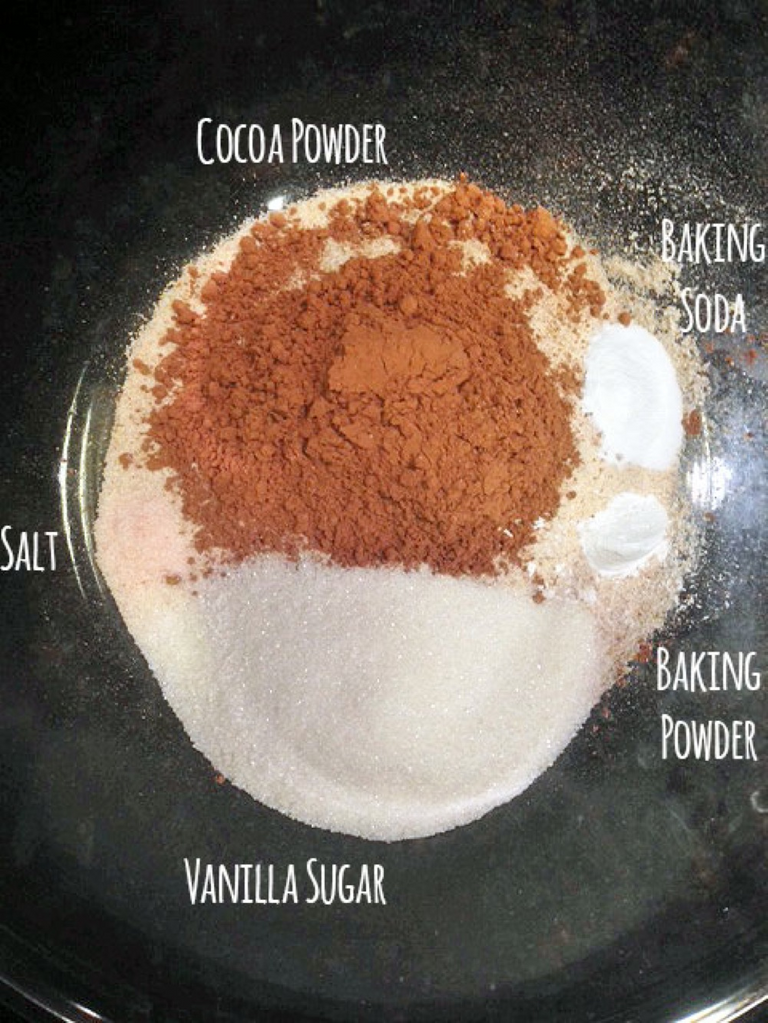 For Glaze
1 c powdered sugar
2-3 tbls vanilla coconut milk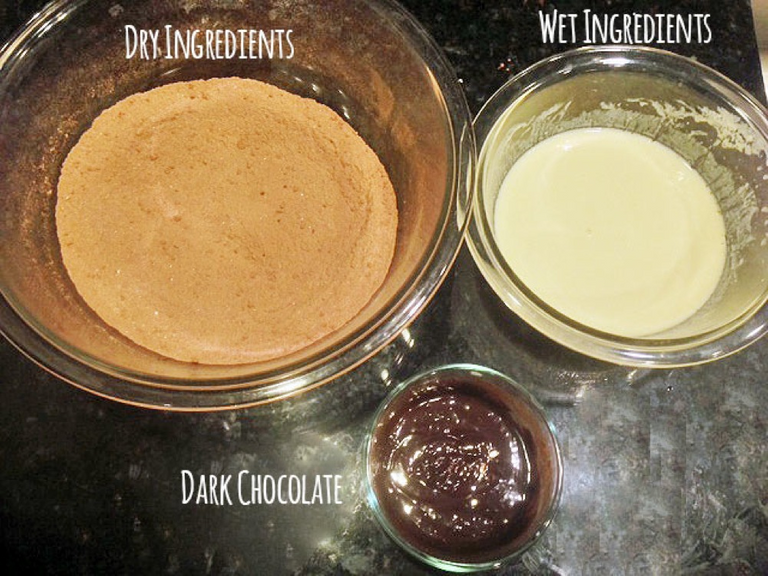 Preheat oven to 375 degrees and grease doughnut pan.
Mix dry ingredients together. Mix wet ingredients together, minus the melted chocolate.
Add wet ingredients to dry, followed by the melted chocolate. Mix together until no flour is noticeable.
Allow batter to rest for 5 minutes. Bake for 8 minutes, or until center comes clean with toothpick.
Allow to cool completely while you mix the glaze. Once completely cooled, glaze the entire doughnut and allow to set.
You will need a doughnut pan for these, that is if you want to make doughnuts. You could completely throw these into a 8 x 9″ greased baking pan and call it a day but where is the fun in that? Seriously, this doughnut pan cost me about $12 at Target. Not-that-serious. It is a fun way to play with healthier versions of your food. I have a recipe for an oatmeal doughnut but need to perfect the recipe so that it is lighter and not as dense.
Anyway, this is a super simple recipe that requires minimal effort. You don't even have to use three bowls like I did and can throw everything in at once. Again, not-that-serious, anything with a doughnut pan is mean't to be fun.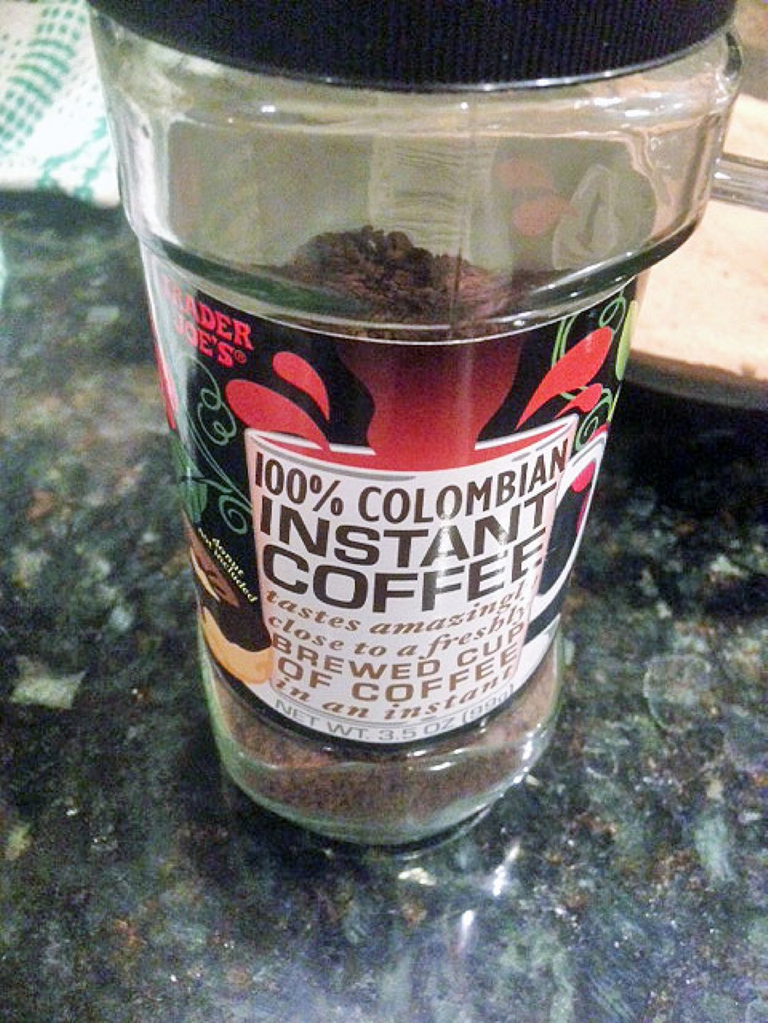 In this recipe, I have asked you to skimp out on the sugar and flour and up the protein content. If you want to make this even healthier, just sub out the vanilla sugar for honey, agave, or stevia. If you are using a liquid sweetener, be sure to keep an eye on the liquid content so that batter isn't too dense and sticky.
When you mix this batter your initial reaction will be to add more liquid. Don't do it. Seriously, put that coconut milk down and keep mixing until you don't see anymore liquid. I like to set the batter aside for about 5 minutes before scooping it into the doughnut pan. This allows for the baking powder and baking soda to do their magic.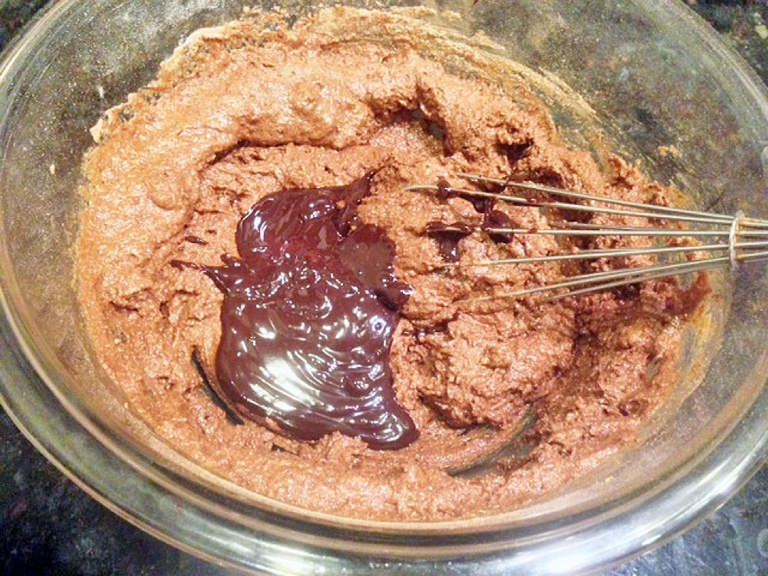 To get the batter into the pan, I scooped three spoonfuls of batter into one mold and spread it around with the back of my spoon. If you want to be more exact you can always throw the batter into a zip lock bag, snip off the corner, and pipe the batter into the molds. Whatever floats your goat people.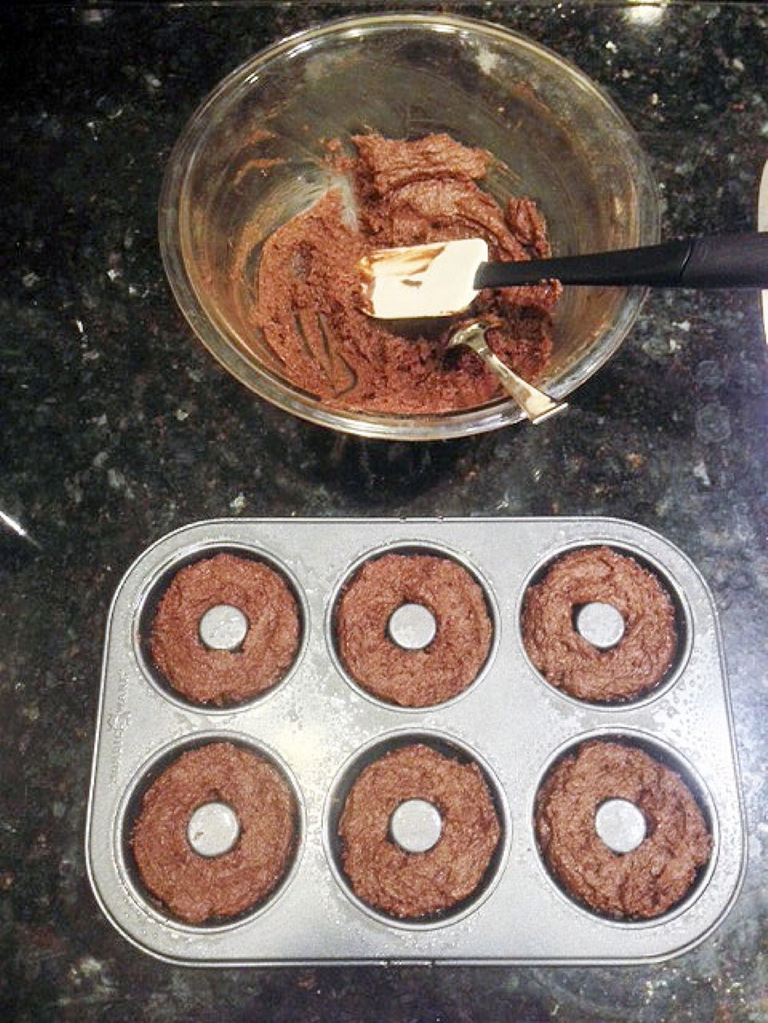 Only let these bake for 8 minutes. You don't want them to be too dry and remember that they will carry-over-cook once they are out of the oven because the pan will still be hot.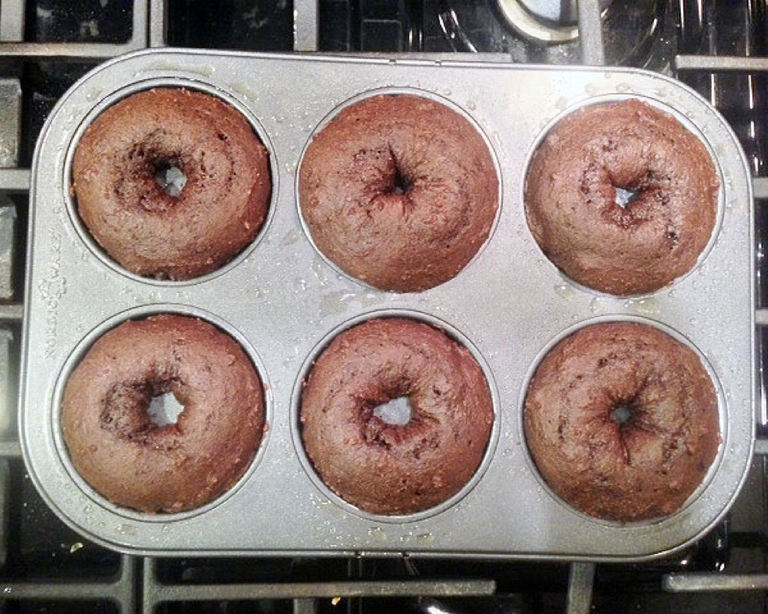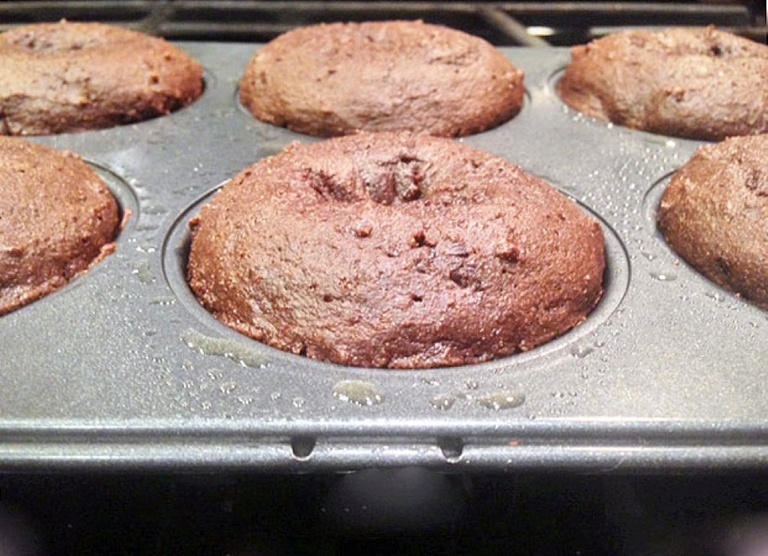 Also, please, please don't glaze the doughnuts until they are fully cooled. The glaze will never stick and will slide right off, taking chunks of cake with it and thus ruining your doughnuts and glaze at the same time. Not that I've done this in my younger days, or anything. ;)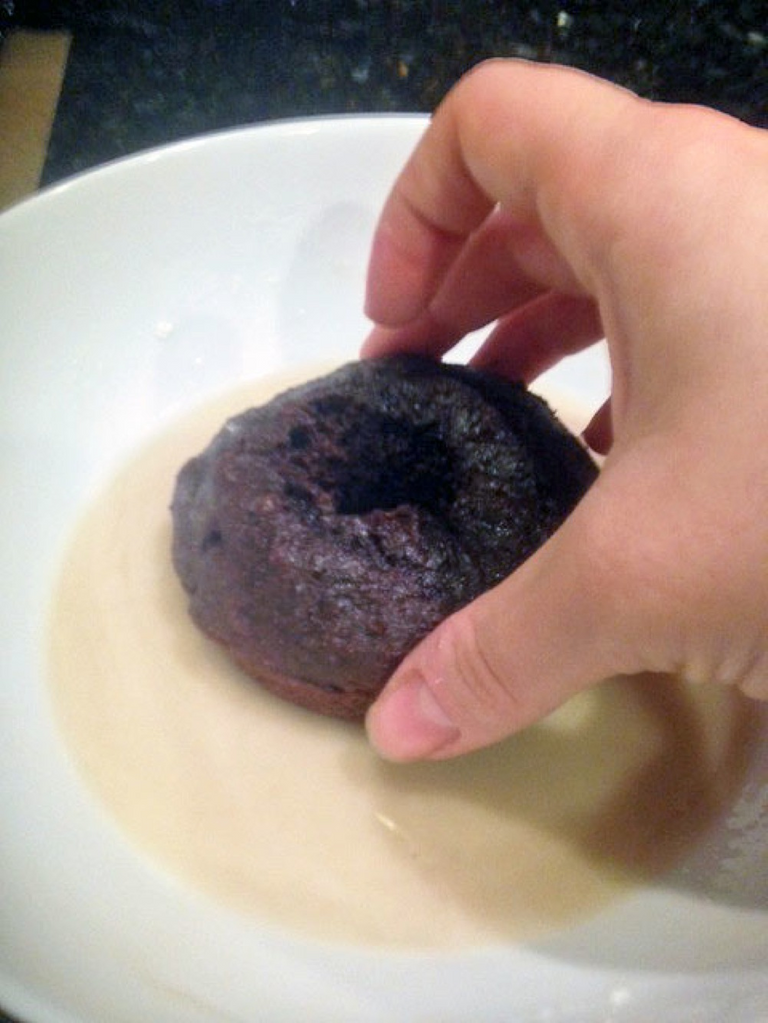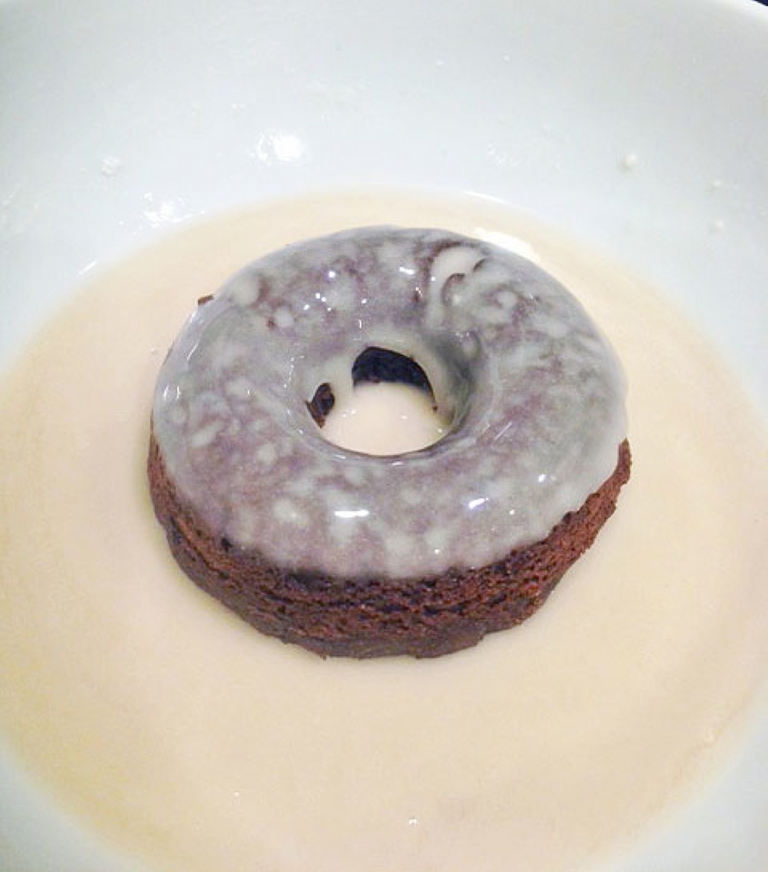 Once they are glazed, demolish them. No, no, just one will do. But seriously, these are tasty. I love that they are not super sweet. The glaze adds just the right amount of sweetness to the cake for me. If they are not sweet enough, add sweetener. It is that easy.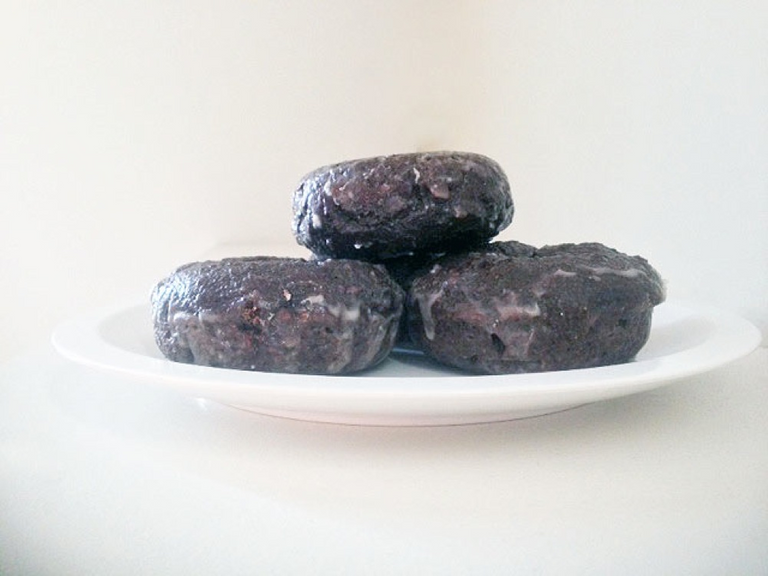 Most importantly, enjoy these tasty morsels of chocolatey goodness.