It is a mystery that this is the first Mediterranean slash Middle Eastern recipe that I have posted on this blog besides falafel. It is not a secret that for years I survived off of hummus, pita, and cucumbers all slathered in a sriracha. If you haven't tried this combination before it is just injustice to your tastebuds. My co-workers used to joke when I came back from my lunch break asking, "What did you have? Hummus?" Yes, indeed I did, every-single-day.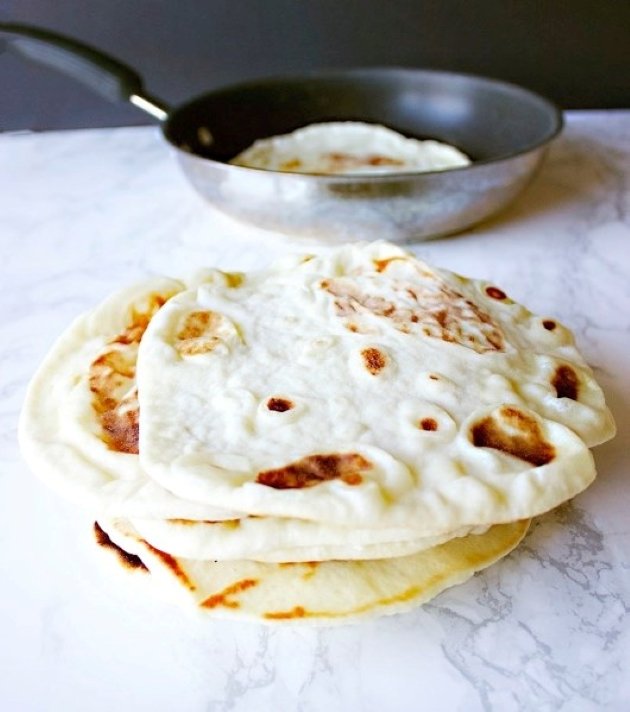 I stopped writing this post to get up and get hummus out of my refrigerator. No shame. Oh, but if I only had a soft, fluffy, greek style pita bread to shovel the hummus into my mouth! I contemplated making a batch but instead have opted out for cucumbers and hummus to finish writing.
This recipe is incredibly easy and can be made with just a few simple ingredients such as flour, water, salt, and yeast. I added sugar and oil to change the texture and taste slightly but you can opt out of those if you wish. After the dough has doubled you punch it down, separate it into 8 dough balls, roll them out, and cook them in a bit of oil for a few seconds on each side.
You want to get set yourself up into somewhat of an assembly line. Roll out the dough, place in pan, while pita is cooking roll out another, repeat. Very simple and almost impossible to mess up. However, do yourself a favor and double this recipe. You will want more than just 8 lying around because they go fast, especially in this pita-and-hummus-loving house.
I must tell you that these are not "pita pockets." That is a different recipe that I will be creating in the near future. For now, focus on this fluffy greek style pita bread and imagine them wrapped around something delicious. Say, falafel patties? ;)
Pita Bread Recipe
Ingredients
3 cups all-purpose flour
1 and ½ tbsp sugar
2 and ¼ tsp yeast or 1 packet
1 cup and 1 tbsp warm water
1 tbsp oil of choice
Oil for cooking
2 tsp salt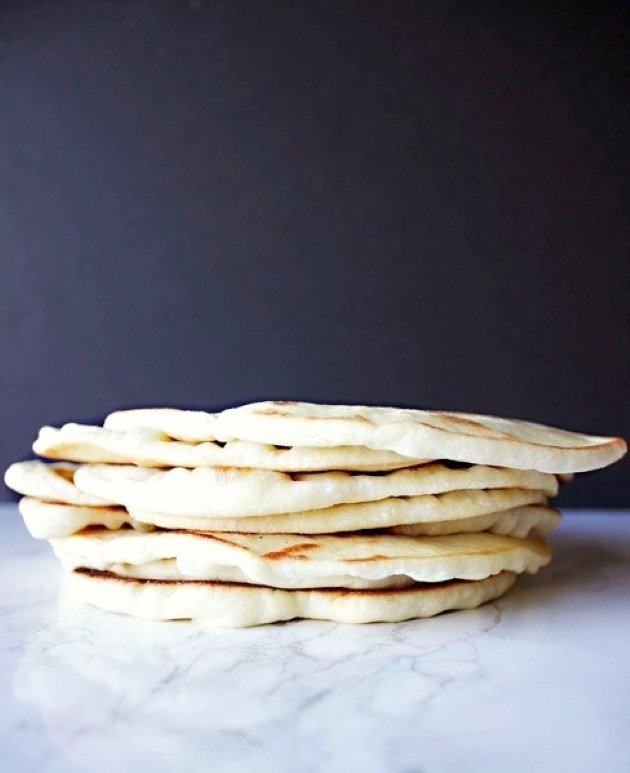 Instructions
Mix flour, sugar and salt together in bowl. Mix ½ tbls sugar, yeast, and warm water and allow to proof for 10 minutes in a separate small bowl.
In mixer fitted with dough hook attachment pour in yeast + water mixture followed by the flour mixture and lastly the oil.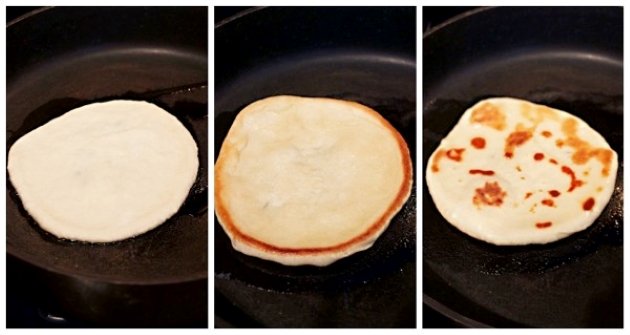 Mix for 5 minutes and check dough. What you are looking for is for the dough to spring back when you push on it. If it does not spring back then mix for another 3 minutes. Check again. Keep mixing until you've developed enough gluten for it to spring back (dough is not sticky. It should feel extremely soft and pliable like play dough)
Warm oven to 200 degrees for 1 minute and turn off. Transfer dough to greased bowl and cover with plastic wrap and place in the warmed oven until doubled in size (about 1 hour)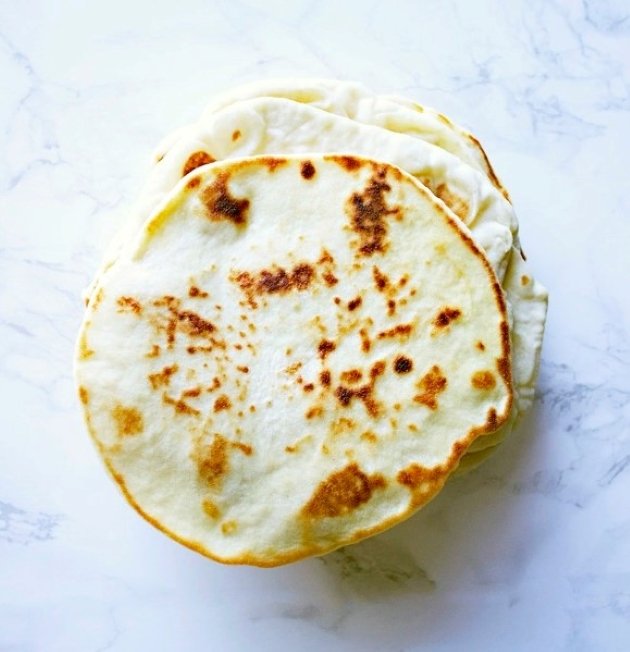 Divide the dough into eight equal pieces. Flatten out each dough ball into a circle with about ⅛ inch thickness.
Heat a teaspoon of oil in a pan (recommend cast iron) and cook for a few seconds on each side before removing and setting aside to continue making the rest.