A day ago I soaked about a cup of cashews in water and left it in the refrigerator. I had every intention of making delicious kale chips since I have been having a killer craving for them lately. This morning I woke up, and when I opened the refrigerator I saw a carton of plump, juicy, and sweet strawberries calling out to me and knew I had to make this recipe.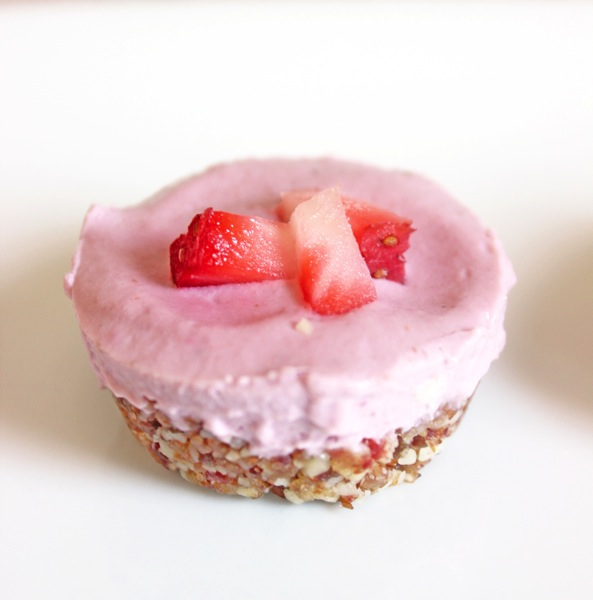 Vegan Strawberry Cheesecake
Ingredients
For the crust:
1.5 cups raw almonds (whole)
14 medium medjool dates, pitted
dash of sea salt
few drops of Stevia vanilla creme (or just use vanilla extract)
For filling:
1 c raw cashews (raw, whole, and soaked in water for at least 24 hours)
1/4 c coconut oil (liquid, not solid white)
1/4 tsp sea salt
1/4 - 1/2 cup agave (more or less depending on your taste)
2 cups fresh and super ripe strawberries
a few drops of Stevia vanilla creme (or vanilla extract)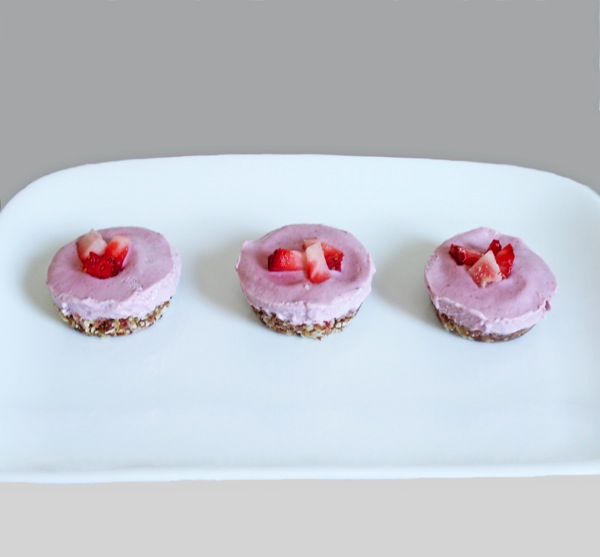 Instructions
For the crust:
Chop almonds in food processor until roughly chopped
Add in the remained ingredients and mix until the mixture sticks
together when pressed between your fingers
For filling:
Add all ingredients into blender (I use Vitamix) and blend until smooth
Adjust sweetness to taste
To assemble:
Flatten crust into whatever pan you desire (I used mini muffin tins)
Pour filling on top of crust and smooth out
Garnish with fresh strawberries
Freeze until fully set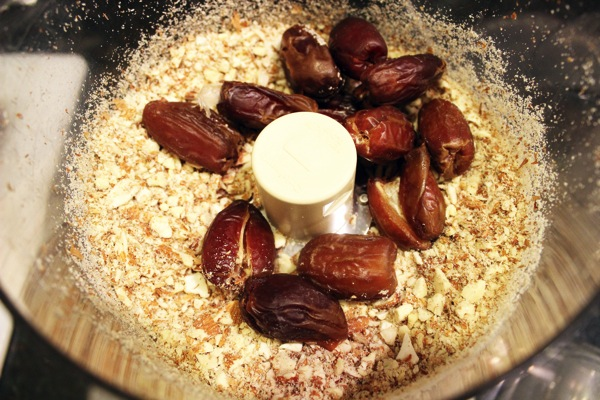 I have made a few raw vegan desserts and even a raw vegan cheesecake, but this recipe is by far my favorite! The crust is made of a delicious almond and date mixture where the sweetness is balanced with sea salt. The crust is great, but that filling is so good that you can eat it by the spoonful, which is exactly what my friend and I did at 10:00 am this morning ;)
Start off by chopped the almonds in a food processor. Once finely chopped, add in dates, sea salt, and a few drops of Stevia Vanilla Creme. I hate the taste of Stevia Vanilla Creme by itself but mixed into this dessert, and it is magical!
Once you are able to press the mixture into your hand and it sticks together, it is ready to go into your pan. I chose a mini muffin pan to create mini strawberry cheesecakes. I ended up having enough leftover to make a full pie pan's worth. BONUS!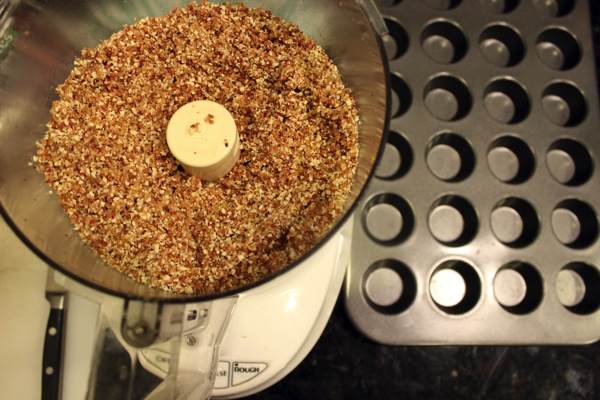 Using a teaspoon, scoop a heaping amount of crust mixture into each mini muffin tin and press down using the rounded bottom of the teaspoon.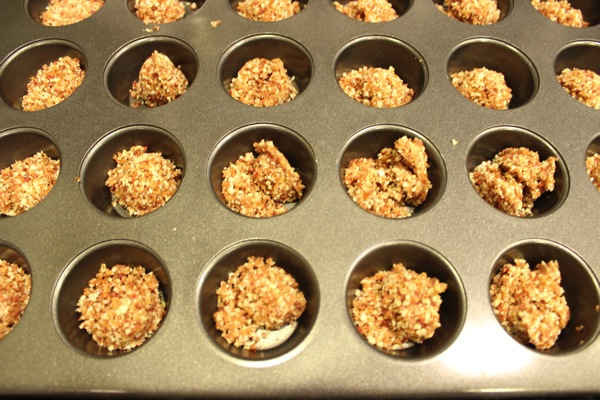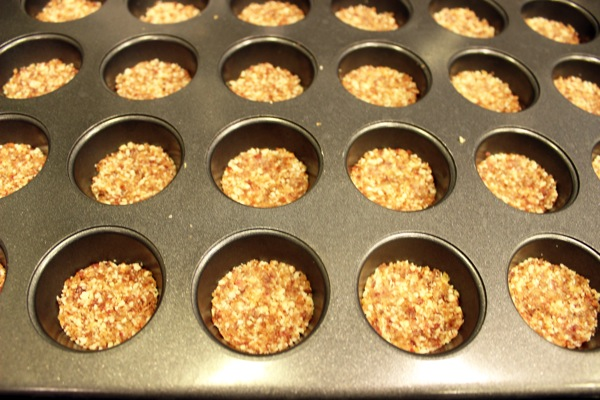 Now, onto the filling, the delicious, creamy, velvety, filling.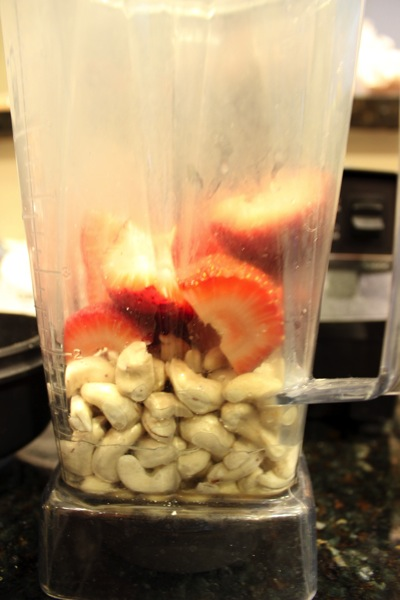 Throw the cashews, strawberries, agave, coconut oil, sea salt, and a few drops of Stevia Vanilla Creme and blend until smooth!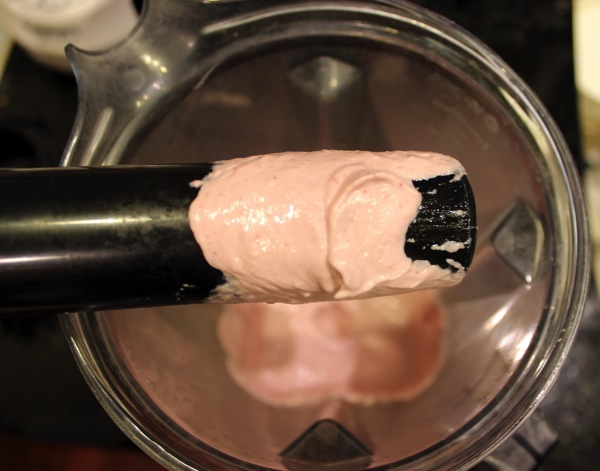 I may or may not have licked that plunger. ;) Pour the filling onto the prepared mini muffin tins and garnish with a few chopped strawberry pieces.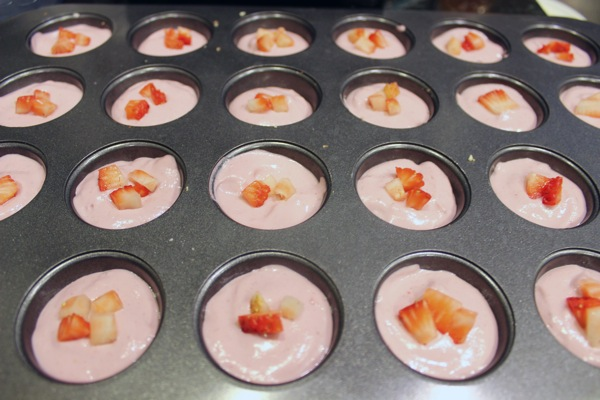 Pop these babies into the freezer until they are completely set. To serve, run a knife along the edges and they will pop out. Be sure to plate these little creamy, dreamy, mini cheesecakes a few minutes before serving so they have an opportunity to soften instead of being a creamy, dreamy, popsicle. Either way, they're delicious.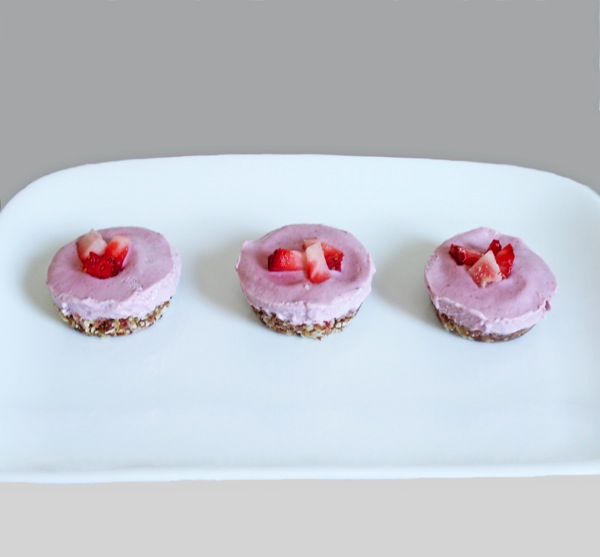 I can't even. That little lick spot on the far right cheesecake is from Puma, that little sneaky fox!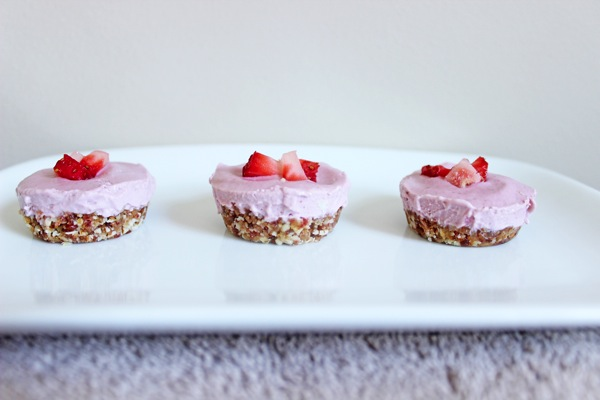 Le swoon!
These are what dreams are made of, my friends!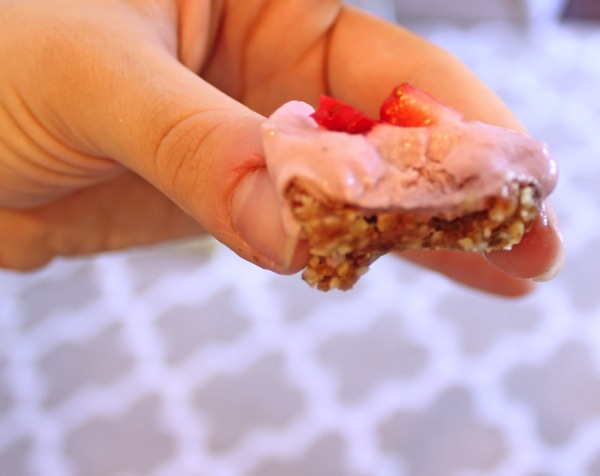 I obviously had to taste one…or two. :)