Hello Hivelovers!
I come here sharing a delicious Chocolate Peanut Cake to sweeten the day.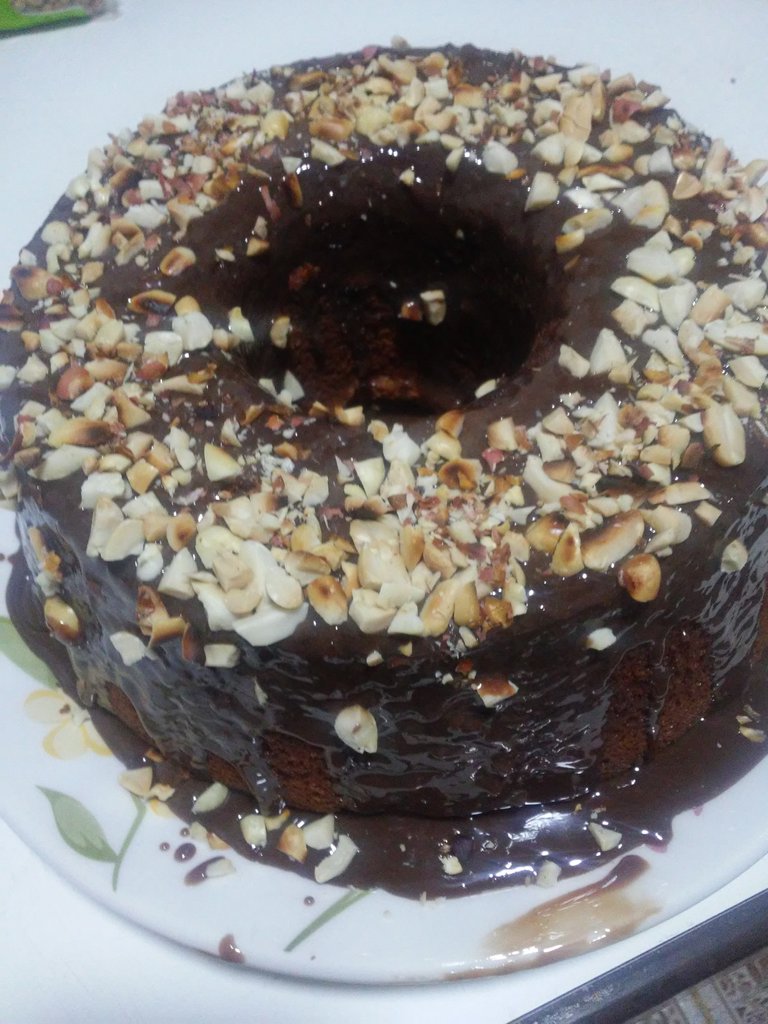 This is my favorite part of the month from the @Theterminal Community Cookbook Challenge. This is week 4 and it's about Desserts. So save the best of my repertoire to share on this special occasion.
This cake is very tasty indeed, my family loved it. The flavor of the peanut combined with the chocolate make this cake something wonderful.
The formula of my cake recipes is always the same, I only change the ingredient that I want to highlight and that is the protagonist of the recipe. In addition to the practicality of making the base mixture in the blender, something that ensures that the cake is fluffy.
Spanish /Español 🇪🇸
Hola Hivelovers!
Vengo por aquí compartiendo una deliciosa Torta de Maní con chocolate para endulzarnos las jornada.
Esta es mi parte favorita del mes del Cookbook Challenge de la Comunidad @Theterminal. Esta es la semana 4 y de trata de Postres. Así que guarde lo mejor de mi repertorio para compartirlo en esta ocasión especial.
Esta torta es en verdad muy sabrosa, a mi familia le encantó. El sabor del maní combinado con el chocolate hacen de esta torta algo maravilloso.
La formula de mis recetas de torta es siempre la misma, sólo le voy cambiando el ingrediente que quiero destacar y que sea el protagonista de la receta. Además de lo práctico de hacer la mezcla base en la licuadora, algo que garantiza que el pastel quede bien esponjoso.

This is the recipe:
Ingredients:
3 eggs
2 cups of sugar
100 gr of roasted peanuts
1 cup melted butter or vegetable oil
1 cup of liquid milk
3 cups of leavening wheat flour.
For coverage:
1 can or box of condensed milk
3 heaping tablespoons of chocolate powder i
Preparation: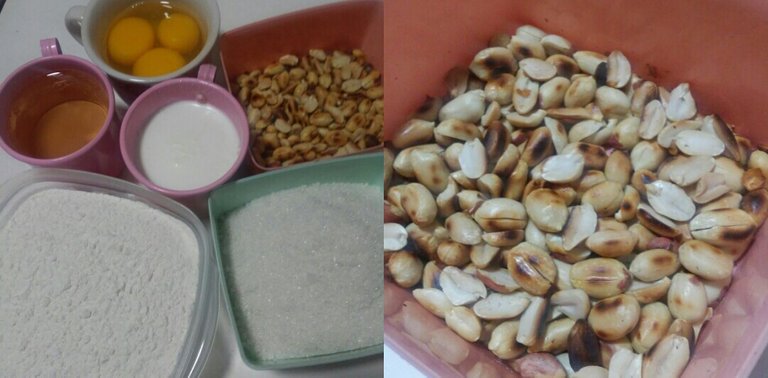 Beat the eggs with the sugar in the blender, then add the peanuts, but reserving one for decoration. Then add the milk and finally the melted butter. Keep beating in the blender until well mixed.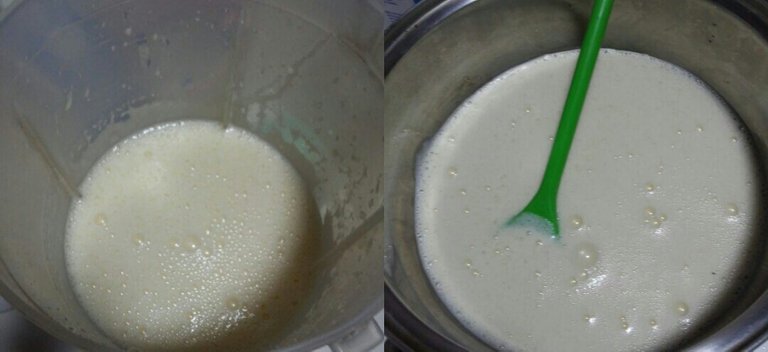 Transfer the mixture to a cup and add the sifted flour there. Mixing everything until I was homogeneous.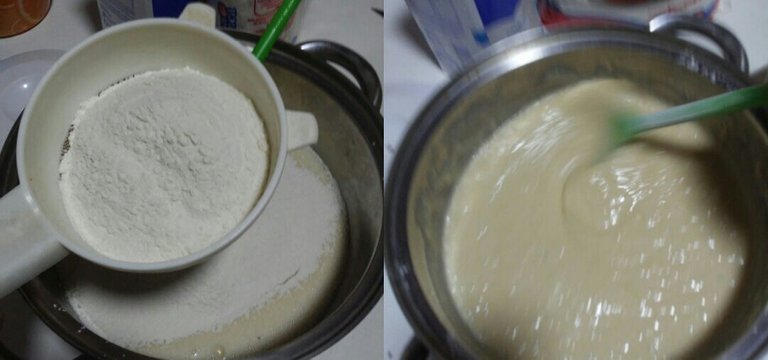 In a previously greased and floured mold, pass the mixture and add some peanuts on top to give it a slight decoration. Same reserving for the end.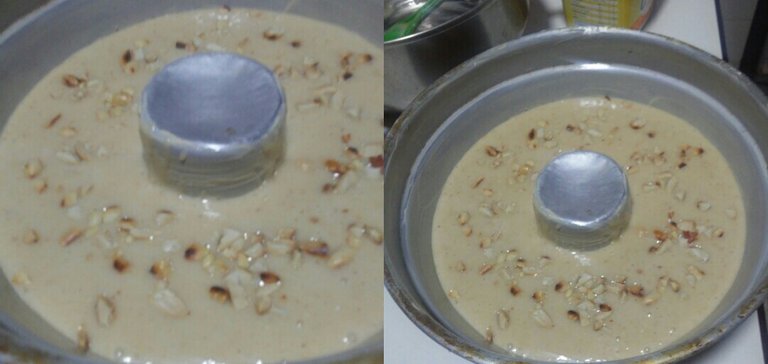 Bring the cake to the oven at medium temperature, approximately 200 ° C for half an hour or until it is clean when pricked with a stick or knife.

When it is ready we take it out of the oven and let it cool down. Meanwhile we prepare the ** chocolate coating ** by mixing the condensed milk with the chocolate powder. Then in a saucepan heat over low heat until a bright chocolate forms. It's quick enough so be careful not to burn the mixture.

Unmold the cake and bathe it with the hot chocolate, decorate at the end with the remaining peanuts. Let cool a little so that the chocolate hardens a little and ready to enjoy this delight.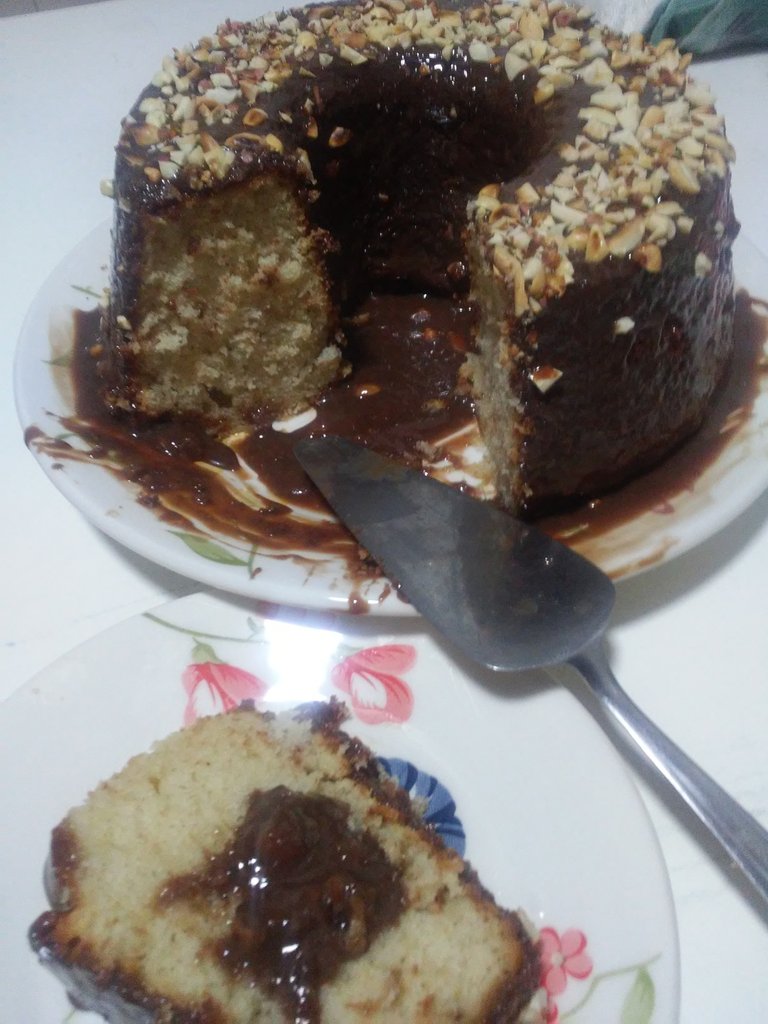 I hope you like the recipe and are encouraged to prepare it. I also invite you to participate in the @Theterminal Community Redfish Rally and weekly Cookbook contests. You can find out more on his Server at [Discord] (https://discord.gg/Fn5TRUq).
the images are my property

Spanish /Español 🇪🇸
Está es la receta:
Ingredientes:
3 Huevos
2 tazas de azúcar
100 gr de maní tostado
1 taza de mantequilla derretida o aceite vegetal
1 taza de leche líquida
3 tazas de harina de trigo leudante.
Para la cobertura:
1 lata o cajita de leche condensada
3 cucharadas colmadas de chocolate en polvo
Preparación:
Batir los huevos con el azúcar en la licuadora, luego agregar el mani, pero reservando uno poco para decorar. Enseguida agregar la leche y por último la mantequilla derretida. Seguir batiendo en la licuadora hasta que quedé bien mezclado.

Pasar la mezcla a una taza y allí agregar la harina cernida. Mezclando todo hasta que quedé homogéneo.

En un molde previamente engrasado y enharinado pasar la mezcla y agregar unos manís por encima para darle una leve decoración. Igual reservando para el final.

Llevar la torta al horno a temperatura media, aproximadamente 200°C por media hora o hasta que al pinchar con un palito o cuchillo salga limpio.

Cuando este lista la sacamos del horno y dejamos enfriar. Mientras tanto preparamos la cobertura de chocolate mezclando la leche condensada con el chocolate en polvo. Luego en una olla lo calentamos a fuego bajo hasta que se forme un chocolate brillante. Es bastate rápido así que cuidado de no quemar la mezcla.

Desmoldar la Torta y bañarla con el chocolate aún caliente, decorar al final con el maní restante. Dejar enfriar un poco para que el chocolate se endurezca un poco y listo a disfrutar de esta delicia.
Espero que les guste la receta y se animen a prepararla. También te invito a participar en el Redfish Rally de la Comunidad @Theterminal y en los concursos semanales del Libro de Cocina. Puedes saber más en su Servidor en Discord.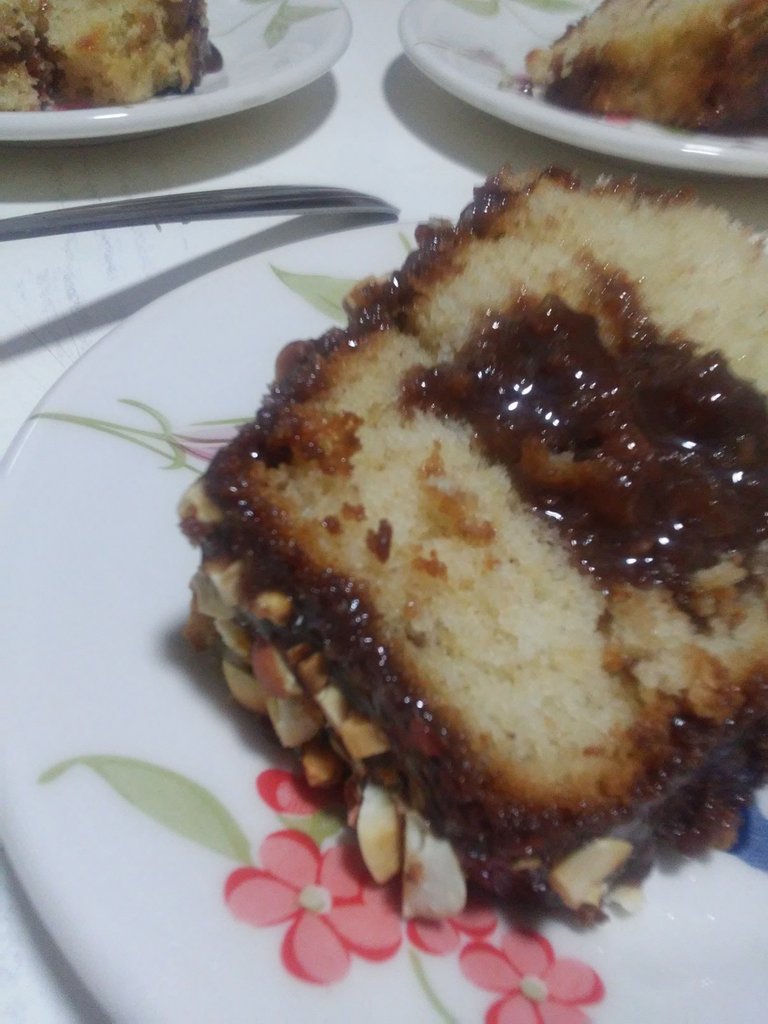 las imágenes son de mi propiedad