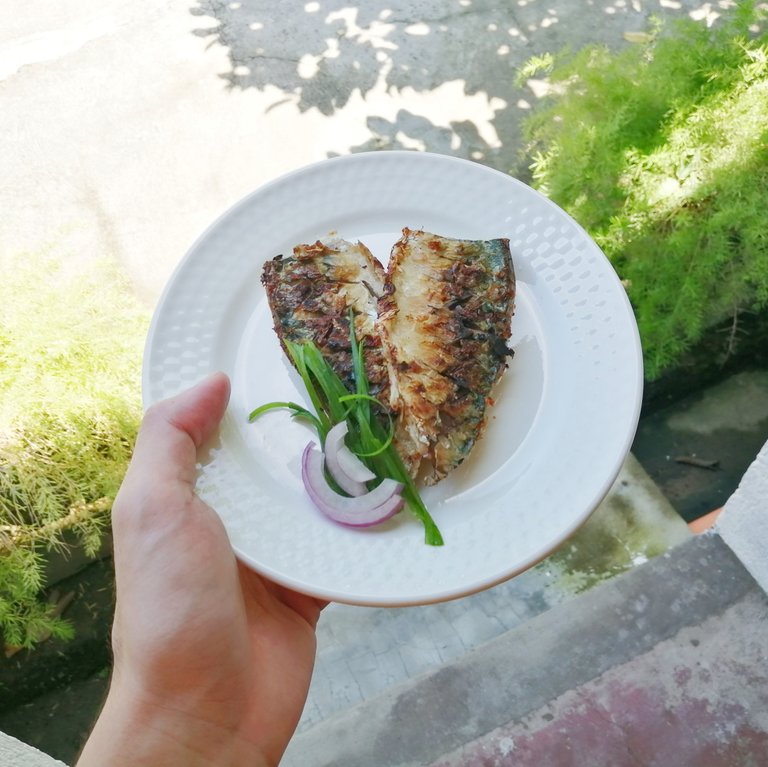 As usual, the food truck parked on the corner street near my apartment, they were selling fresh seafood, vegetables, and herbs.
"Isdaaa~", the seafood vendor announced.
Albeit a bit modern, the traditional libod or house-to-house selling of fish is deeply rooted in our culture, vendors would shout Oy, lab-as~ or "Hey, fresh (fish)~" in a sing-song manner.
I went out to check what are sold today, they had Barilis (Yellow-fin Tuna), Bangus (Milkfish), Hasa-asa (Short Mackerel), and Nokus (squid) aside from Ayugbati (Malabar spinach), Kalamunggay (Drumstick tree leaves), and other vegetables and herbs.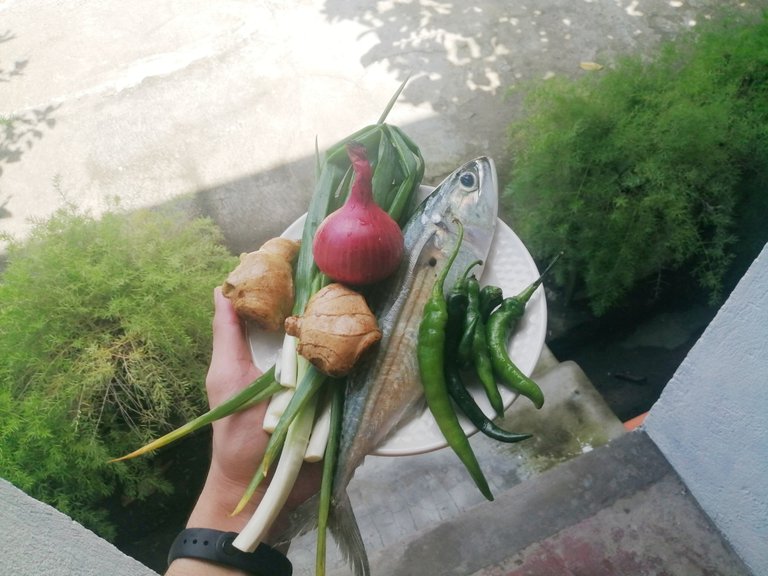 The offers were exciting to choose from, but I only need one, so I chose the Mackerel. I remembered one Japanese recipe called Shioyaki and I am cooking Saba Shioyaki (鯖 塩焼き) or Salt-Grilled Mackerel.
鯖 (Saba) - Mackerel
塩 (Shio) - Salt
焼き (Yaki) - Grilled
This was against the norms, my parents only cooked fish in traditional methods: frying, tinuya (thin soup), inun-unan (wrapped in leaves), or paksiw, but I always like to explore different cuisines and methods of cooking for new experiences and tastes.
Cleaning the Fish
Remove scales (as required) by gliding a sharp knife against the scales.
Remove the hasang (gills) by opening neck part of the fish and pull the gills slowly with a hook-like action with your finger.
Slit the belly length-wise, slowly remove entrails.
Wash with running water.
Salt-Grilled Mackerel
250g Short Mackerel, fillet
salt
Steps
Score the skin-side of the fillet.
Season both sides with salt and rest for around 20 minutes.
Heat grill-pan at around 200° Celsius.
Put fillet on skin-side, flip when crisp.
Grill for about 8 minutes or more, depending on the size of the fillets.
Dipping Sauce
2 tbsp soy sauce
2 tbsp vinegar
1 small onion, chopped
1 scallion, sliced diagonally
Steps
Mix all ingredients
Serve with the Salt-grilled Mackerel and rice.
Salting draws out excess water and removes a bit of the fishy smell. You can add whole peppercorns and vinegar to the fillets, but I chose not to. Mackerel has its own flavor with a bit of a bold taste, adding only salt makes it stand out.
You may serve Miso soup and some Japanese sides, but you can eat it with just the rice and the dipping sauce.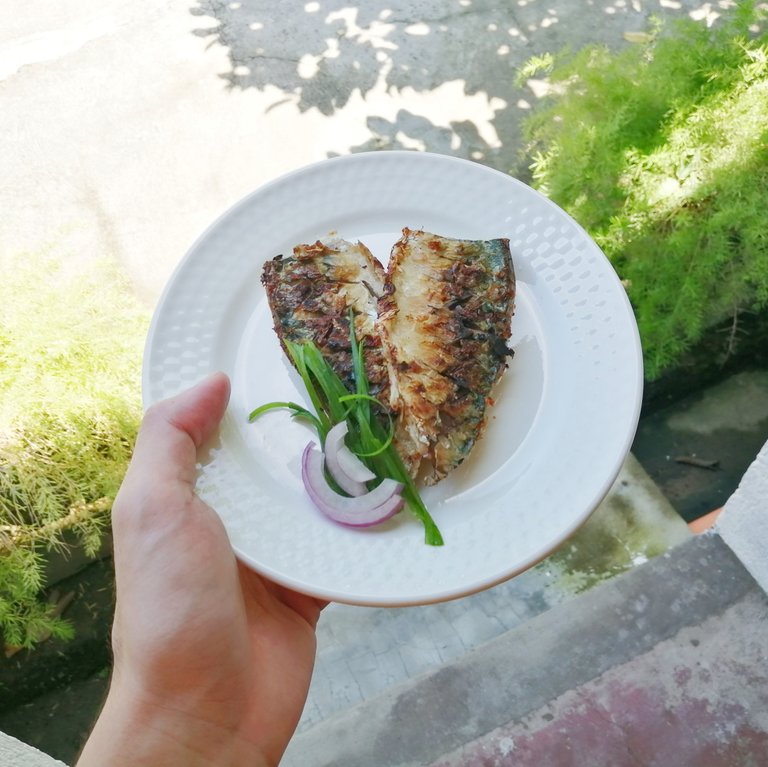 Active Lifestyle
I almost forgot when I started doing walks, it is probably a week or more already. Today the weather was nice and I did a lot of things.
My alarm goes off at 5 PM and I prepped up for a long walk, I planned to have 5K steps today. I started at around 5:30 PM and it was still bright, the sky was clear and the sunset was beautiful.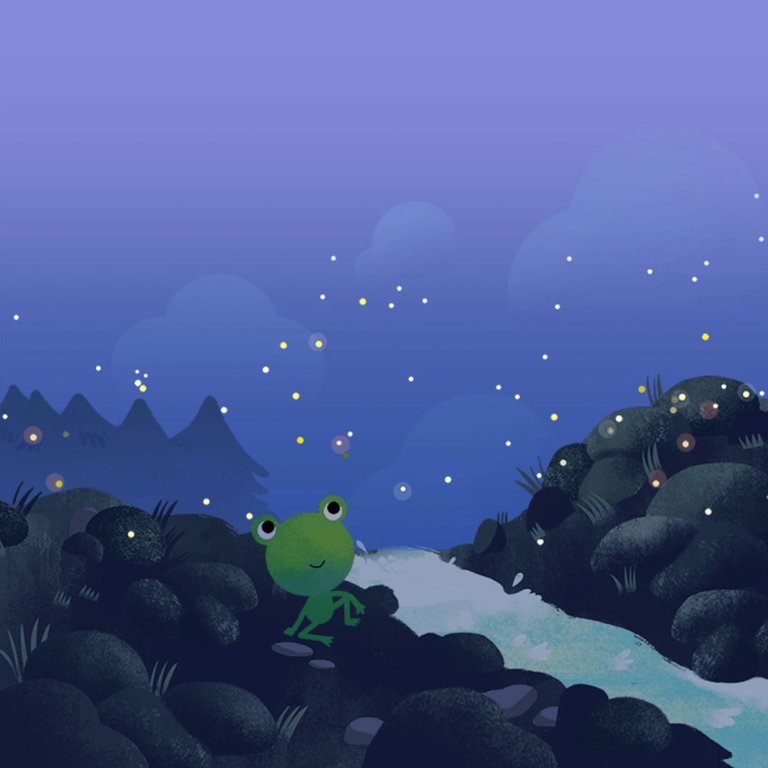 There were more people doing excercise outside today, there were couples and friends and one biker.
I did fast walking around the subdivision, five rounds in total which took me about 5K steps in 45 minutes. My sports items are coming in a week and I should be able to do running already when no dogs are left out on the streets.

I am not a fan of Calorie counting, but I had trouble finding free apps with a likeable UI/UX and are non-obtrusive with the Ads. I found Macros, there are two options to choose from whether you want it it Calorie counter mode or with the Meal Planner mode.
If you are using apps like this and you actually liked, do recommend it to me.
What I liked about it was the highly-customizable food library, whenever I am eating foods that are not yet in their database, especially with local recipes.
Upgrading to Plus version is not so expensive, so I might upgrade after a week or month of exploring the app, depending on my satisfaction to the whole experience of using it.
I am trying to gain a bit of weight in a healthy way, so I tried the slow gain feature which is adding 10% Calories on the Balanced diet type.

It has been more than a week of mindful eating and initiating an active lifestyle amidst the pandemic. What I like most of the process is cooking, I love cooking and find joy in planning, preparing, cooking, and serving dishes.
Sometimes, washing the dishes can be off-putting, but it is also relieving as as it is also is a meditative time to think about how the day went and what can I do to make my life better.
---
PREVIOUS POST
Fish in Vinegar Broth Recipe
The dish can be paradoxical, it is savory, but you can also taste the sweetness of the fish and herbs. It reminds me of the story of my day, it started as sunny, wedt sour, then eventually became better.
---
Curious about Crypto?
Buy and Sell on Coinbase
Get Started
---
About Me
@oniemaniego is a test engineer, but outside work, he experiments in the kitchen, writes poetry and fiction, paints his heart out, or toils under the hot sun.
| | |
| --- | --- |
| | Onie Maniego was born in Leyte, PH. He grew up in a rural area with a close-knit community and a simple lifestyle, he is often visiting his father's orchards during summer and weekends, which has a great impact on his works. |
---
Don't forget to vote, comment, and follow me.
---
Not yet on Hive? Earn while blogging.
Sign Up