Do you know that giving some crocheted and other needlework of yours as a gift to customers sometimes can attract them to patronize your handmade business? Yes of course because they will definitely be friendly to you and your business thereby bringing more of their family and friends to be patronizing you.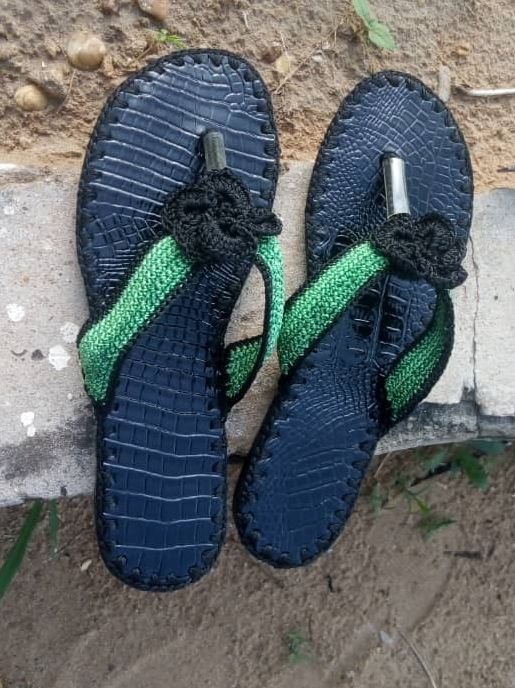 Ever since I did some needlework giveaways because of the birthday I celebrated on Monday, I have been occupied by many customers who need their job to be delivered to them at all times and I seek more blessings from above over my shoemaking business.
Despite how I tried to meet up with customers' work before my birthday, I forgot to complete a customer crochet slipper because I thought that I informed my shoemaking team over the work for them to complete it.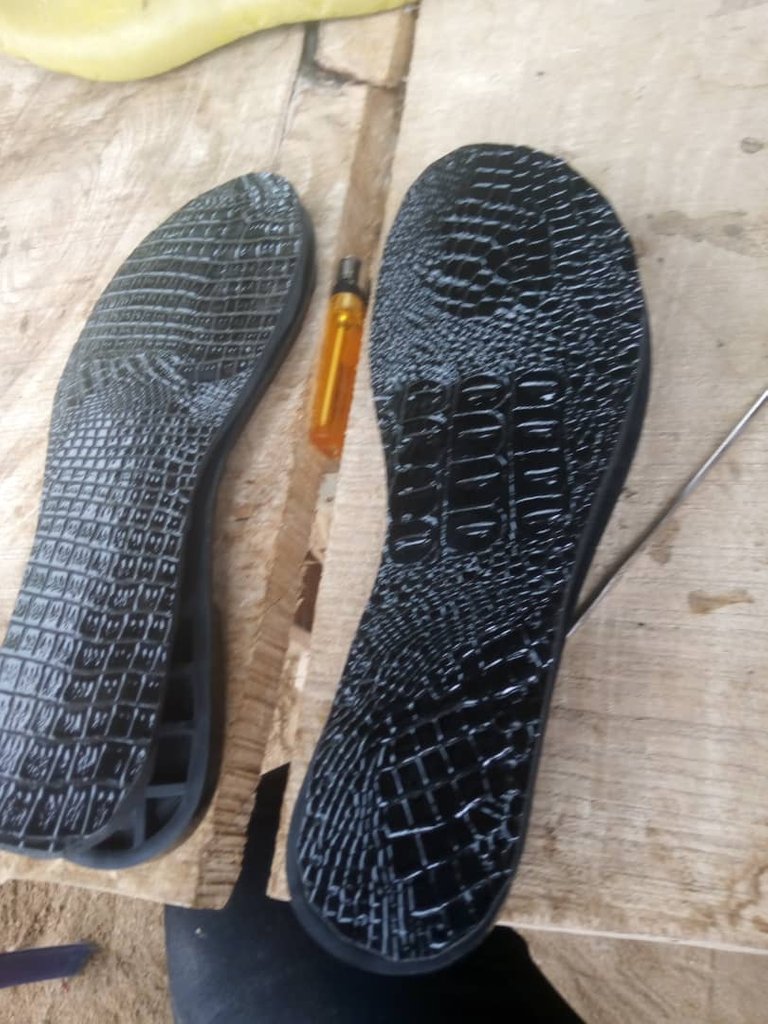 To be honestly speaking, having many things on the brain as a businessman is really worrisome and I will urge every needleworker to be cautious of that and apply a schedule but sometimes schedule fails because we are humans.
If not for the sake of understanding between me and the customer, I wouldn't know how today would have been for me and my shoemaking team.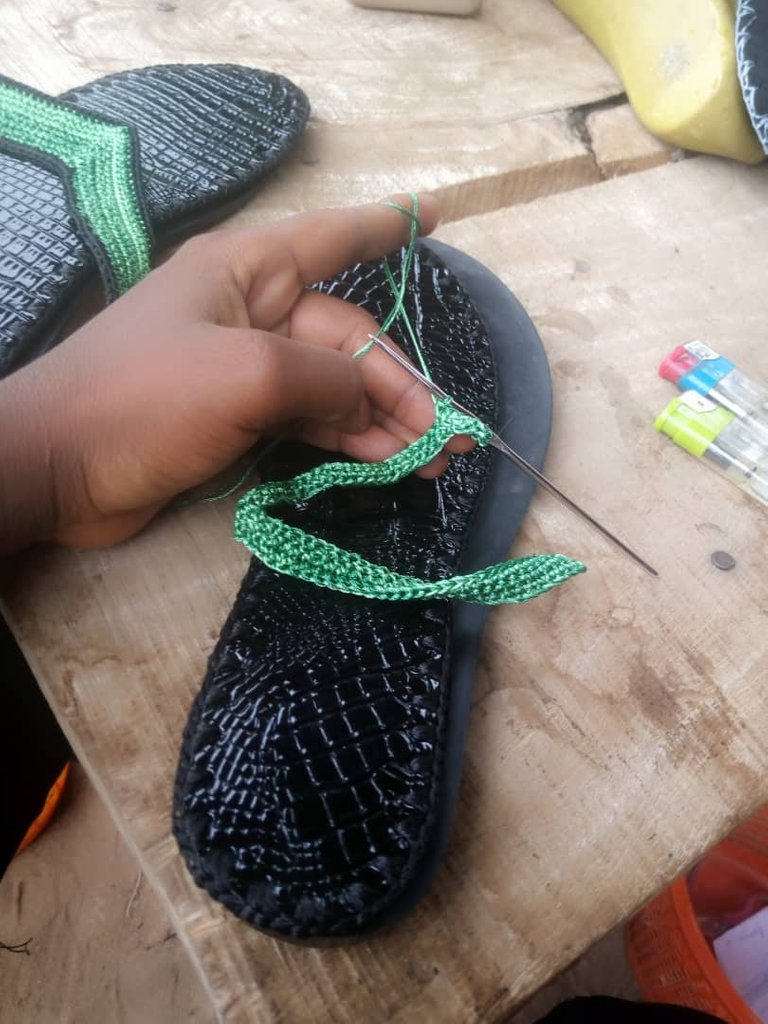 Let me tell you what happened when the customer came to the office to collect her work. When she entered my office and we greeted her, she asked me about her work. I was surprised that I had even forgotten that she gave me work. The moment I realized that I was honest to tell her to come back this evening to have her crocheted slipper but to my greatest surprise. She told me that she didn't actually come for the slipper but she only came to greet me over the birthday I celebrated a few days ago.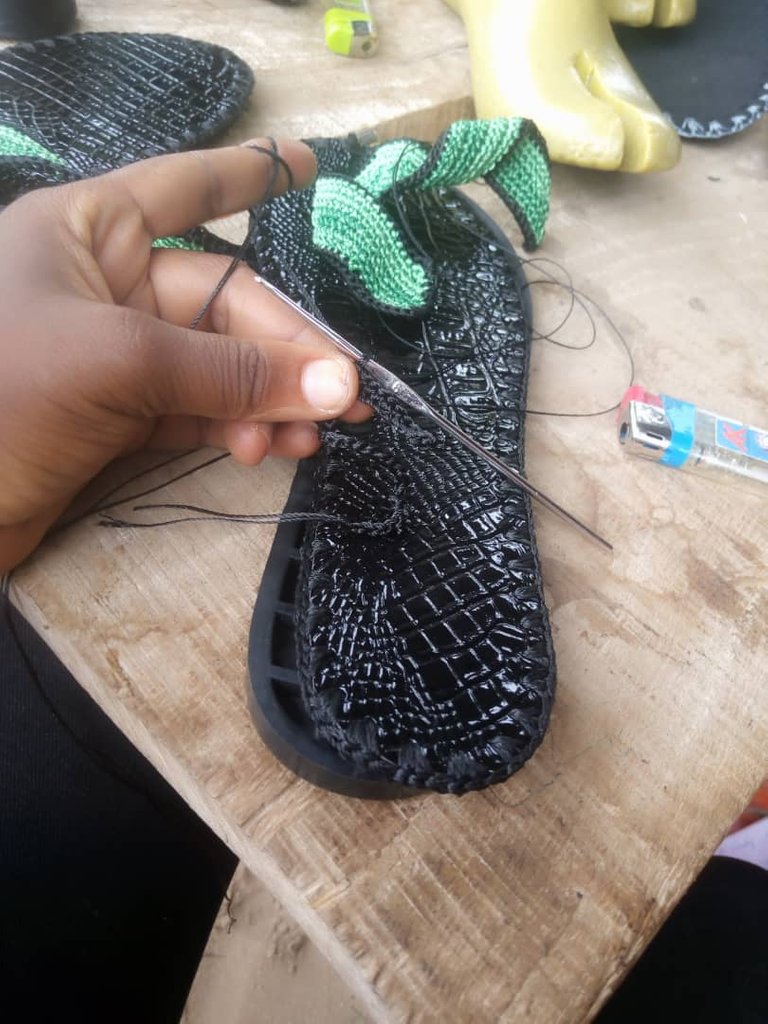 I was actually happy as she accepted to have the slipper this evening but when she came for it this evening as she said. She told me that if she should be honest with me that most handwork business people in Nigeria are always making excuses to their customers most times. She pointed out that Tailors, Shoemakers, Hairdressers, Photographers, and many more are all among the same categories of excuses. I responded to her that sometimes it may not be their fault but a result of much work, family, or market problems. That was how she left without any further utterances.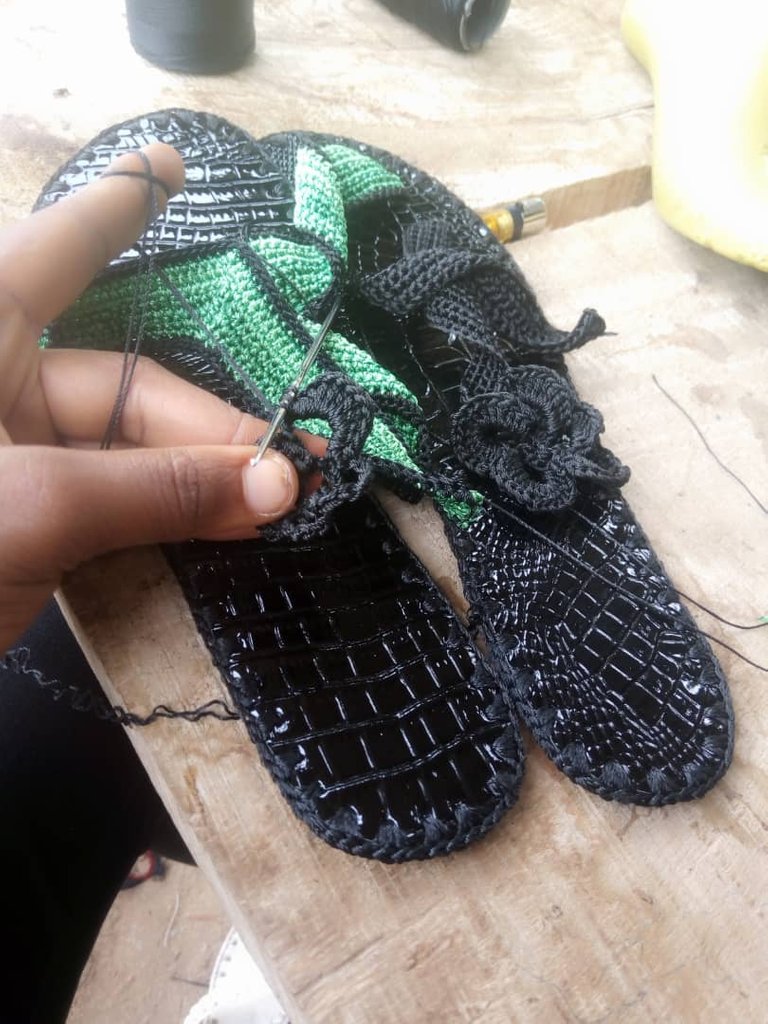 The material used for the crocheted slipper is as follows:
Yarn material which I regard as the key to the beauty of any crocheted slippers because, without the yarn material, the crocheted slipper will not be complete by its name or brand.
Sole which I regard also a key material in shoemaking because, without the sole, the slipper will also not be complete.
Leather is a common shoemaking material that is used to support the beauty of slippers and also used to protect the owner from pains that the sole may cause.
Gum.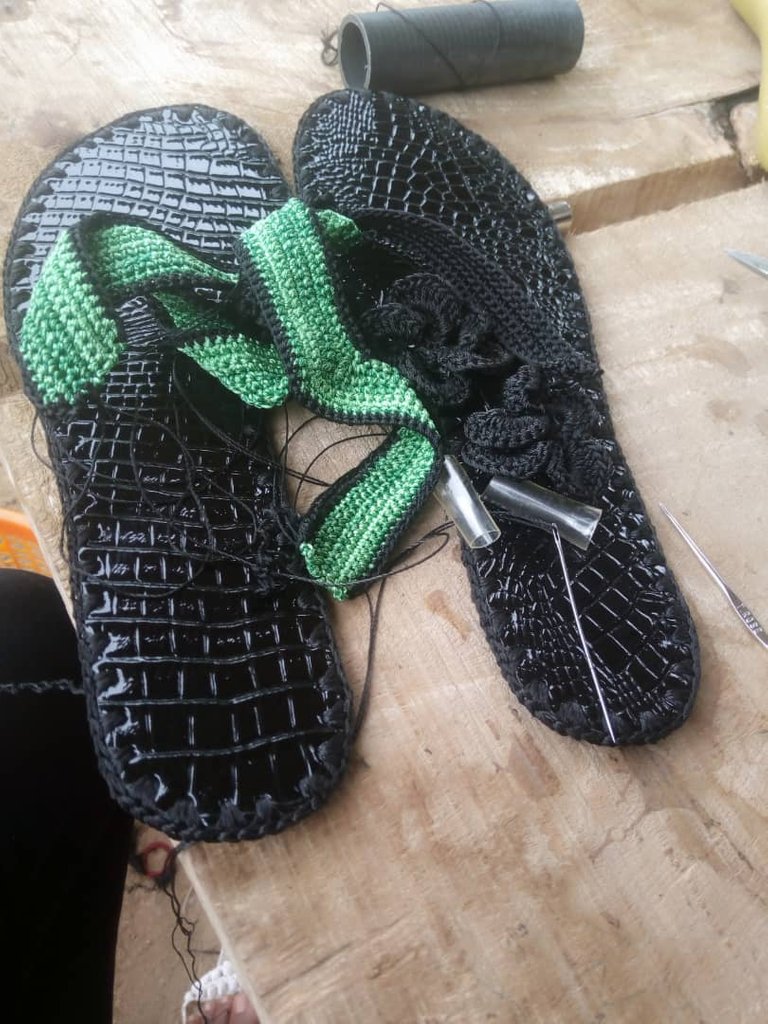 Tools used in making the crocheted slippers:
Yarn pin.
Hammer.
Scissors.
Lighter.
Sandpaper.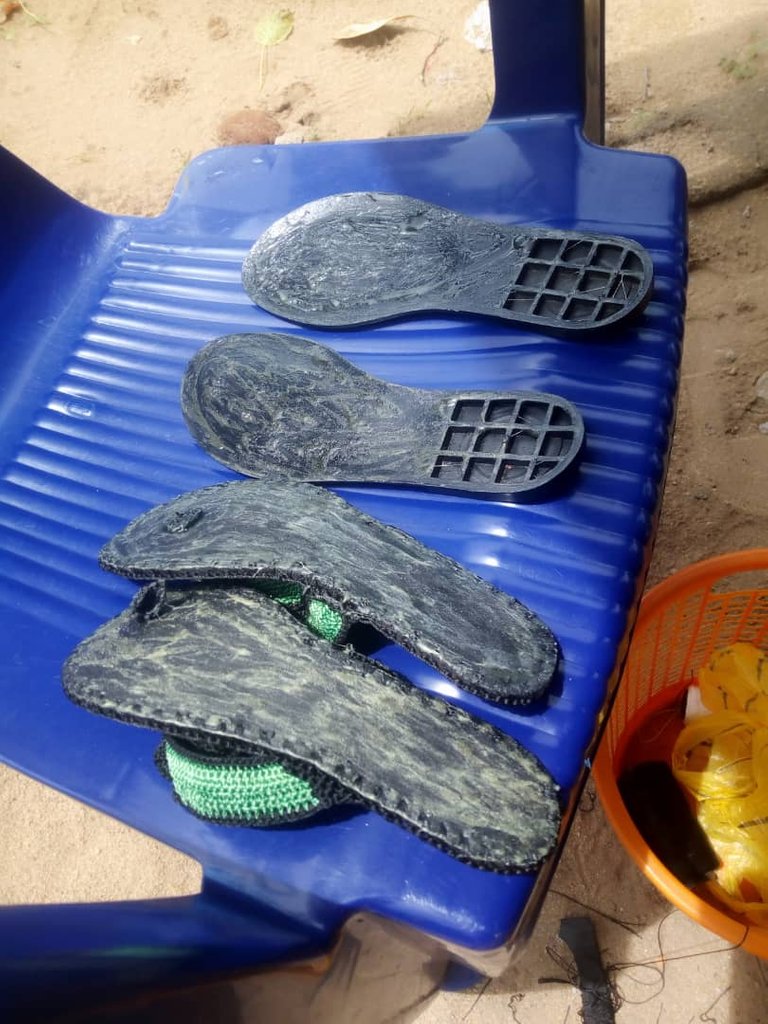 How the slippers were made:
I tried my possible best to make the material for the slipper complete and available.
Having the knowledge of the type of slipper I needed to do.
I took proper measurements of the slipper and at the same time drew the shape and size of the slipper on the leather.
Cutting out the leather measured carefully.
Making tiny holes around the leather.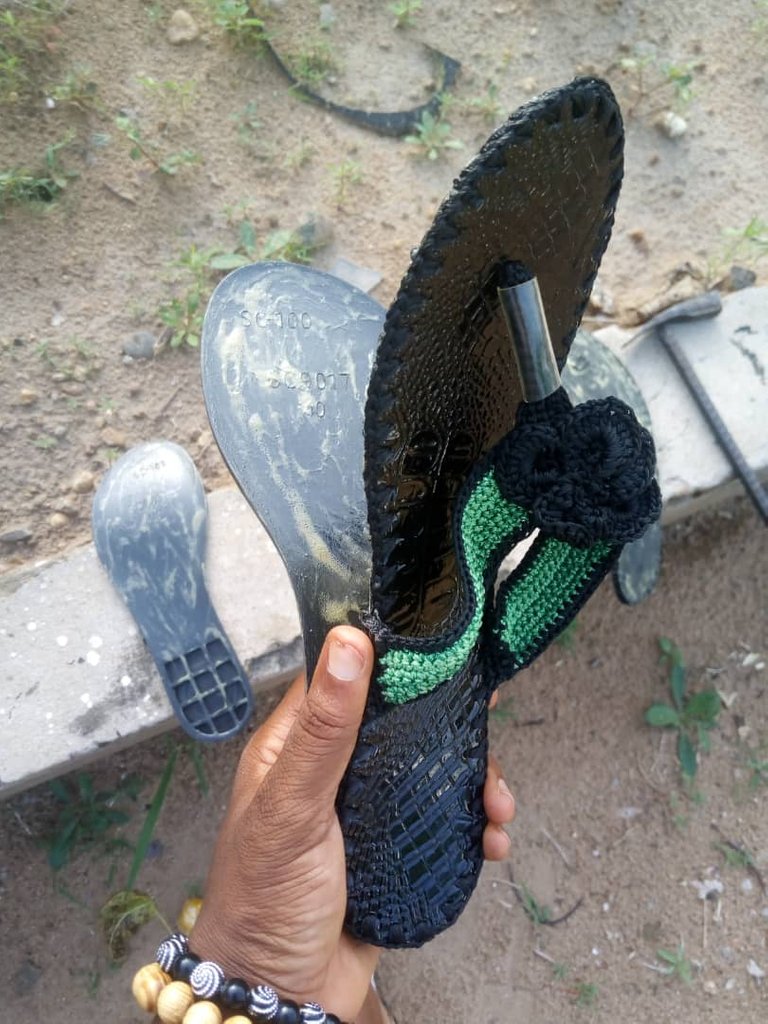 I started crocheting the slipper with the leather.
I have to sandpaper the sole and leather carefully.
I have to use a brush to touch the gums on the sole and leather.
I have to place and wait for the sole and leather to dry from the sun.
I have to gum the crocheted leather and sole together.
I have to hit the crocheted slipper with a hammer gently.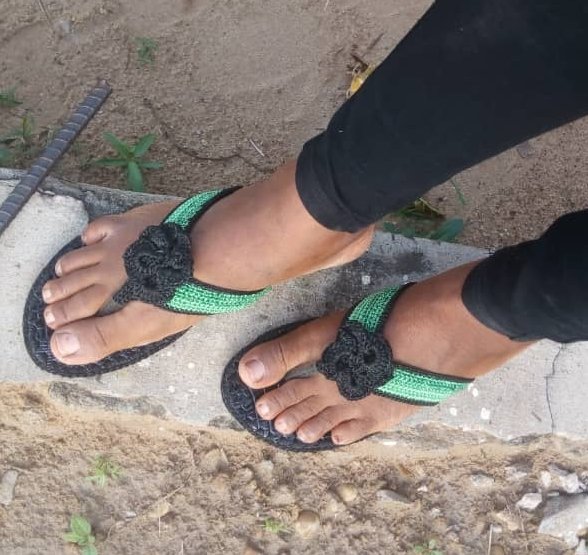 I want to use this medium to say thank you all to every member of the #NeedleWorkMonday community, especially from the management team @crosheille, @kattycrochet, and others for all the birthday wishes. I am grateful.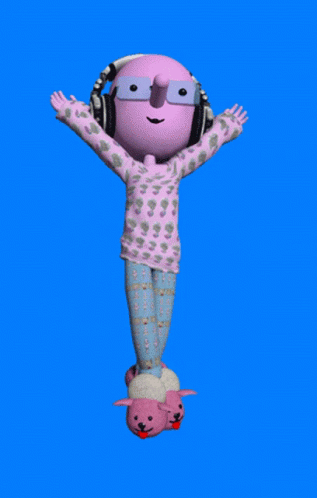 @apunawu