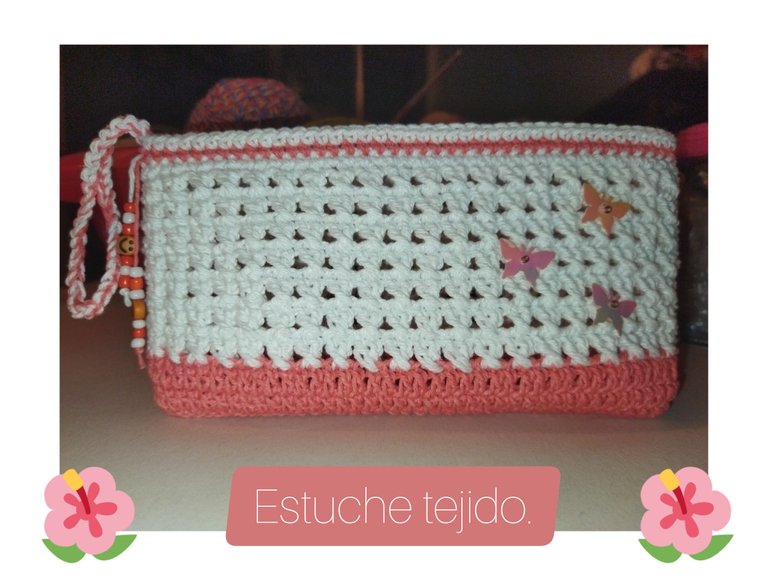 Hola amigos conocedores del arte de las agujas y afines. Espero de todo corazón que estén muy bien el día de hoy. ¡Yo feliz! porque estuve tejiendo un ESTUCHE para usos múltiples. Mi objetivo principal es guardar el teléfono, pero podemos usarlo como mejor se ajuste a las necesidades de cada quien.
Hello friends, connoisseurs of the art of needlework and allied crafts. I hope with all my heart that you are doing well today, and I'm happy because I've been knitting a multipurpose CASE. My main purpose is to store the phone, but we can use it as it best suits the needs of each one.

Este bellísimo estuche está tejido con hilos pabilos colores blanco y anaranjado. Este color de hilo me gusta mucho, no es un anaranjado chillón o escandaloso. A diferencia del hilo blanco este hilo es más fino y delicado, es por ello que para tejer con ambos hilos debí soltar un poco más la presión al tejer con el anaranjado para que no me quedara más apretado y angosto el tejido.
Decidí comenzar con el hilo anaranjado para hacer la base y se viera mucho mejor. Tomé las medidas de mi nuevo teléfono 👏 y a partir de allí elaboré una cadena del largo necesario. Inmediatamente subí con puntos altos haciendo un aumento en cada uno de los extremos de la cadena en solo esa primer vuelta de subida.
This beautiful case is woven with white and orange wick yarns. I like this color of yarn very much, it is not a garish orange or outrageous. Unlike the white yarn, this yarn is thinner and more delicate, that's why to weave with both yarns I had to loosen the pressure a little more when weaving with the orange yarn so that the fabric would not be tighter and narrower.
I decided to start with the orange yarn to make the base and make it look much better. I took the measurements of my new phone 👏 and from there I made a chain of the required length. I immediately went up with high stitches making an increase at each end of the chain on just that first loop up.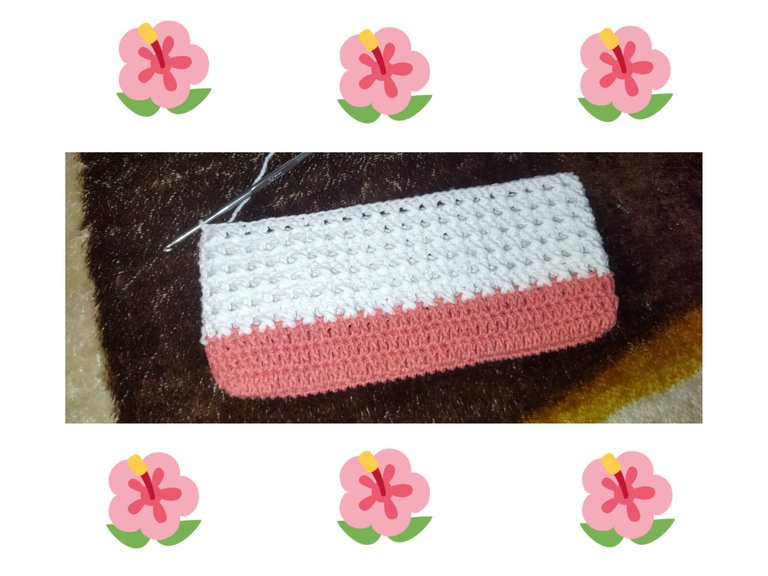 Luego cambié de hilo y también de punto. Realicé todo el cuerpo del estuche con punto alto cruzado. Es un punto simple, pero el resultado es precioso. Me gusta porque se teje rápido y podemos hacer proyectos de todos los tamaños con un lindo acabado. Subí siete vueltas y luego cambié a punto bajo intercalando los colores por vuelta. Fueron tres vueltas de punto bajo. Cerré la vuelta tomando las dos hebras (blanca y anaranjada) y procedí a tejer una cadena de 40 puntos. Rematé dejando 10 cms de hebra para colgar.
En estos hilos introduje unas MOSTACILLAS y un fimmo de carita feliz color anaranjado en cada hebra. Al final hice un nudo. ¡Lindo, lindo!
No pude evitar recordar las palabras de una amiga quien me dijo recientemente que a ella le encantan las pulseras que le regalé porque tienen caritas. Están muy de moda.
Then I changed the yarn and also the stitch. I made the whole body of the case with cross over stockinette stitch. It is a simple stitch, but the result is beautiful. I like it because it knits quickly and we can make projects of all sizes with a nice finish. I went up seven rows and then changed to single crochet, alternating the colors per row. That was three rows of single crochet. I closed the row by taking the two strands (white and orange) and proceeded to knit a chain of 40 stitches. I finished off leaving 10 cms of yarn for hanging.
On these strands I inserted some MOSTACILLAS and an orange smiley face motif in each strand. At the end I tied a knot. Cute, cute!
I couldn't help but remember the words of a friend who recently told me that she loves the bracelets I gave her because they have little faces on them. They are very fashionable.

Aquí en Venezuela, al menos en mí ciudad, no es fácil conseguir de estos fimmos. Y si los hay son costosos. Un solo fimmo de estos pequeños tiene un costo en bsd de 1,00 bsd. Con un 1$ podría comprar solo 4 fimmo de carita feliz. En cambio en México, según he visto en las páginas de manualidades, se pueden conseguir de todos los tamaños, formas y colores. No sé los precios, pero al menos hay variedad.
Here in Venezuela, at least in my city, it is not easy to get these fimmos. And if they are available, they are expensive. A single fimmo of these small ones has a cost in bsd of 1,00 bsd. With a $1.00 bsd I could buy only 4 fimmo of carita feliz. On the other hand in Mexico, as I have seen in the handicraft pages, you can get them in all sizes, shapes and colors. I don't know the prices, but at least there is variety.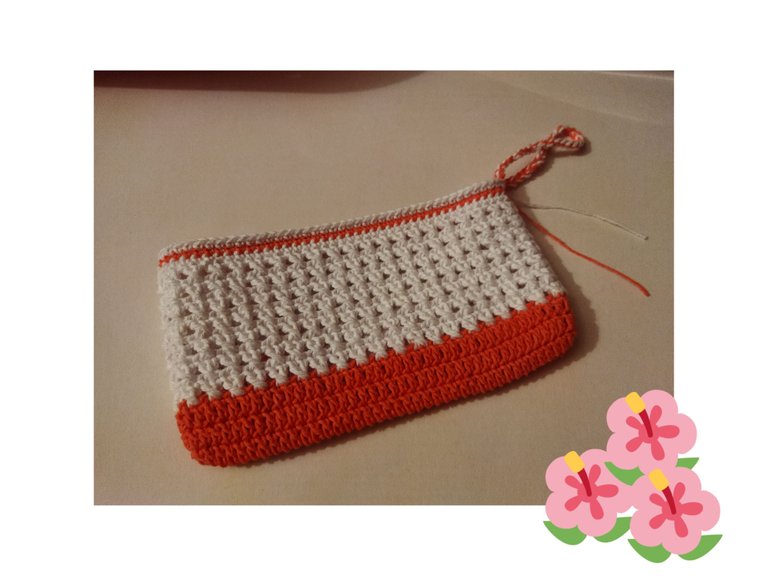 🏵️ Me gusta realizar los tejidos solo con hilos, es decir, todo tejido, sin embargo colocarles adornos o complementos con otros materiales siempre es válido. Para este estuche quise colocarles las mostacillas y los fimmos en el colgante y para decorar el cuerpo usé mariposas en lentejuelas y una mostacillas muy pequeñas en el medio. Tuve que pegarlas porque no entró mi aguja por los orificios.
🏵️ I like to make the weavings only with threads, that is to say, all weaving, however, it is always valid to add ornaments or complements with other materials. For this case I wanted to place the beads and the fimbres on the pendant and to form the body I used butterflies in sequins and a very small bead in the middle. I had to glue them because my needle did not fit through the holes.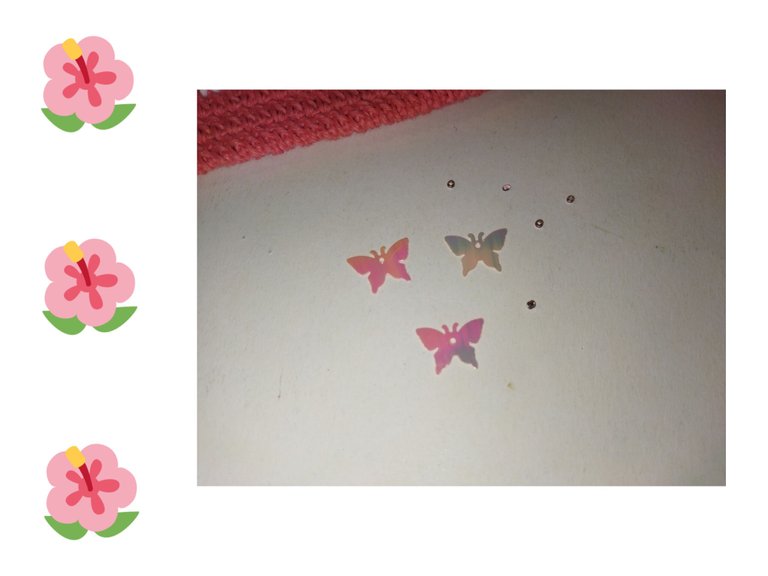 Estas mariposas son muy bonitas. Tres de cada lado y se ven preciosas. De esta manera quedó terminada la decoración de mi estuche. Solo me resta realizar un forro y colocarle el cierre.
These butterflies are very pretty. Three on each side and they look beautiful. This way the decoration of my pencil case is finished. I just need to make a lining and attach the clasp.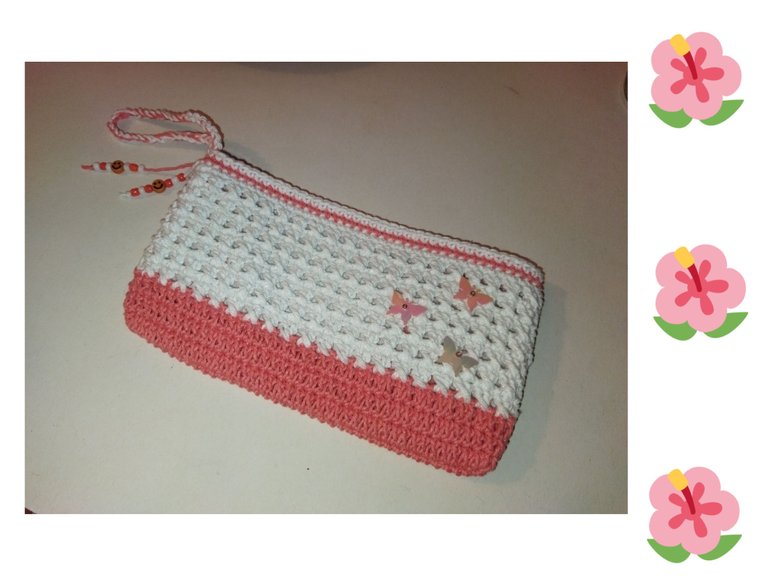 Deseando que les guste el resultado. Yo sigo por aquí haciendo el forro porque ya me lo quiero estrenar. Todas las fotos son de mi propiedad. Edité con InShot y Polish. Usé el traductor de Deelp. Hasta una próxima oportunidad. Bendiciones.
I hope you like the result. I'm still here making the lining because I want to use it for the first time. All the photos are my property. I edited with InShot and Polish. I used Deelp translator. See you next time. Blessings.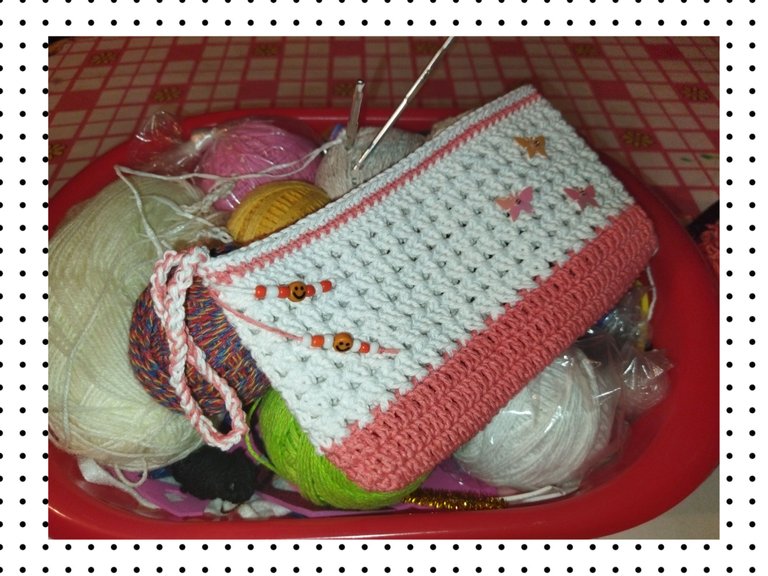 ---
---
---