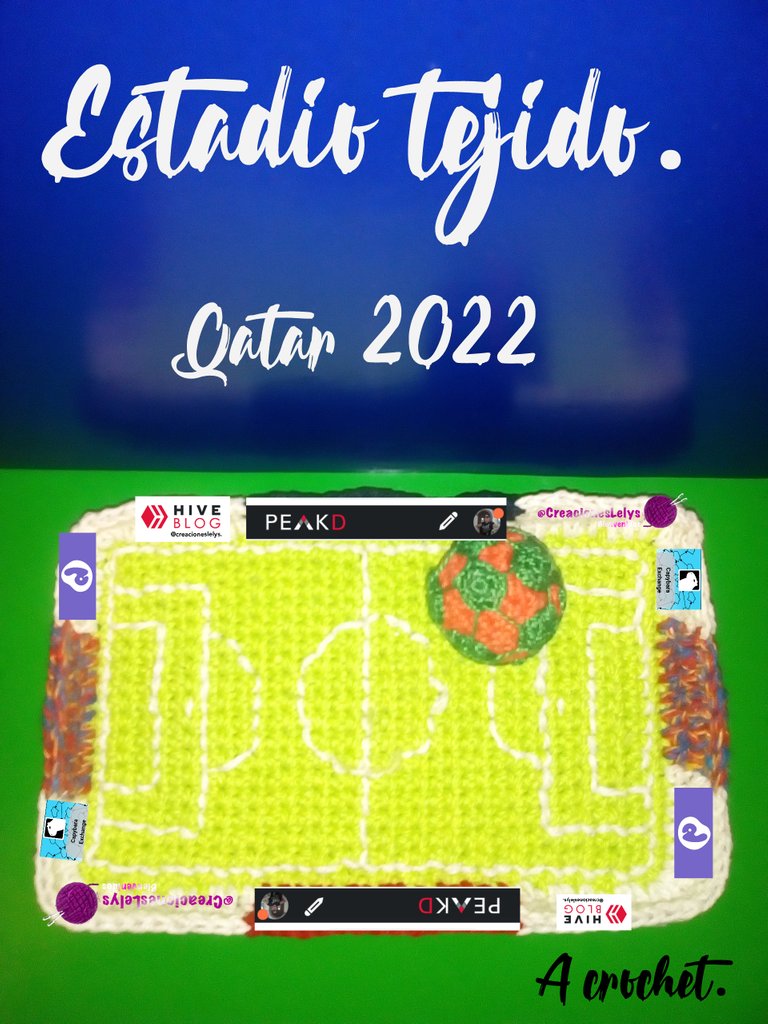 ¡Hola!
Soy Lelys 🤝 BIENVENIDOS 🙋 hoy vamos a tejer un ESTADIO DE FÚTBOL rumbo a Qatar 2022 ⚽ Espero que estén muy bien y deseen acompañarme a realizar este hermoso proyecto.
Hello!
I am Lelys 🤝 WELCOME 🙋 today we are going to weave a FOOTBALL STADIUM heading to Qatar 2022 ⚽ I hope you are very well and wish to accompany me to carry out this beautiful project.

⚽ Para realizar este proyecto vamos a necesitar bastante creatividad. Paso a paso iremos construyendo el campo de juego, puedes hacerlo del tamaño de tu preferencia sólo siguiendo las instrucciones y adaptando las medidas.
⚽ To carry out this project we are going to need a lot of creativity. Step by step we will build the playing field, you can make it the size of your preference just by following the instructions and adapting the measurements.
MATERIALES:
Hilos pabilos.
Aguja de crochet de 2,5 mm.
Aguja lanera.
Tijeras.
Cartón, colores, marcadores y otros necesarios para realizar un futbolista pequeño.
Reglas.
Lápiz.
Pegamento.
Imágenes prediseñadas para editar las imágenes finales.
MATERIALS: Wick threads. 2.5mm crochet hook. Wool needle. Scissors. Cardboard, colors, markers and other necessary to make a small soccer player. Rules. Pencil. Glue. Clip art for editing the final images.
PROCEDIMIENTO:
⚽ Inicia realizando el campo de juego en color verde grama.
⚽ Teje una cadena con 20 puntos. (8 CM)
⚽ Sube 34 vueltas de 20 pb (puntos bajos) logrando una medida de 13 CM. Cambia de color a blanco.
PROCESS: ⚽ Start by making the playing field in green grass. ⚽ Knit a chain with 20 stitches. (8 CM) ⚽ Go up 34 rounds of 20 sc (single crochets) achieving a measurement of 13 CM. Change color to white.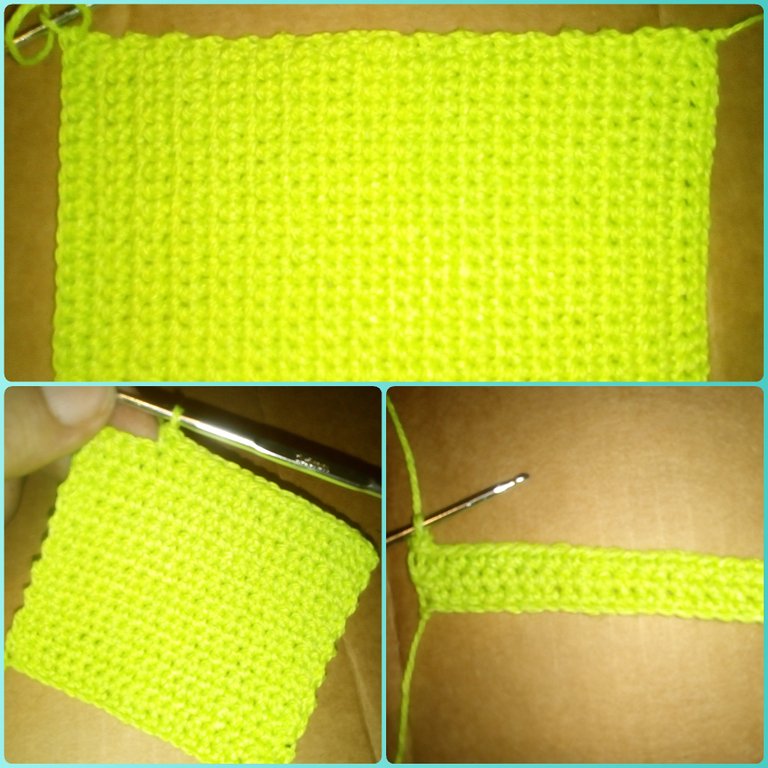 ⚽ Empezamos a realizar las carteleras de publicidad, levantaremos dos vueltas con puntos altos (pa) alternando los colores.
⚽ Sólo en la primer vuelta harás dos paj (puntos altos juntos) en las esquinas.
⚽ Para la segunda vuelta solo repite la vuelta anterior.
⚽ Cierra y remata. No olvides de esconder muy bien todas las hebras.
⚽ Los cambios de color se realizan al momento de cerrar el último punto del primer color.
⚽ We begin to make the advertising boards, we will raise two rounds with high points (pa) alternating the colors. ⚽ Only in the first round you will make two straw (double crochets together) in the corners. ⚽ For the second round, just repeat the previous round. ⚽ Close and finish. Do not forget to hide all the strands very well. ⚽ Color changes are made when closing the last point of the first color.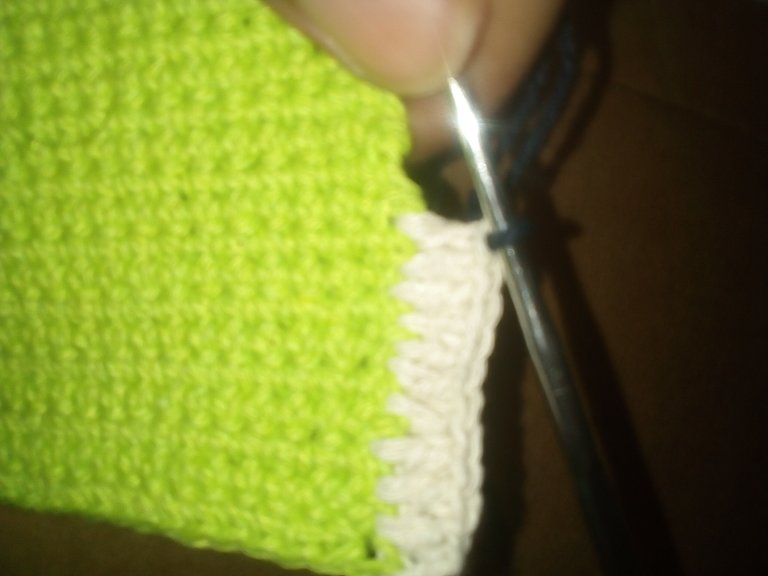 ⚽⚽⚽⚽⚽⚽⚽⚽⚽⚽⚽⚽⚽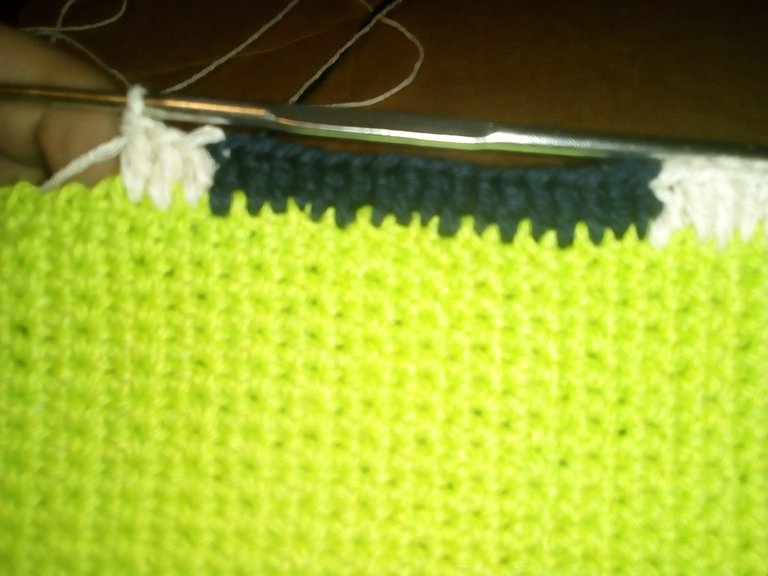 👉 Así debe verse luego de tejer la primer vuelta.
👉 This should look like after knitting the first round.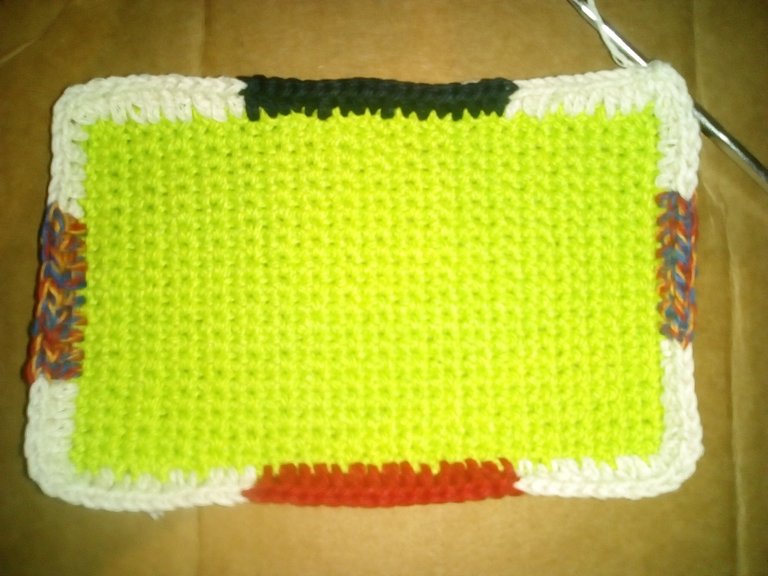 ⚽ Tejemos entonces la segunda vuelta idéntica, sin ningún aumento.
⚽ We then knit the second identical round, without any increase.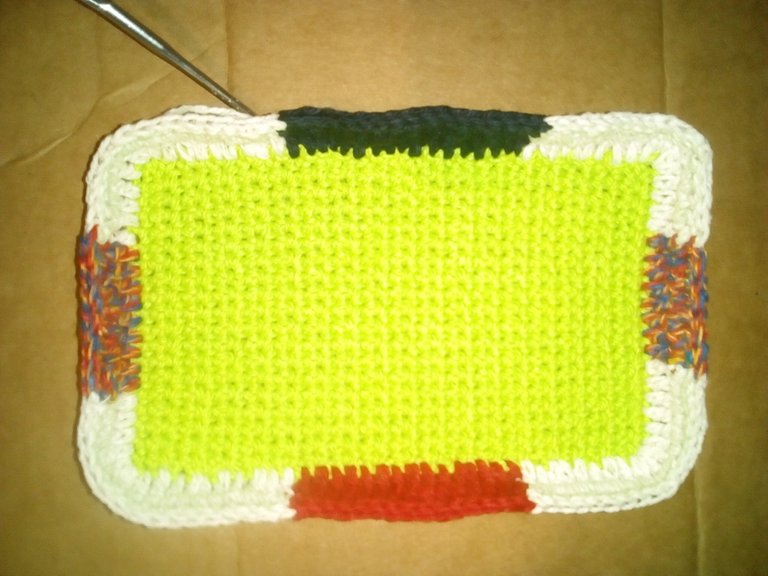 🤾 Realizamos los detalles a gusto particular. Un jugador, un balón, varios jugadores, un árbitro. Eso depende de tu gusto. Procedemos ⚽
🤾 We carry out the details to particular taste. One player, one ball, several players, one referee. That depends on your taste. We proceed ⚽
⚽ Realiza las marcas y arcos en el campo. Utiliza la aguja lanera e hilo blanco. Para los arcos puedes utilizar palitos de altura pintados con pintura al frío. Pon en práctica CREATIVIDAD e imaginación 😉
⚽ Make the marks and arcs in the field. Use the wool needle and white thread. For the arches you can use tall sticks painted with cold paint. Put CREATIVITY and imagination into practice 😉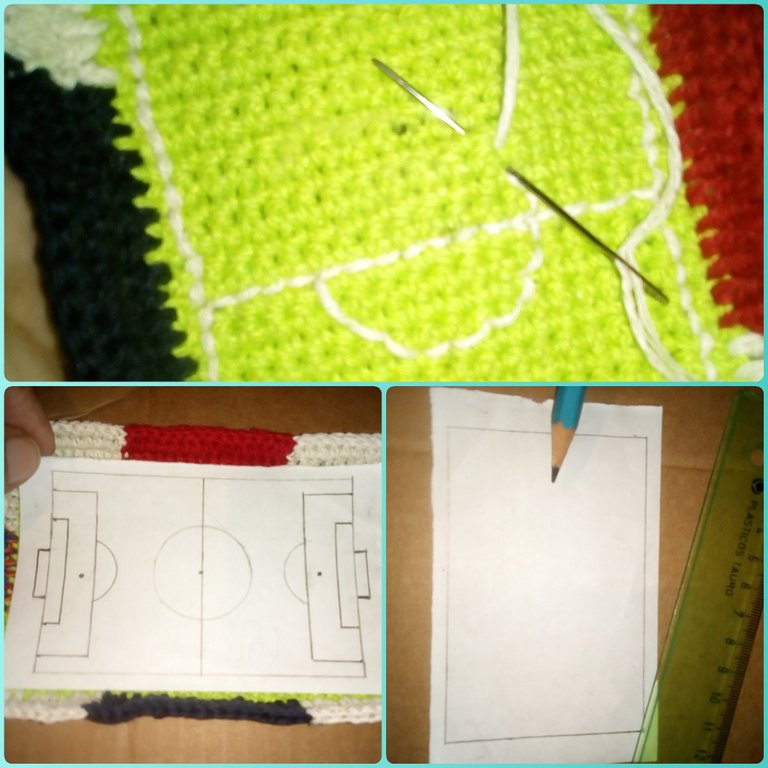 ⚽⚽⚽⚽⚽⚽⚽⚽⚽⚽⚽⚽⚽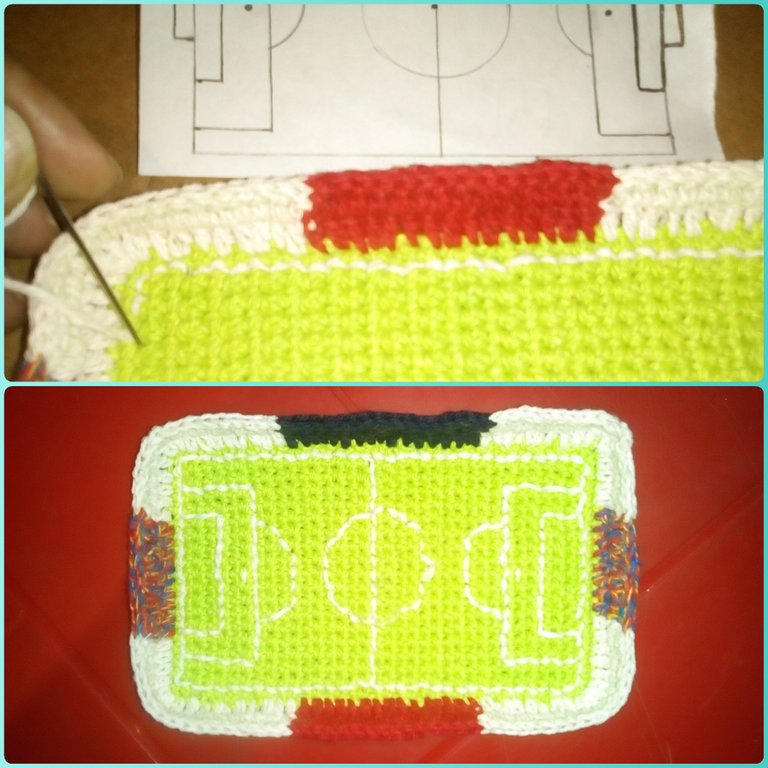 ⚽ Coloca un cartón de base para fortalecer el tejido y esconder cualquier hebra que haya quedado.
⚽ Place a base cardboard to strengthen the fabric and hide any strands that are left.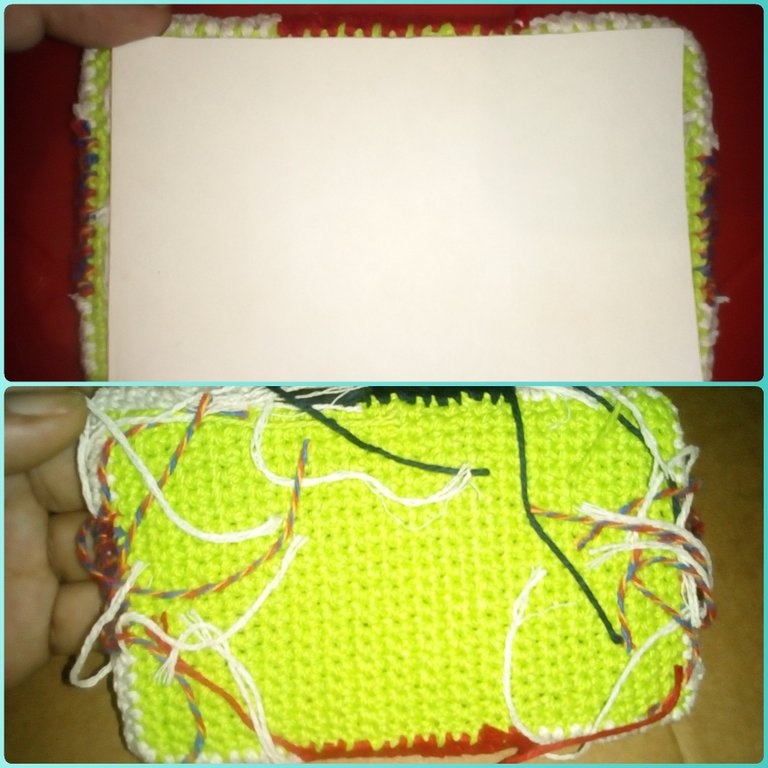 ⚽⚽⚽ Quedó genial ⚽⚽⚽
⚽⚽⚽ It was great ⚽⚽⚽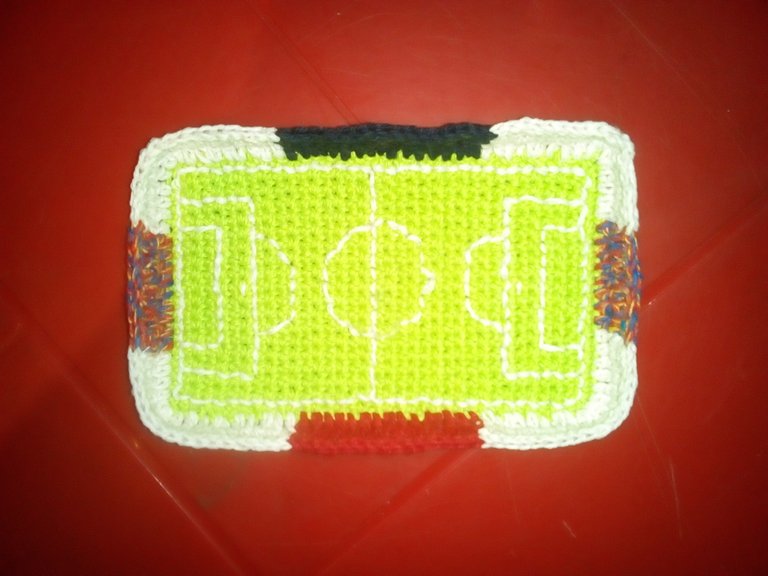 👉 Todas las fotos son de mi autoría. Edité con Polish. Puedes hacer los arcos con palitos de chupeta. Yo no conseguí material, para la próxima lo haré con arcos 👏 Disfruté un montón haciendo este patrón. Espero que tú también.
👉 All photos are my own. I edited with Polish. You can make the bows with lollipop sticks. I did not get material, for next time I will do it with bows 👏 I enjoyed doing this pattern a lot. I hope you too.