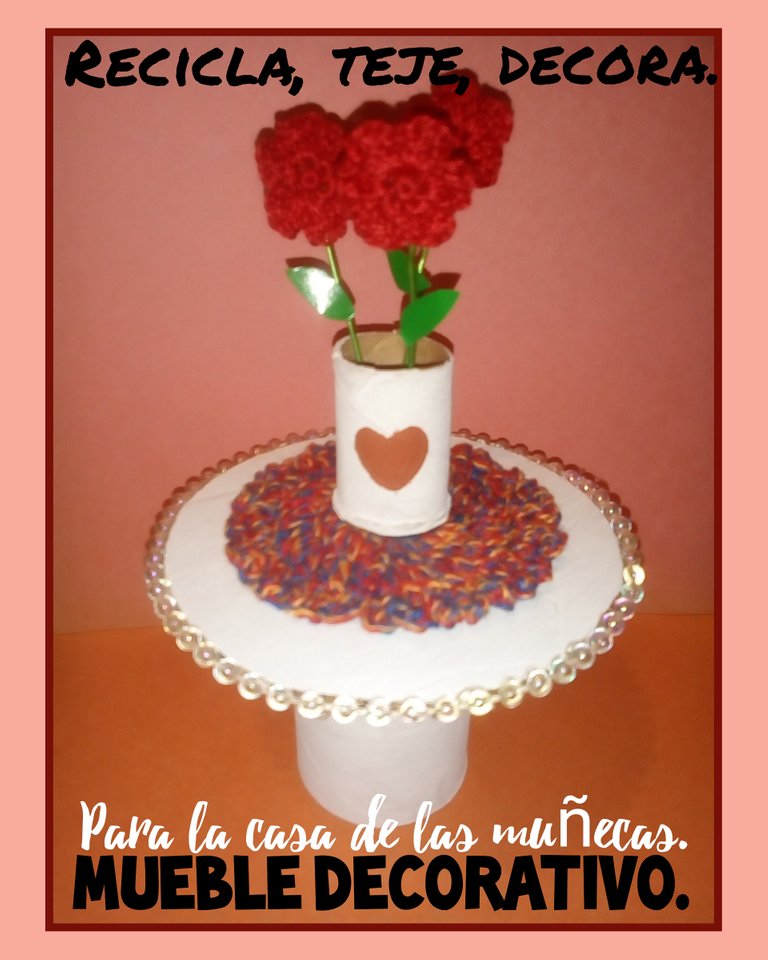 ¡Hola!
Soy Lelys 🤝 BIENVENIDOS. Hoy estoy muy contenta en presentarles este lindo proyecto. Realizado con la intención de que las niñas comiencen a amar la decoración y el tejido. Acompáñame a elaborar un Mueble decorativo, incluye una carpeta tejida sobre la mesita y unas lindas flores a crochet. ¡Está genial!
Hello! I'm Lelys 🤝 WELCOME. Today I am very happy to present you this beautiful project. Made with the intention that girls begin to love decoration and fabric. Join me to make a TOY FOR A GIRL'S HOUSE, it includes a woven folder on the table and some pretty crochet flowers. It's great!

❤️ Para realizar este proyecto vamos a necesitar varios materiales, mucha imaginacion y creatividad. La idea es lograr un resultado agradable para el uso de los niños, duradero y sobre todo que no implique mucho gasto.
❤️ To carry out this project we are going to need various materials, a lot of imagination and creativity. The idea is to achieve a pleasant result for the use of children, durable and above all that does not involve much expense.

💕 MATERIALES:
Coloca sobre tu mesa de trabajo los materiales de reciclaje ♻️ que tengas en el momento. Hilos para tejer y agujas. En el procedimiento te detallo con precisión los materiales para cada pieza del proyecto.
💕 MATERIALS: Place the recycling materials ♻️ you have at the moment on your work table. Knitting threads and needles. In the procedure I detail the materials for each piece of the project with precision.
💕 PROCEDIMIENTO:
Para empezar haremos la mesita. La haré redonda. Usaremos: cartón grueso, pintura al frío, tijeras, silicón caliente, adorno decorativo, pegamento blanco.
💕 PROCEDURE: To start we will make the table. I will make it round. We will use: thick cardboard, cold paint, scissors, hot silicone, decorative ornament, white glue.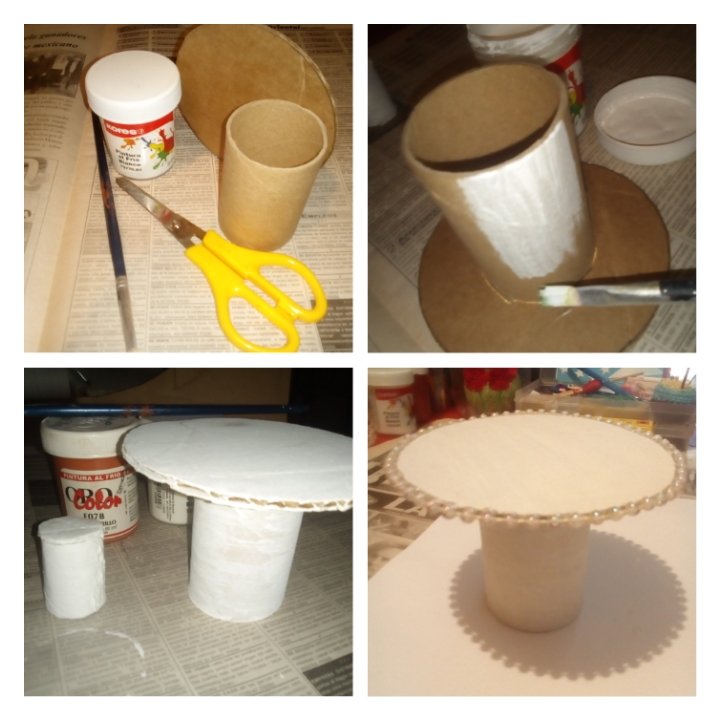 🌿 Para realizar el florero: con un trocito de cartón realizamos un cilindro, colocamos la base. Pintamos y decoramos. Dentro vamos a colocar un trocito de anime para sostener el tallo de las flores.
🌿 To make the vase: with a piece of cardboard we make a cylinder, we place the base. We paint and decorate. Inside we are going to place a piece of anime to hold the stem of the flowers.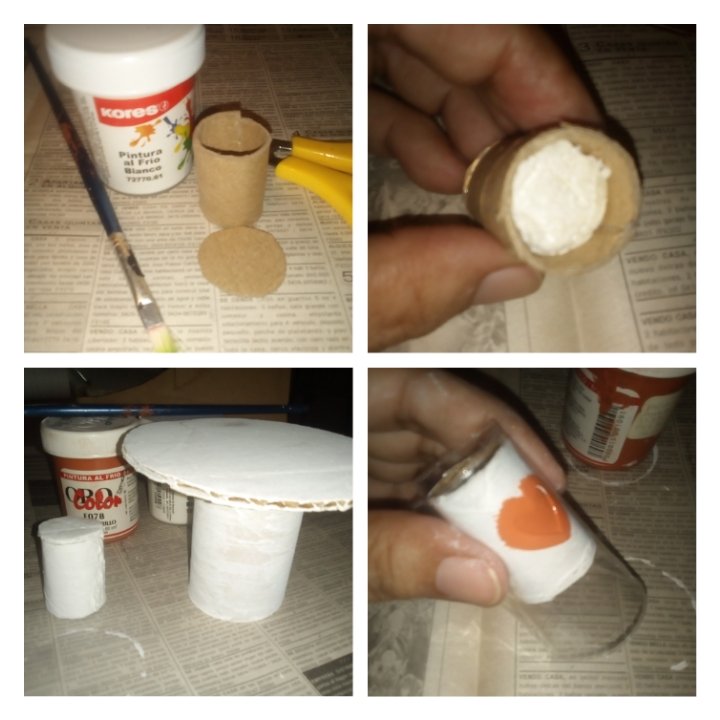 🌹 Haremos las flores y la carpeta tejida para colocar sobre la mesita. Usaremos: hilo crochet, aguja de 0,75 mm, tijeras, aguja lanera, alambre de floristería, palitos de altura o clip verde, pegamento. Podríamos utilizar también cartón y pintura al frío.
🌹 We will make the flowers and the woven folder to place on the table. We will use: crochet thread, 0.75 mm needle, scissors, wool needle, florist wire, tall sticks or green clip, glue. We could also use cardboard and cold paint.
🌹 Para realizar las flores:
Inicia con 6 pb en am.
Levanta 3 cadenas, teje 3 paj en donde nacen las cadenas, pasa al otro punto con pb. Allí mismo levanta 3 cadenas y teje 3paj, pasa al otro punto con un pb. Repite hasta completar 6 pétalos. Cierra y remata.
🌹 To make the flowers: Start with 6 sc in am. Pick up 3 chains, weave 3 straw where the chains start, go to the other point with sc. Right there, cast 3 chains and work 3paj, go to the other point with a sc. Repeat until completing 6 petals. Close and finish.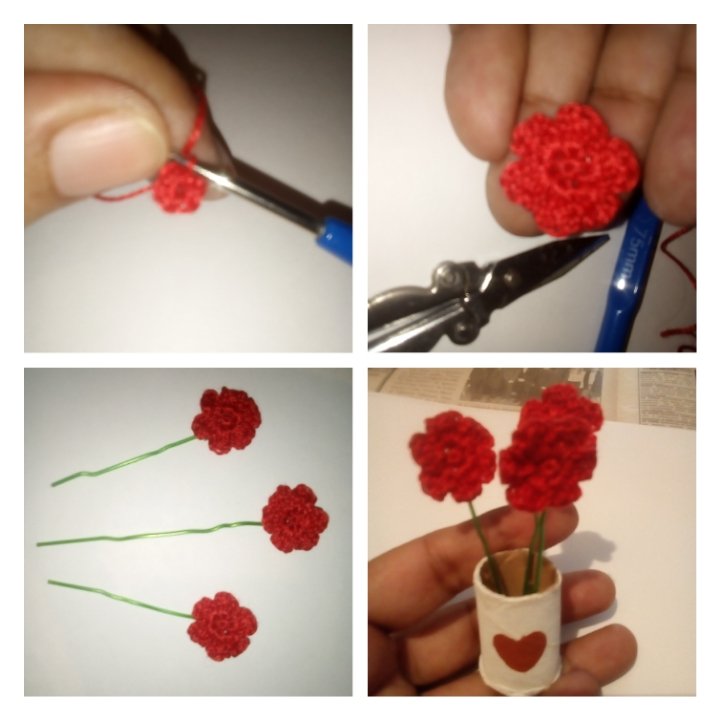 🌹🌹🌹 Bello 🌹🌹🌹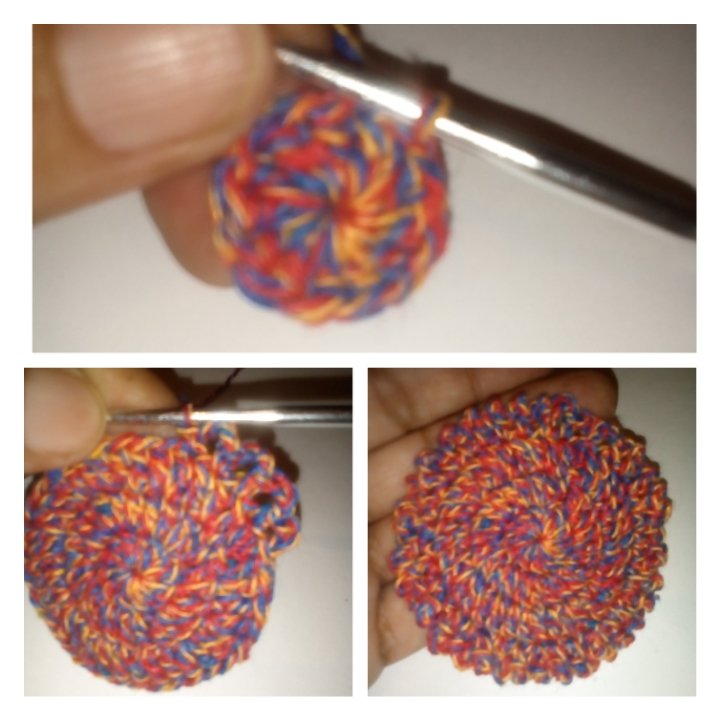 🌼 Para realizar la carpeta o pañito tejido: Inicia con 12 pa en am.
Teje 12 aum de pa.
1 pa-1 aum.
1 pb- 3 cadenas - 1 pb-. Hasta finalizar toda la vuelta. Cierra y remata.
🌼 To make the folder or woven cloth: Start with 12 dc in am. Crochet 12 inc. 1 dc-1 inc. 1 sc- 3 chains - 1 sc-. Until the end of the entire round. Close and finish.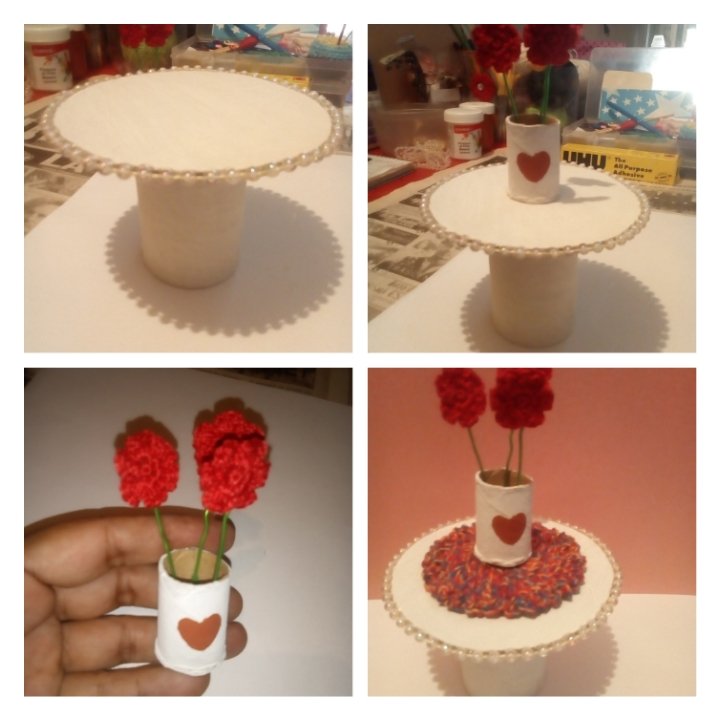 🌹🪑🌹 Hacemos el armado de la pieza completa. Tú decides si colocar pegamento al florero y a la carpeta para mantenerlo sujetado a la mesita siempre.
🌹🪑🌹 We make the assembly of the complete piece. You decide whether to glue the vase and the folder to keep it attached to the table at all times.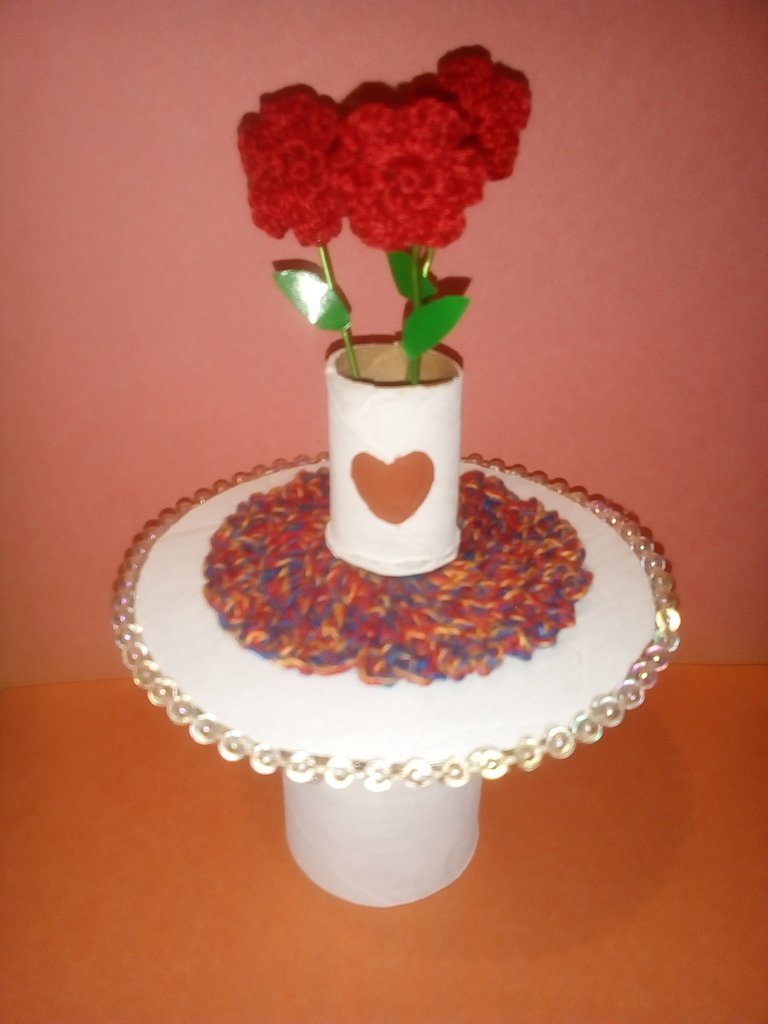 Bonita creación.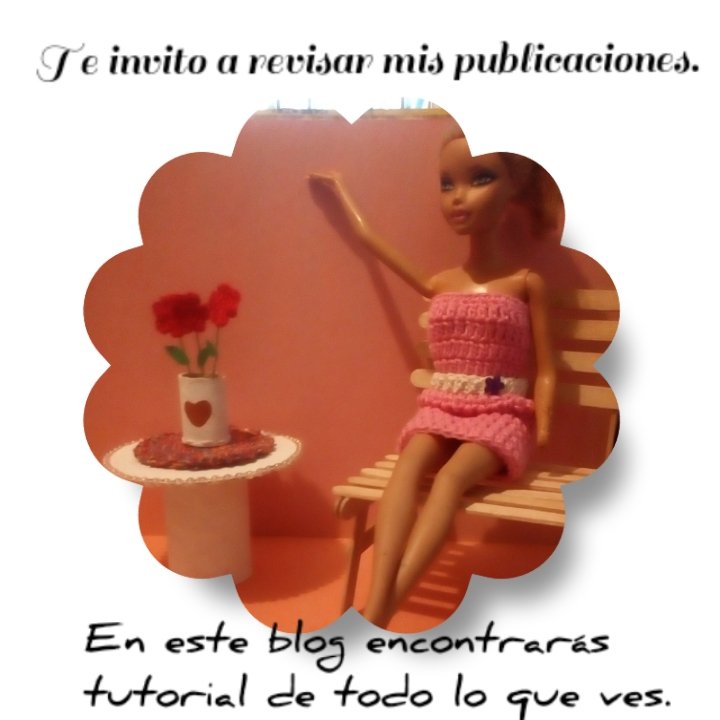 ❤️ Disfruté mucho haciendo este juguete. Está muy bello.
Todas las fotos son de mi propiedad.
Edité con Photocollage y Polish.
Uso traductor de Google en todos los Post.
Gracias a @eve66 por los separadores.
❤️ I really enjoyed making this toy. It is very beautiful. All photos are my property. I edited with Photocollage and Polish. I use Google translator in all posts. Thanks to @ eve66 for the separators.