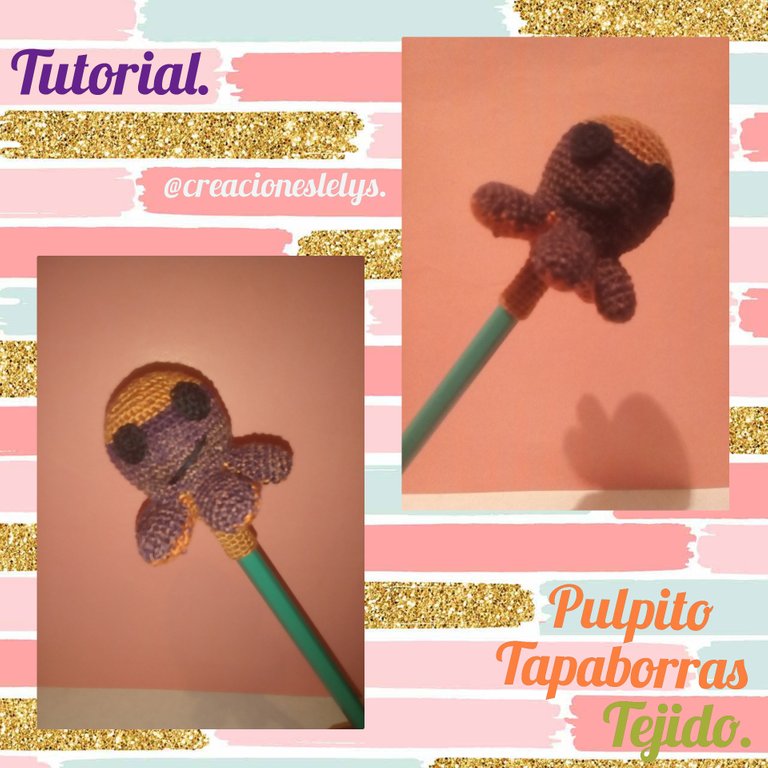 ¡Hola!
Soy Lelys 🤝 BIENVENIDOS 🙋 me encuentro muy feliz hoy. Acompáñame a realizar un lindo protector de lápiz o tapaborras de pulpito. Una amiga me sugirió realizarlo luego de ver el Pulpo reversible que también puedes encontrar aquí
Hi! I am Lelys 🤝 WELCOME 🙋 I am very happy today. Join me to make a nice pencil protector or pulpit eraser. A friend suggested I do it after seeing the reversible Octopus that you can also find here

🐙 La finalidad de los tapaborras tejidos a crochet es que los niños no pellizquen o muerdan la borra de los lápices. A medida que van aprendiendo decidimos si le colocamos pegamento al colocarla en el lápiz o no. También sirven de decoración y a los niños les parece muy divertido.
🐙 The purpose of crocheted erasers is that children do not pinch or chew on pencil eraser. As they learn, we decide whether to put glue on the pencil or not. They also serve as decoration and children find it a lot of fun.
🧶 Usaremos:
🔸 Hilo de coser (en tres hebras)
🔸 Aguja de crochet de 0,75 mm.
🔸 Aguja lanera.
🔸 Algodón sintético.
🔸 Ojitos o perlitas negras. También sirve mostacilla.
We will use: 🔸 Sewing thread (in three strands) 🔸 0.75mm crochet hook. 🔸 Yarn needle. 🔸 Synthetic cotton. 🔸 Little black eyes or pearls. Also serves bead.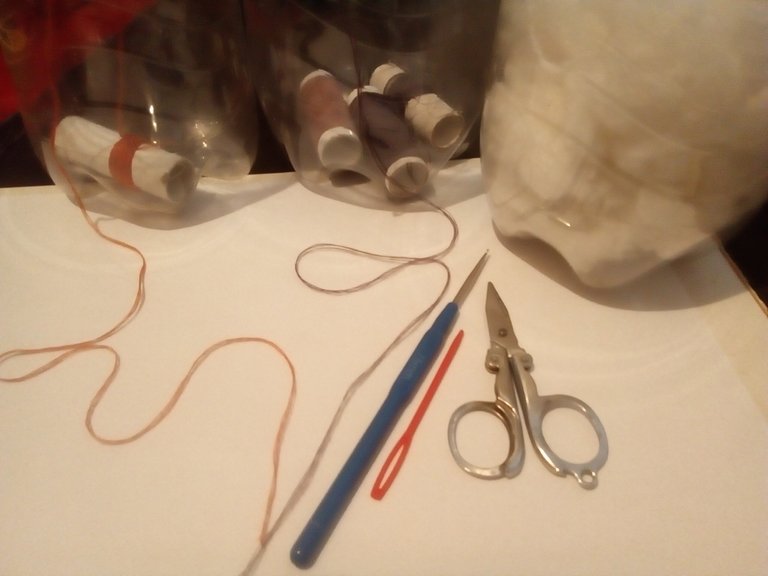 🙋 Nos guiaremos por el tutorial del pulpo reversible. Empezamos por los tentáculos. Luego de tejerlos todos hacemos la unión.
🙋 We will be guided by the reversible octopus tutorial. We start with the tentacles. After weaving them we all make the union.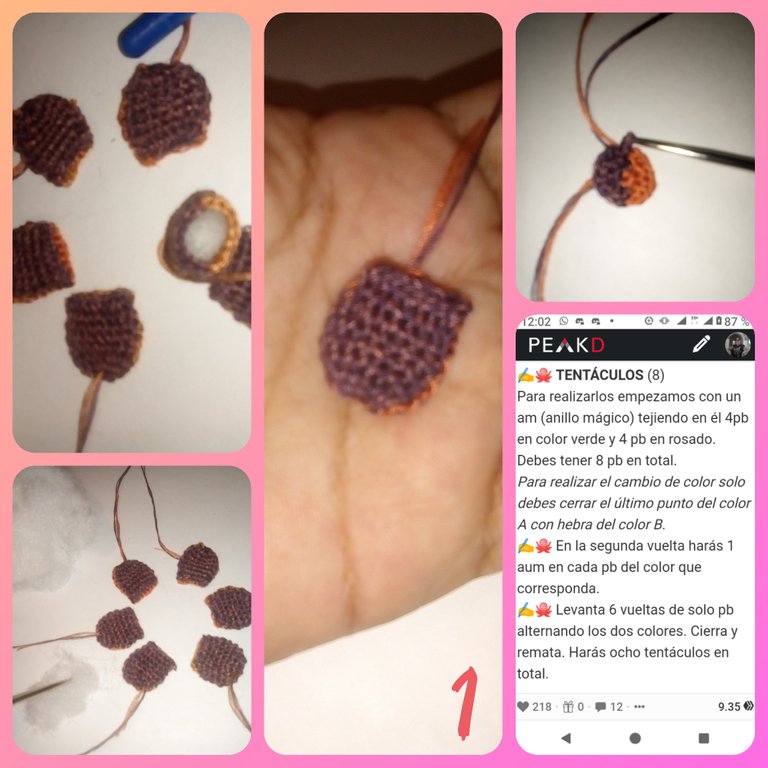 🙋 Colocamos un poquito de algodón sintético en cada tentáculo y continuamos el tejido. Haremos el cuerpo del 🐙 como lo indica el tutorial. La diferencia entre este tapaborras y el pulpo grande será el tamaño. Además le haremos el canal u orificio para encajar en el lápiz.
🙋 We place a little bit of synthetic cotton on each tentacle and continue the weaving. We will make the body of the 🐙 as indicated in the tutorial. The difference between this ** eraser ** and the large octopus will be the size. We will also make the channel or hole to fit in the pencil.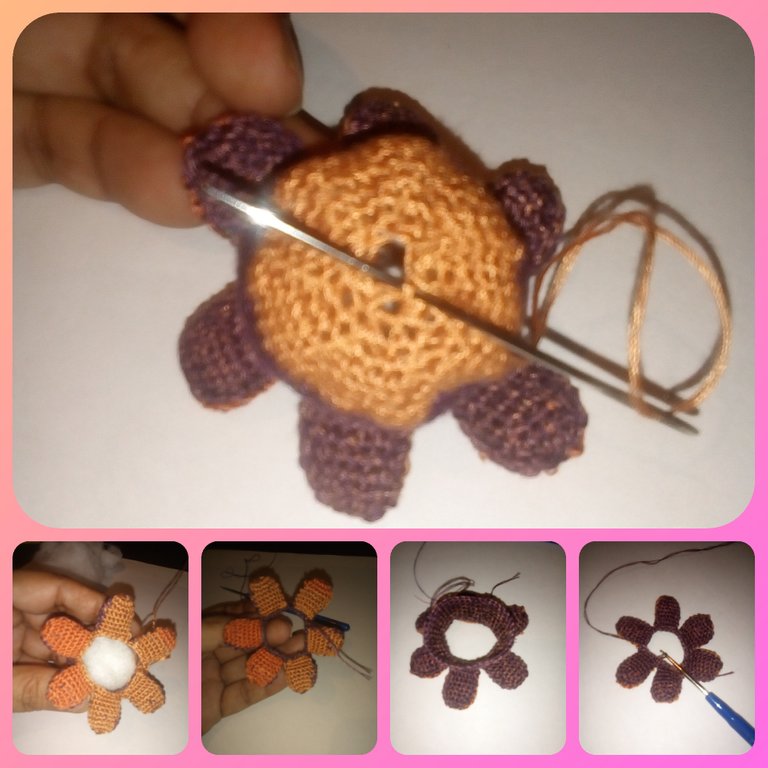 🙋 Finalizada la primera parte del cuerpo le colocamos un poquito de relleno y continuamos. Estoy utilizando tres hebras de hilo de coser. Si deseas hacerlo las grandecito puedes usar el hilo en seis hebras o más. El patrón es muy sencillo. Aquí una breve descripción 👇
🙋 After the first part of the body, we put a little padding on it and continue. I am using three strands of sewing thread. If you want to make it big, you can use the yarn in six strands or more. The pattern is very simple. Here a brief description 👇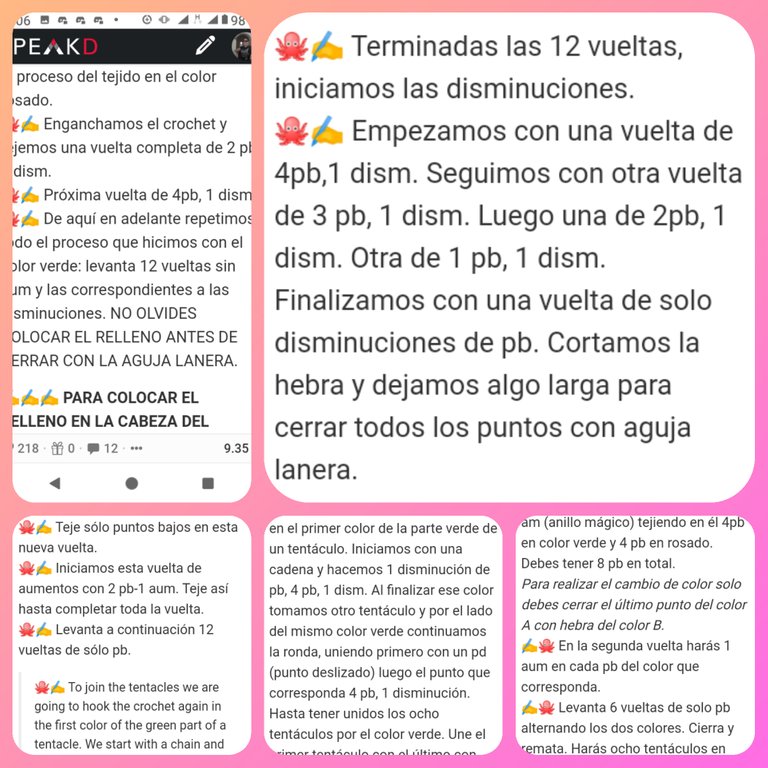 🙋 En este momento hacemos el cambio en el procedimiento 🧐 atención. Una vez finalizada la primera parte del tejido, iniciamos con disminuciones del otro lado. Hasta tener sólo 9 pb. (Es el tamaño que se ajusta a mi lápiz) haz reducciones desde 4 pb-1 dism. Al tener los 9 pb teje 9 vueltas de sólo pb. Cierra y remata.
🙋 At this moment we make the change in the procedure 🧐 ** attention **. Once the first part of the knitting is finished, we start with decreases on the other side. Until only 9 bp. (It is the size that fits my pencil) cut from 4 sc-1 dec. By having the 9 sc, knit 9 rounds of just sc. Close and finish.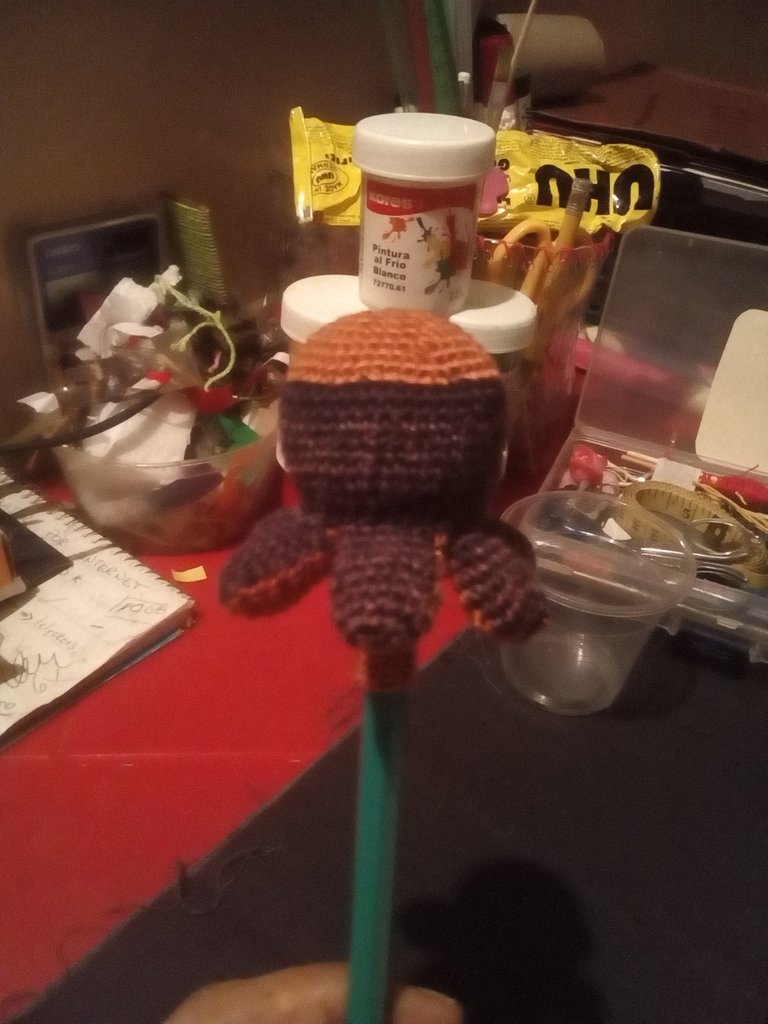 🙋 Haz la expresión que más te guste. Teje los ojos con hilo negro. Y borda la boquita. Recuerda revisar el tutorial 😉 Hazlo de diferentes colores. Los 🐙 se camuflan, así que podemos jugar con los matices. Es divertido.
🙋 Make the expression that you like the most. Weave the eyes with black yarn. And embroider the little mouth. Remember to check the tutorial 😉 Make it in different colors. The 🐙 are camouflaged, so we can play with the nuances. It's fun.
🙋❤️🐙 Estoy feliz con el resultado. Me encanta como se ve. Estaré haciendo algunos otros para practicar y agilizar el tejido. Todas las fotos son de mi autoría. Edité con Polish. Uso siempre traductor de Google. Se les quiere mucho.
🙋❤️🐙 I am happy with the result. I love how it looks. I'll be doing a few others to practice and speed up the knitting. All photos are my own. I edited with Polish. I always use Google translator. They love them.