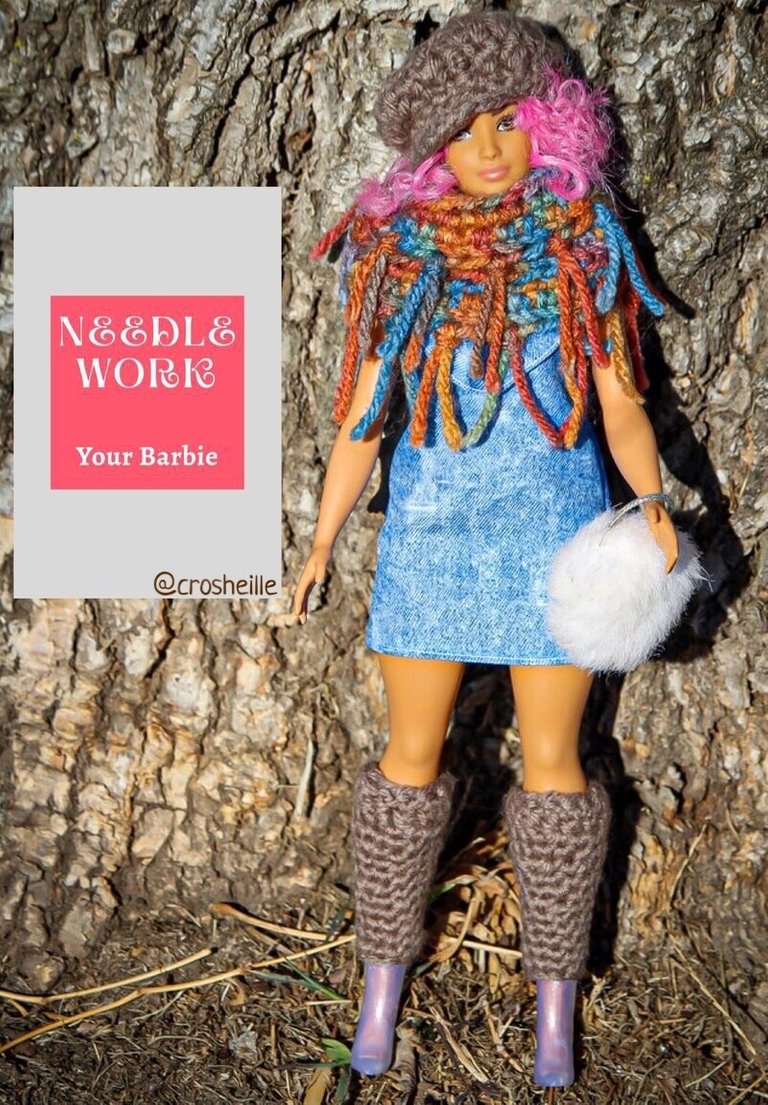 Happy NeedleWork Your Barbie Monday! 😆
I am so so excited about today! I am looking forward to seeing all of the entries for our Needlework Your Barbie Contest!
Today is the deadline for all entries. I hope you were able to get yours in because the prizes are pretty sweet! 🤩
I am not entering for the rewards of course but I had to join in for the Fun! I couldn't pass up this opportunity to relive some of those fond childhood memories of playing with and dressing up Barbie.
This really was a fun project for me and it brung a lot of joy and excitement. It was uplifting - a very much needed experience considering what we're facing in real life right now. With the world changing and all it's uncertainties it was nice to unwind and spend some time in play land.
My kids really helped me by giving me prop ideas. My neighbor so happened to have a box full of Barbie accessories that were helpful for Jaslene's photoshoot.
Thanks to my Hive earnings I was able to purchase her. When I saw her I knew that would be her name. 😊 My favorite color is pink so the pink hair immediately won me over.
I knew I wouldn't have time to create a full outfit so I decided to do a full Fall accessory set. She came with a short jean dress so I had to get her accessorized for this cool Fall air.

Crocнeтed Sloυcнy Newѕвoy Bereт
This type of hat can be called many things. It's a slouchy beret but also can be called a newsboy cap because of the added brim. So I just put all the names together. 😅


This is what it looked like before adding the brim...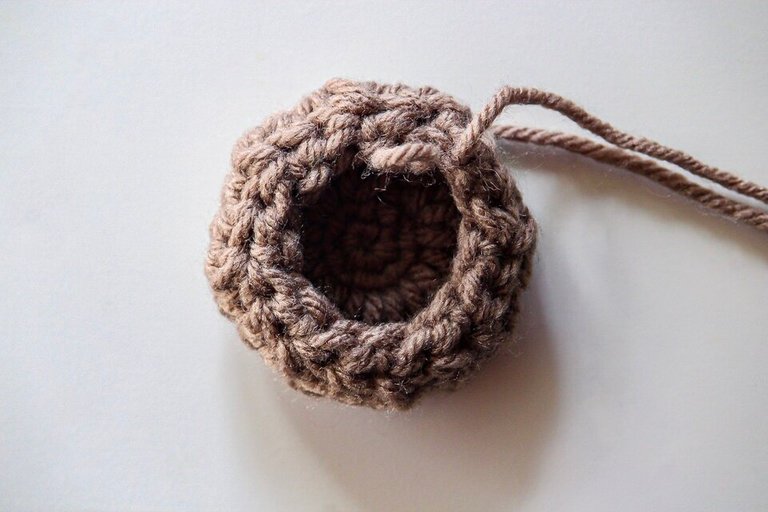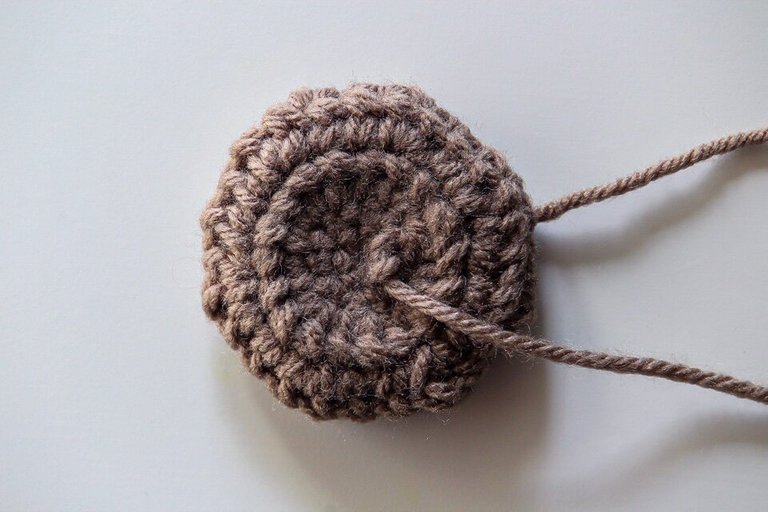 Brim added...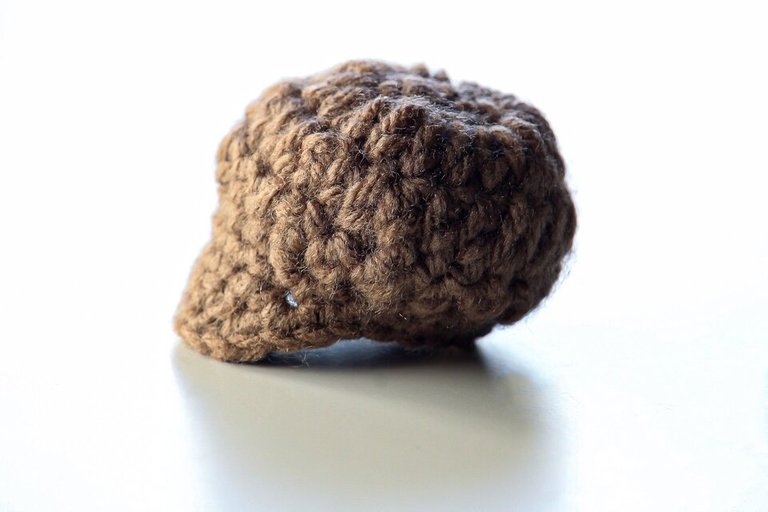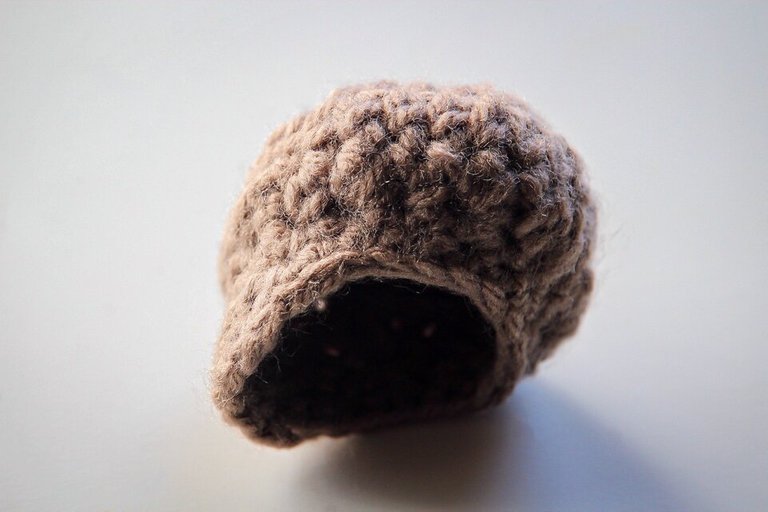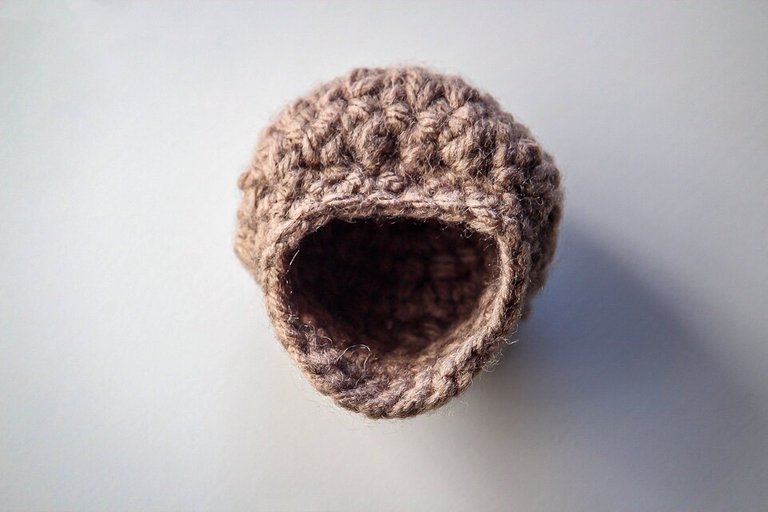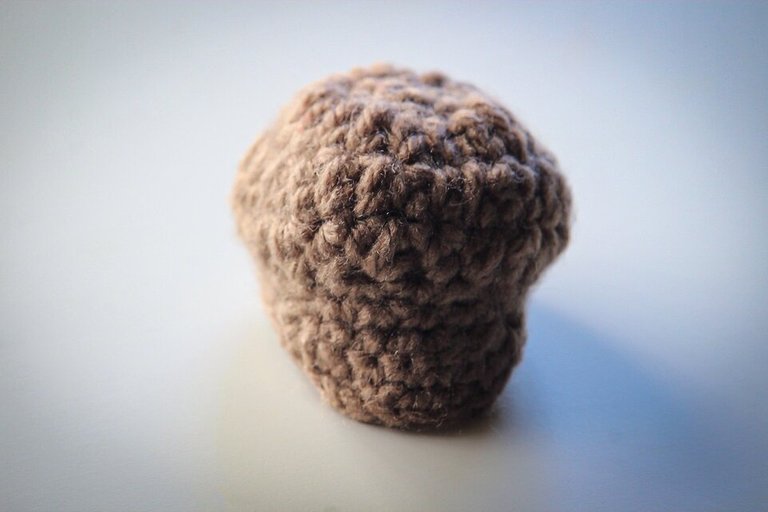 It didn't take me as long as I thought it would to configure a hat in Barbie size. I guess it's because I've been making these types of hats for awhile now. It was actually a lot of fun seeing it come together in miniature size.

Crocнeтed Cowl wιтн Frιɴɢe
I didn't want to make a regular scarf that hangs down but wanted one that added more volume to her finished look. It wraps around twice for a snugger fit.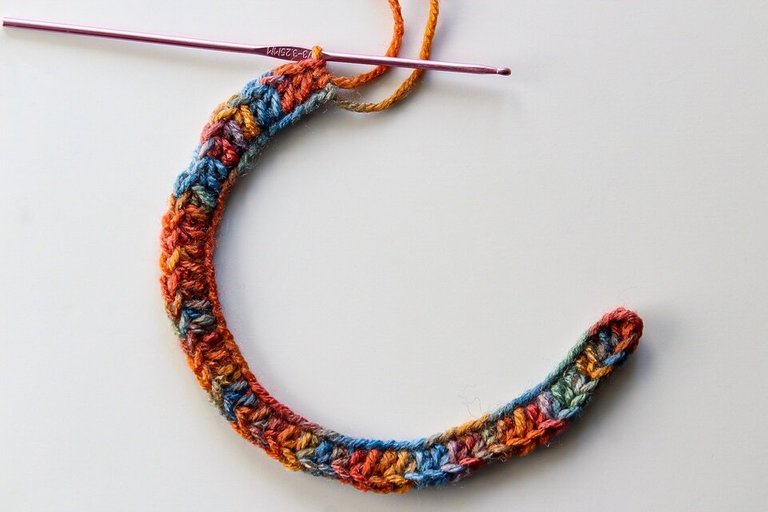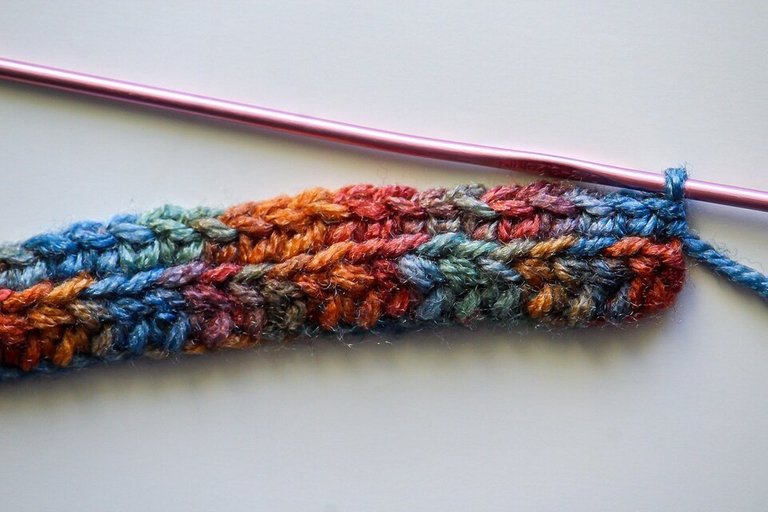 The fringe look is really popular right now. It was fun adding tiny fringe to the finished cowl...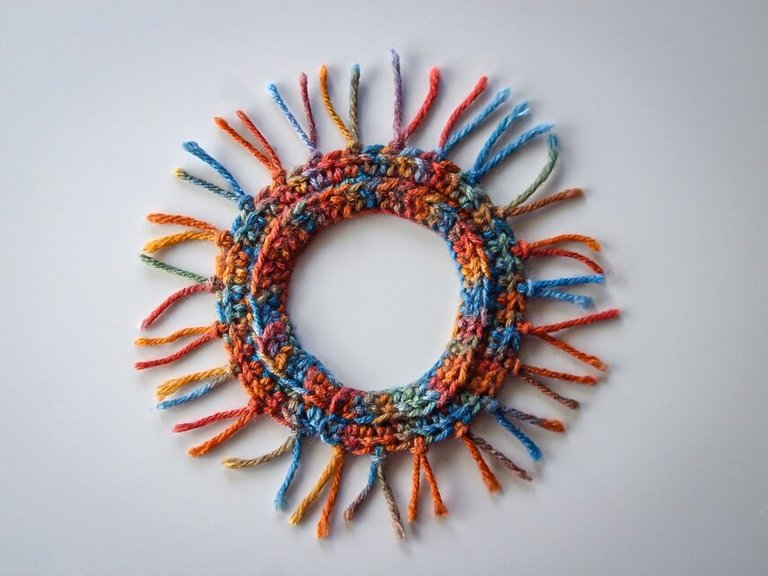 Crocнeтed Leɢ Wαrмerѕ
If Jaslene's dress was longer I probably wouldn't have thought about making leg warmers. Since my goal was to give her a warm Fall look it was necessary to finish the ensemble. 😊
My first attempt was making her leggings but they looked too much like pants...and they were too thick to lay flat under her dress.
I started out with a dc foundation to create a better stretch in the end. I also like the look of the foundation chain because it makes for a natural looking band...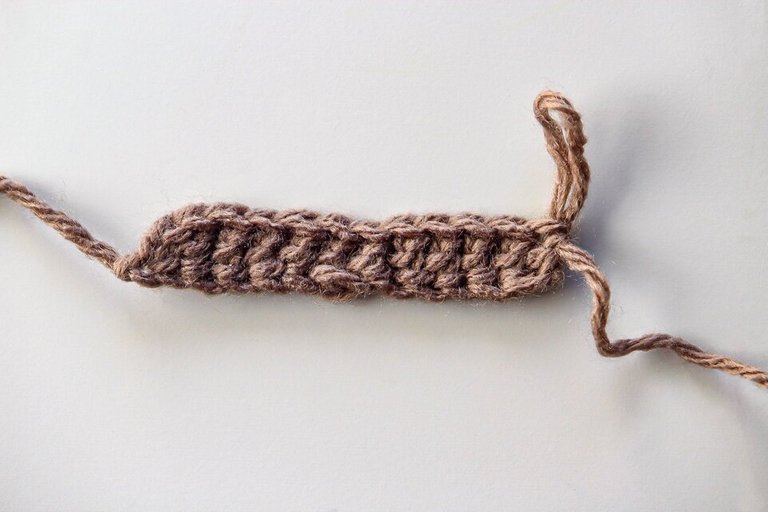 I consistently tried the leg warmers on Jaslene as I went along to make sure I decreased the rounds when needed. It got pretty tight towards the end when I got closer to the bottom of her shins...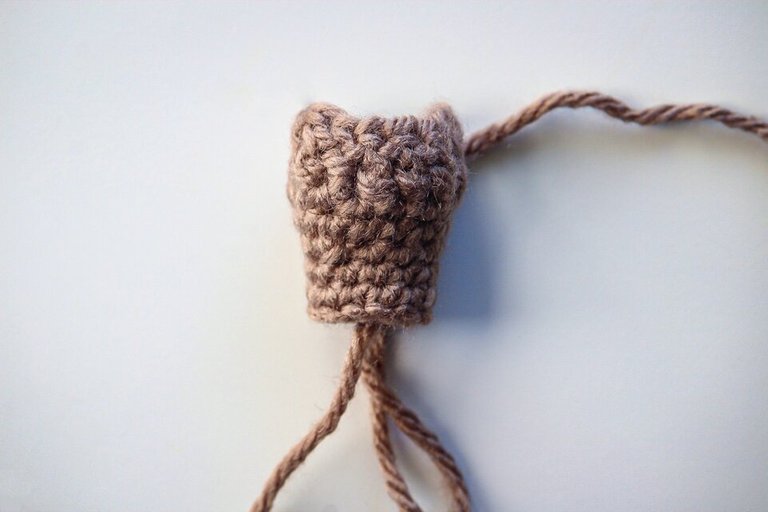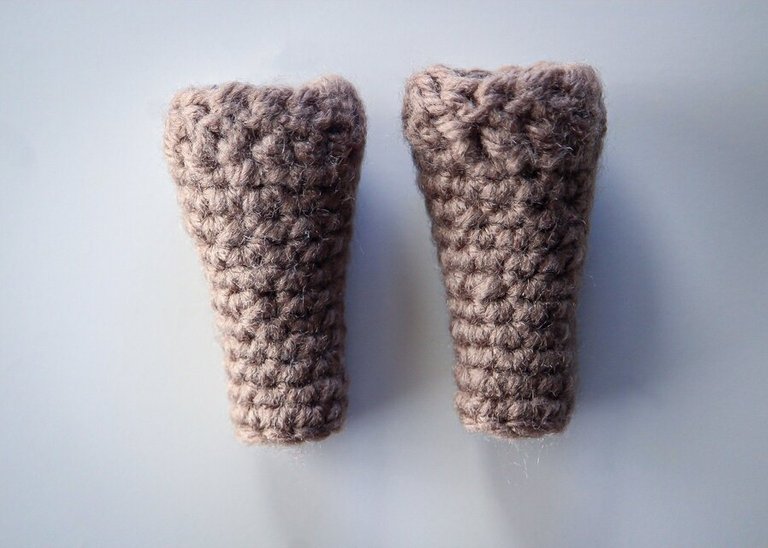 If I were to try these again I would make them thigh high warmers to cover up her legs more.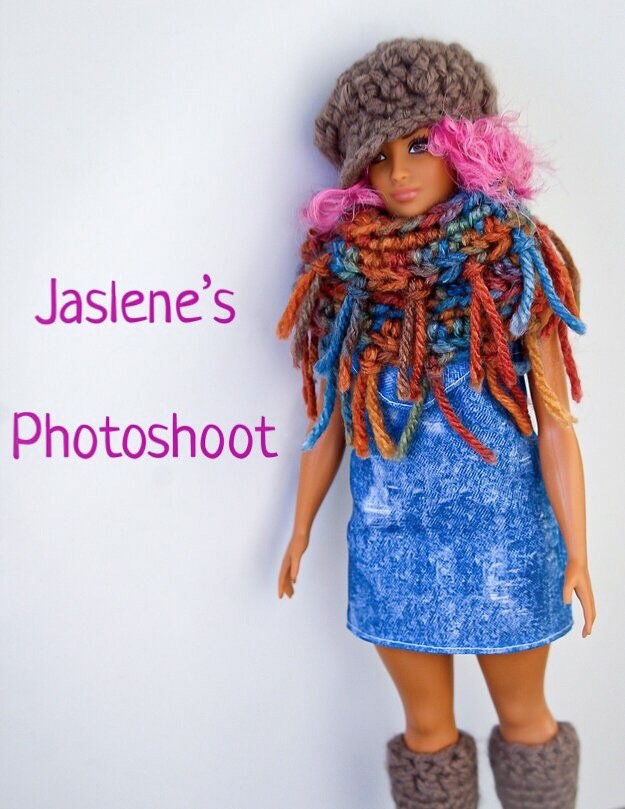 It was a long day of work - lots of fun and play but mainly work. Jaslene did a wonderful job posing in different settings as we tried to capture the looks we wanted.
It was such a fun adventure playing around with different props and scenes.
I hope you enjoy the photoshoot 😃...


The fun all started in her studio where she was prepped for her dayview. Hair and makeup, making sure her accessories were looking good and practicing her facials. 😁
Of course she posed for a quick shot while at her vanity.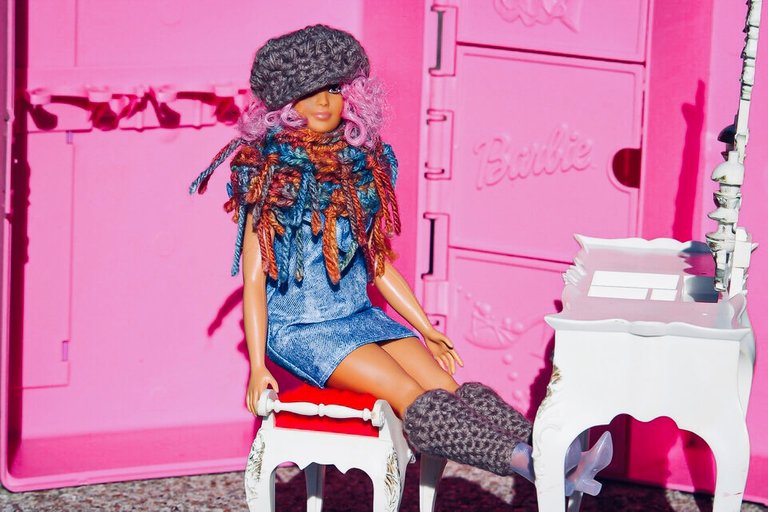 Next, I shot all the tree scenes. I love nature and would choose a natural background over anything else.
I was afraid her accessories would blend in too much but after editing they turned out okay...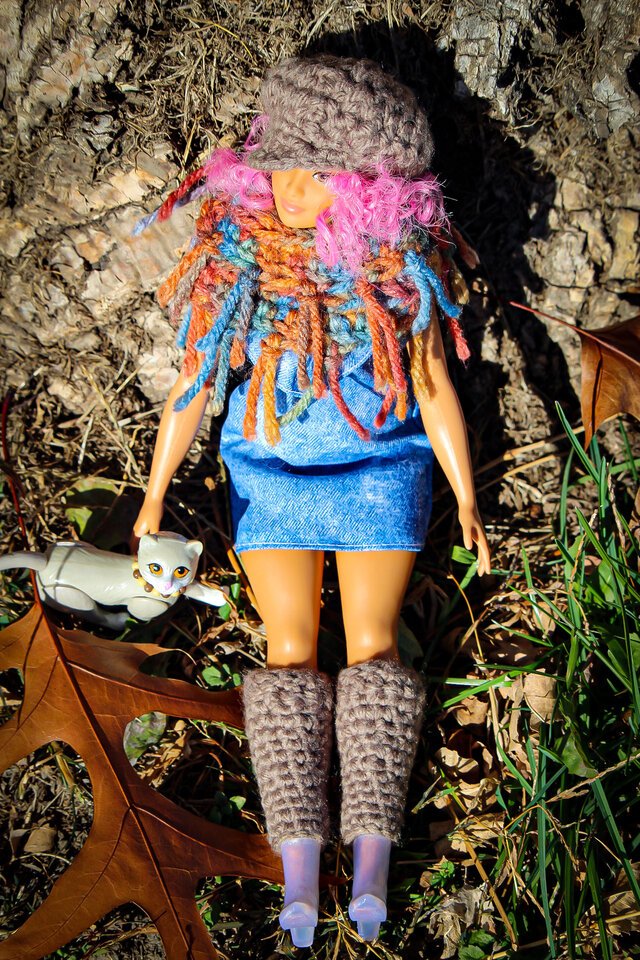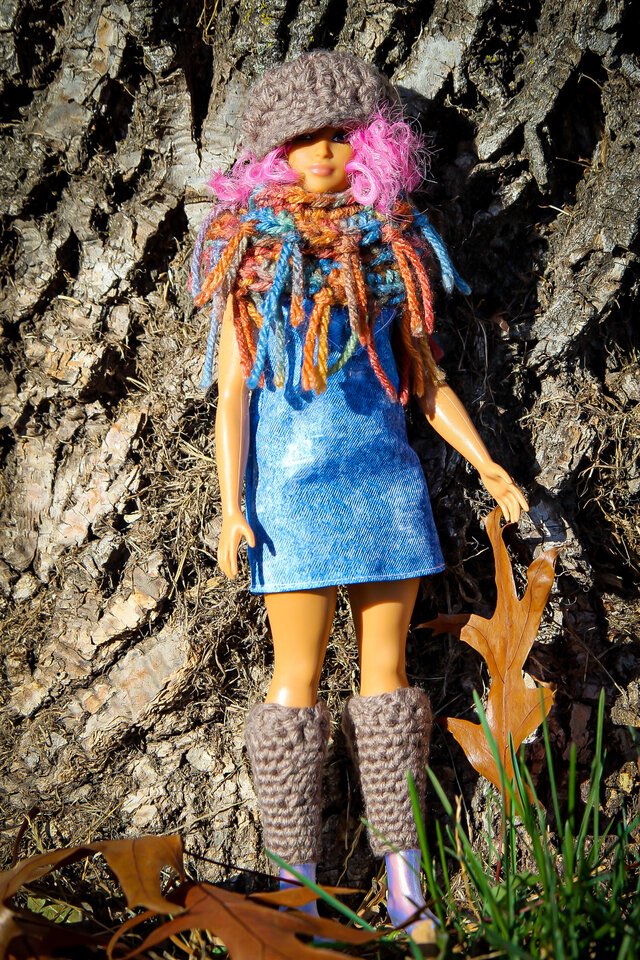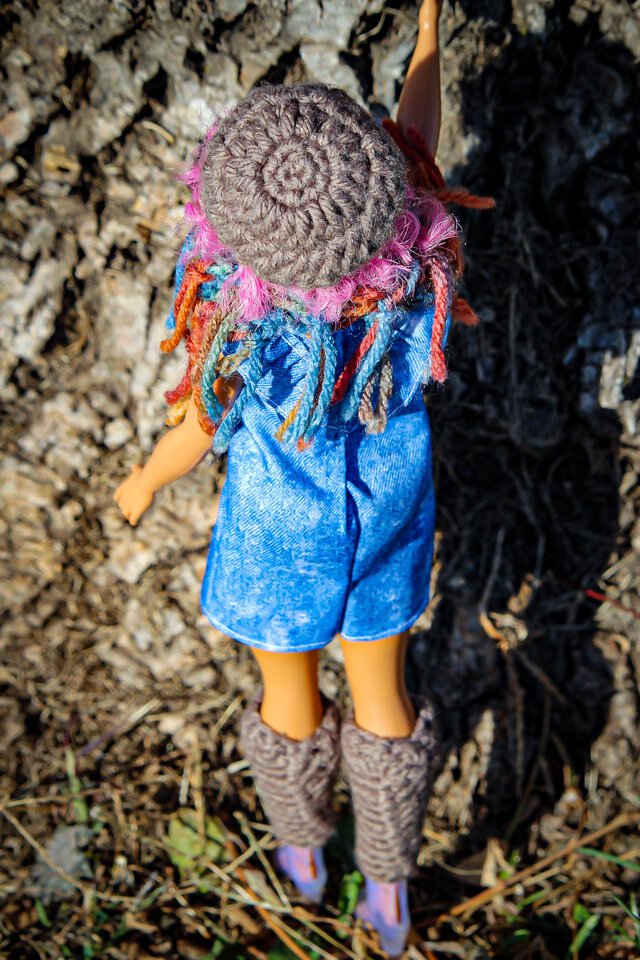 I did not make the mini purse but now I want to experiment and make a crochet one 😄...
After the tree scene she posed on these big rocks that surrounded the tree...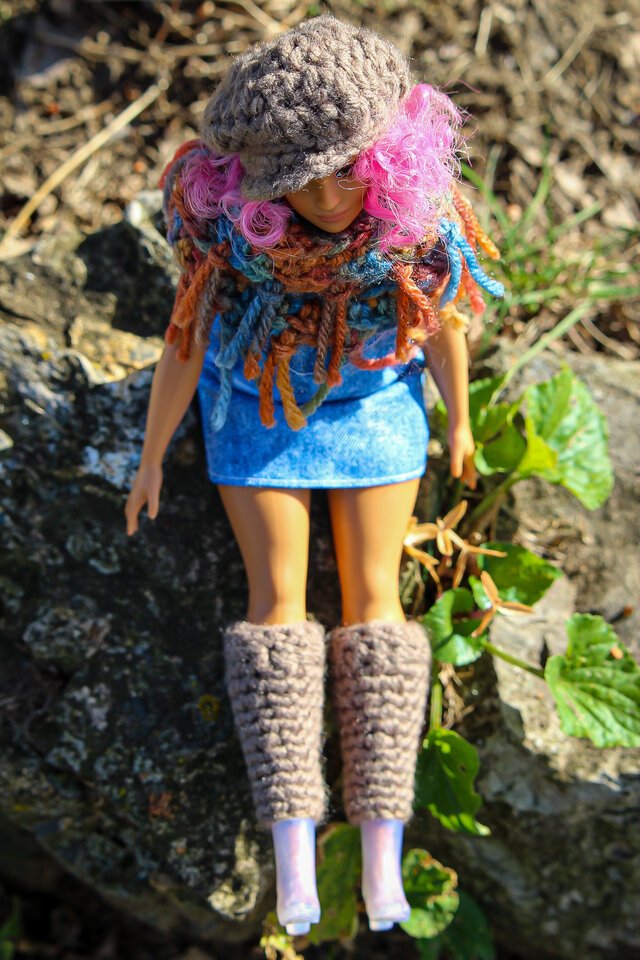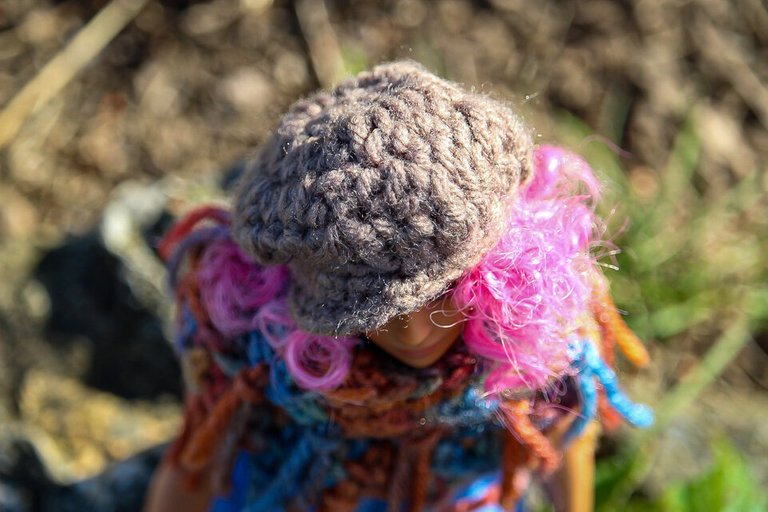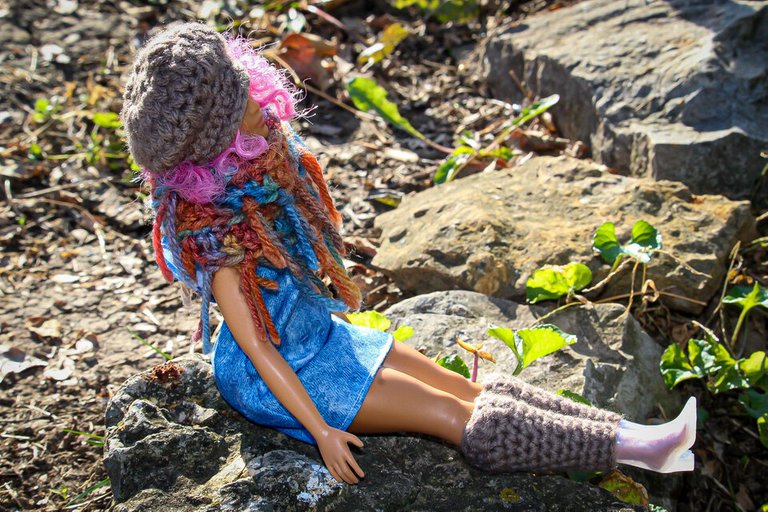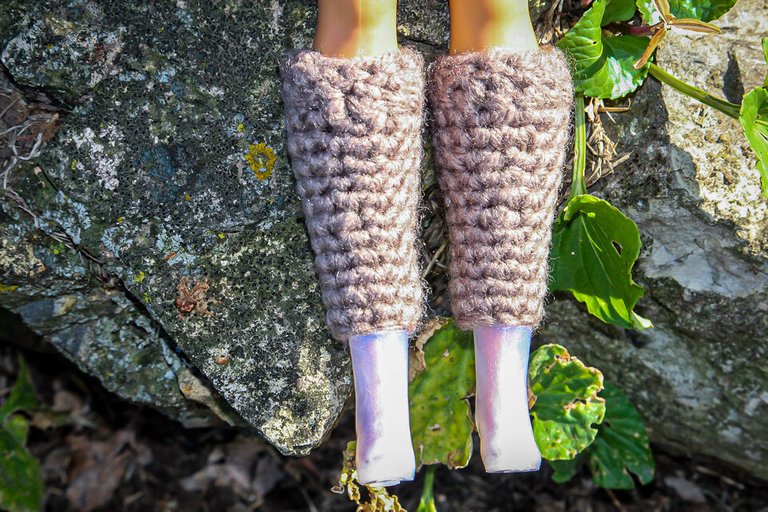 Finally I took a few shots in my neighbor's rock garden...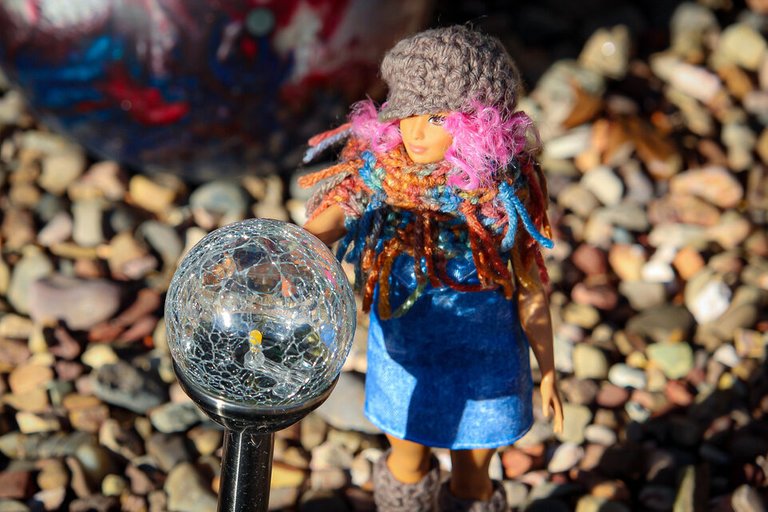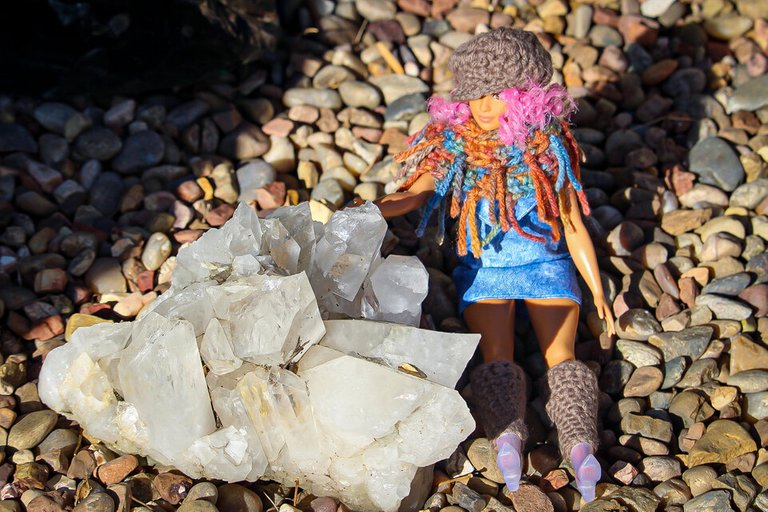 Participating in NeedleWork Your Barbie was a blast! I might make her a few more things down the road...I have so many other unfinished ideas to finish first 😂!
I will say this - during her photoshoot I wished she was one of those made to move dolls. Have you seen those? They are currently what's popular now especially for those selling online.
These Barbies are made with moveable joint parts in their arms and legs and are able to pose like humans pose.
I could have purchased one but I thought they looked a little weird as I am not used to them. Funny how that has changed after this experiment...now I want Jaslene to move more haha!
I do love that the Barbie line has expanded to different skin tones, body sizes and shapes. I'm glad they finally realized the world is not a one size fits all and now have Barbies that everyone can relate to and connect with.
Well please tune in again later this week for a Barbie hair tutorial. I will be showing how I styled (curled and cut) Jaslene's hair for her dayview.
🌸🌸🌸🌸🌸🌸🌸🌸🌸🌸🌸🌸🌸🌸🌸🌸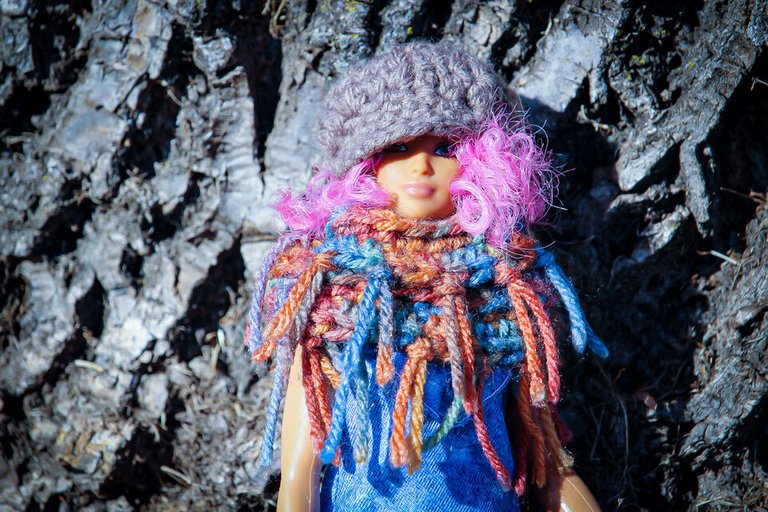 🌸🌸🌸🌸🌸🌸🌸🌸🌸🌸🌸🌸🌸🌸🌸🌸
If you are entering this contest please do not forget to add your entry post link in the comment section of the original announcement post! Thanks in advance!


All photos are my own and were taken with our Cannon EOS Rebel T6.
Hat, cowl and leg warmers are my own creations.
Join our Discord! Click the logo below: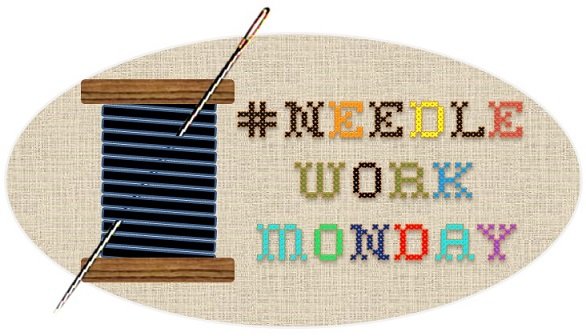 NeedleWorĸMoɴdαy Foυɴder:
Adмιɴѕ:
𝒯𝒽𝒶𝓃𝓀𝓈 𝒻𝑜𝓇 𝒥𝑜𝒾𝓃𝒾𝓃𝑔 𝑀𝑒 𝒯𝑜𝒹𝒶𝓎! 💗