Hello dear hive community! 😉
¡Hola querida comunidad de hive! 😉
---
Tenia mucho tiempo que no les traía una publicación creativa😟, es que los últimos meses estuve un poco ocupada😓, pero como me encuentro de vacaciones he decidido volver a explotar esa parte creativa💣 que poseo para hacer algunas cosas que nos ayudan a vernos más bellas de lo que ya somos😊. En esta ocasión se trata de algo sumamente sencillo pero muy bonito, que en unos simples pasos lo podrás construir, se trata de una bandana o cintillo para el cabello💞.
It has been a long time since I brought you a creative publication😟, I have been a little busy the last few months😓, but since I am on vacation I have decided to return to exploit that creative💣 part I have to make some things that help us to look more beautiful than we already are😊. This time it is something very simple but very nice, in a few simple steps you can build it, it is a bandana or headband for the hair💞.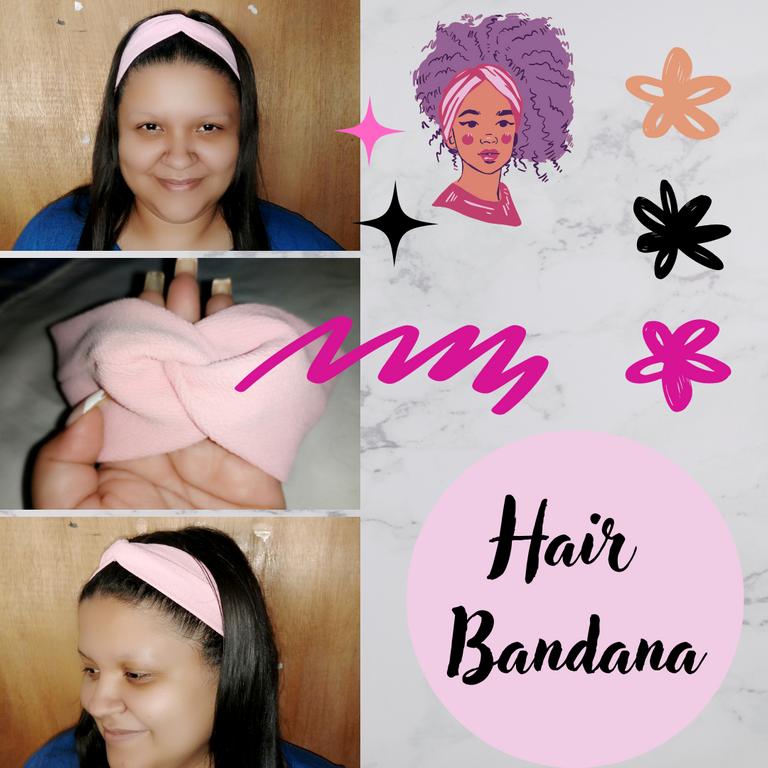 Imagen realizada con la página web de diseño gráfico y composición de imágenes Canva // Image made with the graphic design and image composition website Canva.

✂️ Materiales // Materials ✂️

Tela elástica de nuestra preferencia
Hilo del color de la tela
Cinta métrica
Aguja o máquina de coser.
Elastic fabric of our preference
Thread in the color of the fabric
Scissors
Tape measure
Needle or sewing machine.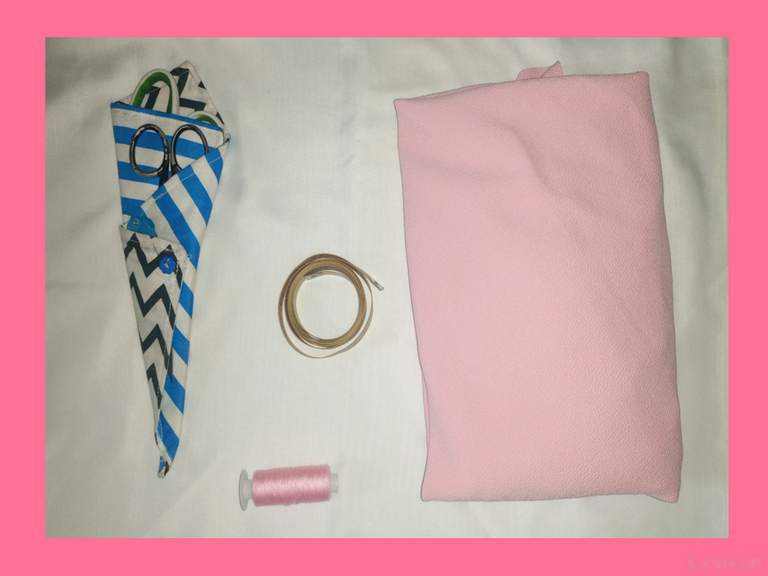 ✅ Procedimiento // Procedure ✅

Antes de comenzar con la elaboración de nuestra manualidad, quiero acotar que no es necesario poseer una máquina de coser para realizarla, es algo muy sencillo que podemos coser de manera manual. Ahora bien, lo primero que vamos hacer es medir y cortar un rectángulo con las siguientes medidas, 45 cm de largo con 18 cm de ancho.
Before starting with the elaboration of our craft, I want to point out that it is not necessary to have a sewing machine to make it, it is something very simple that we can sew manually. Now, the first thing we are going to do is to measure and cut a rectangle with the following measures, 45 cm long and 18 cm wide.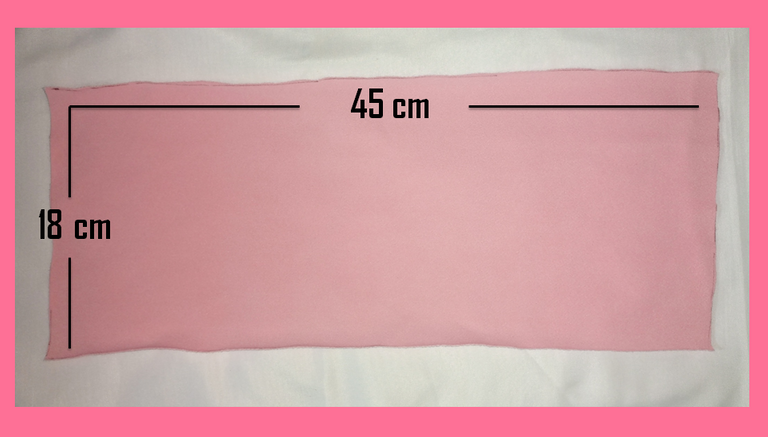 Una vez tengamos el rectángulo listo, vamos a doblar la tela a lo largo de modo tal que el derecho de la tela quede hacia adentro.
Once we have the rectangle ready, we are going to fold the fabric lengthwise so that the right side of the fabric is facing inwards.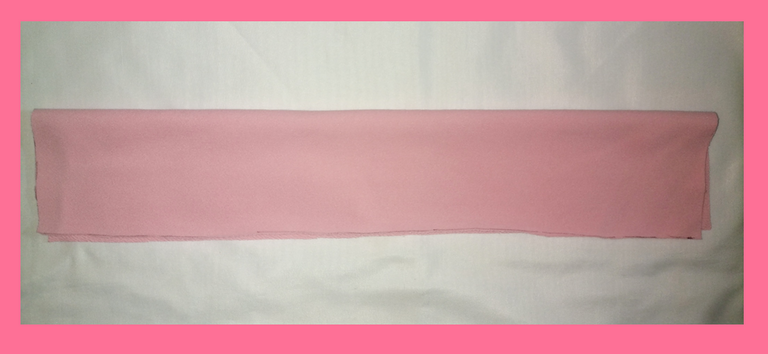 Procedemos a pasar una costura por la orilla de nuestra tela doblada.
We proceed to pass a seam along the edge of our folded fabric.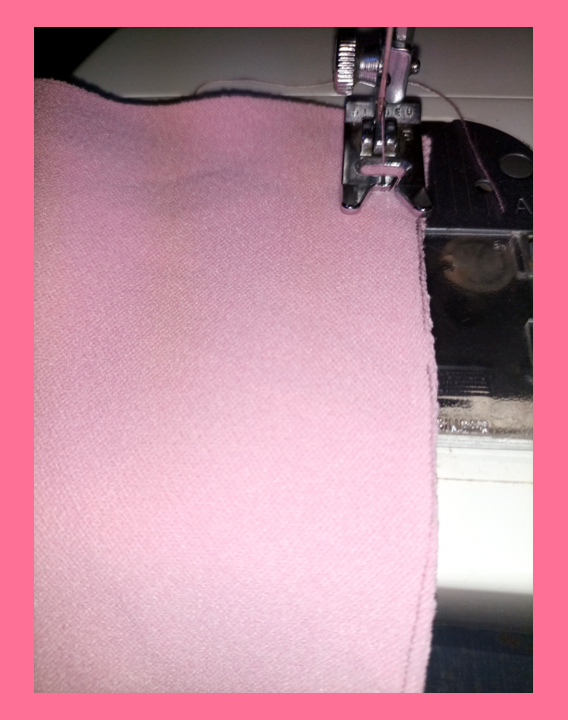 Después de terminar con la costura que va por la orilla, vamos a darle vuelta a la pieza hacia el lado derecho, de modo que la costura quede por dentro.
After finishing the seam along the edge, we will turn the piece right side out, so that the seam is on the inside.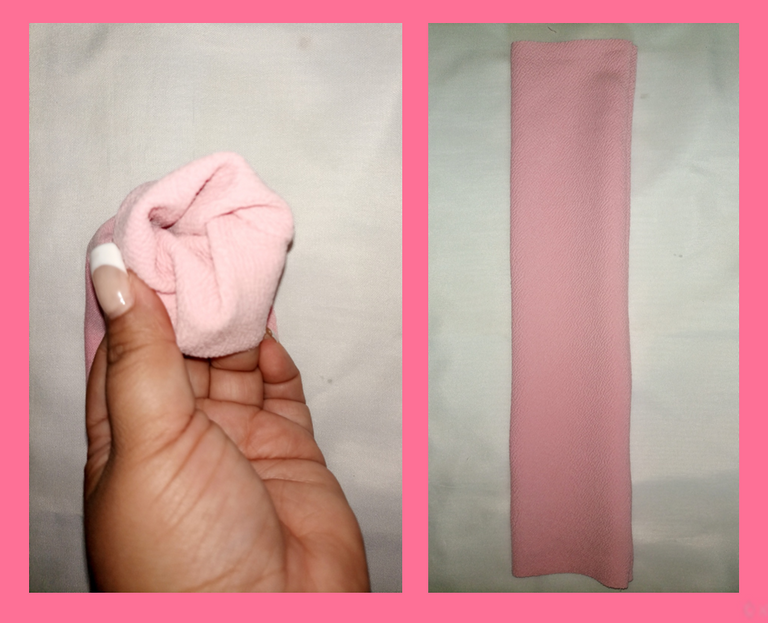 Ahora llegamos a la parte un poco más compleja, vamos a colocar las puntas tal como se observa en el video a continuación.
Now we come to the most complex part, we are going to place the tips as shown in the video below.
Una vez hagamos los dobles, colocamos un alfiler y procedemos a coser.
Once we make the doubles, we place a pin and proceed to sew.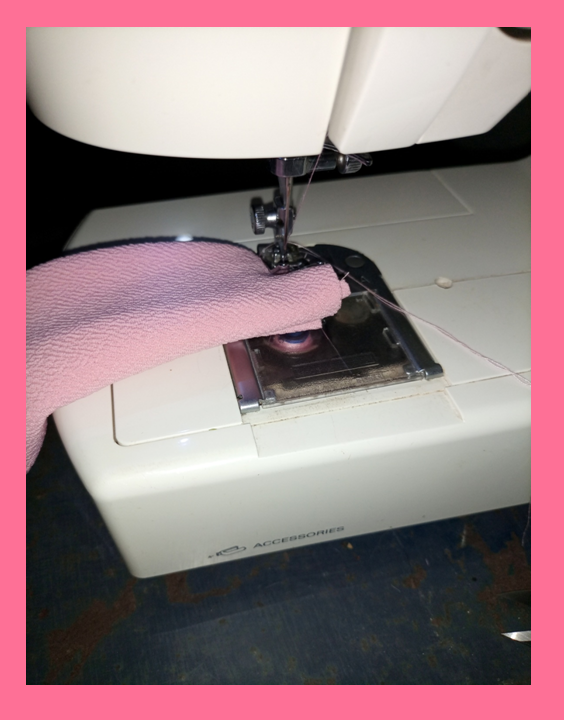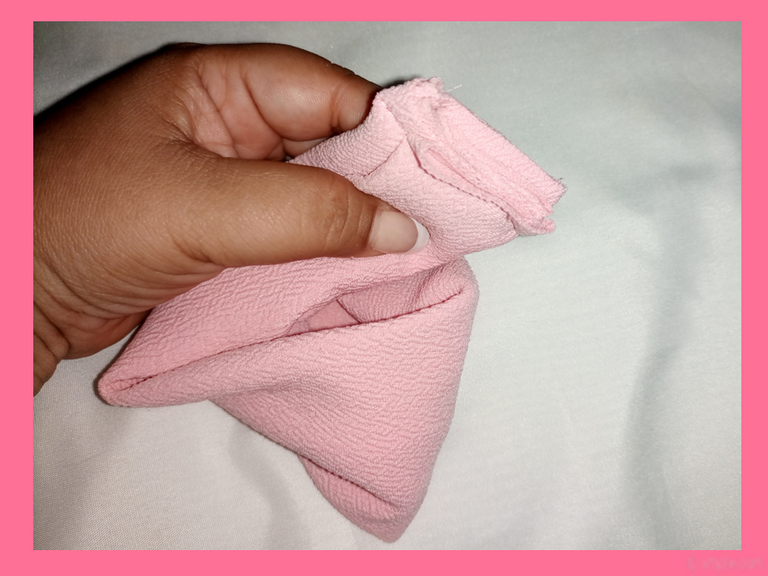 Finalmente abrimos el nudo y le vamos dando forma.
Finally we open the knot and give it shape.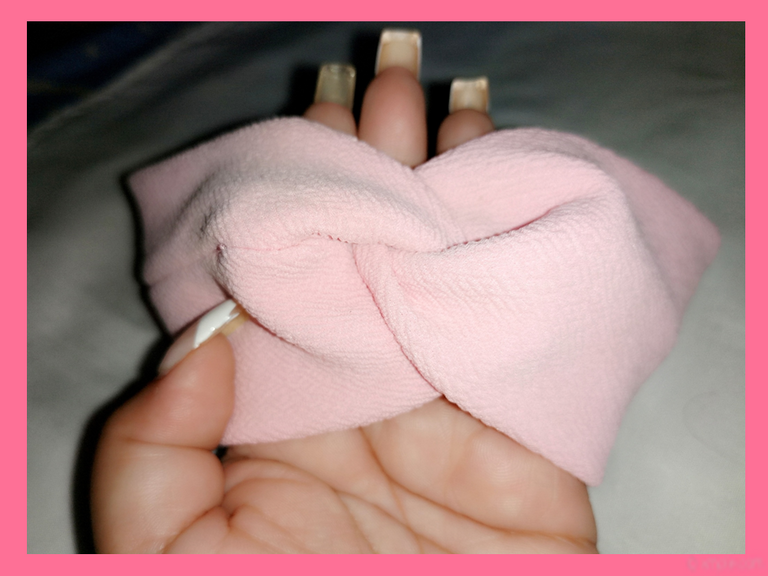 Listo 👏 👏… Ya tenemos una hermosa bandana o cintillo para lucir en nuestro cabello, la podemos combinar con nuestros outfits, usarla para hacer ejercicio e incluso seria un lindo obsequio para alguien😉.
Ready 👏 👏... We now have a beautiful bandana or headband to wear in our hair, we can combine it with our outfits, use it for exercise and it would even be a nice gift for someone😉.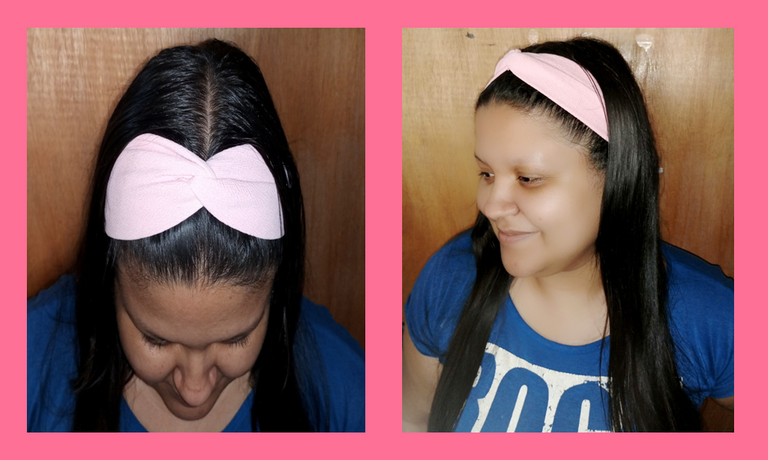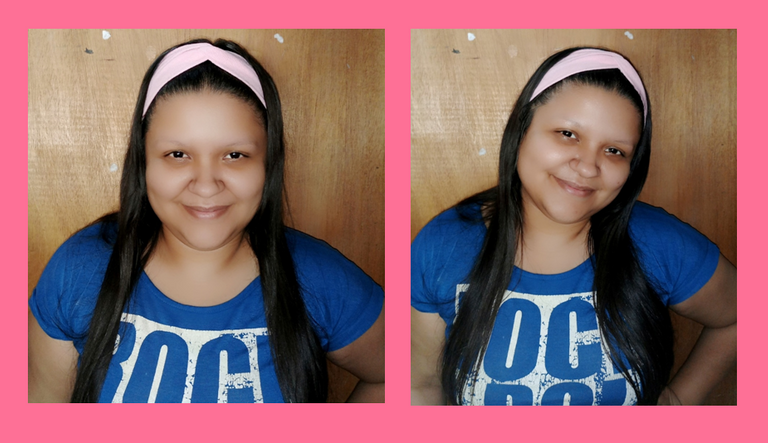 Espero les haya gustado esta publicación, también deseo se animen a realizar esta bella y sencilla manualidad, de igual forma me encantaria que me dejen saber en los comentarios su opinión👇.
I hope you liked this publication, I also hope you are encouraged to make this beautiful and simple craft, likewise I would love to let me know in the comments your opinion 👇.

Traductor Deepl
Translator Deepl