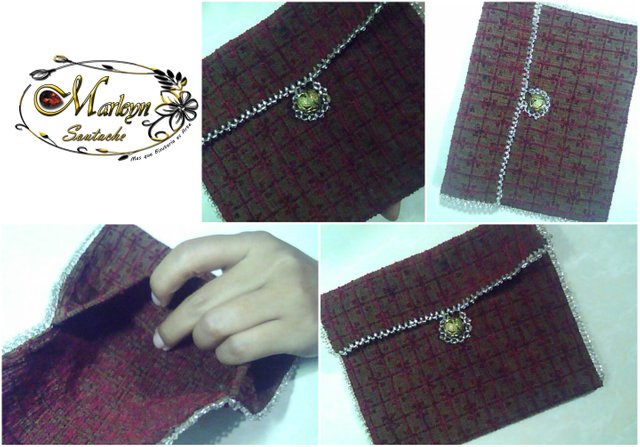 Feliz y Bendecido día, cada día es emocionante tener la oportunidad de escribir en esta hermosa comunidad que es Hive el día de hoy e realizado un tutorial paso a paso a través de una secuencia de imágenes es sencillo de un monedero de mano,lo e cocido con mostacillas por toda la orilla, espero lo intentes es super practico yo lo e echo con un retazo de tela que me sobro de unos trabajos con cintillos, como a mi niña le gusto mucho esa tela quería hacerle algo, pensando en ella surgió la idea del monedero de mano.
"No te avergüences por tus fracasos, aprende de ellos y comienza de nuevo" - Richard Branson, fundador de Virgin Group.
Happy and Blessed day, every day it is exciting to have the opportunity to write in this beautiful community that is Hive today and made a step by step tutorial through a sequence of images is simple of a purse, I have cooked it with beads around the edge, I hope you try it is super practical I will do it with a scrap of fabric that I have left over from some work with headbands, as my girl liked that fabric a lot I wanted to do something to her, the idea of the handbag came up with her.
"Don't be ashamed of your failures, learn from them and start again" - Richard Branson, founder of Virgin Group.

MATERIALES:
Aguja e Hilo
Tijera
Mostacillas
Tela Gruesa o Cuero Largo 35 centímetros, Ancho 18 centímetros
Piedra o Balin laminado de aproximadamente de 8 milímetros de diámetro para el cierre
MATERIALS:
Needle and thread
Scissors
Beads
Thick Fabric or Leather Length 35 centimeters, Width 18 centimeters
Stone or Balin laminated approximately 8 millimeters in diameter for closure

Vamos a comenzar con animo y amor por lo que hacemos que esto sea de ayuda para entretener tu tiempo y quedarte en casa con salud y tranquilidad
We will start with encouragement and love for what we do that helps to entertain your time and stay home with health and tranquility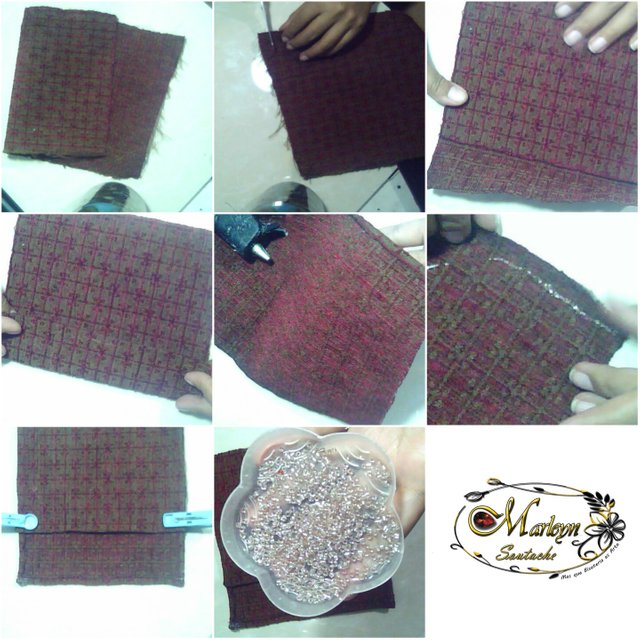 PASO 1: Comencemos Corta tu tela Gruesa o Cuero Largo 35 centímetros, Ancho 18 centímetros, ahora vamos a agarrarle el ruedo por toda la orilla dobla 0.5 milímetros hacia adentro y nuevamente vuelve a doblar 0.5 milímetros hacia adentro es decir un dobles doble y debes cocerlo por toda la orilla a todo el al rededor de la tela, yo primero lo pegue con silicon caliente y después si lo cocí, por que para ser honesta no encontraba manera que se quedara doblado mientras yo lo cocía la tela es muy dura, al terminar de cocer el dobles vamos a doblarlo un lado debe medir 18 centímetros y el lado que quedara de frente debe medir 13.5 centímetros, yo después de doblar lo agarre con unas pinzas para que quedara siempre así y empezar a coser las mostacillas del color que tengas o sea de tu elección.
STEP 1: Let's start Cut your fabric Thick or Leather Length 35 centimeters, Width 18 centimeters, now we are going to grab the hem all over the edge fold 0.5 millimeters in and again double 0.5 millimeters inward, that is to say a double double and you must cook it all the way around the entire fabric, I first pasted it with hot silicone and then if I cooked it, because to be honest I could not find a way that it would stay folded while I the fabric was very hard to cook, when we finish cooking the doubles we are going to fold it one side should measure 18 centimeters and the side that was in front should measure 13.5 centimeters, after grabbing it I grabbed it with tweezers so that it would always stay like this and start sewing the beads of the color you have or that is of your choice.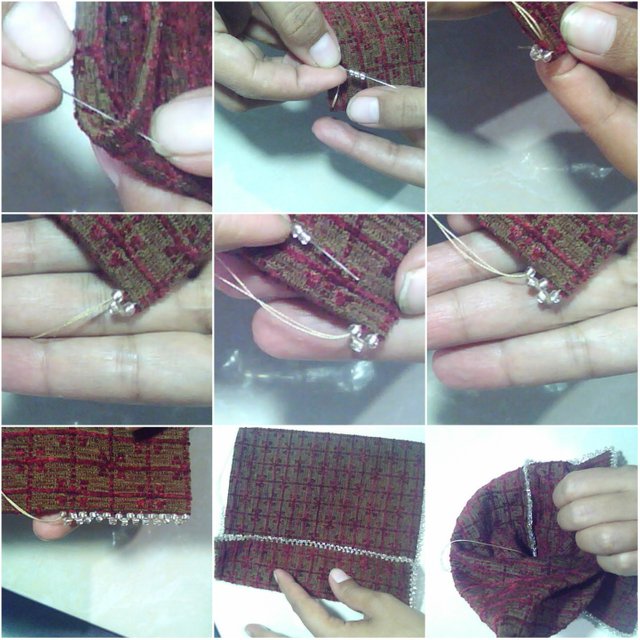 PASO 2: Vamos a comenzar a surcir con las mostacillas, introduce la aguja con hilo en una de las esquinas, luego vas a introducir 3 mostacillas en el hilo y vas a volver a introducir la aguja de atrás hacia adelante dejando un espacio por separación de una mostacilla cada vez que introduces la aguja al sacarla la vas a devolver por la ultima mostacilla de abajo hacia arriba ahora meteremos 2 mostacillas en la aguja y vas a repetir el proceso anterior por toda la orilla de nuestro monedero con paciencia paso a paso. Siempre cuando comienzas son 3 mostacillas y después solo 2 mostacillas, cuando termines introduce la aguja hacia la parte de adentro voltea el monedero y allí realizas el cierre para que no se vea, corta el hilo sobrante.
STEP 2: We are going to start crocheting with the beads, insert the needle with thread in one of the corners, then you will insert 3 beads in the thread and you will reinsert the needle from back to front leaving a space for separation of a bead each time you insert the needle when removing it you are going to return it for the last bead from bottom to top now we will put 2 beads in the needle and you are going to repeat the previous process all over the edge of our purse with patience step by step. Always when you start there are 3 beads and then only 2 beads, when you finish insert the needle to the inside, turn the purse over and make the closure so that it is not visible, cut the excess thread.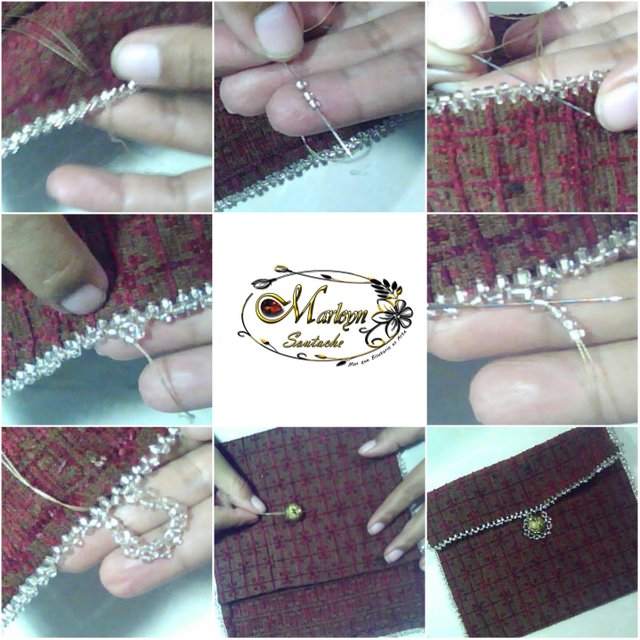 PASO 3: Buscamos el centro y medimos 1 centímetros de manera que de lado y lado tenga el mismo tamaño, por adentro introduce la aguja ya ensartada y sacarlo por una de las mostacillas, vas a introducir en la aguja 3 mostacillas y te regresaras por una de las mostacillas donde entraste al sacar el hilo devolverás la aguja por las dos primeras mostacillas quedando nuevamente en la mostacilla central esta vez seria la segunda y vuelve a introducir 3 mostacillas y devolverte por las dos primeras hacia arriba quedando nuevamente en el centro, de esta manera debes repetir el proceso varias veces, yo lo hice varias veces hasta que me quedo de la medida de mi balin laminado elegido, al terminar deja una mostacilla de por medio e introduce la aguja por una de las mostacillas de la orilla hacia adentro y realiza un remate tratando que no se vea mucho que sea delicado pero fuerte corta el hilo sobrante, ahora cierra la tapa de el monedero y marca donde quedo el circulo de mostacillas que realizamos, introduce por adentro la aguja con hilo y coser la piedra seleccionada con cuidado darle varias vueltas al hilo para que quede fuerte. De esta manera hemos finalizado nuestro monedero si tienes peguntas dudas o sugerencias estaré atenta de tus comentarios.
STEP 3: We look for the center and measure 1 centimeter so that it has the same size on each side, inside insert the needle already threaded and take it out through one of the beads, you are going to introduce 3 needles in the needle and you will return through one of the beads where you entered when removing the thread you will return the needle for the first two beads remaining in the central bead this time it would be the second and reintroduce 3 beads and return for the first two upwards being again in the center, in this way you must repeat the process several times, I did it several times until I stayed the measure of my chosen laminated pellet, when finished leaving a mustache in between and introduces the needle through a of the beads from the edge inward and make an auction trying not to see much that is delicate but strong cut the excess thread, now close the lid of the purse and mark where the circle is of beads that we make, insert the needle inside with thread and sew the selected stone carefully, turn the thread several times to make it strong. In this way we have finalized our purse. If you have any questions or suggestions, I will be attentive to your comments.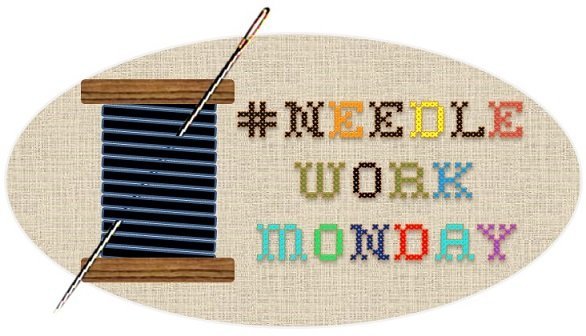 Si tienes una duda escríbeme un comentario, estaré feliz de ayudarte con cualquier detalle, Espero que mis diseños les gusten tanto como a mí me gusta, aprendan con placer ...!

Nunca olvides que el Poder es Querer y si quieres Puedes...
Eres Luz eres Energía, TU PUEDES ... Que el universo infinito Conspire para que todo siempre sea mejor ... Se les quiere ...

Venezuela FE
Somos Seres Abundantes! Qué las energías del universo vibren en sintonía con las de cada uno de nosotros en armonía! Cuidemos nuestras palabras, acciones y pensamientos!
If you have a question, write me a comment, I will be happy to help you with any details, I hope you like my designs as much as I like, learn with pleasure ...!

Never forget that Power is Wanting and if you want you can ...
You are Light, you are Energy, YOU CAN ... May the infinite universe Conspire so that everything is always better ... They are loved ...

Venezuela FAITH
We are Abundant Beings! May the energies of the universe vibrate in tune with those of each of us in harmony! Let's take care of our words, actions and thoughts!