Feliz y bendecido nuevo día hoy con el favor de Dios y el Universo sera un día maravilloso, acá en Venezuela el día de hoy van a aperturar cines, gimnasios y actividades deportivas cosa que me parece una locura aunque Dios sabe el por que de cada situación... Hoy les e traído un tutorial de un lazo realizado a mano paso a paso queda super hermoso para las niñas bellas de la casa, Inténtalo!!!
Happy and blessed new day today with the favor of God and the Universe will be a wonderful day, here in Venezuela today they are going to open cinemas, gyms and sports activities which seems to me a madness although God knows the reason for each situation ... Today I brought you a tutorial of a tie made by hand step by step is super beautiful for the beautiful girls of the house, Try it !!!
"Ten en mente que tu propósito y tu plan para lograrlo puede ser modificado de vez en cuando… lo importante es que comprendas el significado de trabajar siempre con un objetivo en mente y con un plan bien estructurado" - Napoleon Hill, autor de Piense y hágase rico.
"Keep in mind that your purpose and your plan to achieve it can be modified from time to time ... the important thing is that you understand the meaning of always working with a goal in mind and with a well-structured plan" - Napoleon Hill, author of Think and Grow Rich.

Materiales: (para 1 solo Lazo)
Materials: (for 1 single Bow)
Cinta razo blanca de 4 centímetros de alto por 36 centímetros de largo, Gancho para lazos tipo caimán, 1 perla de 8 milímetros, Aguja e Hilo, cinta razo azul claro 2.5 centímetros de ancho por 34 centímetros de largo, Cinta razo azul oscuro 32 centímetros de largo, barra de silicon y su pistola, cinta razo de 1 centímetro de ancho por 5 centímetros de largo azul claro, tijera y encendedor.
White razo tape 4 centimeters high by 36 centimeters long, Hook for alligator ties, 1 8-millimeter pearl, Needle and Thread, light blue razo tape 2.5 centimeters wide by 34 centimeters long, Dark blue ribbon tape 32 centimeters long, silicone bar and its pistol, tape tape 1 centimeter wide by 5 centimeters long light blue, scissors and lighter.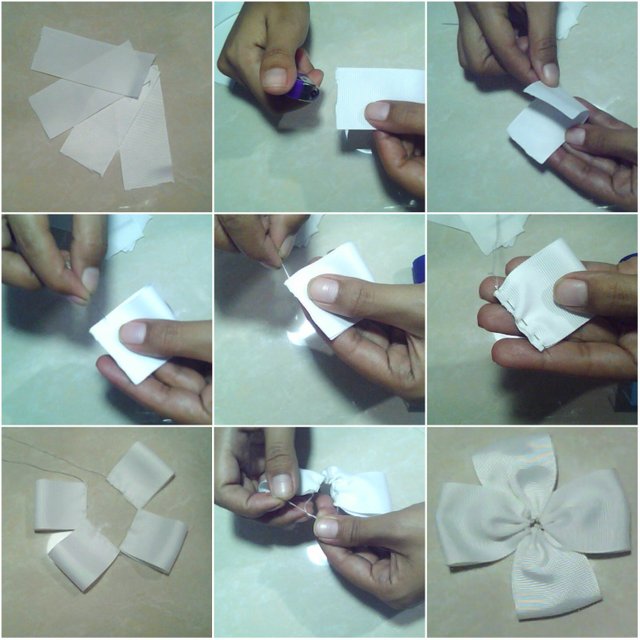 PASO 1: Comencemos con animo, amor y ganas por lo que hacemos... cortar 4 pedazos de la cinta blanca que seria de 4 centímetros de ancho por 9 centímetros de largo cada una, con ayuda del encendedor quema las puntas de cada una, ensarta la aguja con el hilo, dobla cada cinta por la mitad y cocerla por toda la orilla, cuando hallas cocido las 4 pedazos halar con fuerza ambas puntas del hilo y amarrar puedes ver la secuencia de imágenes que te muestro acá.
STEP 1: Let's start with encouragement, love and desire for what we do ... cut 4 pieces of the white ribbon that would be 4 centimeters wide by 9 centimeters long each, with help the lighter burn the tips of each one, thread the needle with the thread, fold each ribbon in half and cook it all the way through, when you have cooked the 4 pieces pull hard on both ends of the thread and tie you can see the sequence of images that I show you here.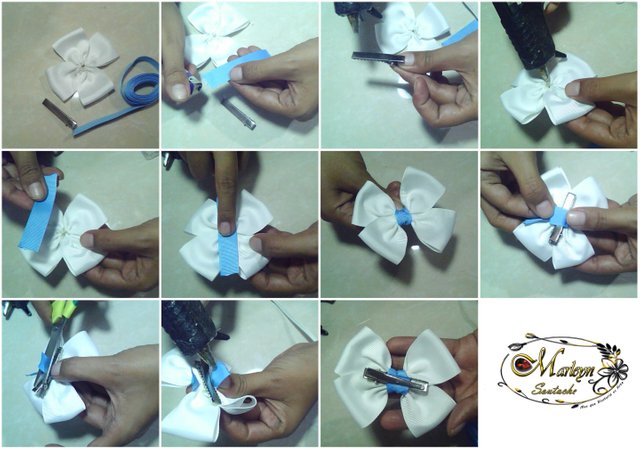 PASO 2: Utiliza la cinta razo azul clara de 1 centímetros de ancho por 5 centímetros de largo para tapar el centro y a la vez agarrar mejor el gancho tipo caimán, comenzamos quemando las puntas de la cinta con el encendedor, con la pistola de silicon ya caliente unta una linea de silicon en el gancho y pegarlo en una de las partes del lazo el que elijas ya que ambos lados son iguales, ahora por el otro lado coloca una gota de silicon en el centro y pega la cinta azul clara ahora halar con fuerza hacia la parte de atrás del lazo y medir como quedara la cinta debe estar una arriba de otra agarrando el gancho y si sobra un poco de cinta cortar con la tijera y quemar las puntas con el encendedor, puedes ayudarte con la secuencia de imágenes.
STEP 2: Use the light blue razo tape 1 centimeters wide by 5 centimeters long to cover the center and at the same time better grasp the alligator hook, we start by burning the ends of the tape With the lighter, with the already hot silicone gun, smear a silicone line on the hook and stick it on one of the parts of the loop, the one you choose since both sides are the same, now on the other side place a drop of silicone on the center and glue the light blue tape now pull hard towards the back of the loop and measure how the tape will be should be one on top of another grabbing the hook and if there is a bit of tape left cut with the scissors and burn the tips with the lighter, you can help with the image sequence.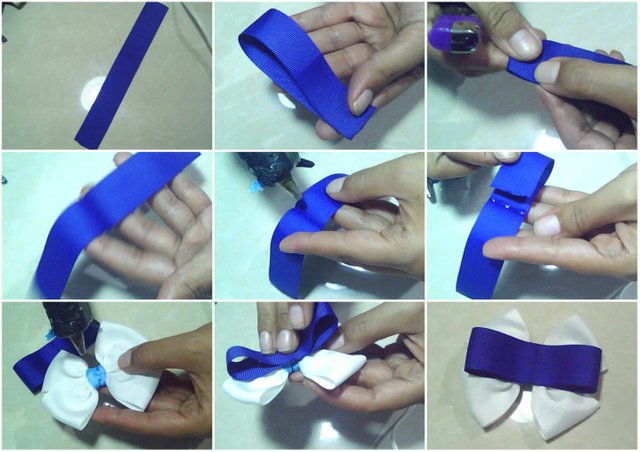 PASO 3: Cortar la cinta azul oscuro que es 2.5 centímetros de ancho por 17 centímetros de largo, doblarla a la mitad y pasar el encendedor rápidamente solo para marcar el medio, ábrelo y coloca una linea de silicon caliente en el centro y dobla cada punta hacia el centro ahora coloca un poco de silicon caliente en el centro del lazo blanco que realizaste anteriormente y pega esta cinta azul.
STEP 3: Cut the dark blue ribbon that is 2.5 centimeters wide by 17 centimeters long, fold it in half and quickly pass the lighter just to mark the middle, open it and put a line of hot silicone in the center and fold each end towards the center now place a bit of hot silicone in the center of the white bow you made earlier and glue this blue ribbon.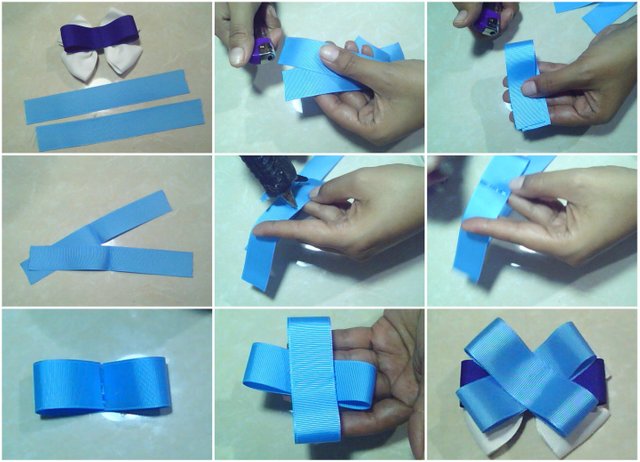 PASO 4: Ahora la cinta azul claro, cortar 2 tiras de 2.5 centímetros de ancho por 17 centímetros cada una realizaremos lo mismo del paso anterior, doblarlas a la mitad, pasar el encendedor rápidamente para marcar el centro, untar una linea de silicon caliente en el centro ahora doblar la cinta ambas puntas hacia el centro para que se peguen y quede asi realiza esto en ambas tiras, ahora con ayuda del silicon caliente pegarlas en forma de X y pegarlas sobre la cinta azul oscuro de nuestro lazo.
STEP 4: Now the light blue ribbon, cut 2 strips 2.5 centimeters wide by 17 centimeters each we will do the same from the previous step, fold them in half, quickly pass the lighter to mark the center, smear a line of hot silicone in the center now fold the tape both ends towards the center so that they stick together and this is how it does this on both strips, now with the help of the hot silicone stick them in the form of X and stick them on the tape dark blue of our tie.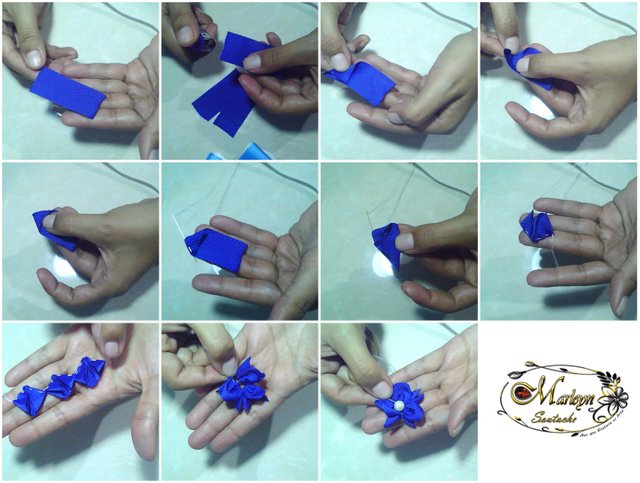 PASO 5: Ahora vamos a utilizar la cinta azul oscuro que nos queda debemos cortarlo en 3 pedazos cada uno de 5 centímetros, con ayuda del encendedor quemar las puntas, ahora una de las puntas la debemos doblar hacia arriba y esa misma punta hacia abajo, sujetarlo y cocer realiza el mismo proceso en la otra punta y cocerla de verdad es muy sencillo mira la secuencia de imágenes, realiza este proceso en los 3 trozos de cinta azul cocer la juntos y halar ahora amarra fuertemente los hilos para que quede bien apretado, en el centro debemos cocer la perla de 8 milímetros.
STEP 5: Now we are going to use the dark blue ribbon that we have left we must cut it into 3 pieces each of 5 centimeters, with the help of the lighter burn the tips, now one of the tips we must fold up and that same point down, hold it and cook, carry out the same process on the other end and cook it for real is very simple look at the sequence of images, carry out this process on the 3 pieces of blue ribbon, cook it together and pull now tie the threads tightly so that it is tight, in the center we must cook the 8-millimeter pearl.


PASO 6: Para finalizar colocar silicon liquido en la parte de abajo de la flor que formamos en el paso anterior y pegarla en el centro del lazo, de esta manera hemos terminado espero que se a de tu agrado! Cuídate y quédate en casa por una vida mejor!
STEP 6: To finish place liquid silicone on the bottom of the flower that we formed in the previous step and stick it in the center of the bow, in this way we have finished I hope it will be your liking! Take care of yourself and stay home for a better life!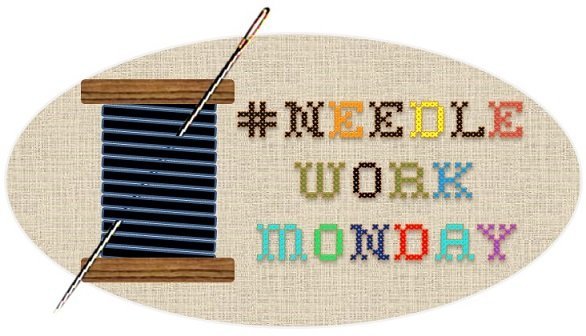 Puedes ver mis otras publicaciones aquí / You can see my other posts here
https://peakd.com/hive-174578/@marleyn/spanish-and-english-atrevete-a-aprender-junto-a-mi-tutorial-paso-a-paso-de-un-llavero-hecho-a-mano-dare-to-learn-with-me-step-by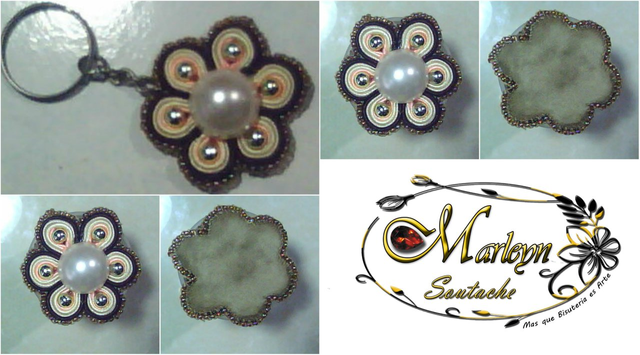 https://peakd.com/hive-127911/@marleyn/needleworkmonday-spanish-and-english-monedero-de-mano-pequeno-y-practico-small-and-practical-purse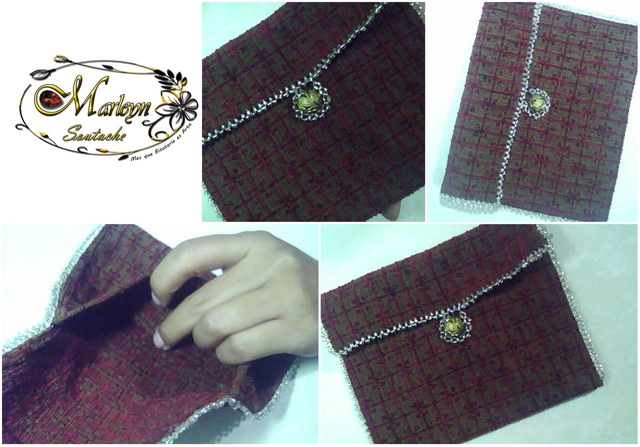 Si tienes una duda escríbeme un comentario, estaré feliz de ayudarte con cualquier detalle, Espero que mis diseños les gusten tanto como a mí me gusta, aprendan con placer ...!

Nunca olvides que el Poder es Querer y si quieres Puedes...
Eres Luz eres Energía, TU PUEDES ... Que el universo infinito Conspire para que todo siempre sea mejor ... Se les quiere ...

Venezuela FE
Somos Seres Abundantes! Qué las energías del universo vibren en sintonía con las de cada uno de nosotros en armonía! Cuidemos nuestras palabras, acciones y pensamientos!
If you have a question, write me a comment, I will be happy to help you with any details, I hope you like my designs as much as I like, learn with pleasure ...!

Never forget that Power is Wanting and if you want you can ...
You are Light, you are Energy, YOU CAN ... May the infinite universe Conspire so that everything is always better ... They are loved ...

Venezuela FAITH
We are Abundant Beings! May the energies of the universe vibrate in tune with those of each of us in harmony! Let's take care of our words, actions and thoughts!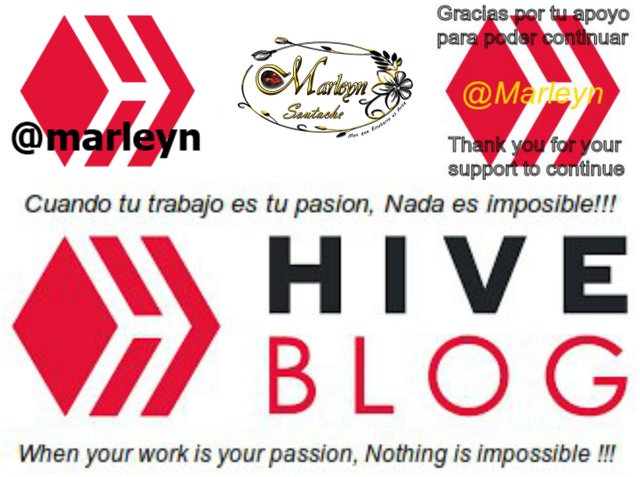 Autoría del texto y todas las imágenes: @Marleyn, La edición de las imágenes las e realizado yo misma con ayuda de una Pagina es https://www.befunky.com/ muy sencilla Por favor no Utilices mis fotos sin mi autorización, edites ni re-publiques mi material ¿Deseas ponerte en contacto conmigo? Escríbeme allí también puedes compartir ideas y tus publicaciones para que aprendamos juntas o al Correo
Authorship of the text and all the images: @Marleyn, The images have been edited by myself with the help of a very simple page is https://www.befunky.com/ By Please do not use my photos without my authorization, edit or re-publish my material. Do you want to contact me? Write me there you can also share ideas and your publications so we can learn together or by Email