Casting on for Magic Loop or Knitting with two circular Needles / Maschen aufnehmen für Magic Loop oder Stricken mit zwei Rundstricknadeln
Herkömmlich nimmt man fürs Sockenstricken ein Nadelspiel mit kurzen Nadeln mit zwei Spitzen. Betrachtet man die Vor- und Nachteile davon und dem Stricken mit Rundstricknadeln, so überwiegen für mich klar die Nachteile: Die Maschen können leicht vom Ende der Nadeln fallen, ich habe immer nach der fünften Nadel gesucht, wenn ich nach einer Pause wieder mit dem Stricken angefangen habe, das Verhältnis von realer "Strickzeit" zum "Wechsel von einer Nadel zur nächsten" ist schlecht, die dünnen Nadeln biegen sich entweder leicht (Metall) oder sie brechen (Holz).
Traditionally, you use double pointed needles (DPNs) for knitting socks. Looking at the pros and cons for DPNs and circular needles, the cons outweigh the pros. The stitches can fall from the end of the needles easily, I was always looking for the fifth needle when I restarted knitting after a break, the proportion of real "knitting time" versus "changing from one needle to the next" is bad, the thin needles either bend easily (metal) or they break (wood).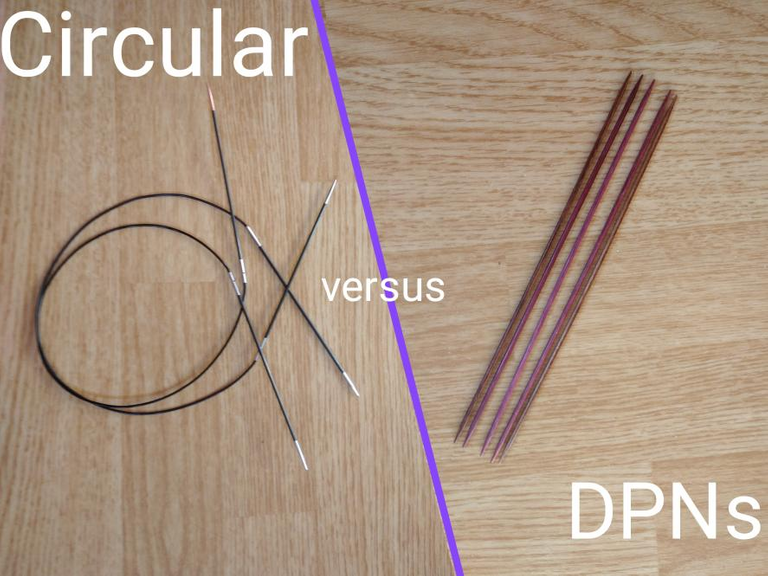 Als ich also vor Jahren sah, dass andere mit Rundstricknadeln Socken stricken, wollte ich das sofort ausprobieren. Es gibt zwei verschiedene Methoden: zwei Rundstricknadeln (die Technik dafür ist nicht viel anders als beim Nadelspiel) und die Magic-Loop-Technik, bei der man nur eine Rundstricknadel verwendet. Gegenwärtig benutze ich Magic Loop für das Stricken einer einzelnen Socke und zwei Rundstricknadeln, wenn ich zwei Socken gleichzeitig stricke.
So when I saw years ago that others knit socks with circular needles, I immediately wanted to try that. There are two different methods: two circular needles (the technique for that not much different from DPNs) and the Magic Loop technique, where you use one circular needle. Nowadays, I use Magic Loop for knitting a single sock and two circs when I knit two socks at a time.
Zum Testen meines neuen Stativs habe ich ein Foto-Tutorial über das Maschenanschlagen gemacht. Ich nehme dafür Nadeln, die etwas dünner sind als die, die ich beim Stricken nutzen werde. Das macht den Rand elastischer, selbst bei herkömmlichem Kreuzanschlag, und es erleichtert den Anfang erheblich.
Testing my new tripod, I made a photo tutorial how to cast on. For casting on, I use needles a size smaller than the one I use while knitting. That makes the edge more elastic, even with conventional long tail cast on and it makes the start easier on the whole.
| Mit beiden Nadeln zusammen schlage ich die Maschen an und markiere die Mitte mit einem Faden oder dünnem Maschenmarkierer. | | Holding both needles together, I start on the required amount of stitches, using yarn or a thin stitch marker to mark the center |
| --- | --- | --- |
| Dann schiebe ich die Maschen zur Mitte des Seils. | | The stitches are moved to the middle of the cable. |
| Ich biege die Seile, so dass die Mitte mittig ist. | | I bend the cables, keeping the marker in the center. |
| Die Maschen werden auf den Seilen verschoben, so dass sich Schlaufen bilden. | | Pull at the cables to make these loops. |
| Vorsichtig eine Nadel aus einer Hälfte der Maschen herausziehen. | | Carefully put at one needle to pull them out of one half of the stithes. |
| Dann die andere Nadel aus der anderen Hälfte der Maschen ziehen. | | Now remove the other needle from the other half of the stitches. |
| Jetzt haben wir die Maschen gleichmäßig verteilt auf zwei Nadeln. | | Now the stitches are evenly divided on the two needles. |
| Um mit dem Stricken zu beginnen, einmal drehen so dass die Nadelspitzen nach rechts zeigen. | | To start knitting turn it to have the needle points on the right side. |
I will continue next week to show you how to knit in both the techniques - it's not that difficult, but it's different in how you handle the needles. Perhaps I even manage to make a video ;)
Continental style - especially for crocheters
Remember: I knit "continental" style. If you're a crocheter and think about learning to knit, I advise this style. You're already used to having the yarn in the left hand and holding the project with that hand while "working" with a needle in the right hand (or vice versa for lefties). The only change in knitting is that the left hand is not only holding the project, but that the project is on a needle. Perhaps make an intermediate step with Tunisian crochet ;)
Woran ich sonst noch arbeite / What's on my needles
Mein Muscheltuch ist fast fertig (wie schnell doch so ein Jahr vergeht - na ja, elf Monate). Jetzt wird nach Ende jeder Reihe gewogen, um zu wissen, wann es Zeit wird mit Abketten.
My Seashell-shawl is coming to an end (started October 17th last year...). Less than 10% of the yarn left, 450 stitches in a row - after every row the yarn is weighed to see when to stop and bind off:)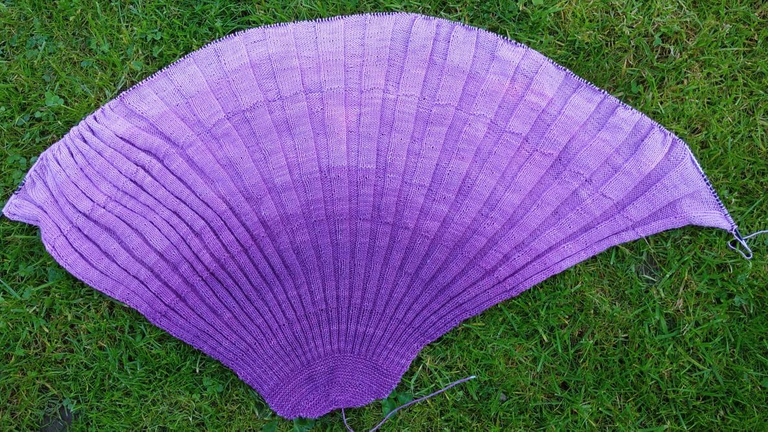 The shawl has a half-circle form, radius is ~ 50 cm now - which means it will gain about 1/4 when finished and blocked. A nice big shawl, though lightweight with its 100 gram.
---
---
5% der Einnahmen dieses Posts gehen automatisch an @needleworkmonday, unseren Gemeinschaftsaccount.
5% of this post's rewards automatically go to @needleworkmonday, our community account.