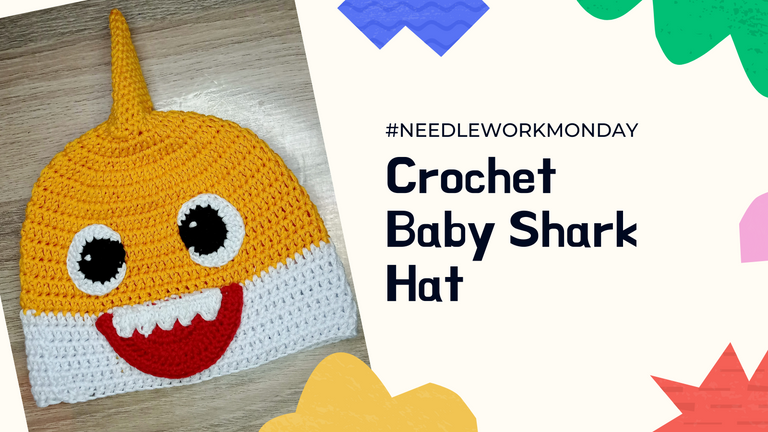 Baby shark doo doo doo doo doo
Baby shark doo doo doo doo doo
Baby shark doo doo doo doo doo
Baby shark!
Not so long ago, this was the national anthem in our house. It would play over and over and over again just because the little one wants to hear it and dance along. And when you see a tiny little human trying to dance to the beat of this song, you give in and play it and dance along too. To this day, we still play this music every now and then and it spells nothing but fun and giggles all over the house.
It has actually been a while since I last heard this song play but when my sister's friend's sister in law requested for me to make a baby shark outfit for her baby boy's first birthday, this song has been playing in my head nonstop. I bet if you know this song, you are probably still hearing it in your head. Go on, give in, dance it out. No one would judge.
I accepted the project for two reasons. One, the baby boy is sooo cute! If we're not in ECQ right now, I will personally deliver this myself, and chew up those cute chubby cheeks. And two, I was challenged by the appliques on the hat. I haven't made crochet eyes before, and have never tried making a giant smile, and most of all, the fins! I am a crocheter, but deep inside of me, I am also a thrill seeker.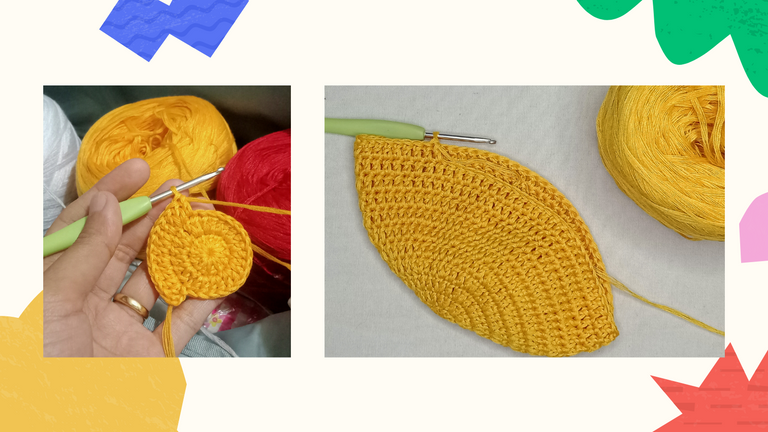 So very excited about this crochet baby shark hat, I went ahead and started the base of the hat. I just freshly finished my little girl's Blippi hat so my perfect crochet circle skills are still in play. This hat is for a cute one year old boy but I have no idea how to size this properly. It's a good thing I am such a sentimentalist, I still have may baby girl's baby clothes. I plan on framing them, or putting them on an album of some sort. I have plans for it, that's what matters. For now, I just used it as a benchmark for the hat sizing.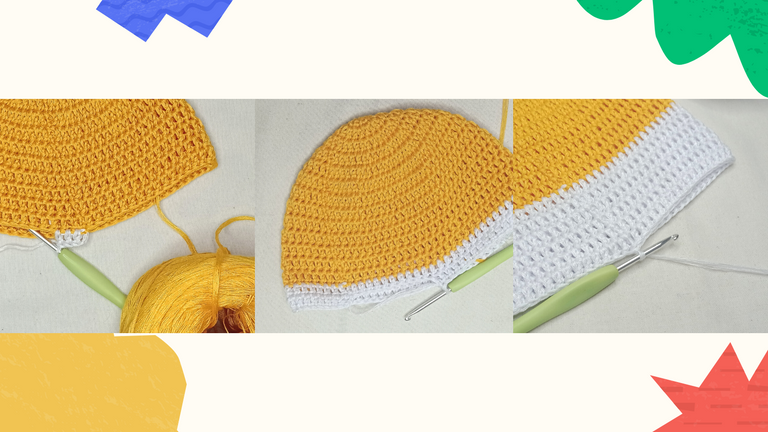 The entire hat is made up of double crochets, with no particular count, just following the rules for the perfect crochet circle. When the yellow yarn (which was a leftover from the Belle Dress I made early this year) was a little more than half past my baby's bonnet, I changed to the white yarn. When I got the length I preferred, I fastened off.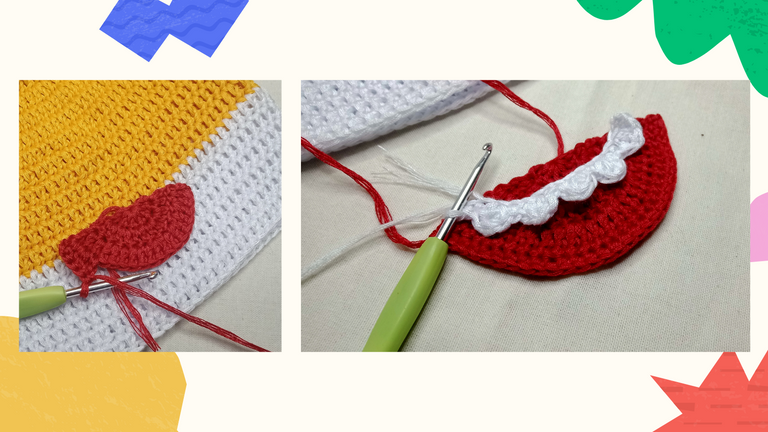 That full shark smile with all the sharp teeth showing was one of the best parts of this project. Simply because I couldn't help but smile because I kept imagining the shark's smile. Smiling is indeed contagious. Even if that smile is from a crochet project WIP. I made a semi circle of double crochets here. Same principles as the crochet toy pizza but instead of making 1/4 of a circle, I made half.
The sharp teeth are just shell stitches of HDC, dc, and tr, made pointy when I attached it to the red semi circle.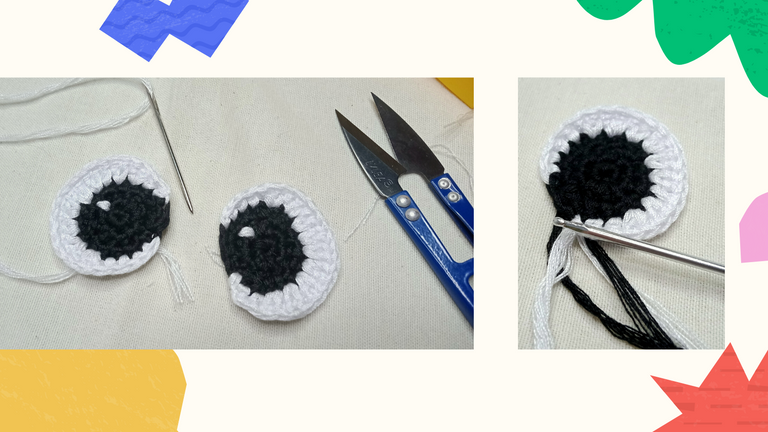 My most favorite part are the eyes. I have never crocheted eyes on any projects before but for the baby shark, a pair of googly eyes just won't do. The eyes start with magic circle, then single crochets with double crochets on two ends to make an oval. I pretty much just played the white part by ear, I had to frog and redo so many times before I arrived at the shape that fits my liking. Of course, the dreaded pair! It took me a whole crochet day for this part of the project. But when I saw how they sparkle with the smile, it was worth it.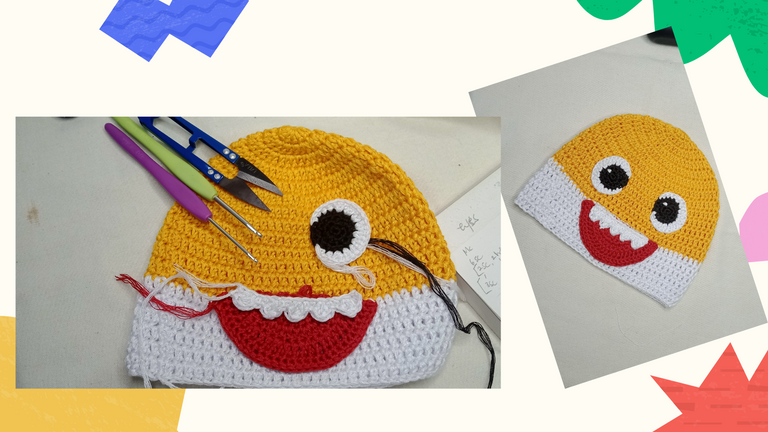 I am a homeschooling mom and crocheting is just a hobby. I am happy when I earn commissions but I just do this in my free time. Which means it is only during my kid's screen time and playtime. I still sometimes play along with her so I often push my projects aside. On a lucky day, I crochet for two hours but the longest I had, which was used up for these eyes is a little bit over 4 hours. I was happy with the outcome but a slight pang of guilt hit me when I realized my kid has been playing by herself for a long time.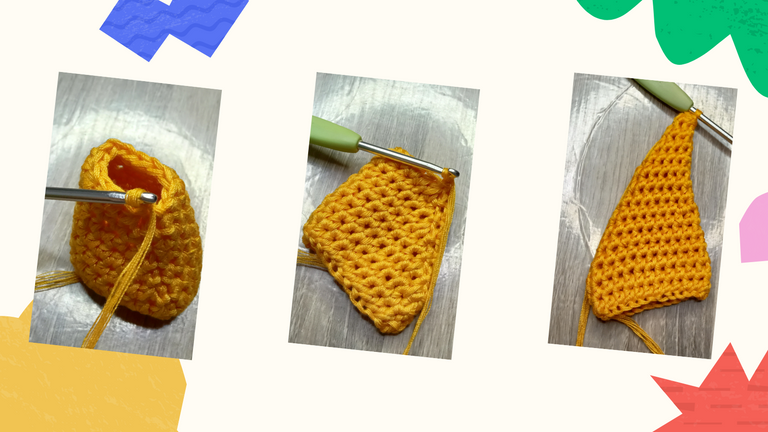 Now that the eyes and the sharky dmile has been attached, the fin needs to be attached too to make it a complete baby shark hat. I got frustrated with this part because the first fin I made looked more like a unicorn horn than a shark fin. It was funny though because my kid was the one who noticed it.
"Nanay, I thought this was a baby shark. It looks like a unicorn!"
So of course, I needed to remove it and go back to the drawing board. After a few tries, I lost count already and I am feeling tired already, I was able to make the perfect sized shark fin.
This is composed of single crochets increasing as I go up until I reach the pointy peak. The first one I made was too long. Then I made one that's too short. There's also one that's too narrow and short. I literally did not look at the hat for quite some time to start working on the romper (which is also part of this ensemble, still a WIP though).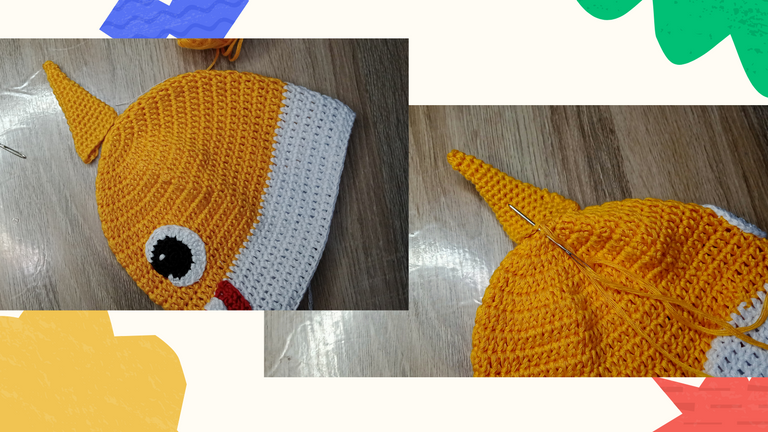 At long last! I am done with the crochet baby shark hat. I still am singing the baby shark song. And even though I had a lot of low points with this small hat, I am still happy with the outcome. My little girl is also happy with it and is expecting I make another one for her.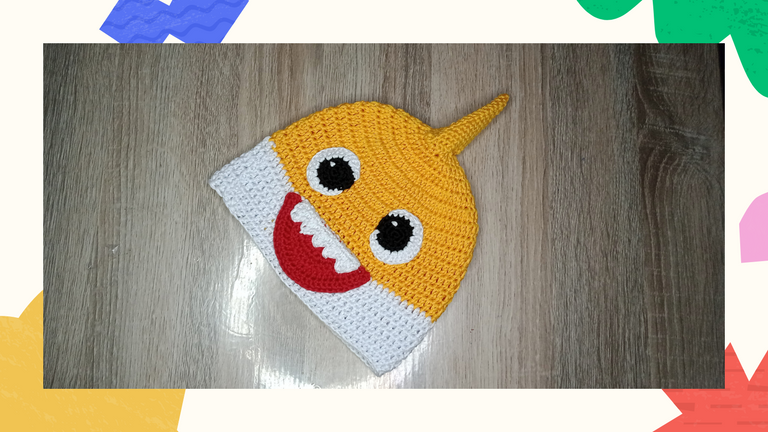 I am happy to say that this is once again a freehanded design. So far, the projects I make doesn't come from online patterns. Which checks one of the bullets on my crocheting goals.
The complete outfit is not yet done though. I am still working on the romper. The yarn I used were leftovers from the Belle dress. Now I am hoping that it is enough for the baby romper. Because if not, I'm going to have to buy new yarn rolls. Then I'm going to think about the shipping fee so that means I need to make sure the yarns I will buy is worth the shipping costs. That would restart my yarn hoarding spree, so I am hoping and praying that I finish the romper with all the yellow yarns I have in my stash.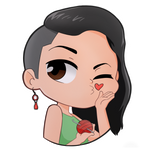 @romeskie is a full-time stay-at-home mom to a homeschooling toddler. Loves crocheting as a hobby. Maintains a mini food forest, aiming to grow more to achieve that farm-to-table homesteading. Learned how to cook after leaving the corporate world to take care of her family and is now starting to acquire basic baking skills. Learn more about her adventures and misadventures in the world of motherhood.
Connect with her through her Facebook Page: The Leftie Crocheter and on Instagram. Feel free to subscribe to her Youtube Channel: The Leftie Crocheter