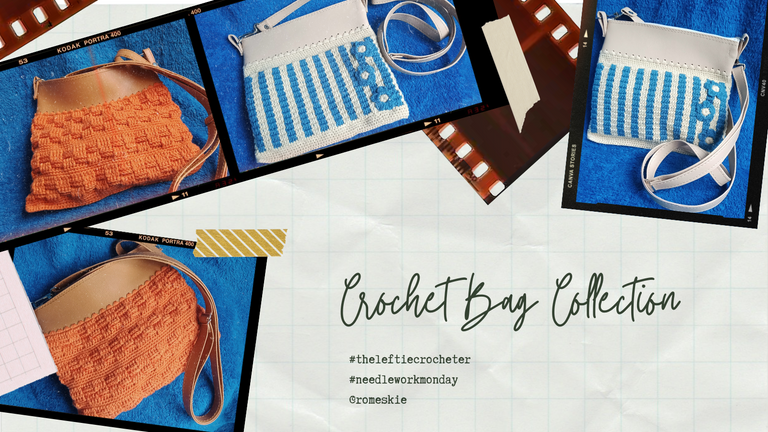 There's actually a third bag to this collection of the finished products but then I got too overexcited in wrapping the first one so I only get to photograph just the two that I still have here with me. Last December, the restrictions were loosened up a bit so I got to move around the metro (still avoiding crowded places though) just to visit some of our relatives. I took the chances I got to deliver the gifts I prepared for some of them.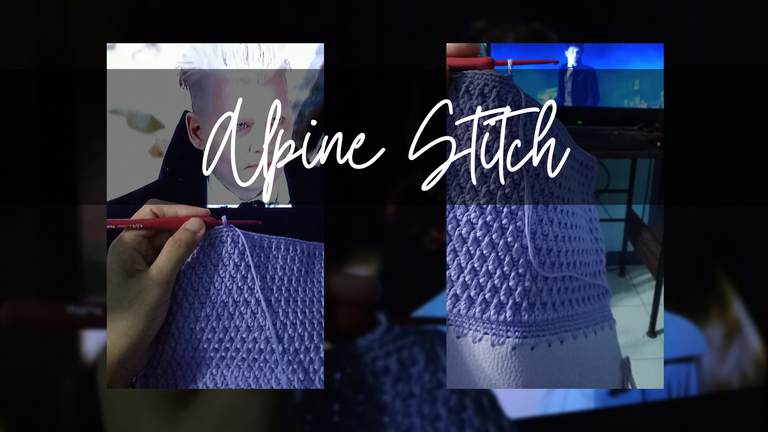 This version of sling bag where I used the Alpine stitch was given to my husband's cousin who also happens to celebrate her birthday on the day after Christmas. The Alpine stitch sling bag looked to chic and since purple is her favorite color, it is decided then that it shall be our gift for her.
To those of you who want to know how to make the alpine stitch, it's quite simple actually. The first row is composed of double crochets. The second row will be single crochets all the way. The alpine stitch design starts on the third row which is also just double crochets technically. The only difference is that alternatingly, the stitches will be regular double crochet inserting on the previous single crochet row, then front post double crochet inserting on the previous double crochet row. Simply put, it's just stitching up and down alternating regular double crochet and FPDC.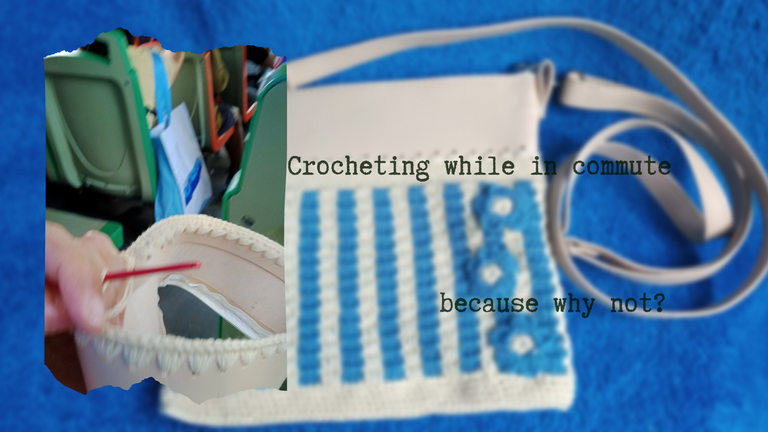 Moving on to the next crochet sling bag collection, this one was conceptualized in a public bus ride, on my way to my sister's house. We were about to buy our motorcycle, more on that on my Hive Anniversary. It has been a long time since I last rode a bus, I chose the back row. I did not want any distraction and interaction from anybody at all. That's the main reason I brought my hook and yarn in the first place. At first, I don't have any idea or any design in mind. I just did a couple of rows of single crochets which will be starting point of any design that may come to me. I don't know if it's just me, but I sometimes just start crocheting, then let the gods of yarn and hook guide me along the way.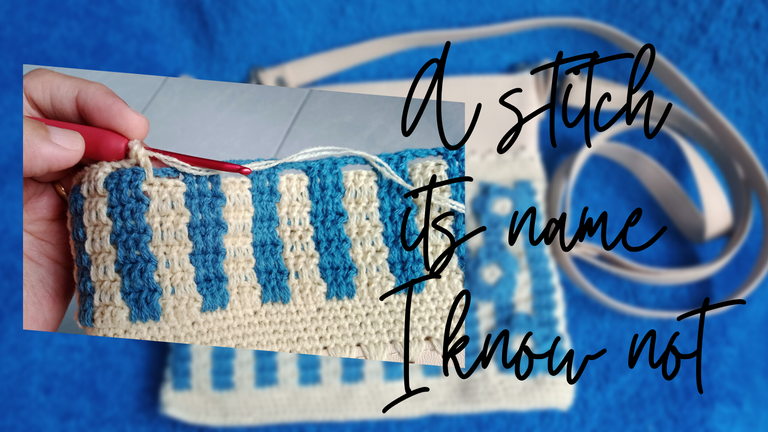 I know I have seen this stitch somewhere, a long time ago, and I couldn't remember what it's called so it's hard to look for any reference. I just remembered how it looked like and how it's done. If any of you knows what it is, please do enlighten me and let me know in the comments. So basically, I started it off with rows of single crochets. Then when it came to the design, I made 3 single crochets, 3 chains, skipped 3 stitches, then 3 single crochets, 3 chains again to the end. I had to slip stitch to the next chain space to make sure the transition color doesn't blend with the first one. For the next row, I used the second color. Started with 3 chains, *(counted as dc) then 2 DCs into the single crochets that I skipped on the previous row, enveloping the 3 chains into the dc. Chain 3 again, skipping 3 chains, then 3 DCs on the next chain space. The enveloped chains give the sling bag a little more sturdiness, which is why this is the design that I chose.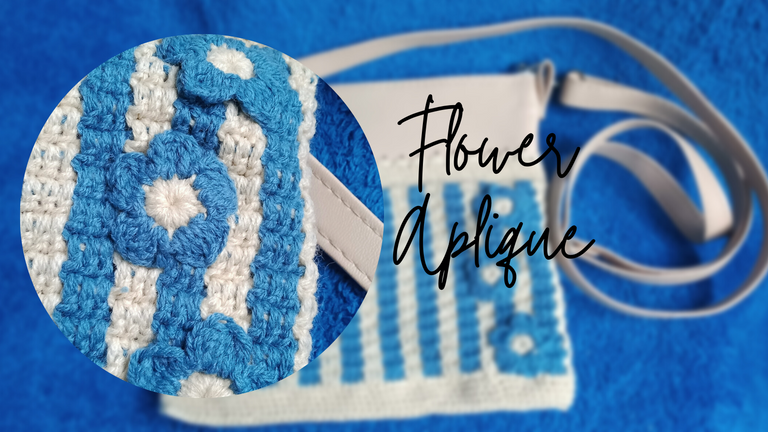 I can't remember how many rows I made for this one. I just played it by ear. All I know is that I want a mobile phone to fit in there, plus a coin purse maybe, then some girly trinkets like a compact, or some tissue, a small bottle of alcohol spray or hand sanitizer, or a small notebook. Given the amount of things I expect to be placed inside this sling bag, I really do hope that I am right in assuming that the stitch I chose can carry the weight. I haven't given it yet because me and my sister in law haven't gotten the chance to get together in the holidays. We got sick when the day before we were supposed to visit them. So until now, even if we're feeling better, we don't want to take chances so we are still not yet visiting anyone.
I added some designs to this bag because it looked a bit too simple. Nothing much, just 3 pieces of tiny flower applique. The design made it look too linear so I randomly placed the flowers to give it some curve or movement.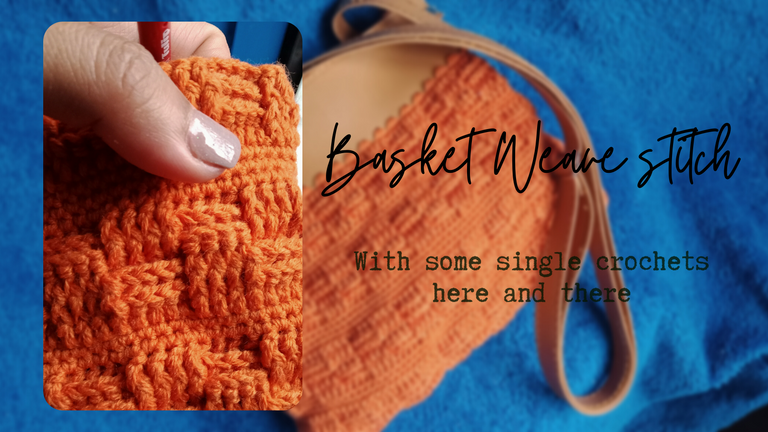 My sister did my nails, I love how not too long but not too short and beautiful my new nails are!
This one is mine. I know I just made a sling bag for me a couple of months ago but I just love this leather base and strap I bought from Facebook. I don't want to use the same stitches I used before for my sling bag so I had to think of another design. Then I remembered the basketweave stitch. Looks simple enough, not too complicated but I feared I might get too bored and impatient in finishing this design. I know myself too much so I decided add some variation to the basketweave stitch. Instead of going from start to end with weave stitch, I interjected some single crochets in between rows. At first, it looked a bit awkward, but I decided to go with it anyway.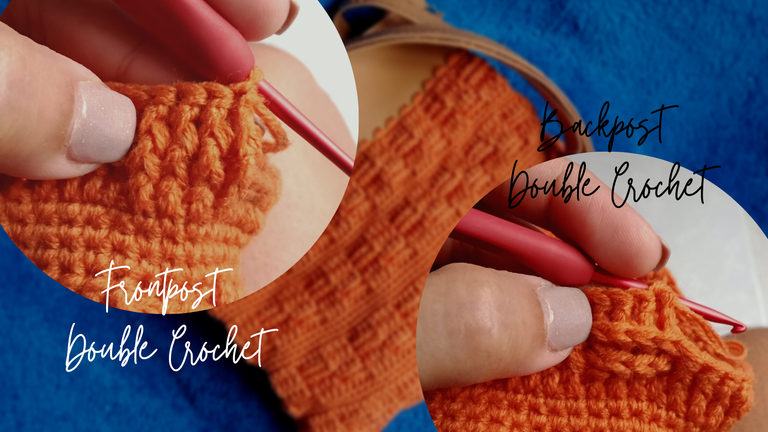 I just love photographing my new nails! Haha!
Basketweave stitch is a combination of front post double crochets and backpost double crochets. The first row is composed of double crochets. On the second row, that's when the FPDC and BPDC starts. The design starts with 2 rows of alternating 4FPDC and 4BPDC towards the end. Then after 2 rows, make 2 rows of alternating 4BPDC and 4FPDC towards the end. Every after 4 rows, I then made 3 rows of single crochets. After some 4 sets of basketweave stitches and single crochets, I went ahead and closed down the bottom. For this sling bag, I could fit a small planner, my mobile phone, one small cone of yarn, and it still has some little room for maybe a small hand sanitizer or a hanky.
For all these bags, I used a 2.75 Tulip Etimo hook. It does just glide smoothly into the yarns, thus making crocheting a lot easier and faster with less strain on the hands and arms. I bought one for me last 12.12 Shopee sale as a Christmas gift for myself. I plan on buying the next size on the next sale. Except for the alpine stitch bag, the yarns I used were 2ply indophil yarns (off white, blue, and orange). For the alpine stitch bag, I used 8 ply purple polyester yarn.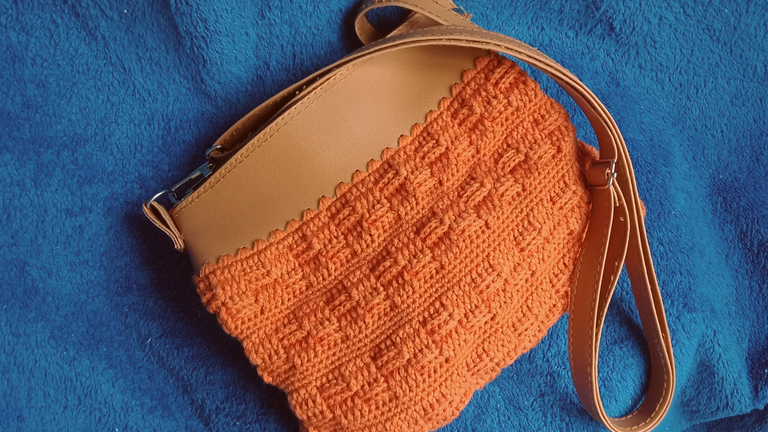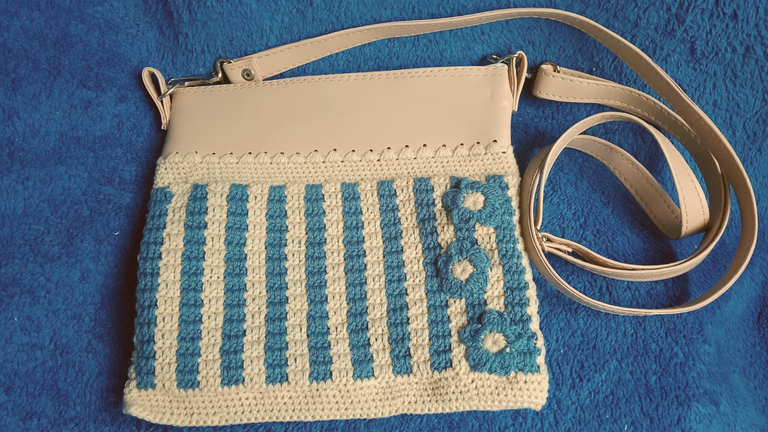 And now, I've come to realize that all these three bags were created in a span of two weeks, all while watching the Fantastic Beasts film series or playing some Splinterlands battles on the side. Right now, I still have 2 leather bag base waiting to be created into sling bags. I'm just waiting for inspiration, trying to come up with a new design. Right now though, I am working on a new project. Will definitely share the next project the next chance I get.