Hi guy, good afternoon to you all, it a new week of blessings for us, I pray this week brings happiness and joy to us and everything we touch to do this week should prosper. I told you guys in the last post I made in this community that have enrolled myself in a new place to learn how to sew suits, half jacks and also to learn now styles and patterns of sewing kaftan, like the kaftan, I already know how to sew it but if I should learn how it's been sewed here and add the experience to what I have already that would really go along way to improve my style, I showed you guys my new work place and service we offer.
So today guys I have something sweet to share with everyone, actually today at my new work place my boss directed me on how to sew another pattern of kaftan just like I thought that coming here would really improve me a lot and am super happy with what am seeing☺️😜 so today at my boss's shop, he showed me how to sew a very lovely kaftan.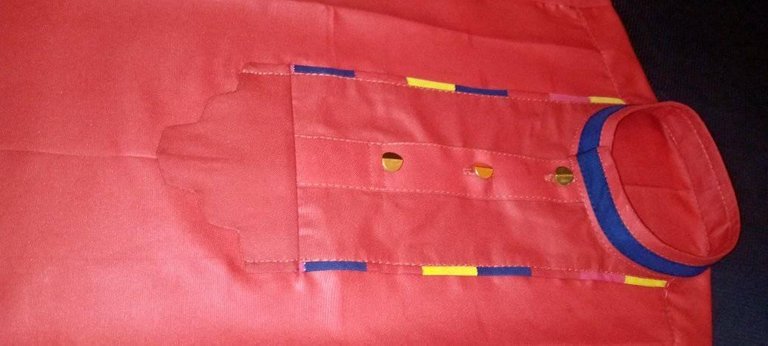 Items used:
Red material
Paper gum
Collar gum
Fancy buttons
Blue, yellow, pink material for the combat
Red matching thread 🧵
After all those items was bought we proceed to the sewing processes.
First step:
He folded the red material into four pieces and he drew the measurement of the back and front at once and cut out both the back and front at the same time.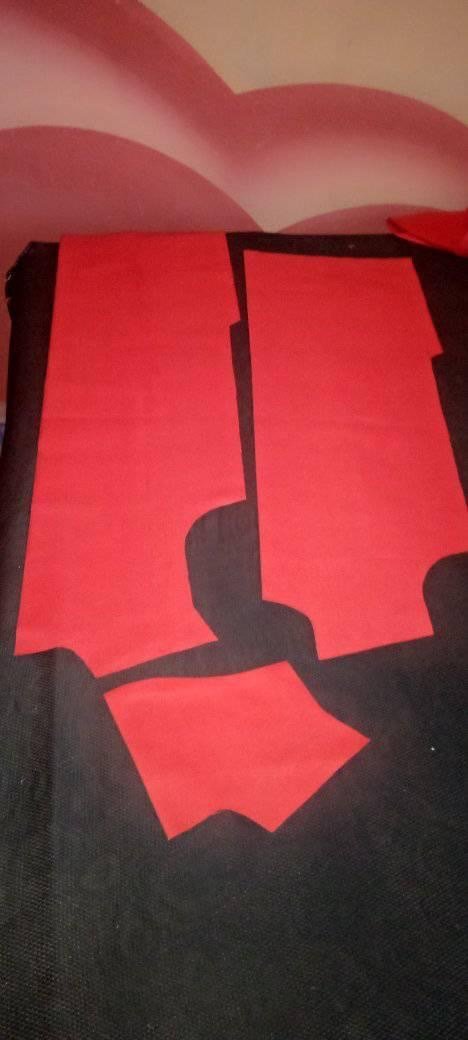 In my mind I was like what?😳 (have not seen this one before oo) of cause I know there are different ways in approaching a particular thing but this one was shocking have not seen or heard of this pattern of cutting before I just know the one I use to do and I was comfort with it but this one was just something that after I sew him do it I felt I need to understand this pattern more, because the only am familiar with is the one I know which is cutting the front out first and then using it to place again on the remaining material to cut out the back not to cut everything out so I needed to really understand so looks carefully, after he cut the both out and he proceeded to cutting out the sleeves and facing them we moved to the sew process after the cutting.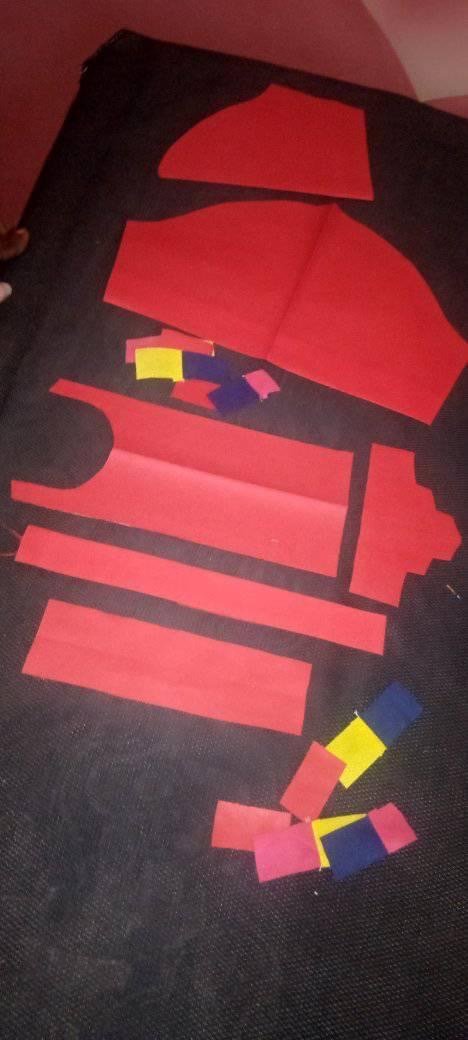 Second step:
He ask me to cut the paper gum, 8inches length and 8inch size and I should gum it on the red material so I did so he then use a pencil and draw a step after steps and turn it out.
Then he did a two sides inner flap at the front. He then took the blue, yellow and pink little pieces for the combat and joined them together and he used it to pipe the rough edges by the sides and the design came out perfectly.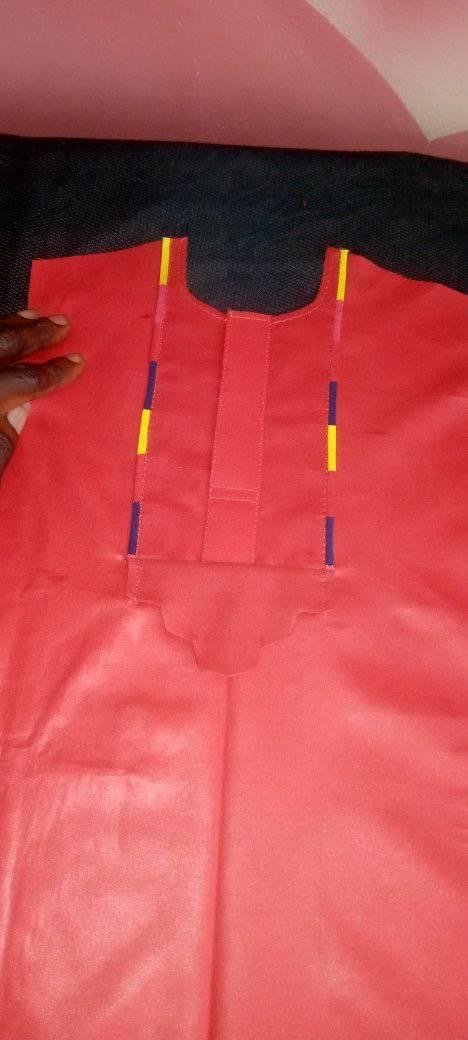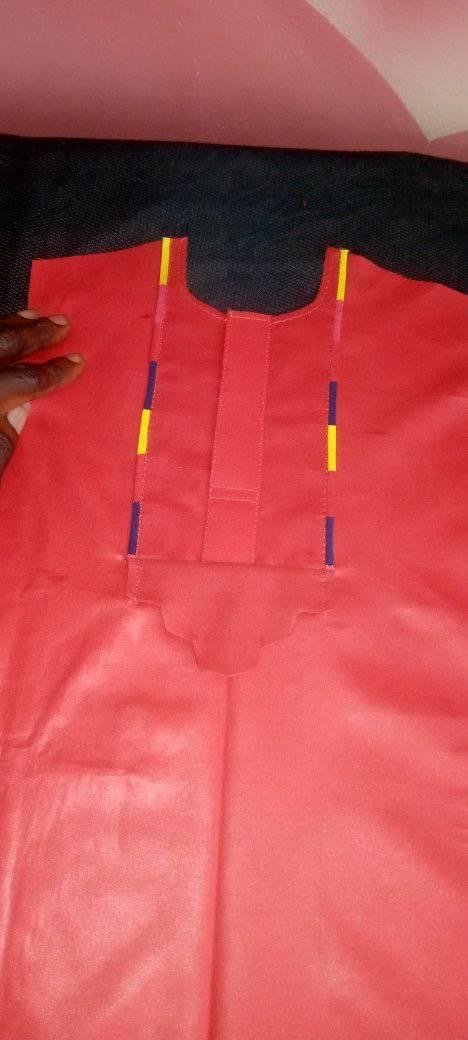 Third step:
He took the step after steps i used paper gum to prepare, he used it to place at the down part of the flap and this was how it looked like so sweet.😄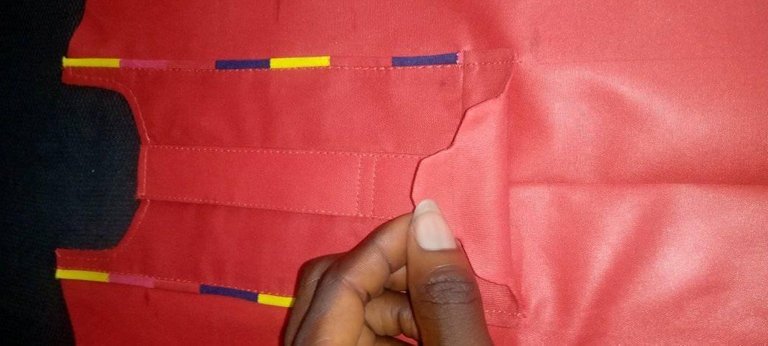 Finally:
He joined the back part and he trimmed the shoulders and inserted the sleeves and he joined the body according to the person's measurement and he asked me to go cut the collar come and turn it for him to fix on the neck so I did, actually it was to be a standing collar kaftan and after I made the collar for him he fixed it on the top and the top was ready.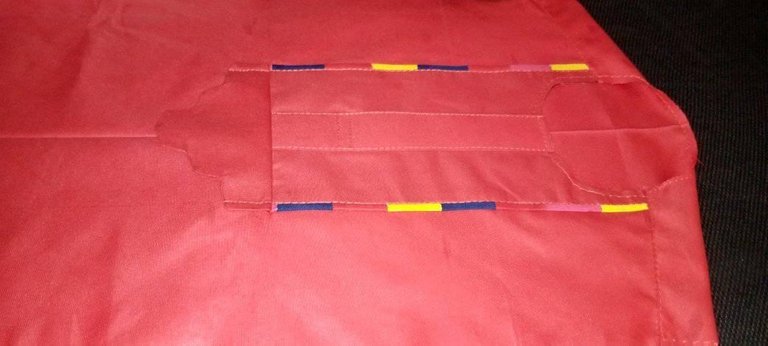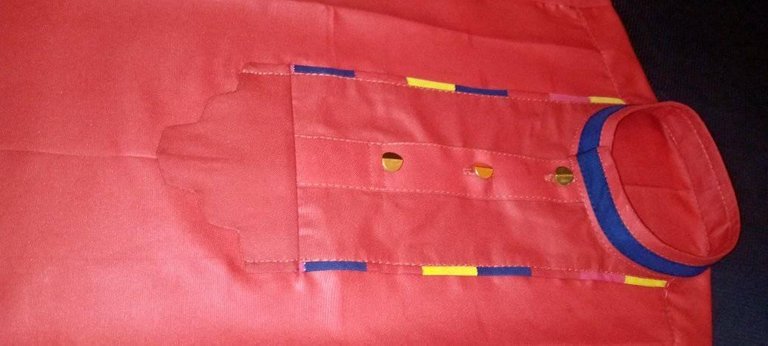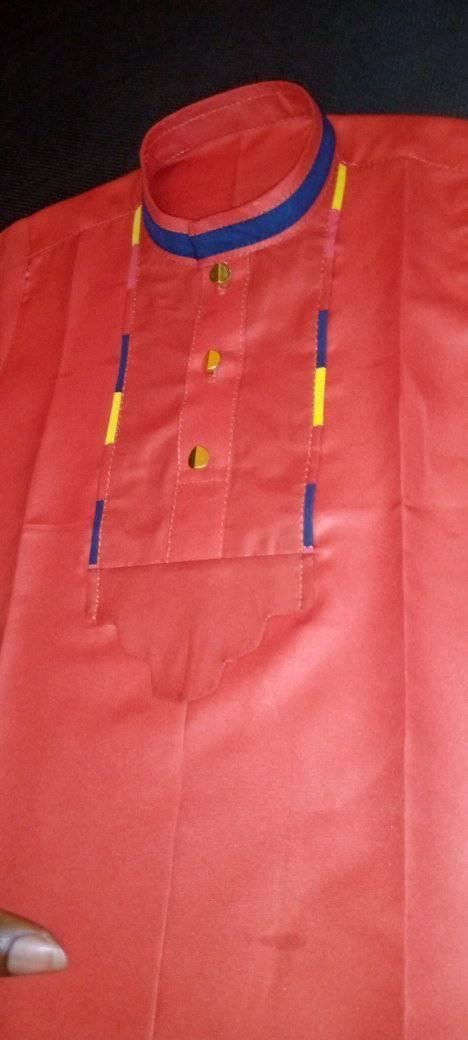 Thanks guys for reading through my post, see you in my next post, God bless you and I wish you a fruitful day.
Good vibes!!!!