Hello friends, good morning to you all, hope we're all fine, it's @smilestitches your favorite brand on your screen again, so get ready for yet another adventure to the fashion world were I'll be sharing with you guys my amazing designs, concepts and creativities so friend as usual am here to share with you all an amazing outfit I just concluded right now: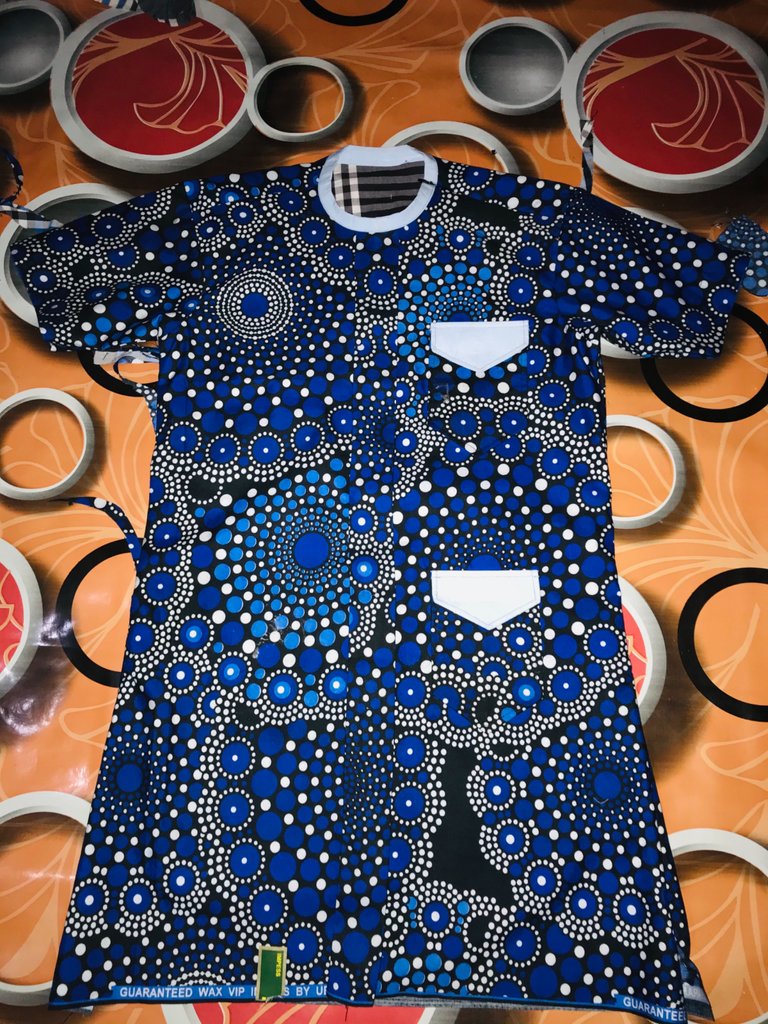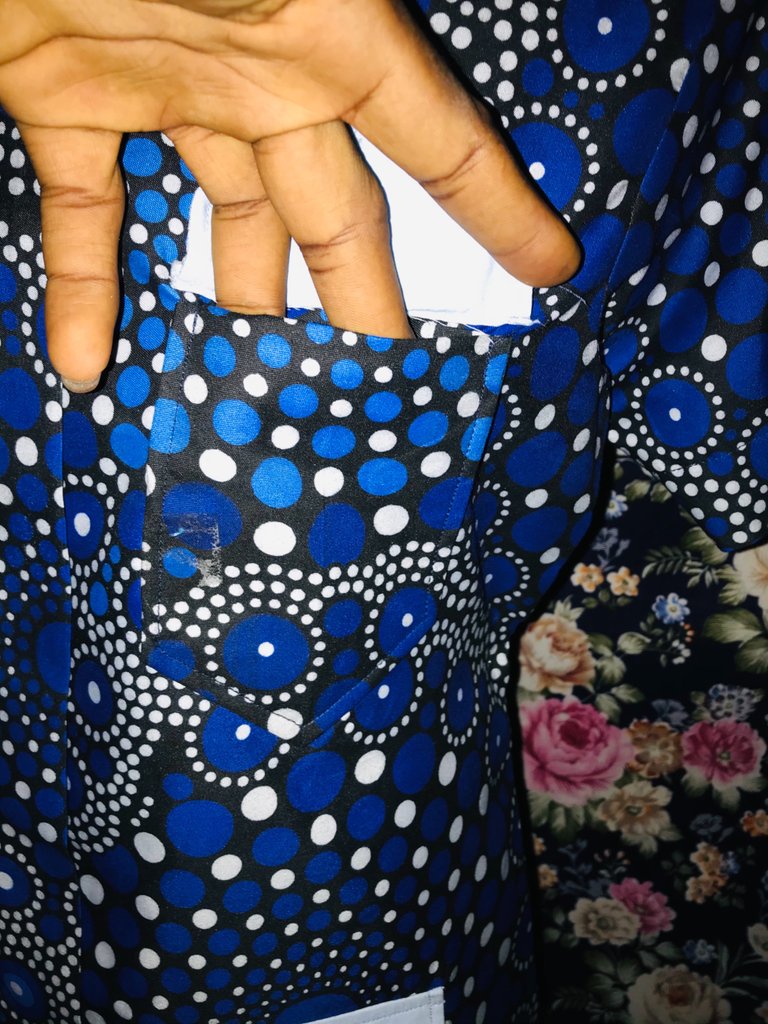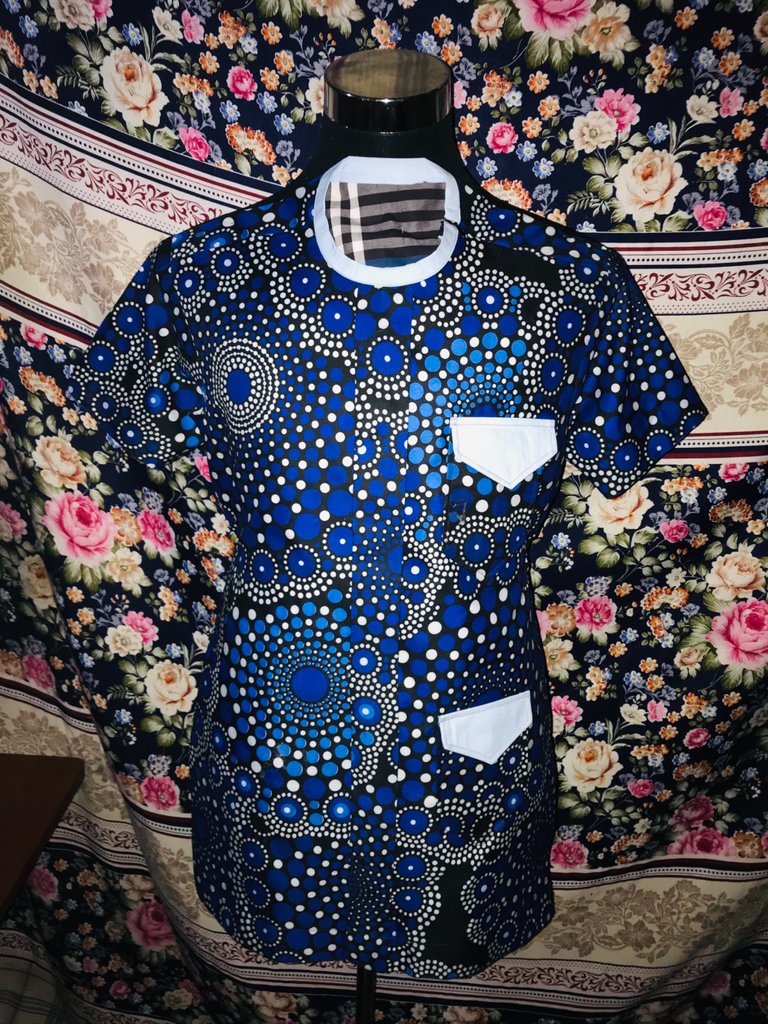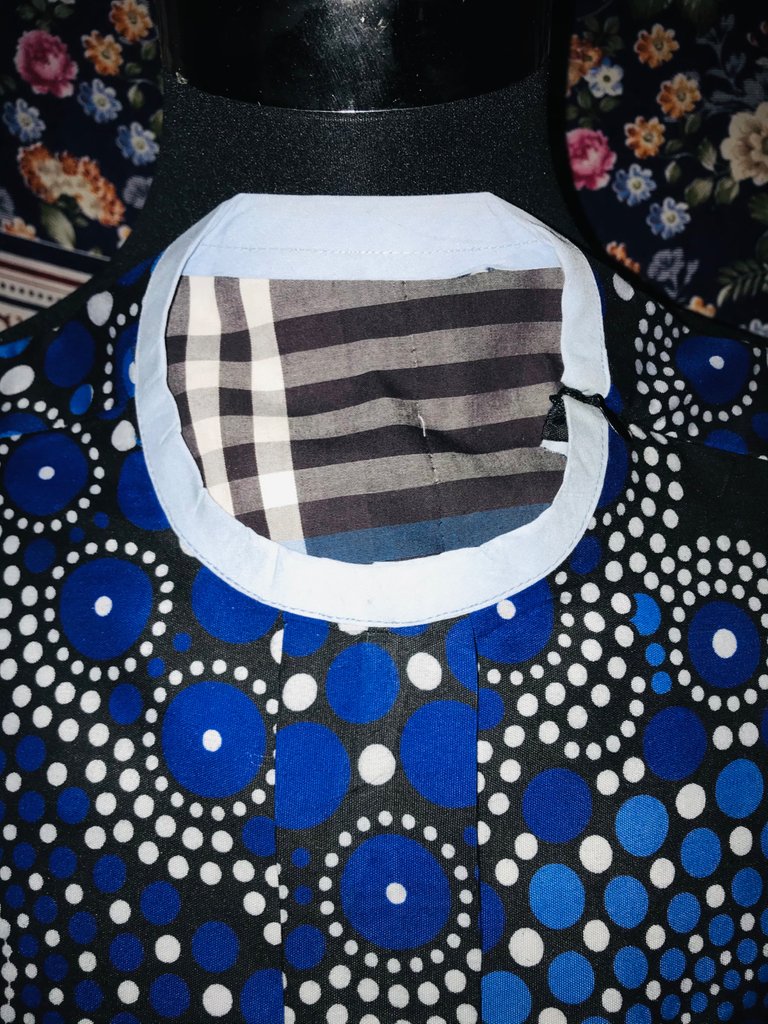 Actually there's light so I thought of staying awake to sew this outfit for my client, meanwhile since there was light I just couldn't stop myself from turning on the Gotv and television to watch one of my favorite movie series (my heart knows) on Zeeworld,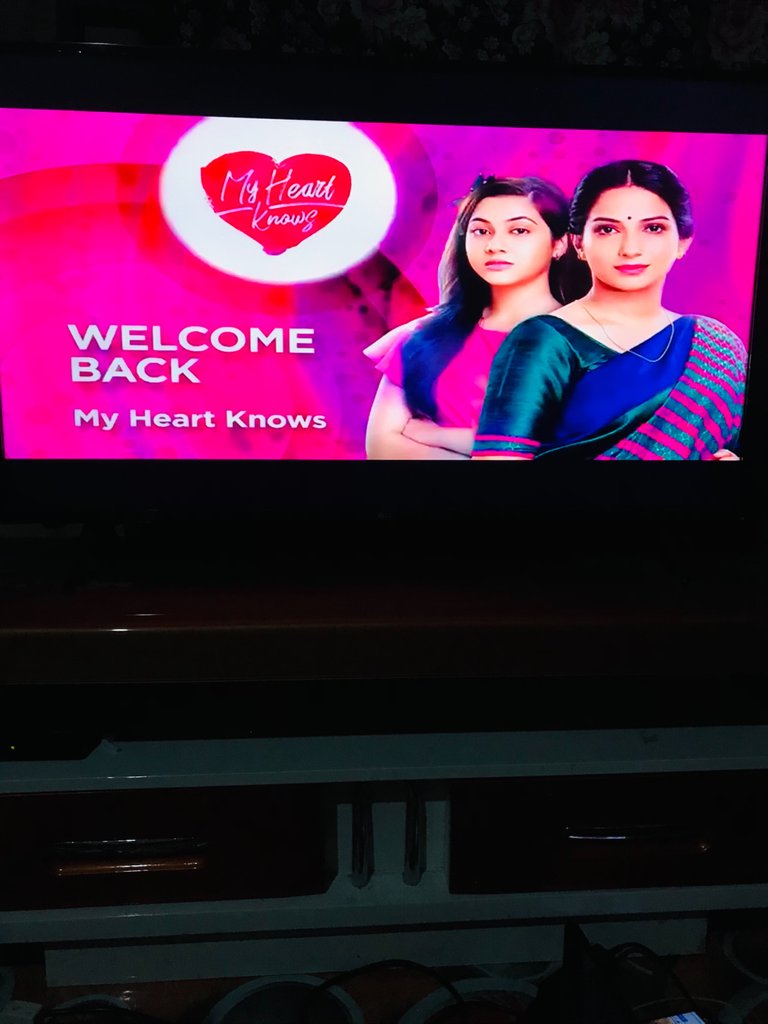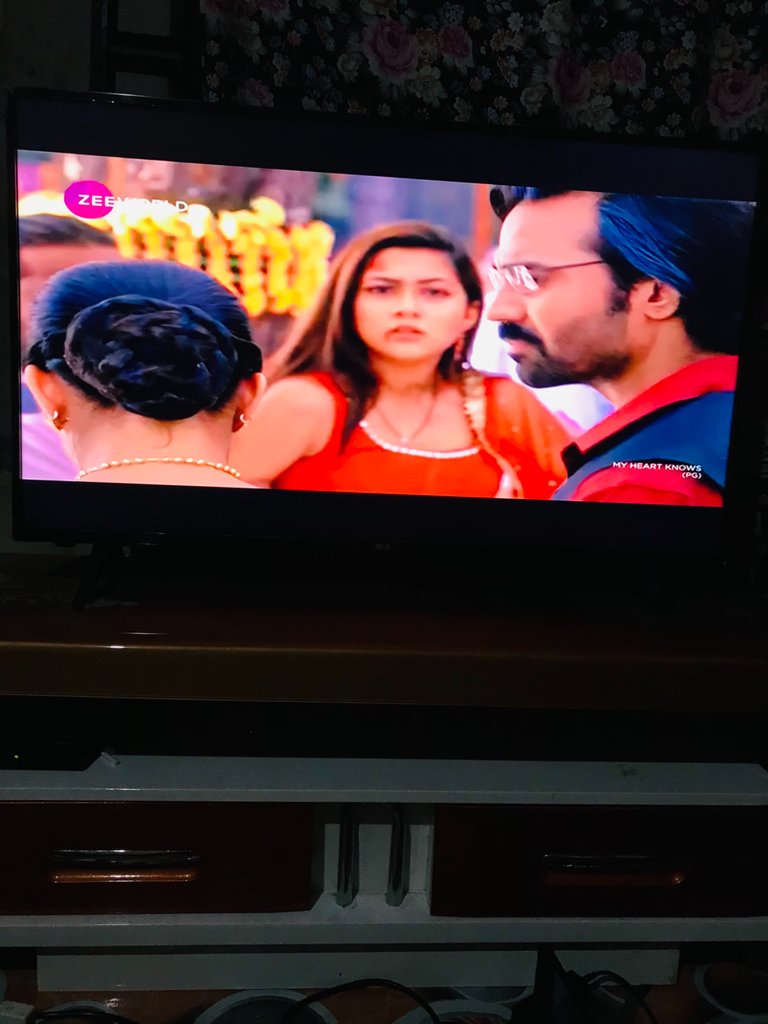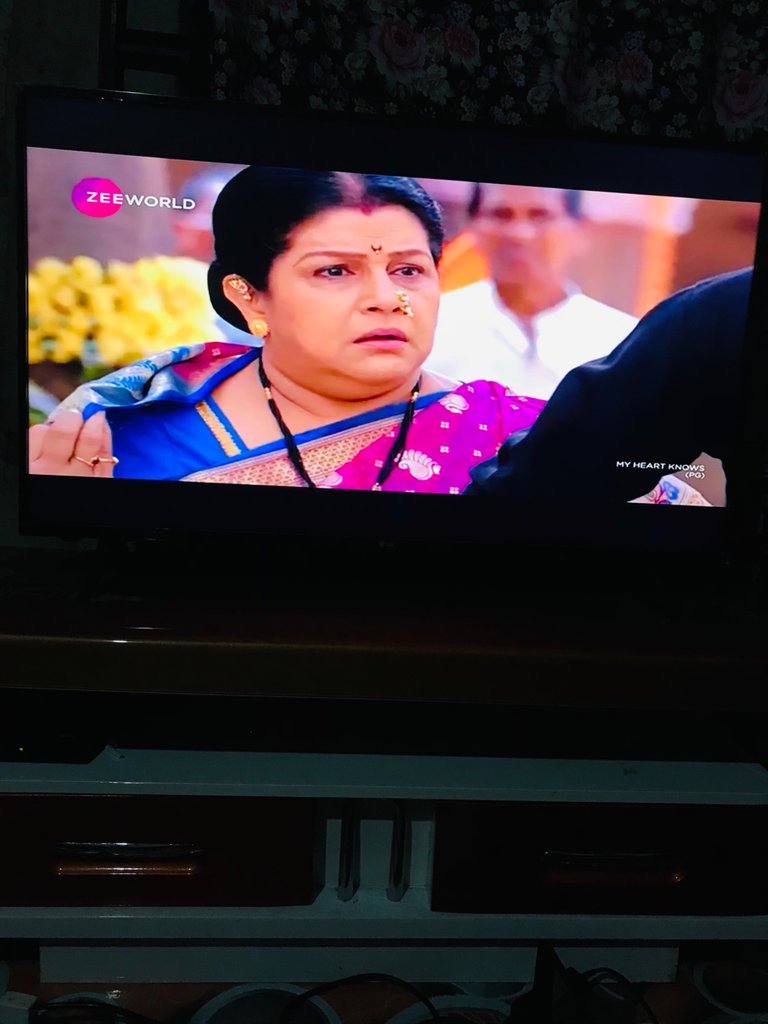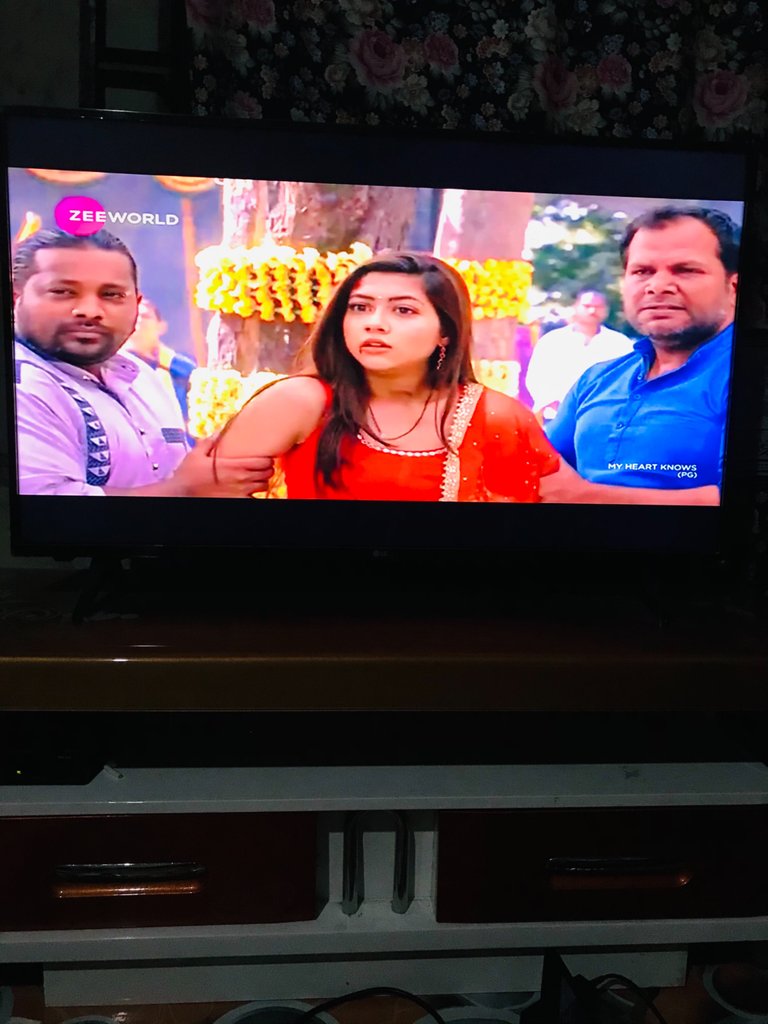 I must admit and I actually applaud the Indians for there movies it's so educative and fun to watch, interesting as well but I thing I don't like is that the tension in there movie is so high and it can make someone pass out 😂 those that follow up there series on zeeworld will definitely attest to that fact but no doubt there moves are interesting and I love to watch them so am just here enjoying myself while watching(my heart knows) and there're many other zeeworls series too I enjoy watching like,
*Twist of fate
*Once there was a king
*I do
*These streets
*King of hearts
All those are my favorite too but not long ago I was watching (my heart knows) so on today's episode on the series, was about a helpless woman anopriya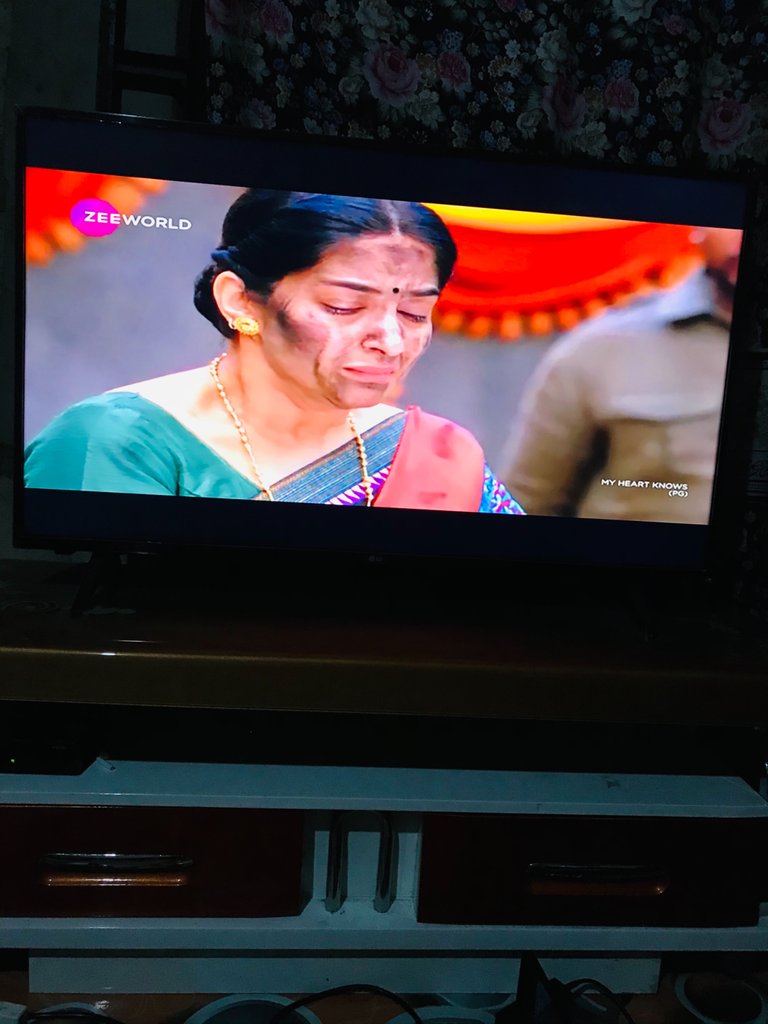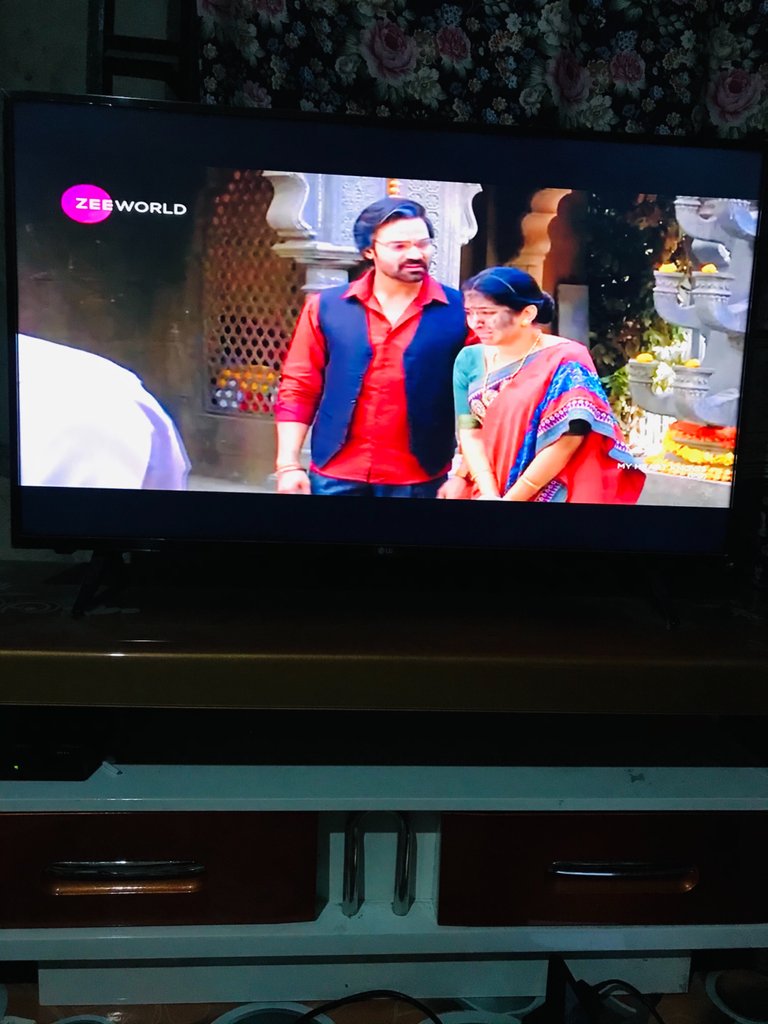 who was wrongfully accused of having sex with a mean he was locked with overnight inside the temple and the villagers wanted to stone her to death and also hanging her too and madam(her mother in-law)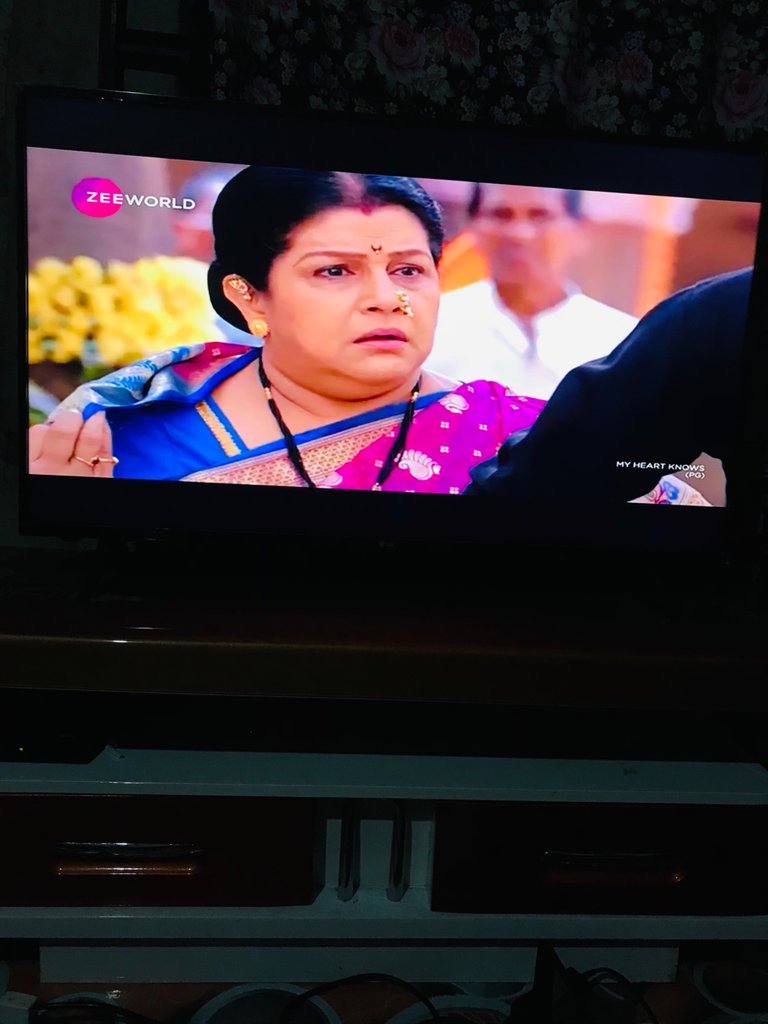 pleaded for that she was innocent but Sampada and atapha who planed the hole thing all along where busy implanting more reasons why the village should go ahead with the plan of stoning them to death and suddenly her daughter galihani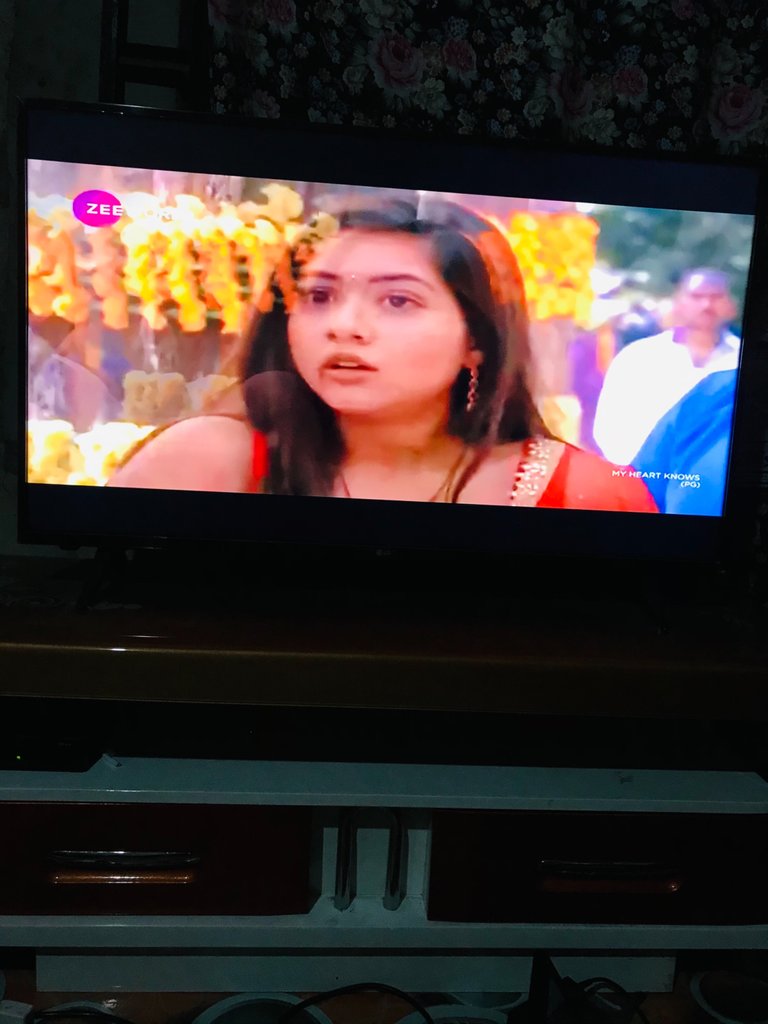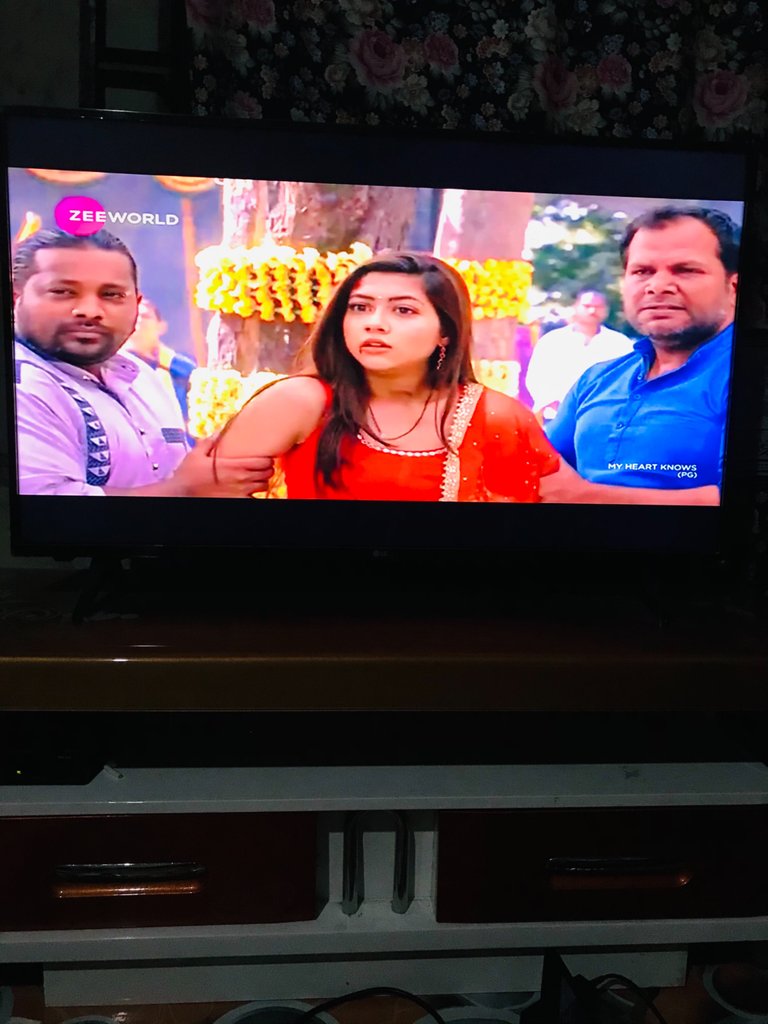 rushed to the scene and tried to rescue her mom by saying she was innocent none of the the village was ready to believe her and set her mother free so they all lighted a fire round her and was about to hang her and the man she was with before galihani husband mulha, came to the scene as well with some police men and arrested those villagers that were trying to take laws into there hands by killing her without asking to hear her own side of the story so after those bad men where arrested that was when the truth finally came out, she now said the man they sew her with was her brother! And that made everyone to be very shocked and that was when galihani looked closely at the man and remember he had saw him somewhere, she remembered that the man was behind the kidnap of her son mouch and she told everyone and the man was beaten up by her husband and things kept on getting more complicated. So guys in your spare time you can just follow up the series I promise you'll like them with time.
So friends I want to share with you all how I made a very simple outfit for a new client I recently attracted with my Sunday outfit, he came to me and said I he loved my outfit that I should give him the number of the designer that made it and then I smiled at him and I said okey! I gave him my number so her said he should probably call it and boom an appointment with him cause he need an urgent outfit to wear to a traditional Marriage tomorrow being Thursday, so he dialed the number and bam! My phone was the one ringing and he was shocked and asked if I had given him my own number instead and I said yes! And he said no he needed the designer's number that why did I give him mine and I told him it's simple I gave you my number cause am the designer your looking for and he was like 😳 and he asked if am serious that I was the one who made my cloth I told him yes and he gave me his cloth that I work on it and return tomorrow so that's why I decided not to sleep and work instead so I could deliver the cloth to him by tomorrow morning.
Items used: and
An Ankara fabric
Sky blue fabric
Readymade zip.
My sewing processes:
First step:
I lay the Ankara fabric on the floor and I bend it into two, I drew on the fabric my client body measurement I took earlier and I cut out the front. I preceded to cutting the back view using the front and then the both sleeves as the last.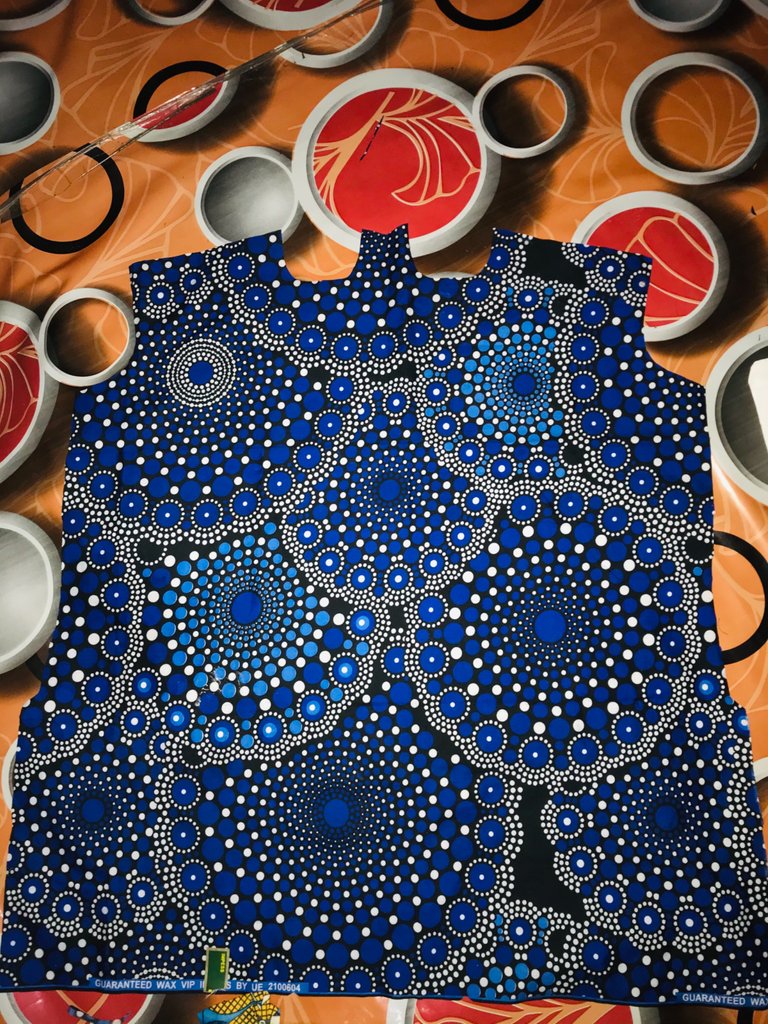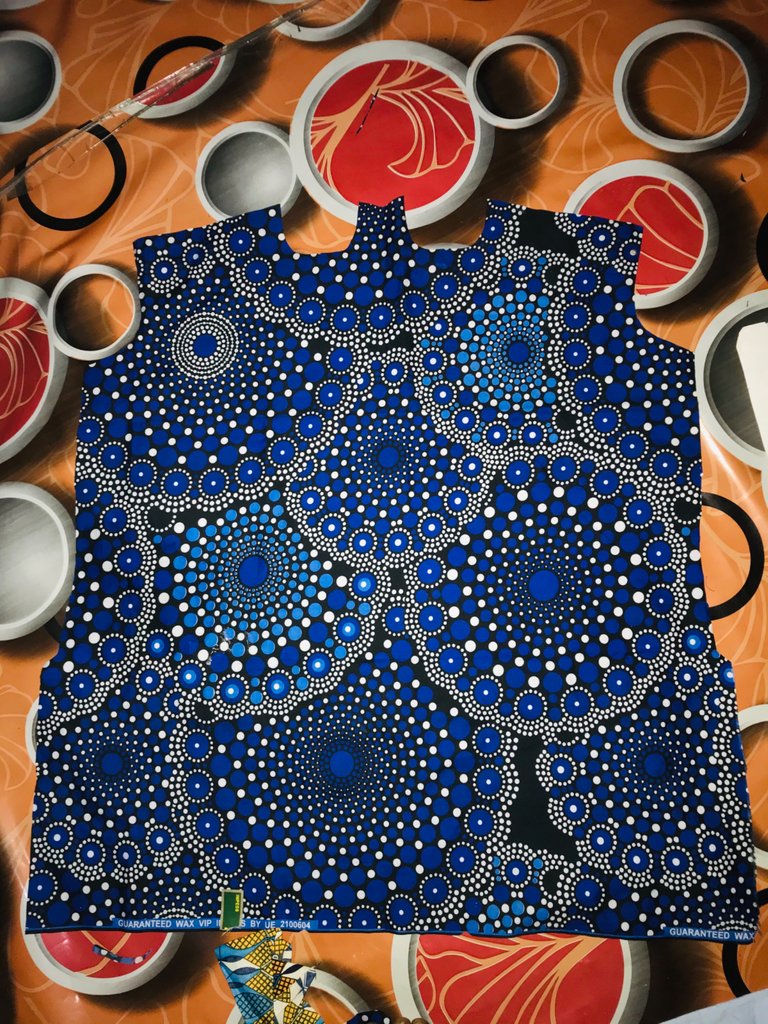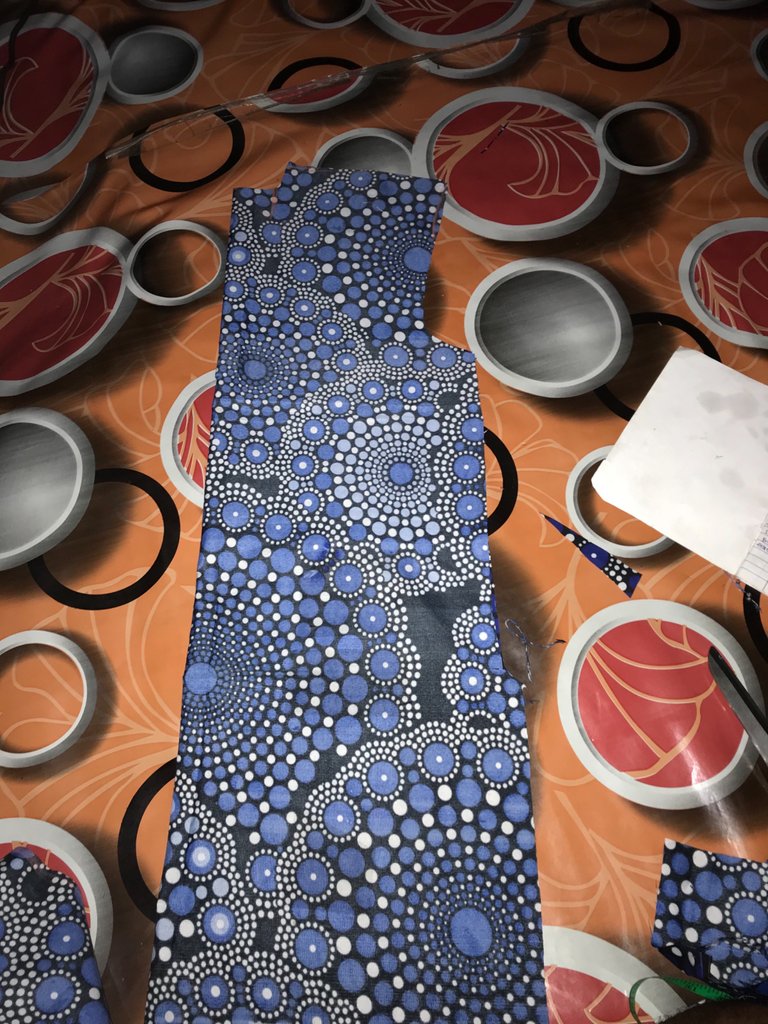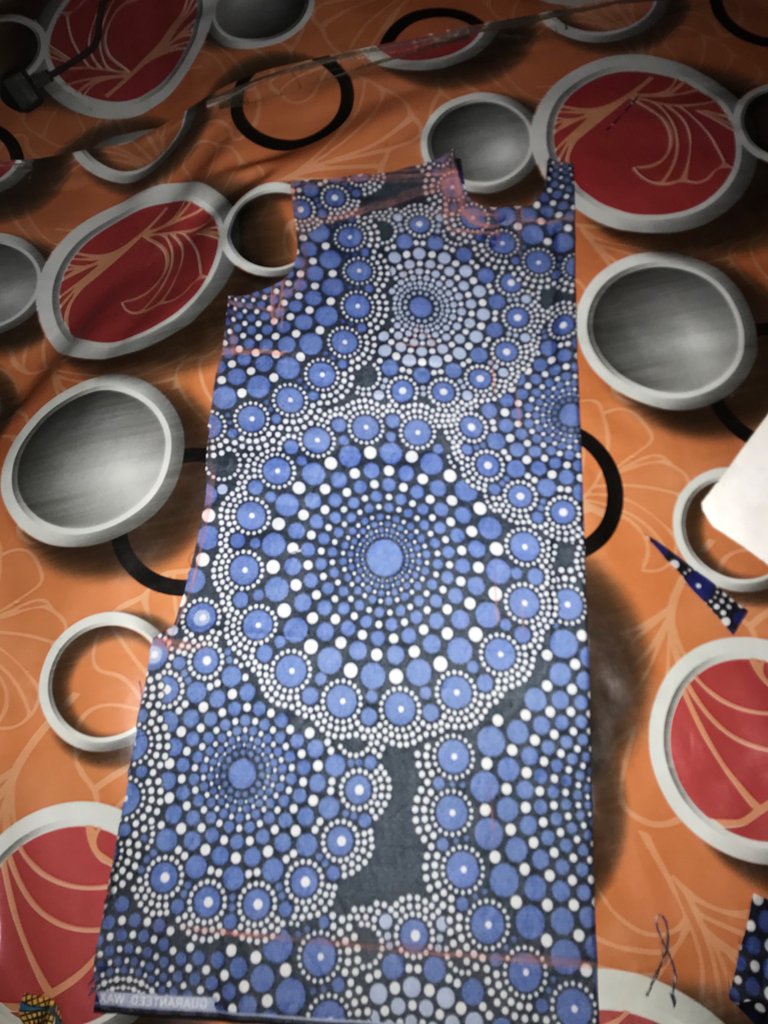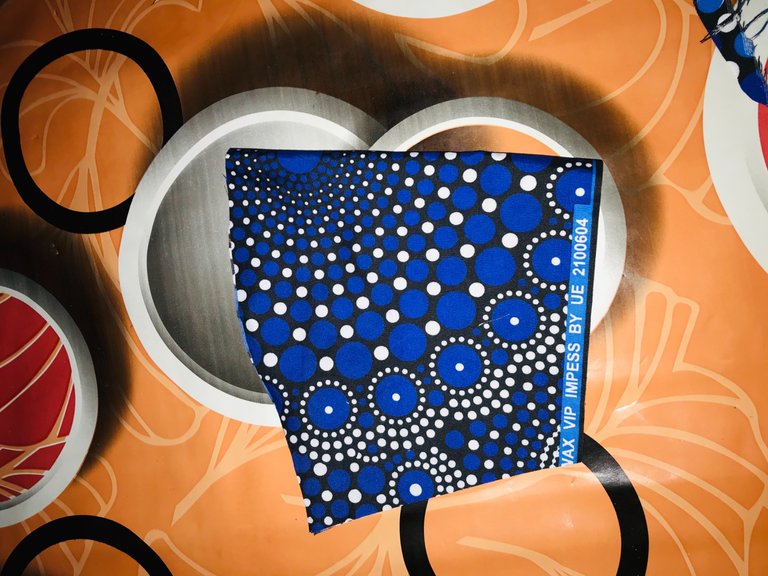 Second step:
When I wanted cutting the front, I included a 1.5incehs before I drew the actual measurement after that so now I sewed the 1.5incehs outside and I ironed it to be at the middle of the front like that flap that's also to beautify the front as well.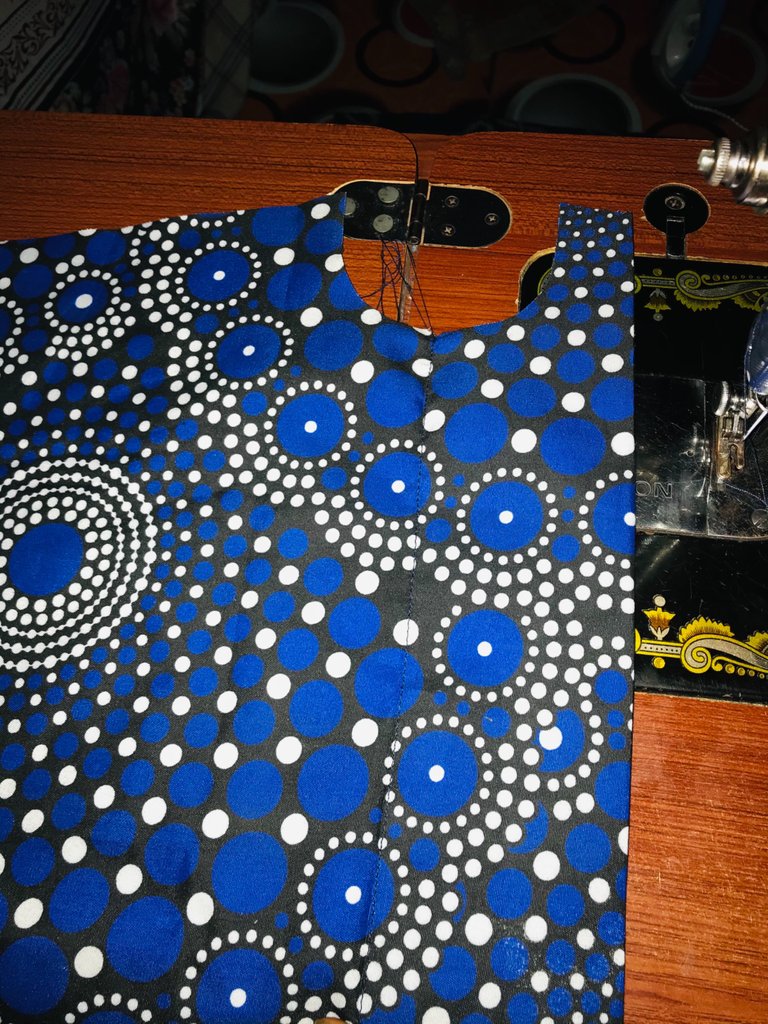 Third step:
After that was done I cut the Ankara fabric size for 6inches and length of 6inches, I cut it two same size and I took them to the iron and I bend them to be size 4inches and length 5.5inches to form the front pocket and I place it in the top part of the left side of the front and I sewed it together to the front and I measured 7inches from where that other pocket stoped and I places the other one too there.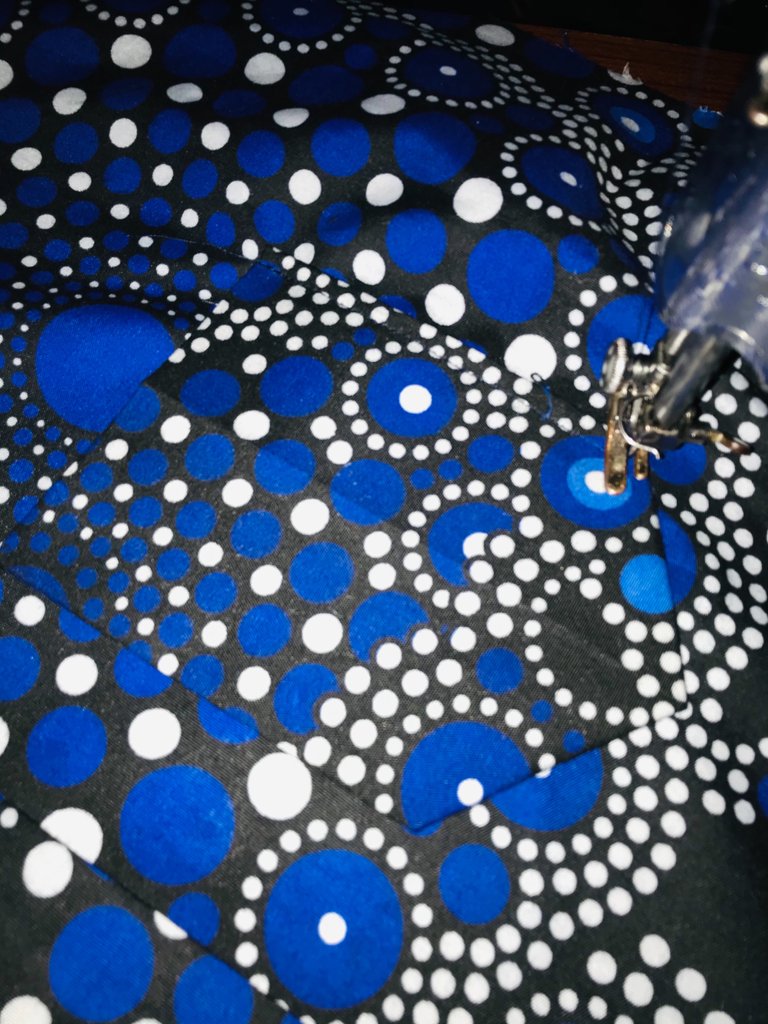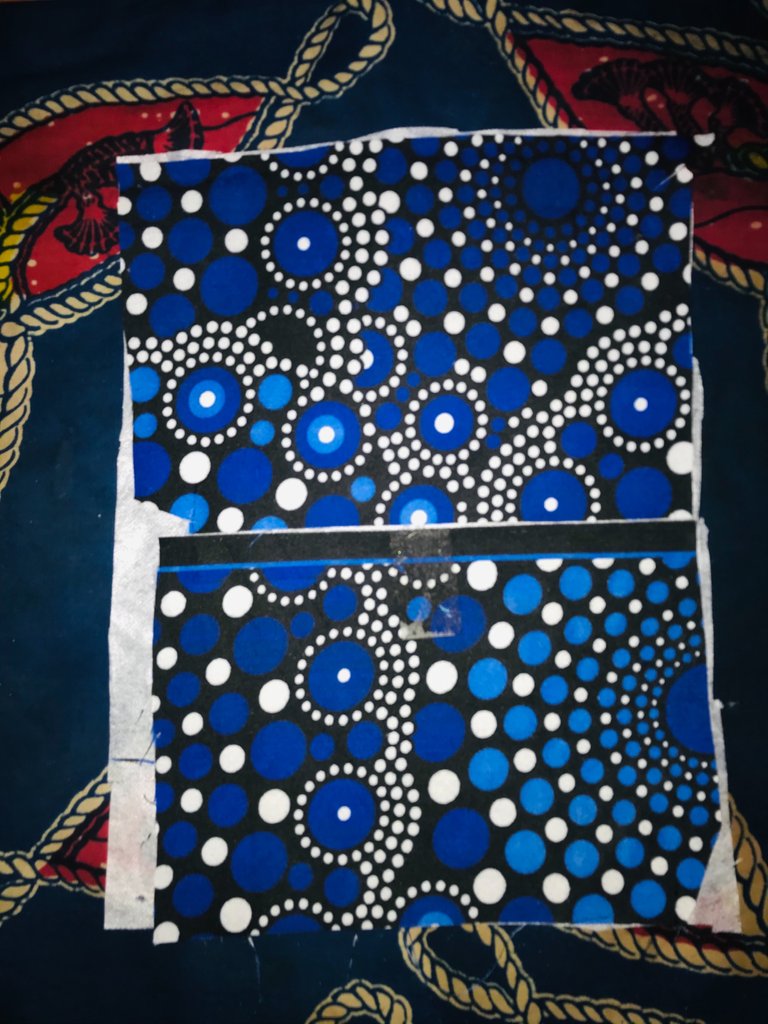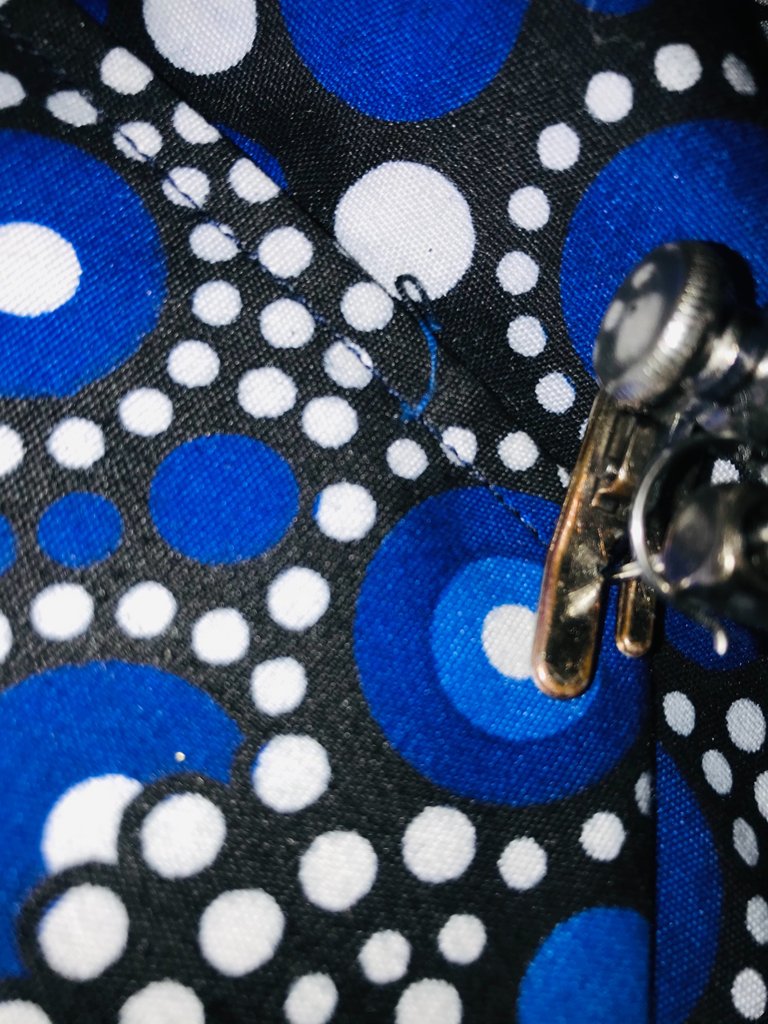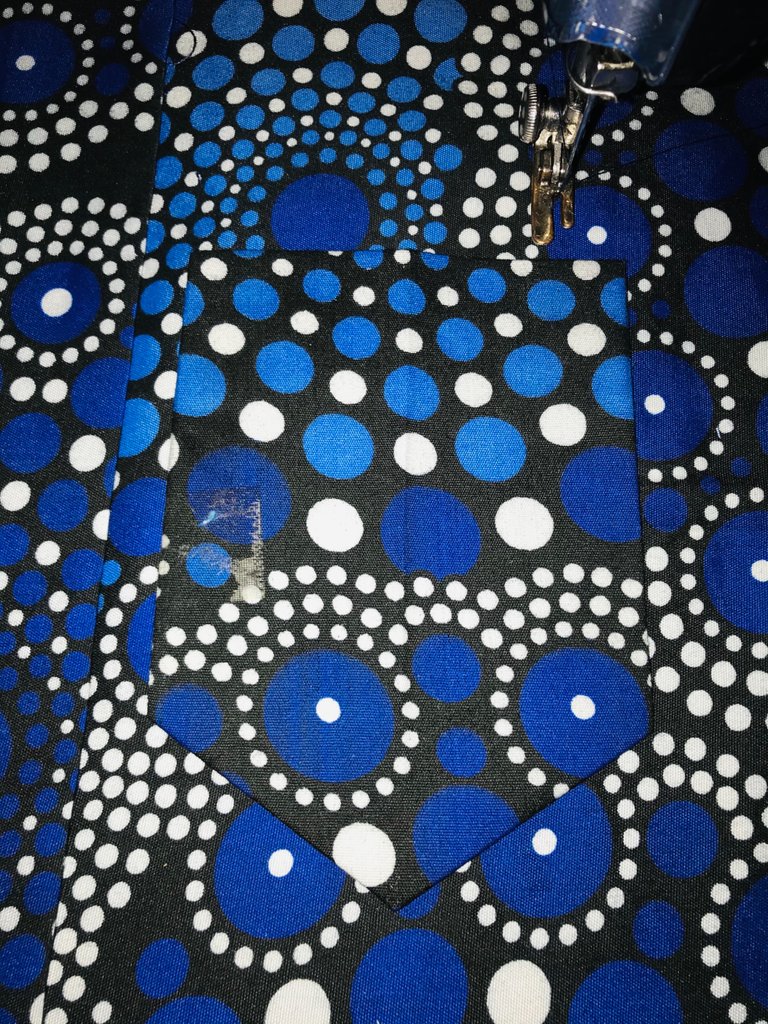 Fourth step:
I took the sky blue fabric and I sewed size of 4inches same size as the pocket is and I made the down part to be v in shape just like I did on the pocket so now I took it to the top of the pocket and I sewed it on the top part and now have a pocket cover on the front. I did that on the both pocket.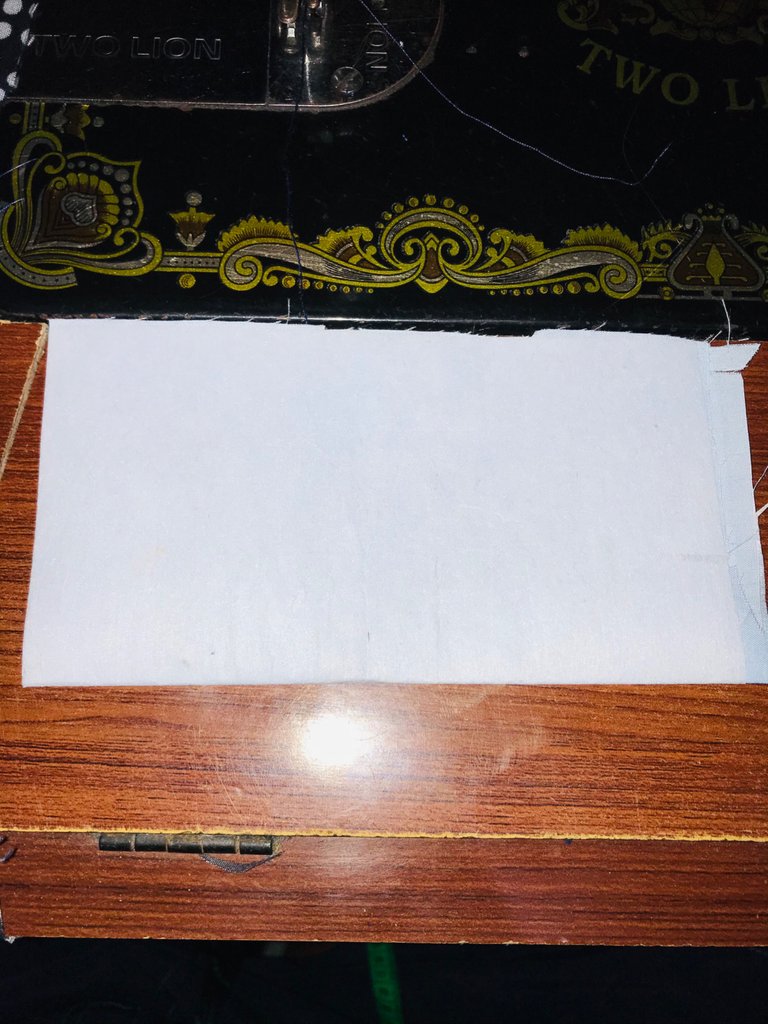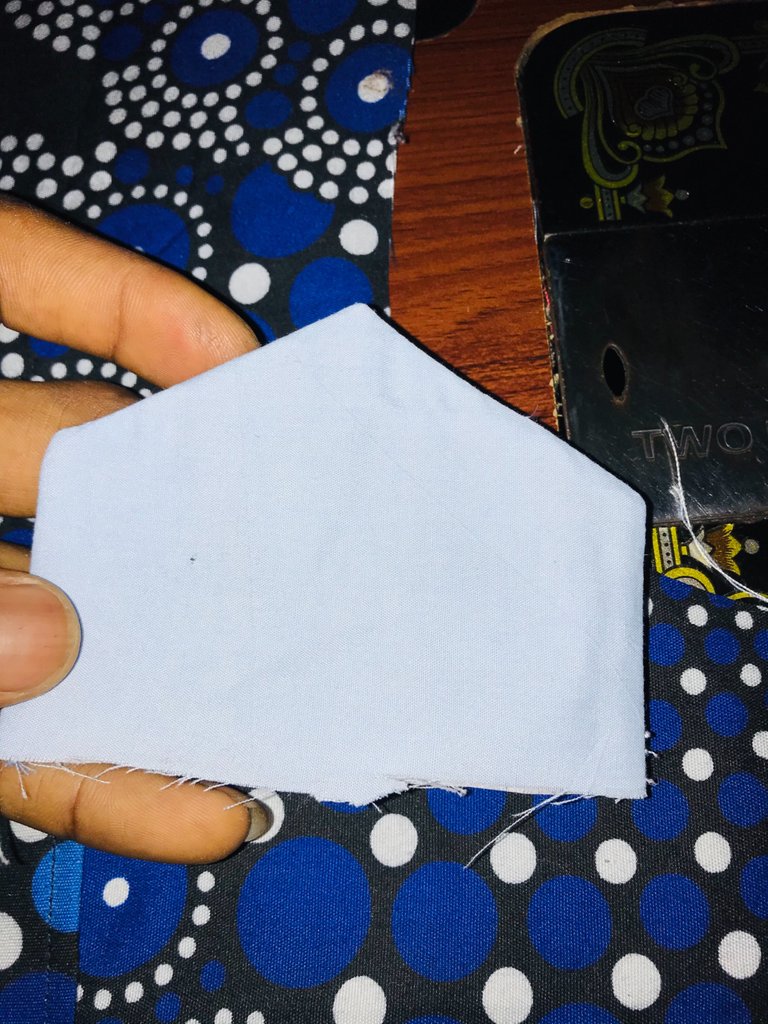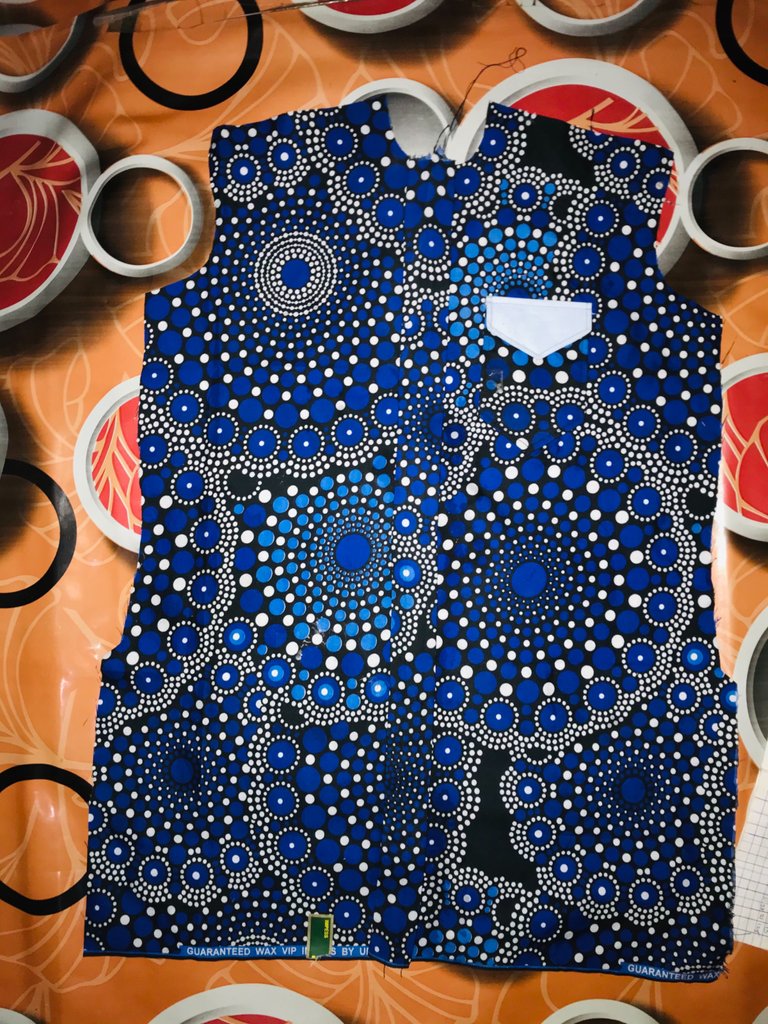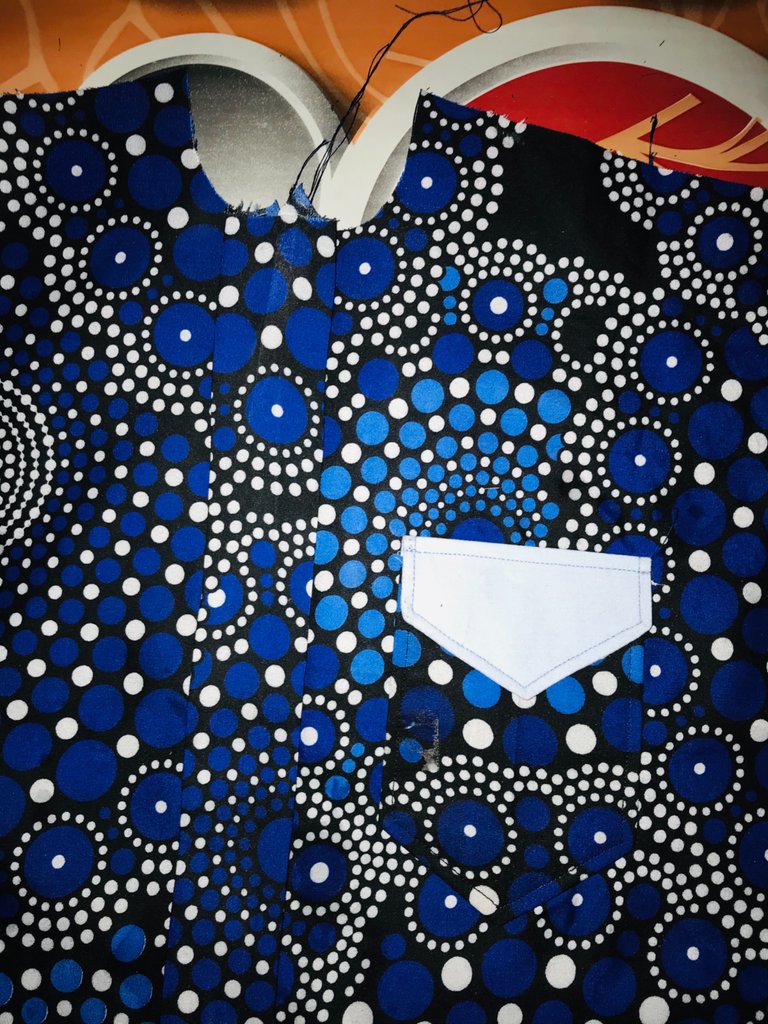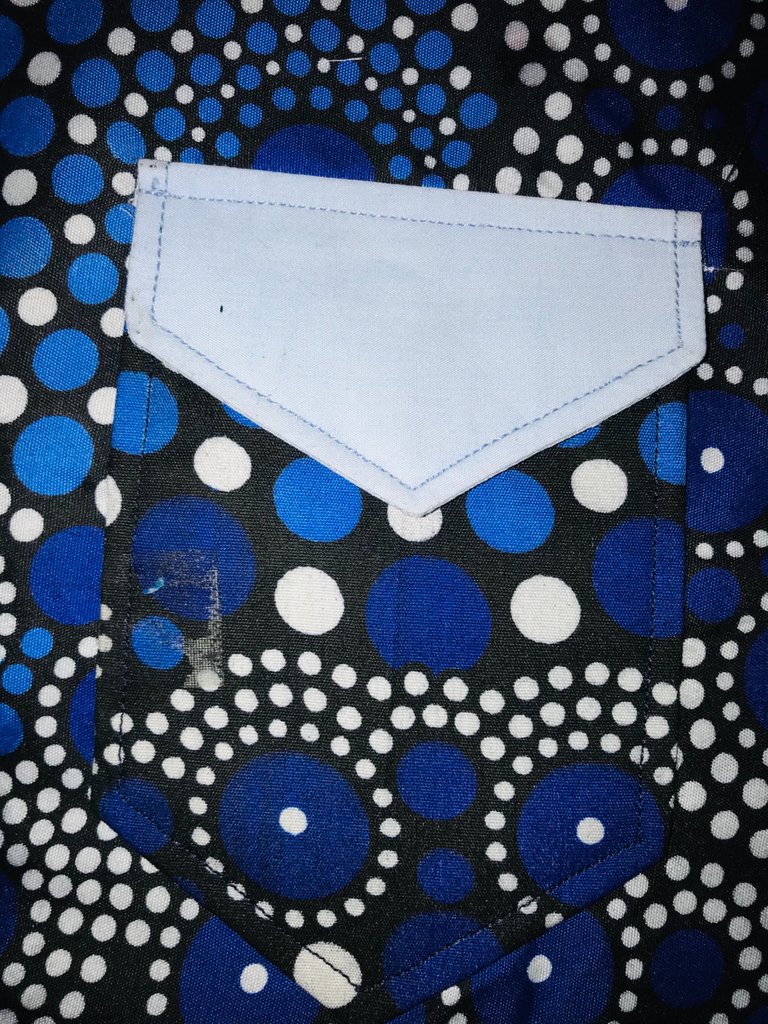 Fifth step:
Now I joined the shoulder and I used the sky blue fabric to pipe the neck
too and I added a readymade zip at the left side of the top and and trimmed and joined the both sleeves and joined the body as well and the top was ready after I had bend the length of the top.
Now the outfit is ready for my client to use tomorrow to a traditional marriage.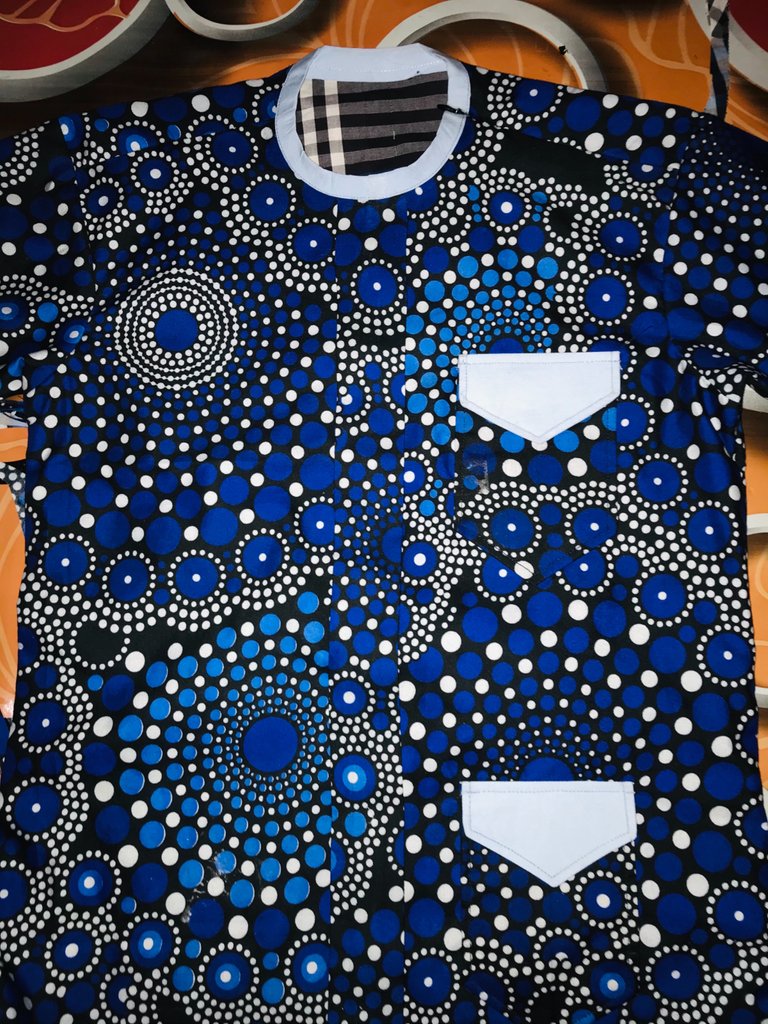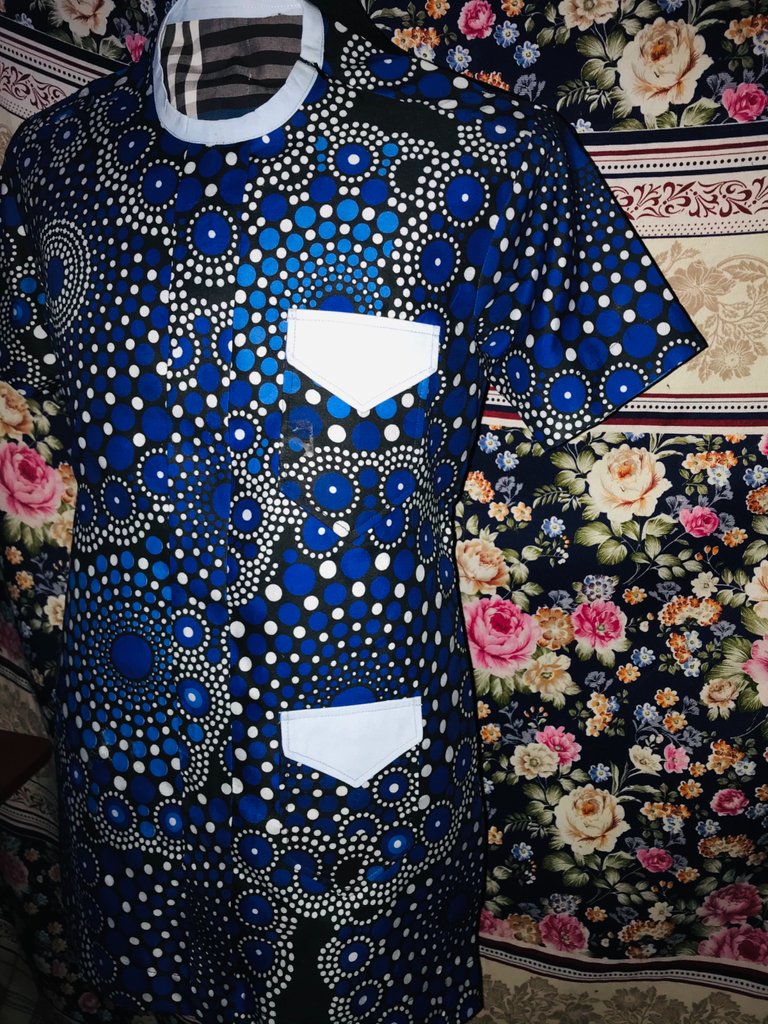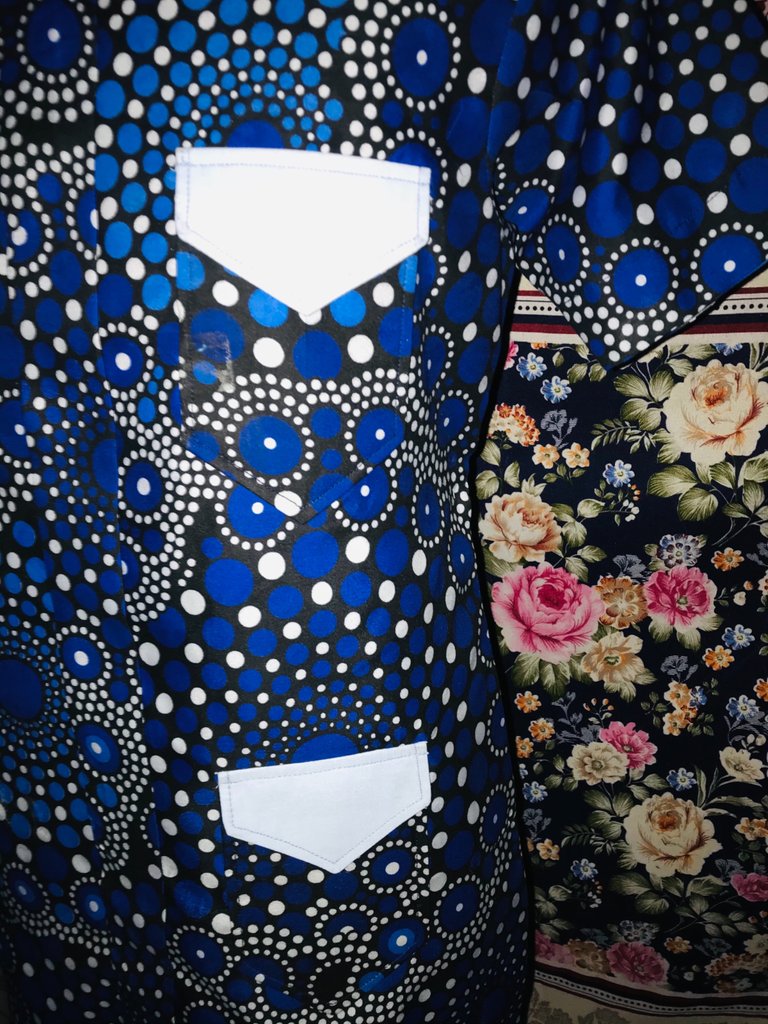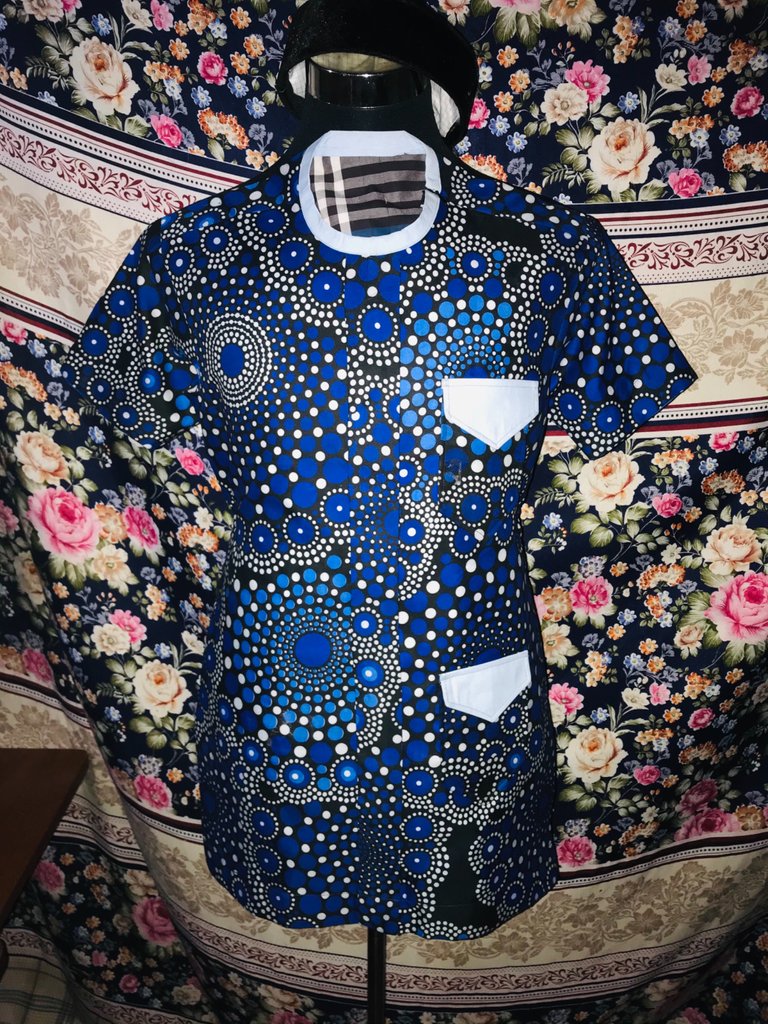 Thanks guys for your time, and for always comment on my post I say a big thank you to you all, I really appreciate it's an encouragement to me to strive and work hard more .😊 good morning to you all have a lovely sleep, it's actually midnight over here this pass 2am am done too am heading to bed but before that I had to post to you guys first.