Hello hivans, my friends, my follow needleworksmonday friends 😊 it's me again on your screen, @smilestitches your favorite brand that gives you the best!!
Firstly let me start by congratulating us all by The Almighty's grace we've made it to another new year so I say happy new year to you all guys and welcome to 2022, I really thank God for keeping us safe throughout the pasted 365 days and ushering us into another brand new year of greatness, guys it has just been God although, if not for him being so protective towards us maybe we wouldn't have made it to the wonderful year and me especially I would have been dead by now but you see God has just been keeping the promises he made to us in his scripture (psalm 121:7-8 it's says, The Lord will keep you from all harm- he will watch over your life; 8 the Lord will watch over your coming and going both now and forevermore). So you see God is and will always be faithful so friends once again I say happy new year to you all,
My prayers for us all this new year:
May God always be there by our side to show us the right part even when no one is there for us.
I also pray may every idea of ours this year turn into gold and sparkle.
I pray for all hivans that this year you'll receive a supernatural idea that will immediately shoot you to the top with ease.
May the wisdom for exploration come upon us all this year.
Any and everything we lay our hands on this year will be fruitful and give birth to more greater thing.
Our going out and coming in will be safe.
God shall collapse time on our behave, something that should have taken us a year to accomplish by God's grace we'll be done with it in space of 3 months.
This year we shall never lack anything good thing that will make our life meaningful.
This year God shall provide all our needs according to his riches in glory.
This year we'll attend super amazing ideas that will cause the world to look for us, ideas that will give us access into royal court where kings are.
I pray for ideas that will make us seat with kings.
This year we shall never be find our selves in situations that we will wish for death.
This year our families, friends, loved ones, well wishers, admirers everyone we know shall be safe from any sort of harm or bad situation.
This year shall be the most prosperous year ever for us all.
This year we shall be blessed beyond all measures.
My advice to us all this new year:
It's a new year, a new beginning don't think that what didn't work last year won't or can't work this year, try approaching it differently this time it will surely work this time.
Never be afraid of attempting something new, always remember that there's a king in and what ever you do be bold and courageous.
Never look down on your abilities there's more to what you can be and achieve than you think, just be brave and be courageous because the Bible says, that he that his in you, is greater than he that his in the world, so you have all it takes to be great within your reach just be bold and raise up let's move together.
So friends those are my prayers and advice to you all this new year and welcome to this new year of greatness.
I want to share with all this outfit I just finish sewing for my client just stay connected to your preferred brand @smilestitches😊. So this outfit I want to share with you all is actually a Jean shirt with quarter hand and it's for the new year outing 😂 my client specifically told me that I should measure his fiancée also than I should sew for her too, my client said that his taking his fiancée out for a date today 😊 I actually perceive my client is going to propose to her 😂 so friends watch closely while I take you on an adventure trip on how I got the both outfit made😊.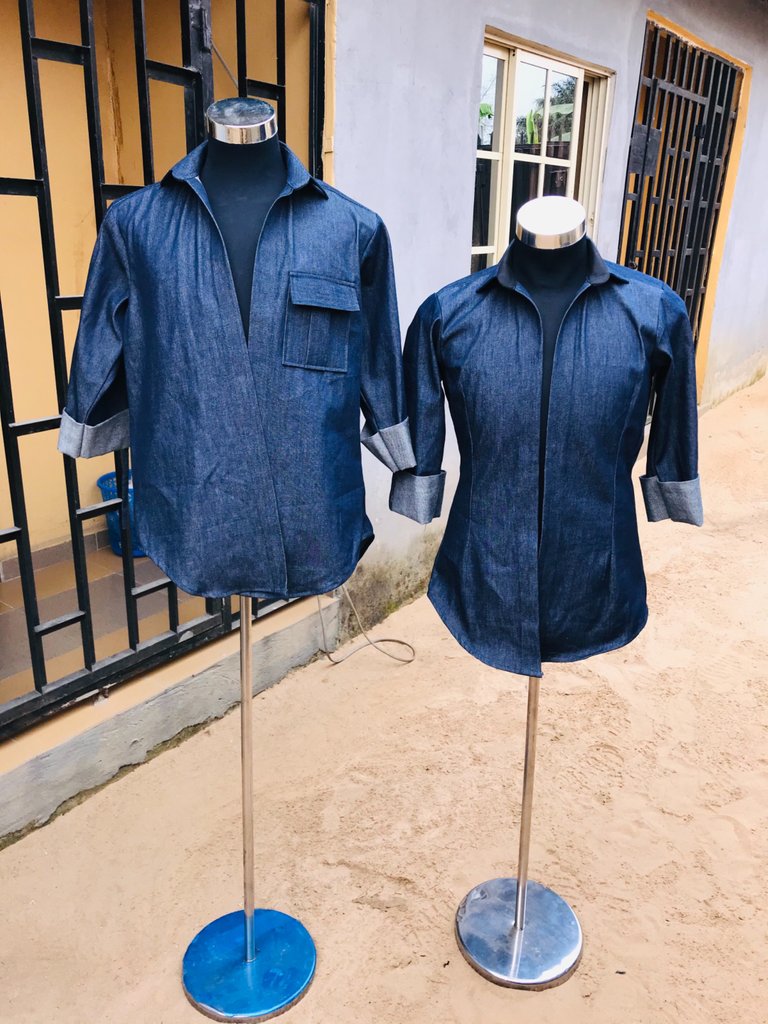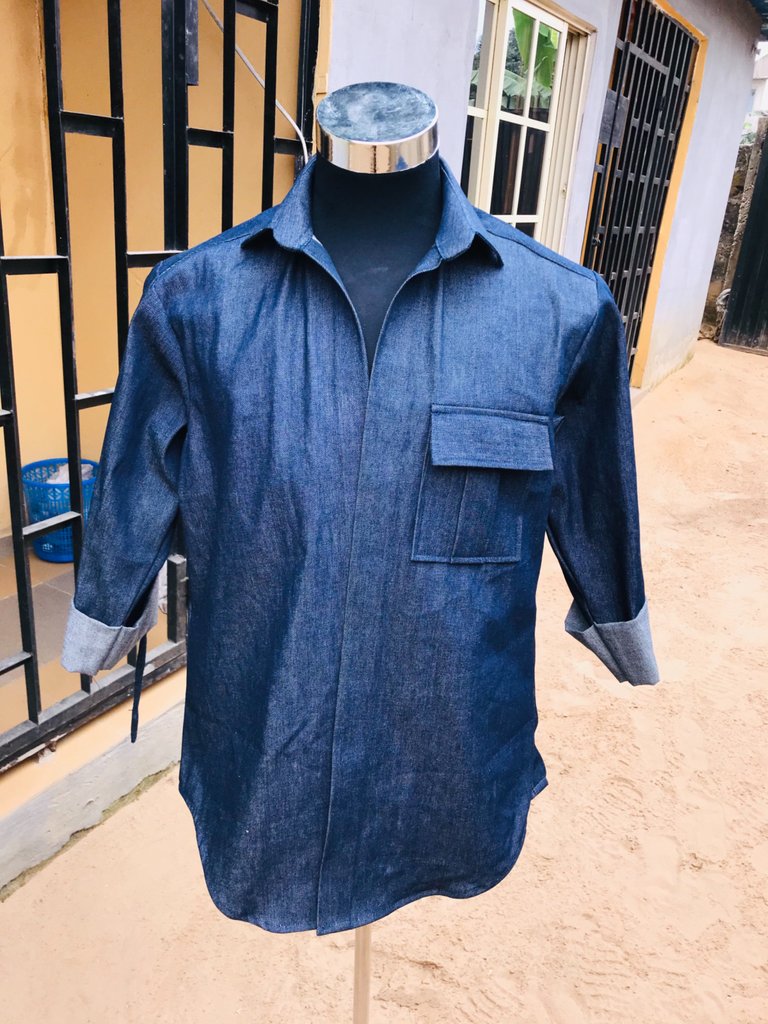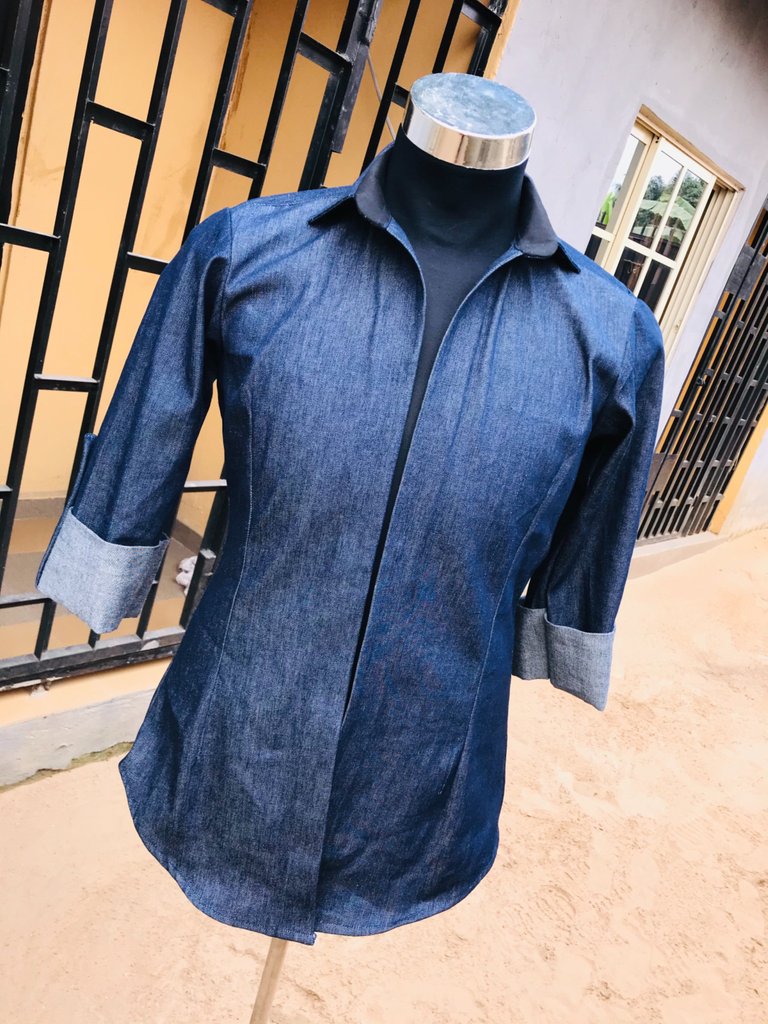 Items used:
A blue Jean fabric
Collar gum
Aiming gum
Paper gum.
My sewing processes:
Step 1:
I took the blue Jean fabric, I lay and drew out my client measurement after I had skipped 2inches at the front before drawing out the measurement, I kept that 2inches space for the buttons and the button holes so after that I cut it out,I did same with his fiancée's own, I cut them both out.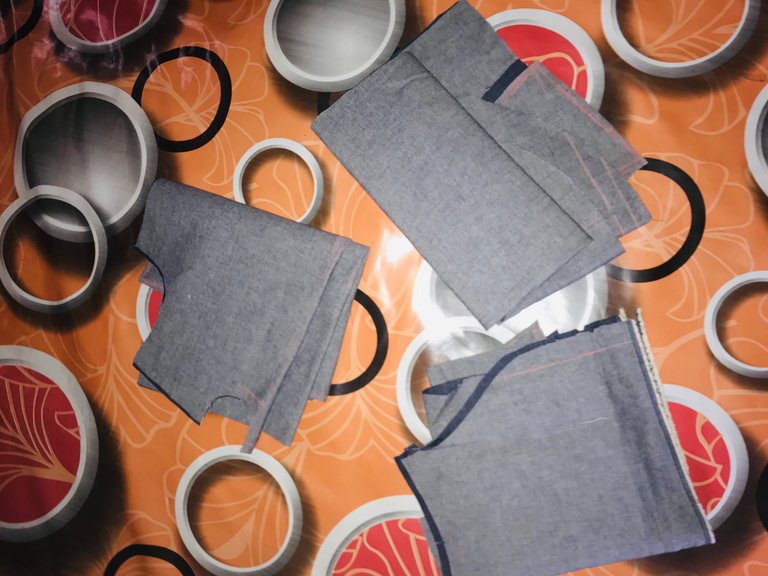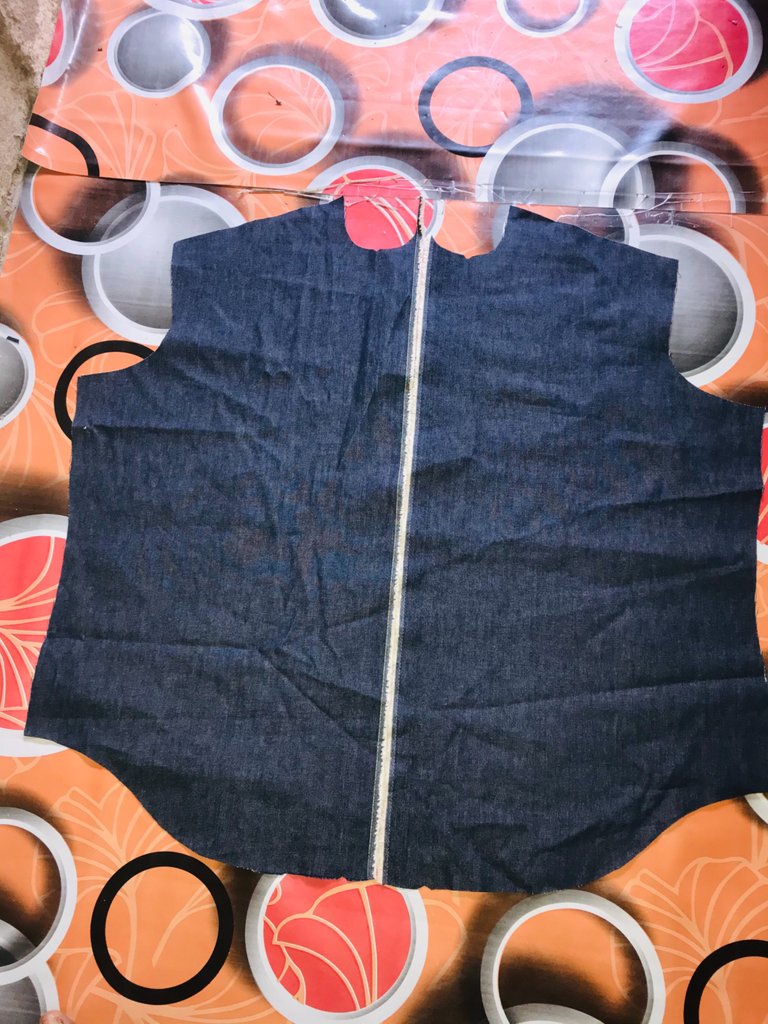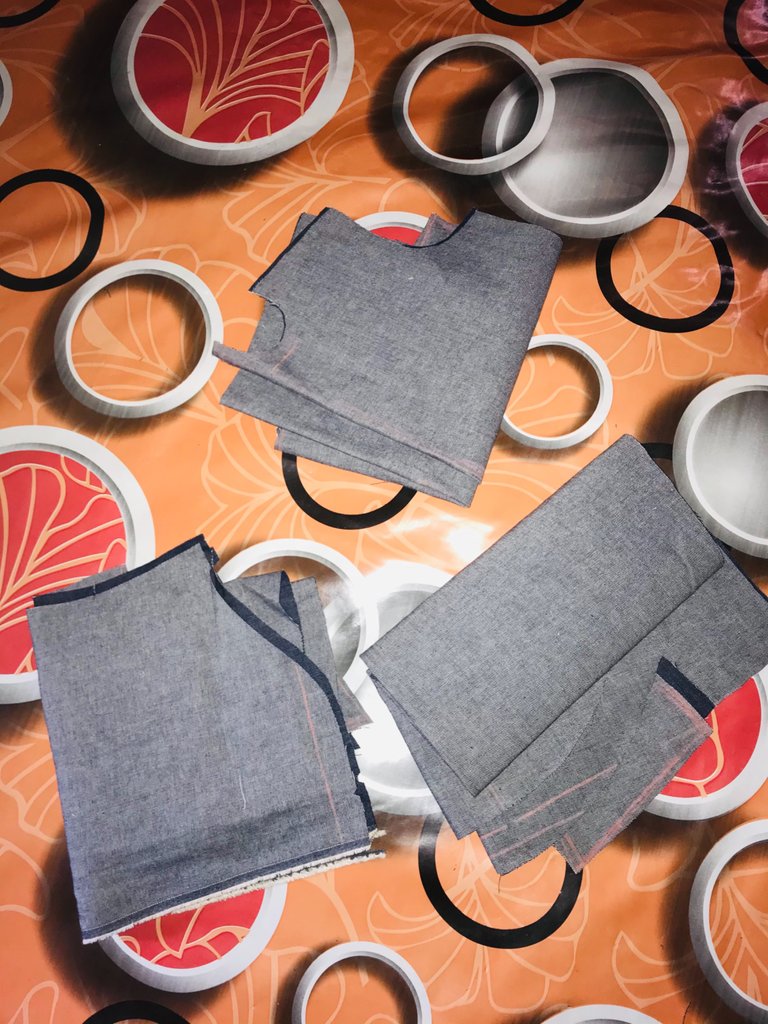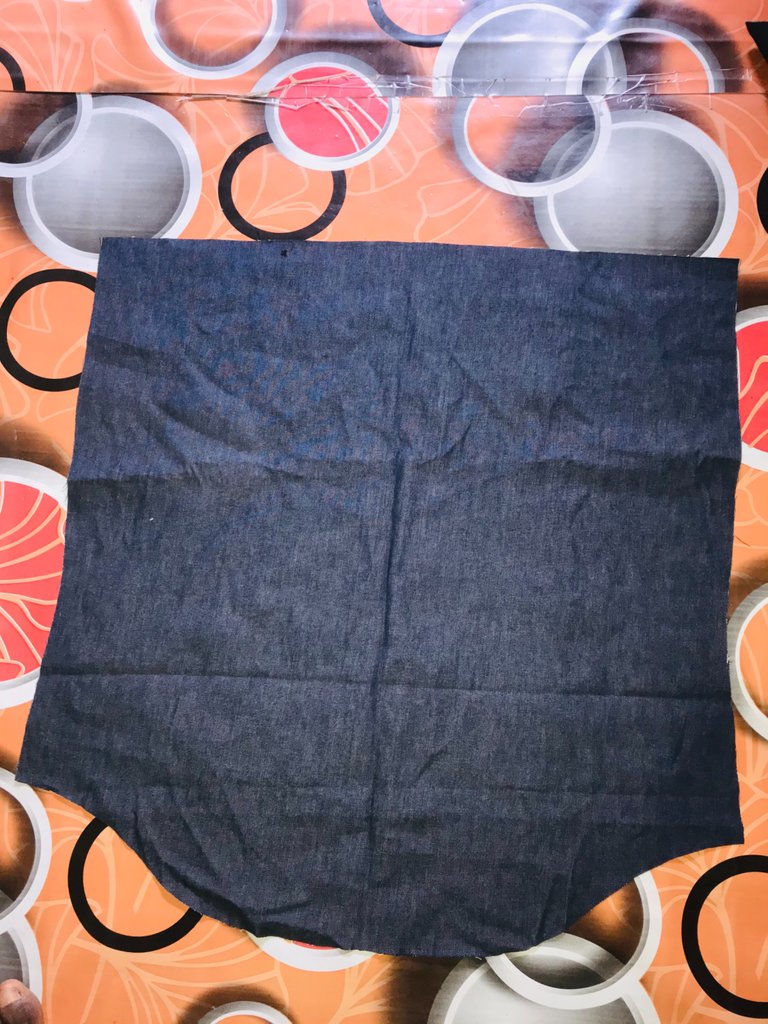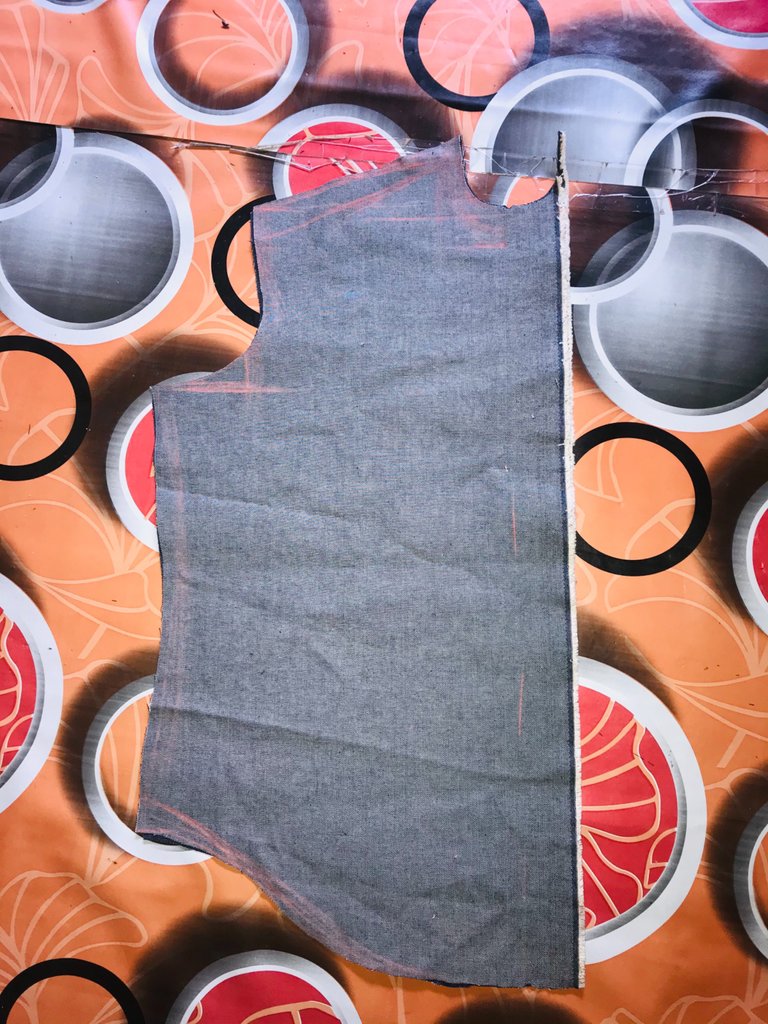 And as usual I used the already cut out front to cut out the rest part of the shirt.
Step 2:
After I had cut them out, I took the fronts to my iron and I bend to the back view those 2inches I kept for the buttons and the hole so for the client I bend the left side big cause that side is always fit the button holes, then I bend the right side small cause the right side is always for the buttons alone and after the bending I now put my aiming gum inside the already bend 2inches and I sprinkled some water and I press an iron to it actually this aiming gum is like a liquid gum but it's not in a liquid form, it's in a tape form so anything you want to glue together you just have to put the aiming gum in the middle of the thing just sprinkle some water at the top of it and press iron and it will just glue together. So I added the aiming gum to that front I bend inside and after that I did same to his fiancée's own.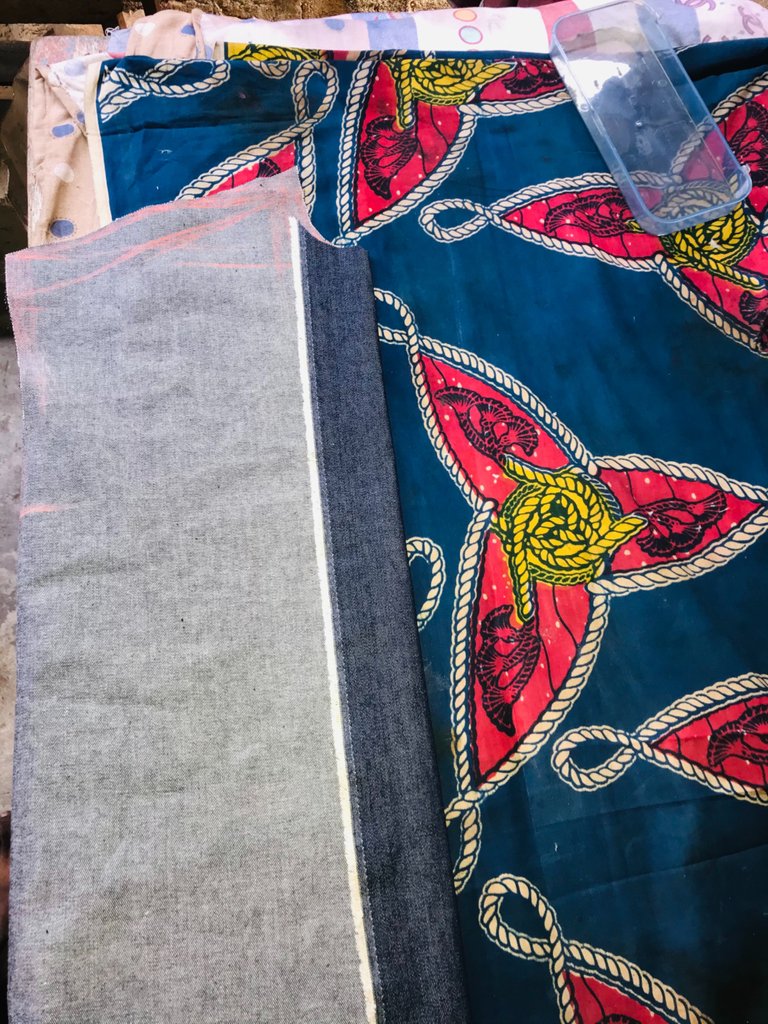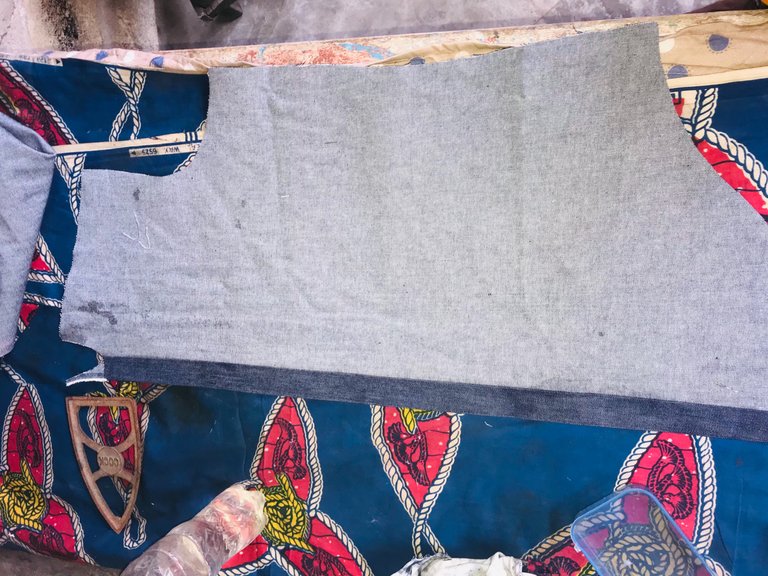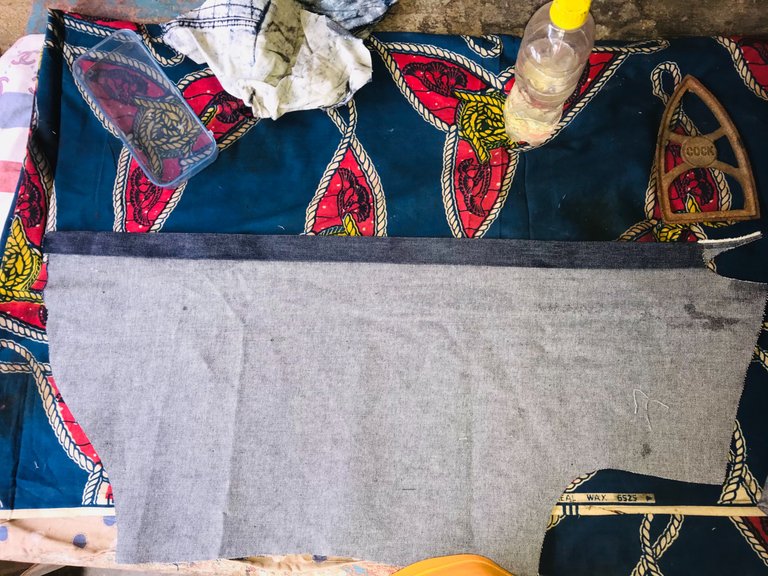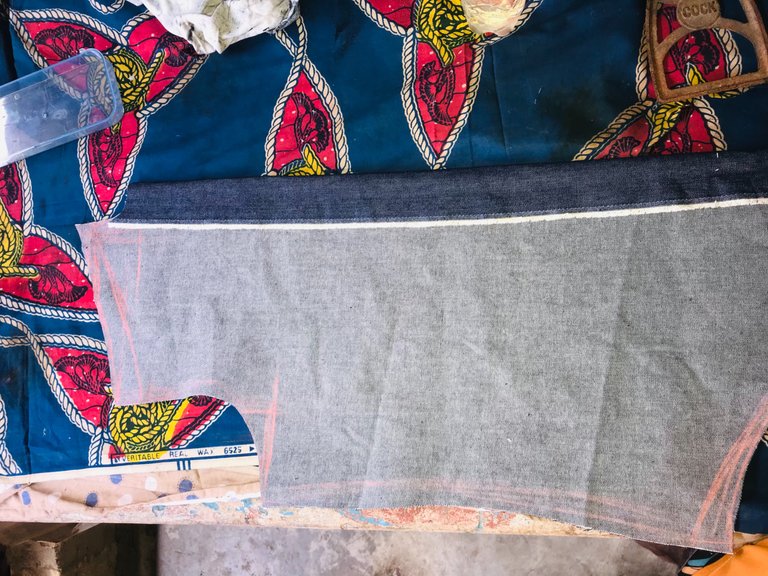 Step 3:
I was asked to put a side pocket at only my client own not with his fiancée's own. So I took the Jean fabric, I cut size of 6inches and length of 7inches, I first bend it into two and I sewed I sewed out 1inches from the top to the down part of the piece, after that I opened it and I bend the top in to form the pocket mouth, and then I took it to my iron and ironed out size of 4.5inches and length of 5.7inches and after that I then took it to the material and i place it at the left side of the front and I sewed it together.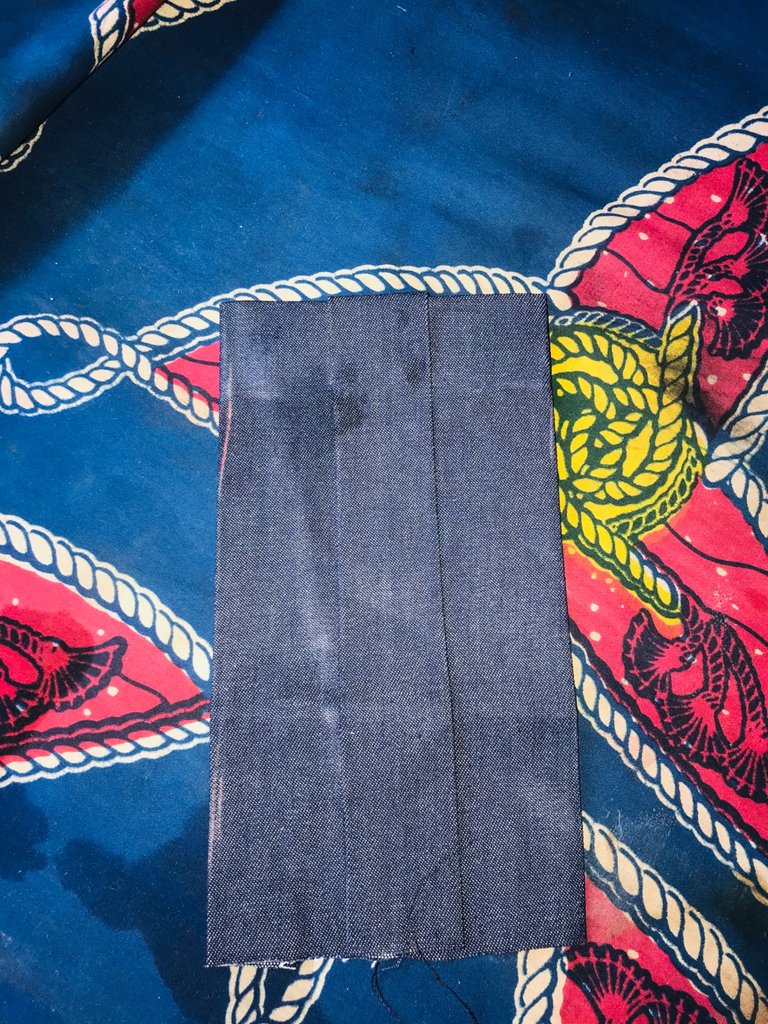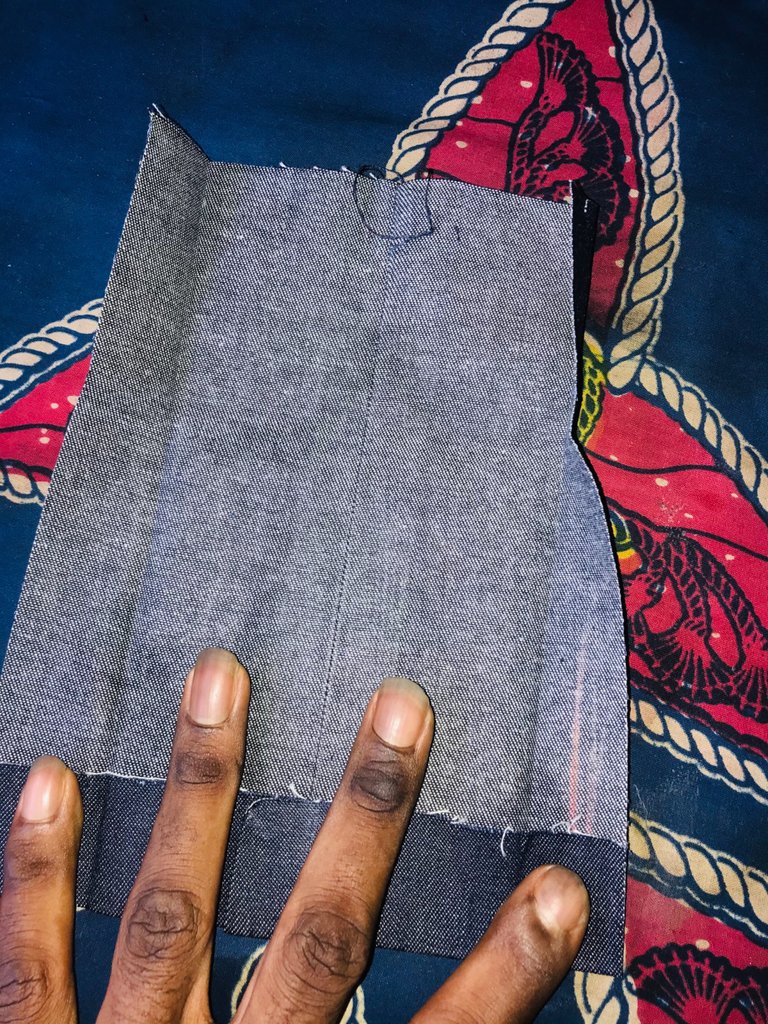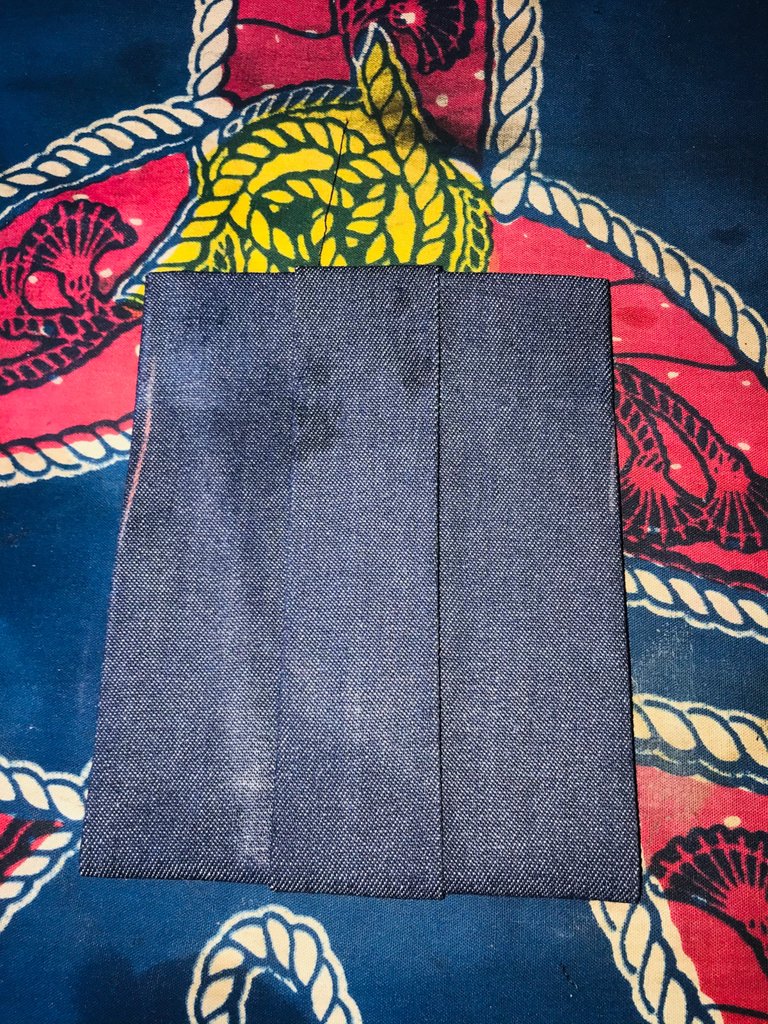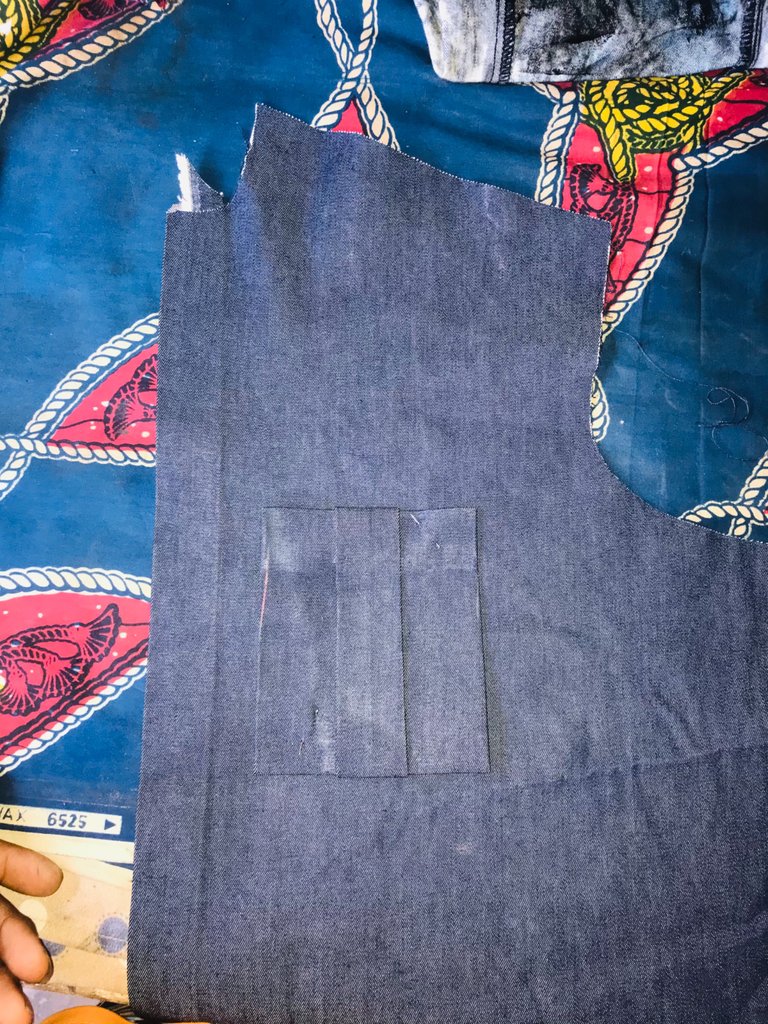 After that was done I then took my paper gum and I cut out size of 5inches and length of 3inches and I gummed it on the Jean fabric and I bend it after that into two and I indicated the pocket mouth that's the top that was 4.5inches
I did same the paper gum I cut, I wanted doing the pocket cover so after that I sewed it same size like the pocket and after that I turned it to the front and I place it on top of the pocket and I sewed it.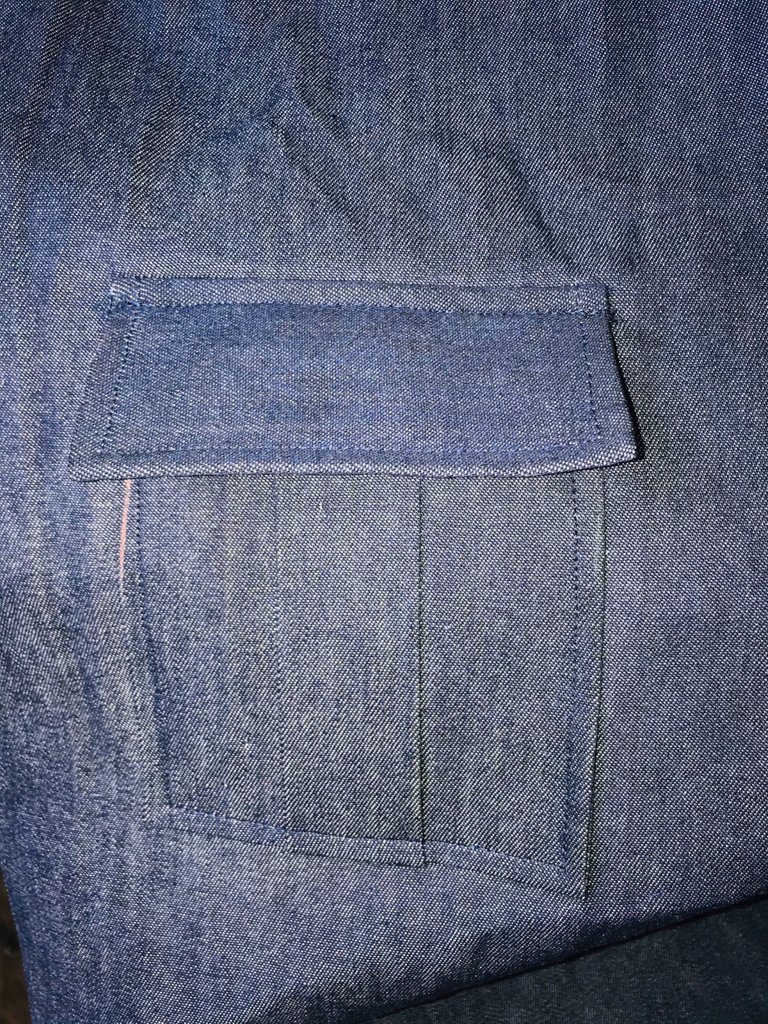 Step 4:
I took the hand since it was to be a quarter hand and the hand measurement I took was 17inches while his fiancée's own was 15inches so I added 6inches to the normal hand measurement, after that I then cut it out.
Now I bend it to the front, and the back view was showing on the front. And I prepare I turn over that will rap from the down to the top of the front. I did same to his fiancée's own.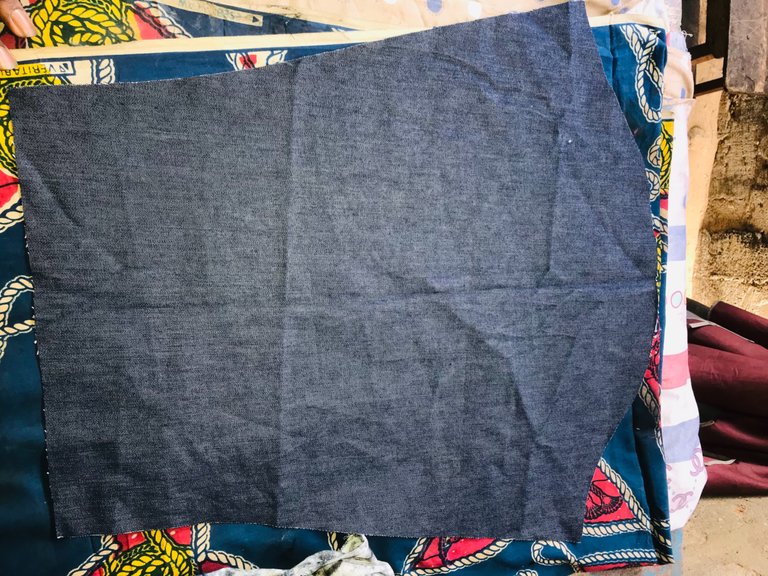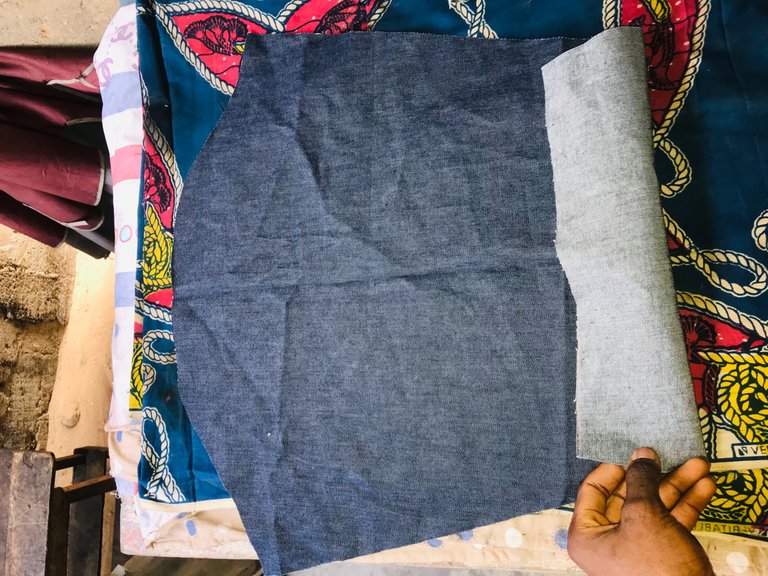 Step 5:
I then joined the back to the front and I trimmed the shoulder and included the both sleeves and I joined the body size to my client's measurement and now I was done with my client's own and I did same to his fiancée's own but I did what we call "DAT" on the both side of the front both the left and the right side that's what is making the fiancée's own look very shaped than his own.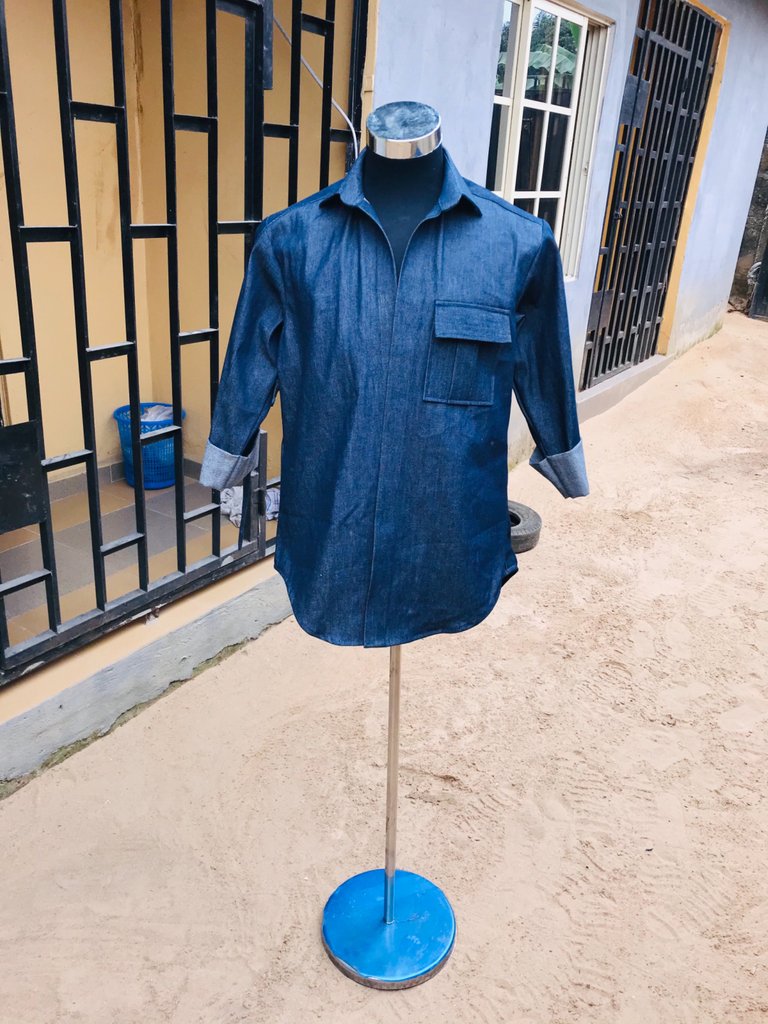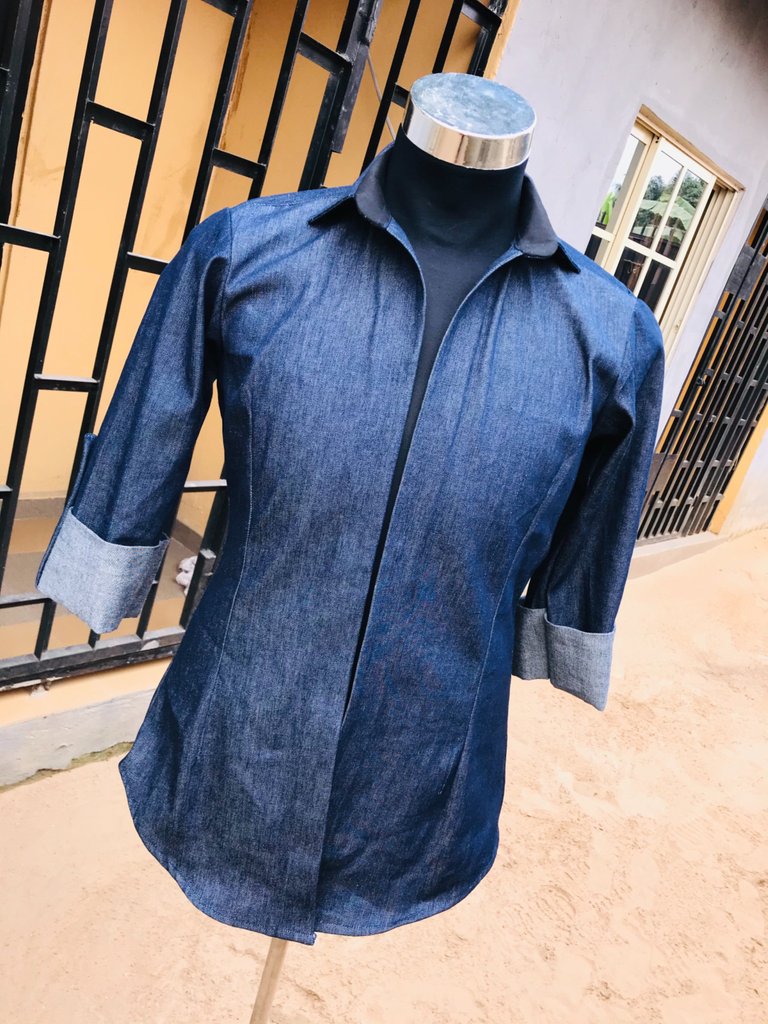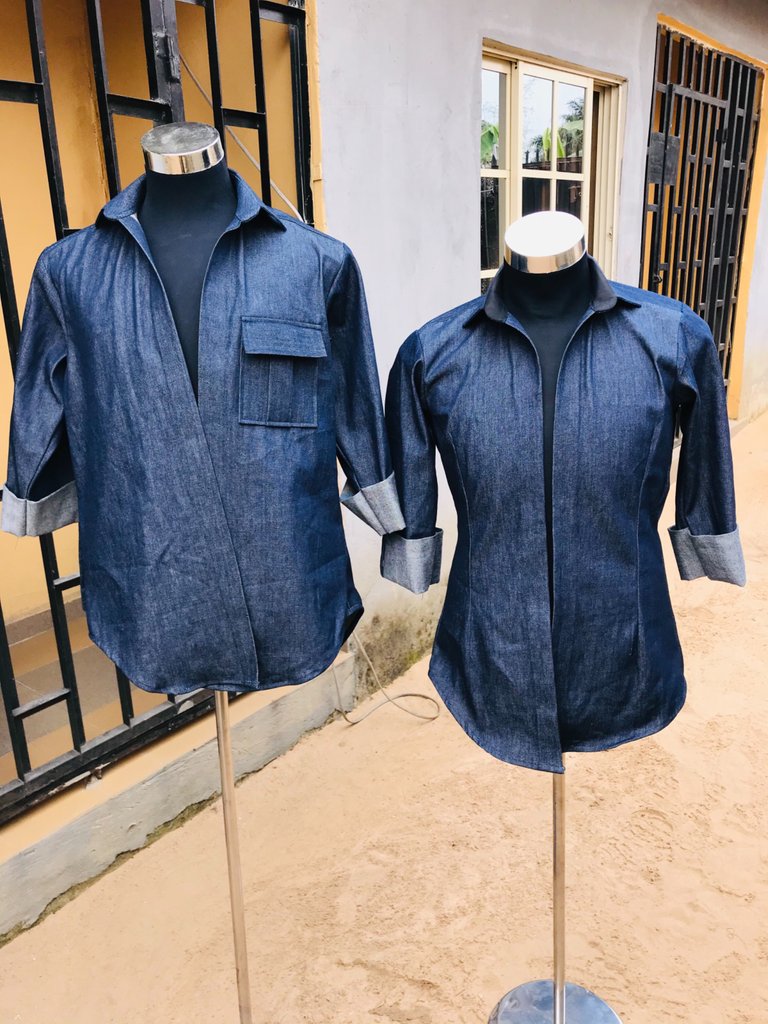 Step 6:
I cut my collar gum in there neck size I prepared it and I fixed it to the shirt and I bend the down part and with this I was done with my client's shirt.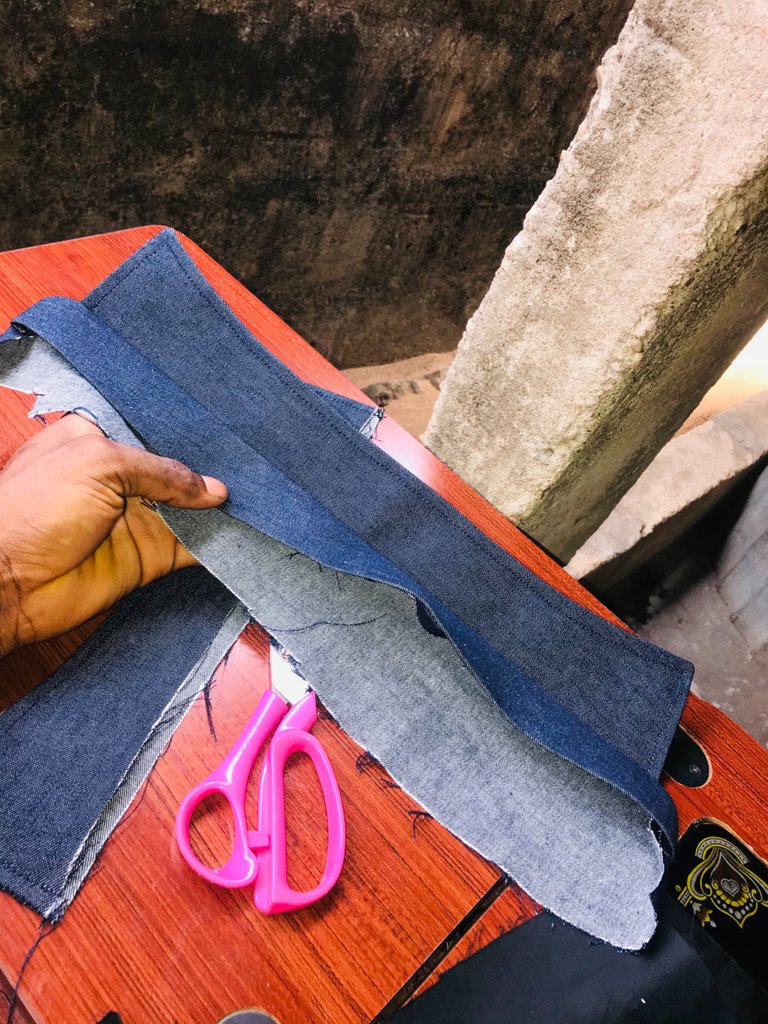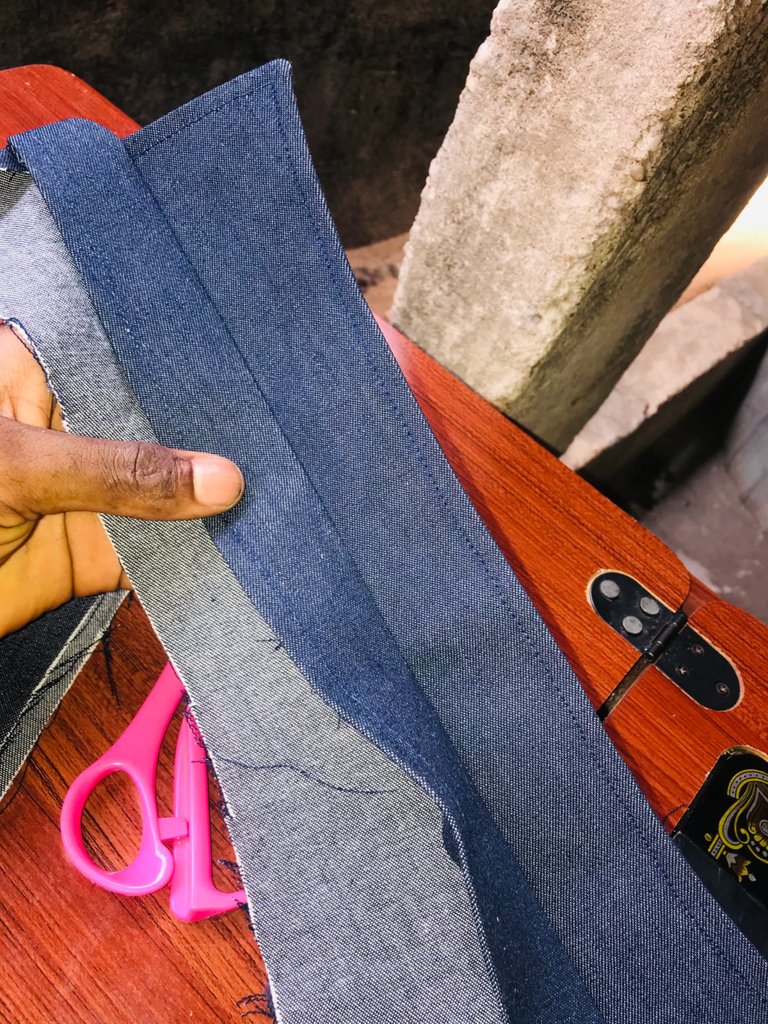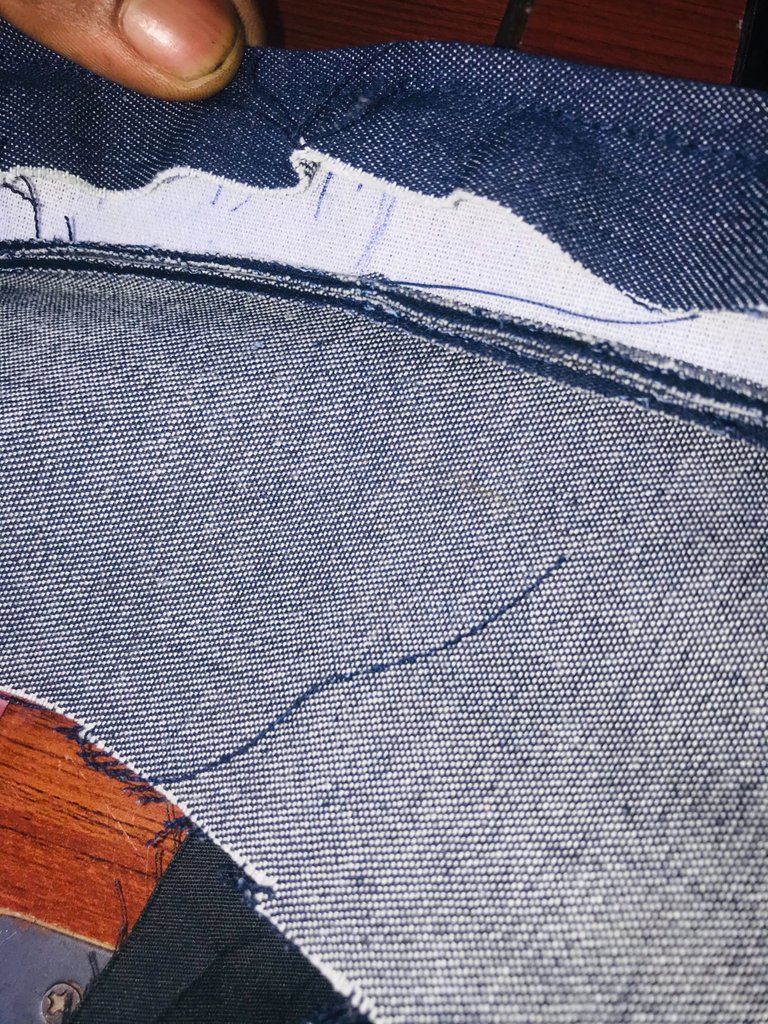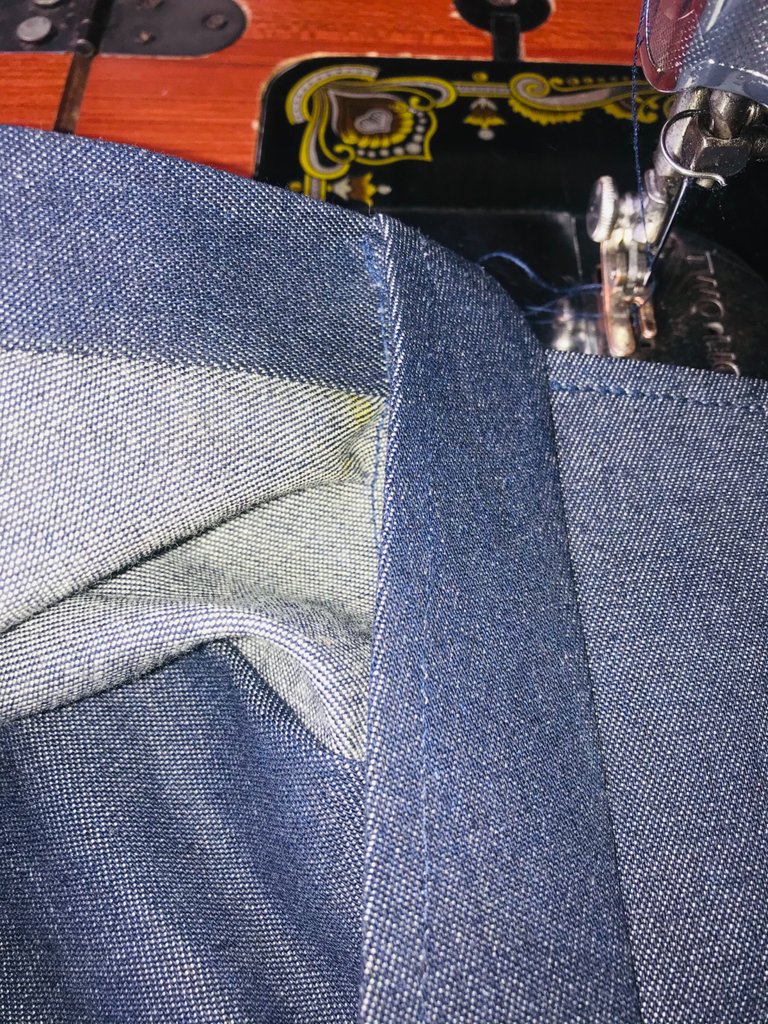 Thanks guys for your time going to my blog and for always commenting and encouraging me to do more I say may God bless and increase you all this new amen!! 🙏🏽 🙏🏽 🙏🏽 . And I wish you all one again a very big happy new year and month, much love ❤️ 💕 💗💝💛💚💙🤎🤍🖤💜💘💖💗 different shades and colors of love from your favorite brand @smilestitches to you this new year!! I say may prosperity come upon everything we do this year amen!! 🙏🏽 🙏🏽 .
Stay safe and always be blessed!!!!