Good day, my amazing fellow needleworkers and friends on the hive blockchain! The day has been filled with both emotions, but I'm grateful for how far I've come, and on that note, I will be sharing a tutorial of how I made these beautiful and yet gorgeous nude color leather slippers for my sister-in-law and her daughter as a gift to appreciate how much of a blessing she's been to our family.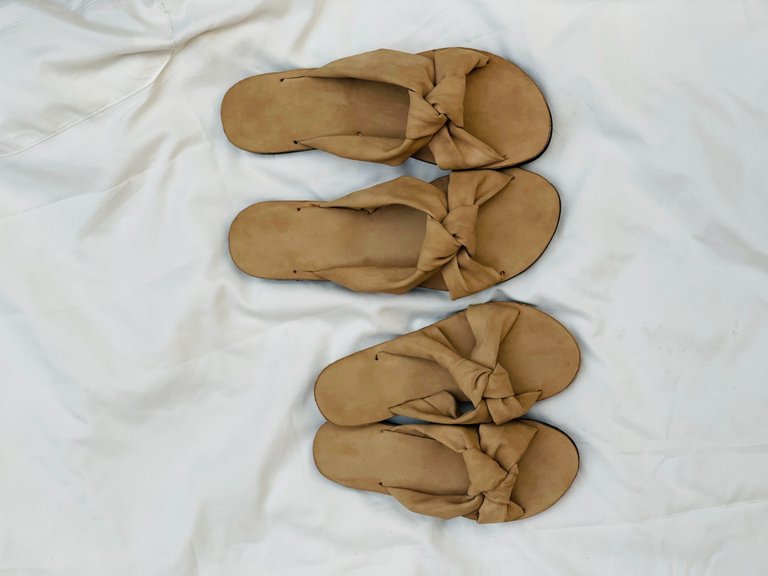 It was meant to be a new year's gift, but for some reason and in a situation beyond my control, I couldn't make it nor deliver it as at that time. But immediately, feeling relief from what got me engaged, I set out to work by first visiting the market. I'm familiar with the undying love ladies have for the nude color, so I decided to purchase it so she'd cherish it more.

So without delaying you or wasting much of your time, below I'll list the items used for the making of the nude leather slippers and the step-by-step process of how it was achieved.

LIST OF ITEMS USED
Nude colour leather
Fiber insole board
Nude colour leather lining
Oci gum
Nora

THE MAKING GUIDE
The very first thing I did after getting all the items needed was to cut my nude colour leather material in a straight in shape, after which o turn the face of the fabric on each other and sew a straight line on the edge of the wrong side of the leather, after the sewing I just turn out the right part outside.
| Turning | Sewing |
| --- | --- |
| | |
---
After completing the sewing of the nude colour leather for the upper parts of the slippers, I cut the fiber insole board into her foot shape with extra inches, I put gum on the fiber and wrap it the nude colour leather on it, I also use my cutter to cut some hole where I'll put the upper through.
To put the upper through it, I first tides a notch in the way I desired and put it through the holes.
---
The final process involves putting gum on the back of the fiber and the Nora for outsole that I cut in the exact shape of the initial fiber, after that I joined both together. And that completed the making, I also hot around the slippers with a hammer for solid joining.
---
Here is the one made for the daughter who happens to be my niece.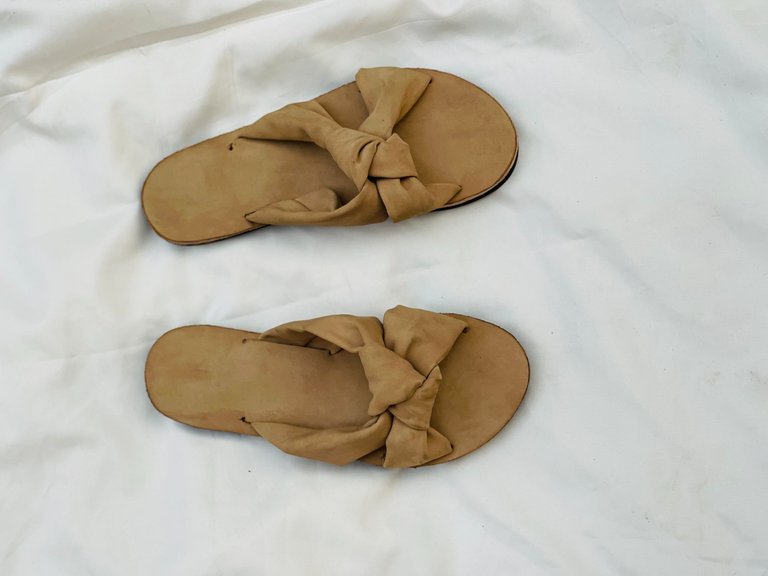 And these is the one made for my sister-in-law, both look alike because the mindset was to make a marching slippers for both of them.


Thanks so much for reading through, I hope you had a great time reading through the tutorial, I'll be sharing more subsequently, stay bless.
Have a blessed and productive day.