Hello, dear readers
         Today, we continue the steps in the making of Embla, my first Venezuelan cuatro. If you found this story in this entry, please go and check the previous one here.
Buen día, estimados lectores.

Hoy continuaremos viendo los pasos en la construcción de Embla, mi primer cuatro venezolano. Si acabas de encontrar esta publicación, te sugiero que des click aquí para ver la primera parte.
---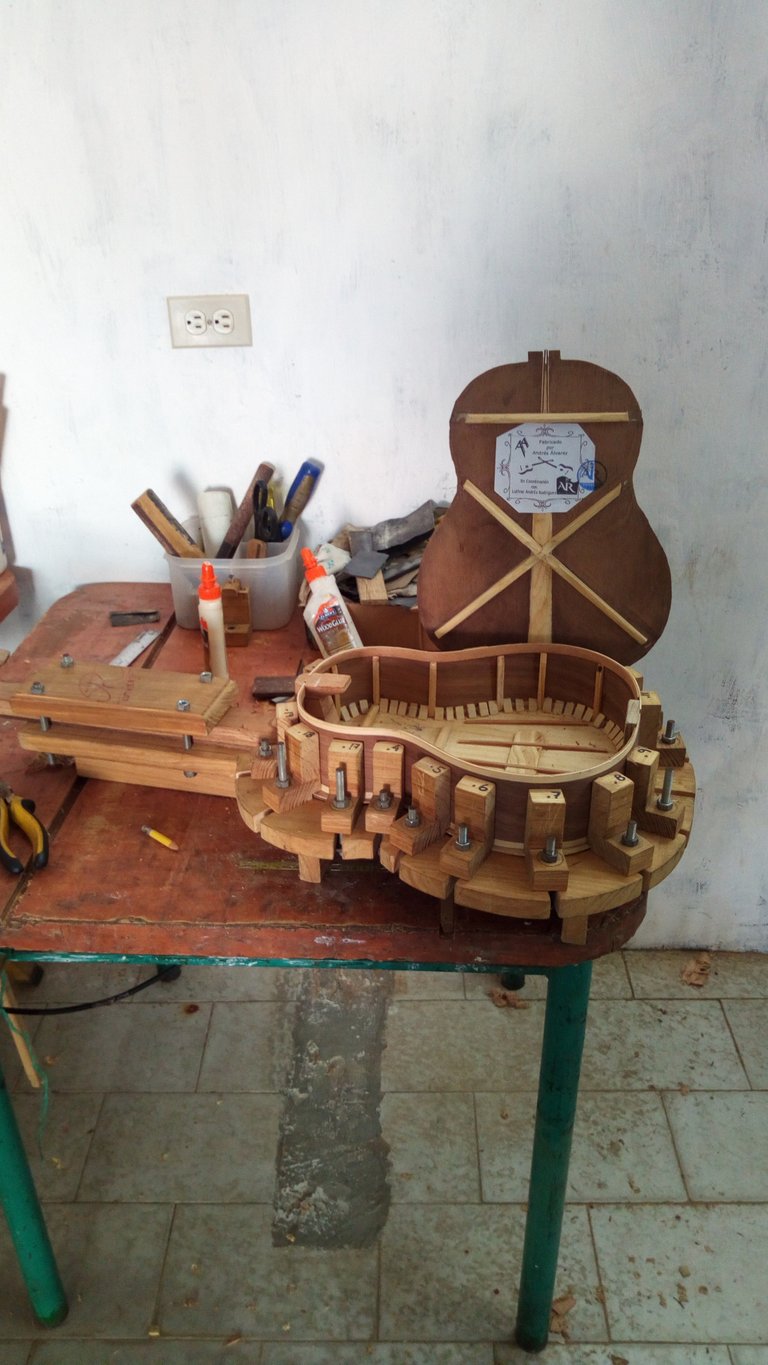 This will be the longest entry in this series. There's a lot of ground to cover and for the first time you'll the big pieces that have been worked before coming together. Yes, this is the day the cuatro was put together!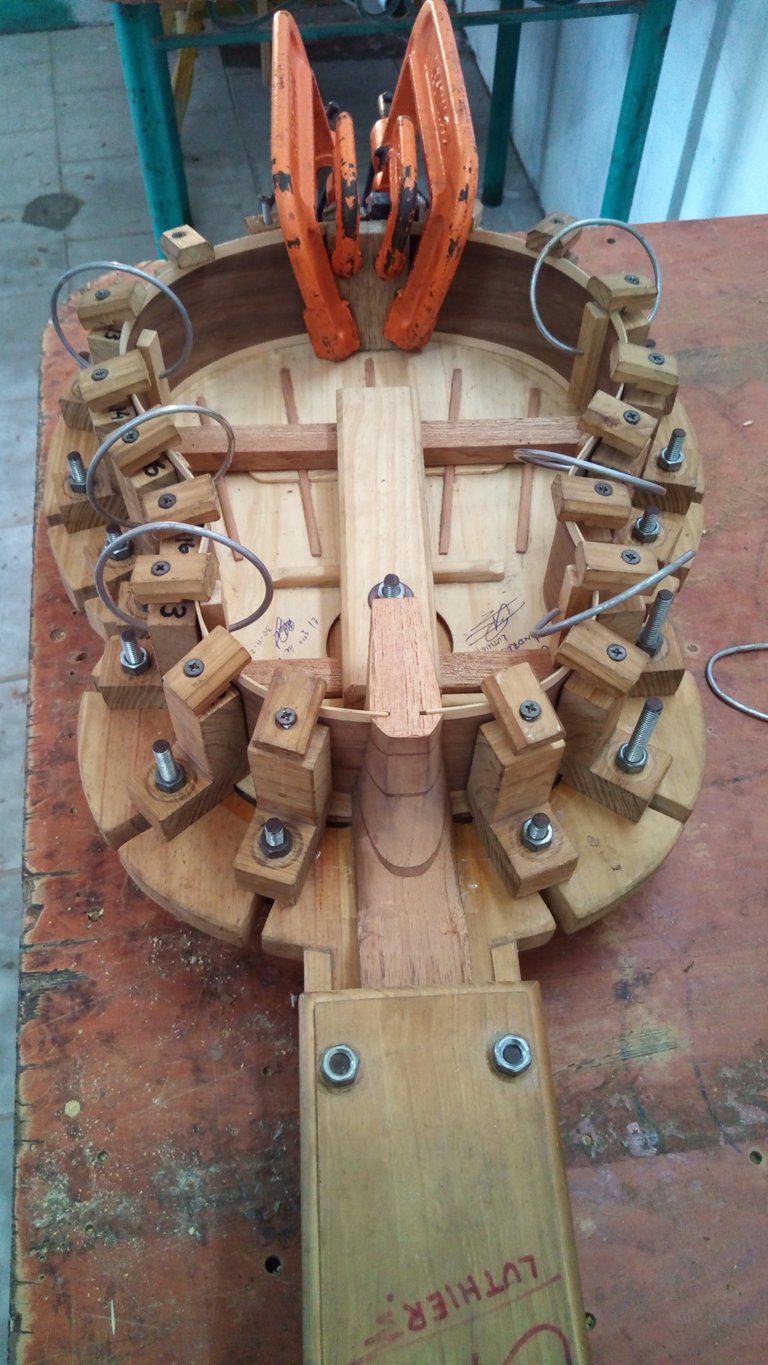 Neck, ready. Back, ready. Top, ready. But something is missing to have the body of the instrument complete. Yes, the sides of the body. This was a long day of work at the workshop. First, we needed the pieces of wood. After we even them, we use this weird looking device. It is basically a lightbulb inside a can. Maybe you know about the round iron luthiers use in other countries. This is the second-best thing compared to that. It is also way cheaper to make. This will help us to bend the sides to have that characteristic 8-shaped figure of the instrument. I have to confess that this was the part of the construction that had me on my nerves. I didn't want to break these pieces bending them. So, each time I heard a cracking sound, I would stop. Give the wood some time to relax. Then, try again. With a lot of patience and advice I was able to complete this part with flying colors.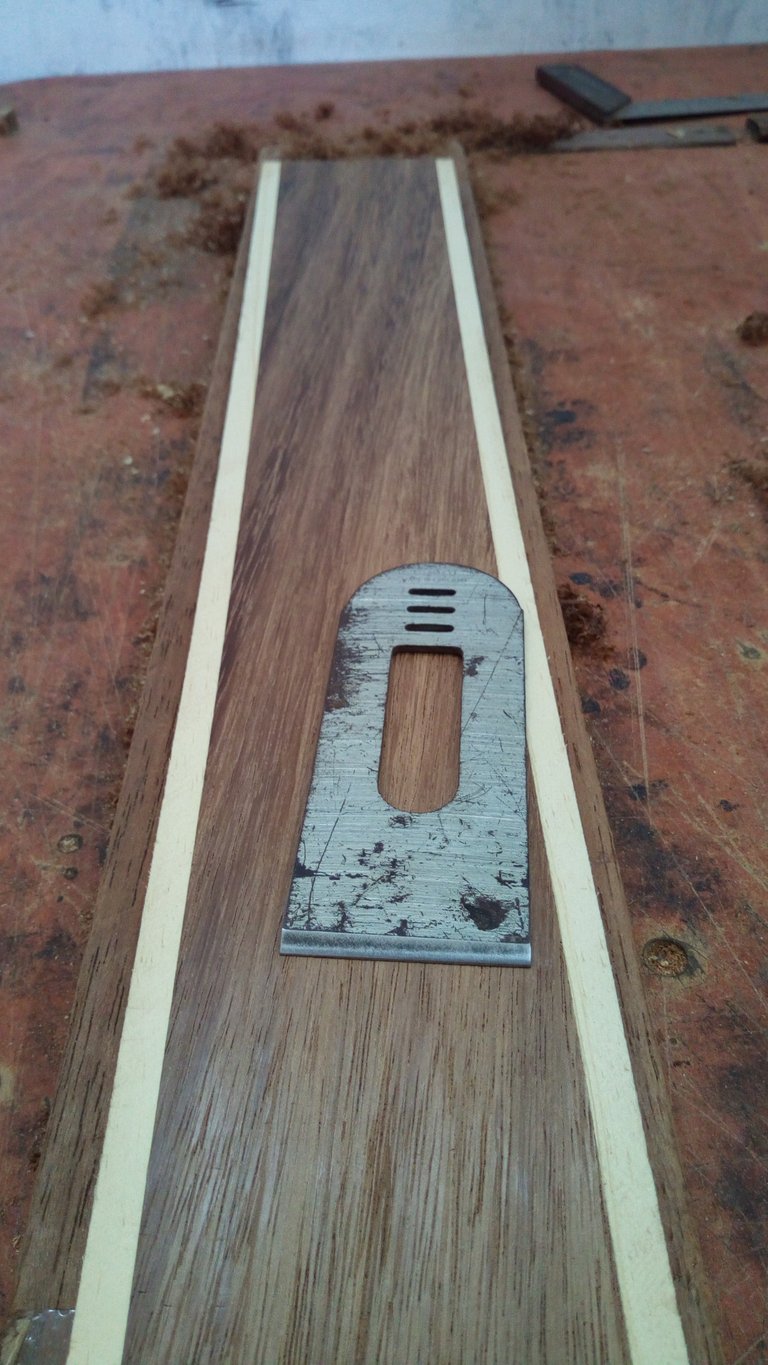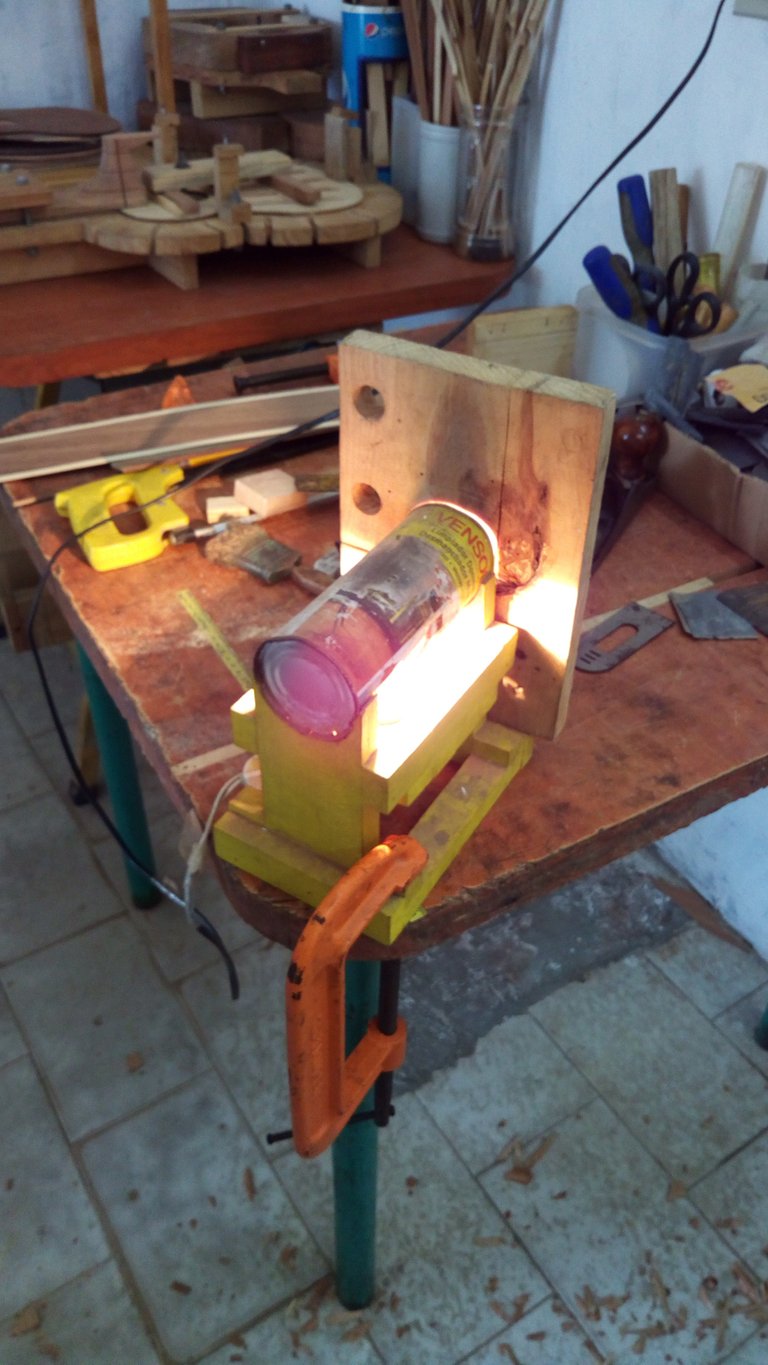 Then, my teacher got out the final mold. The one that is used to glue all the pieces together. So, we started to put the pieces there. First, we glued the top to the neck. This is the foundation. Then, the sides go on the top. Then, you pause. If you can guess from the pictures, there a lot of reinforcements and other pieces that need to be put in place before closing this instrument.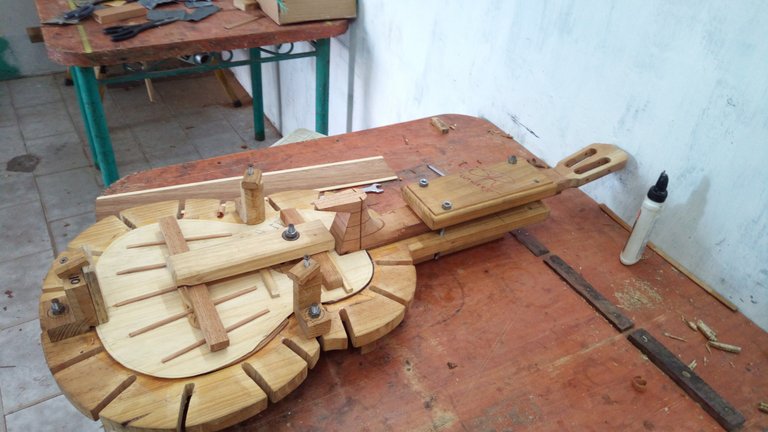 So, I started to work on them. You can see some vertical cedar pieces along the sides going all the way to the top. These are like ribs. They help protect the instrument from any hits it could take in the future. When you see an instrument crack of one side, it is because it isn't well reinforced of the sides. Then there are the peons. These are a lot of fun to make. First, you cut wood cubes. After that, you get your trusty knife, and smash it against the cube. Viola! You got 2 wedges. Rinse and repeat and you get 40 peons. Or as many as you need or fit the top. These are used to glue the top to the sides. The last two reinforcement are the internal heel. This is the piece at the lower part of the instrument where the sides meet. And two strips of cedar that go over the internal side of the sides (yes, a bit confusing). These are to have a wider area to glue the back. Also, there are the reason you see so many clothespins around the sides.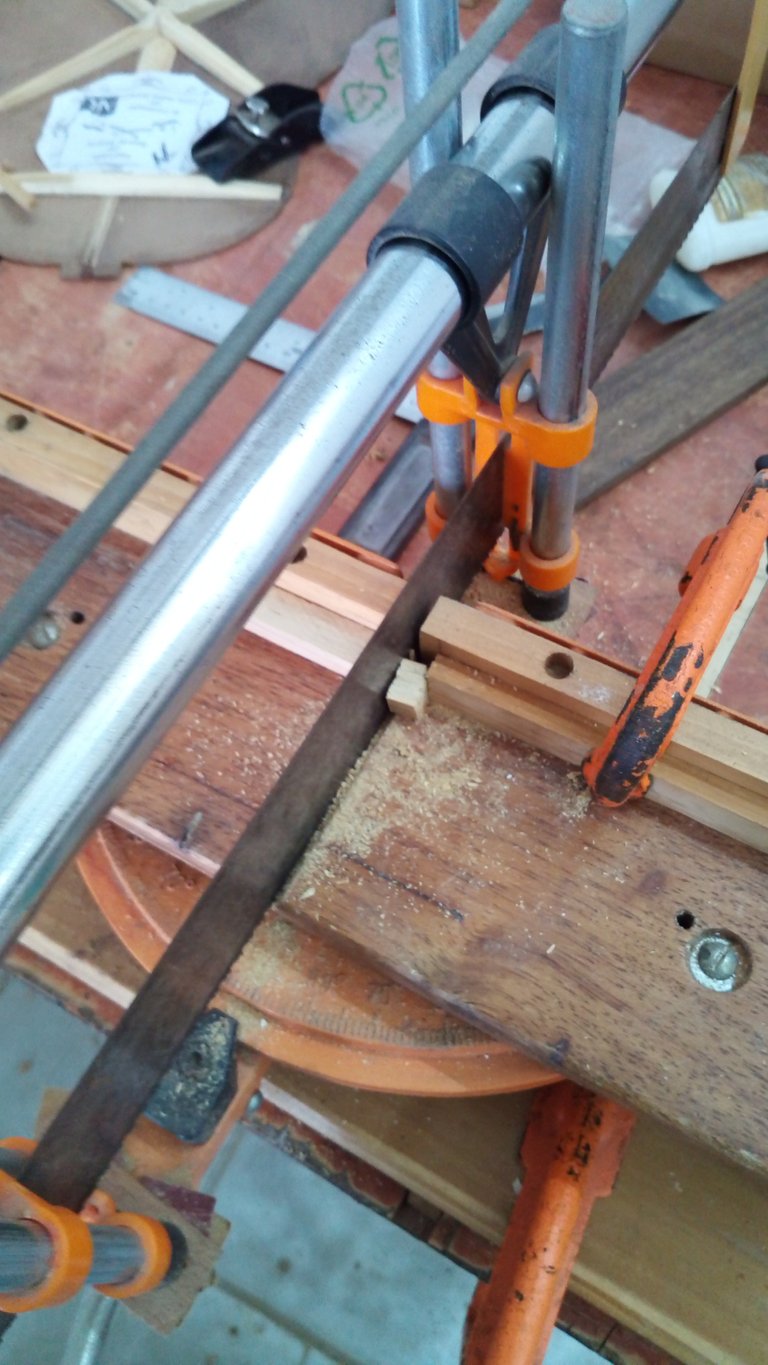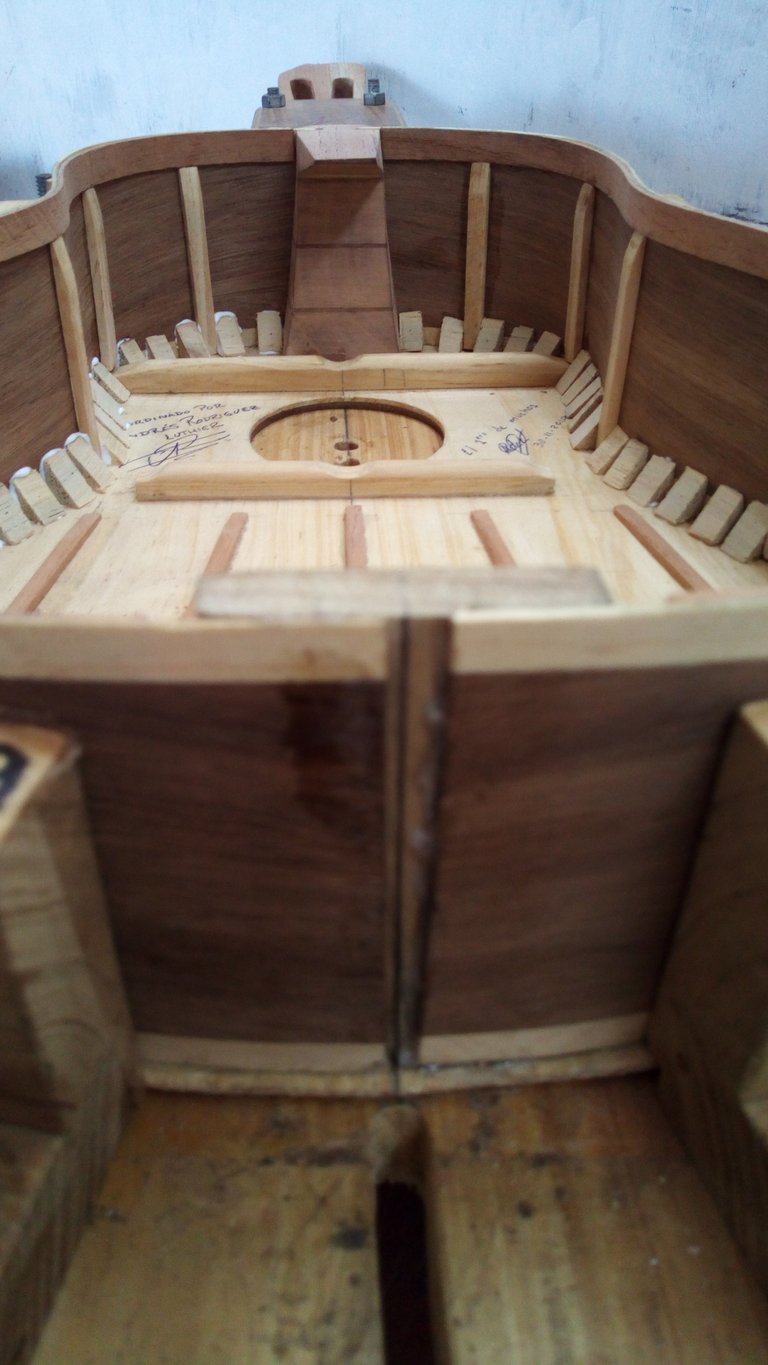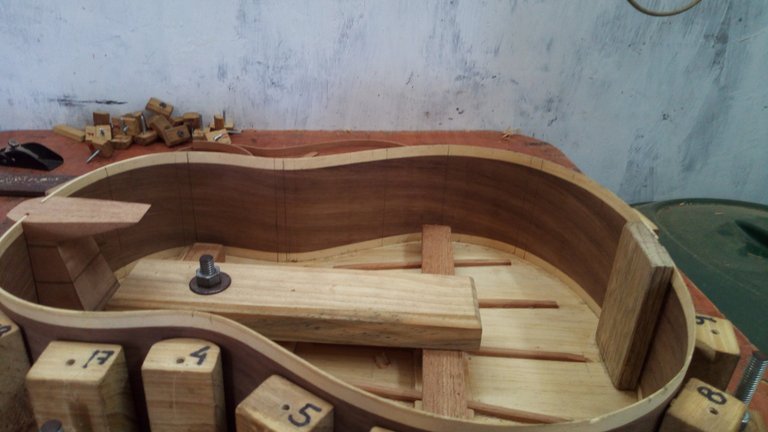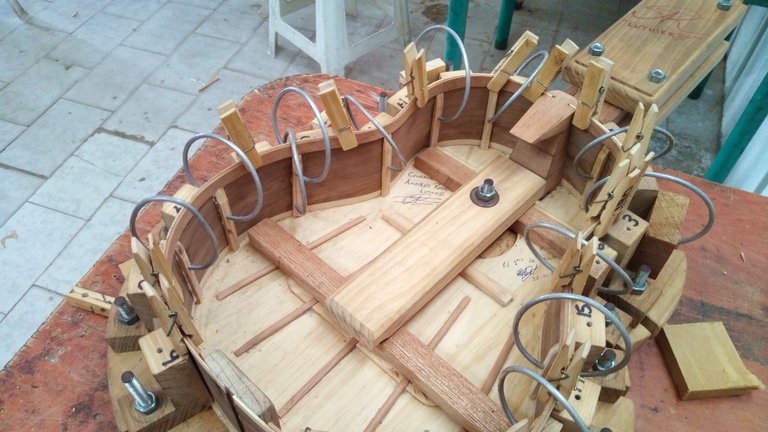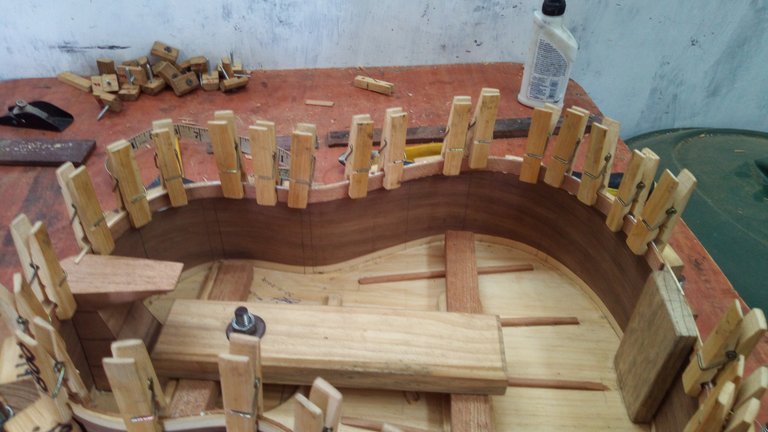 The most important moment was putting the label of the back. This is the sign that shows this instrument was made by me (of course, with all due credit form my teacher). With all this in place, it was finally time to seal this baby.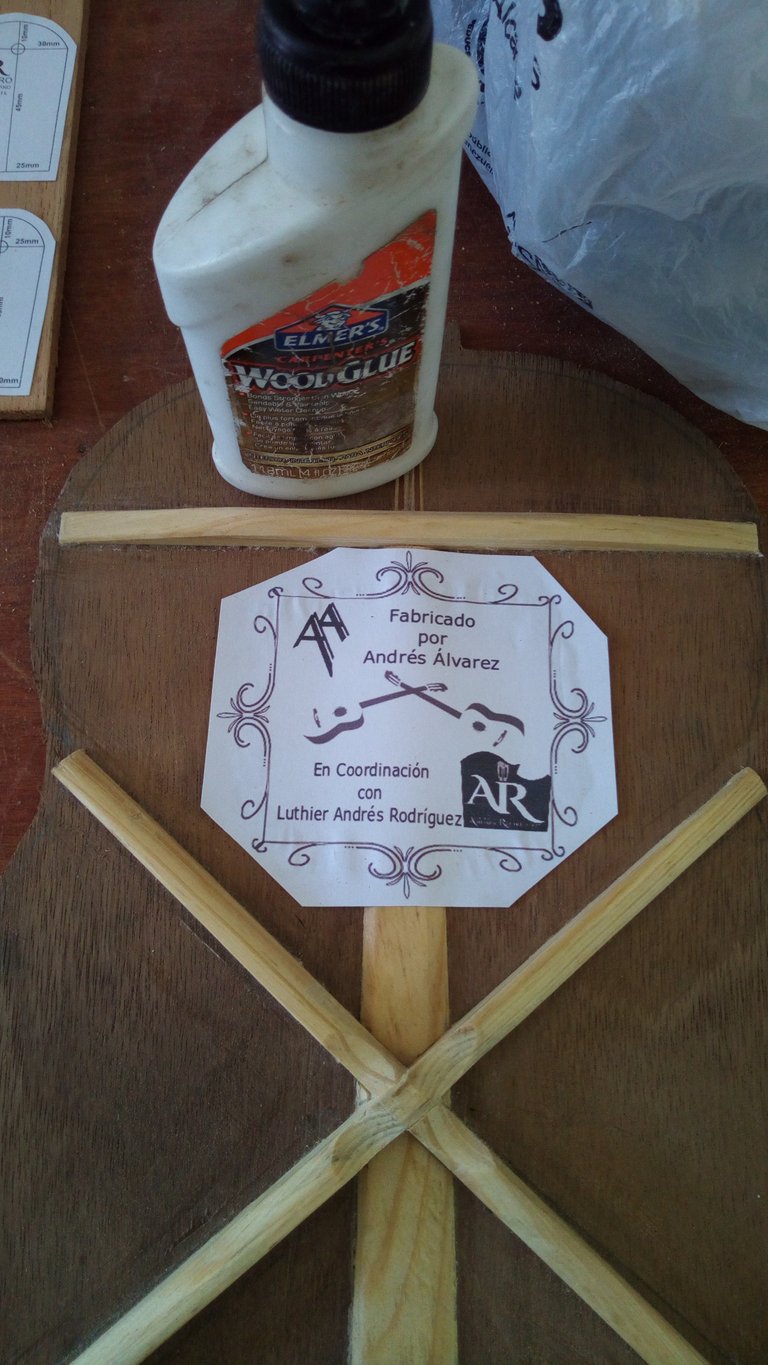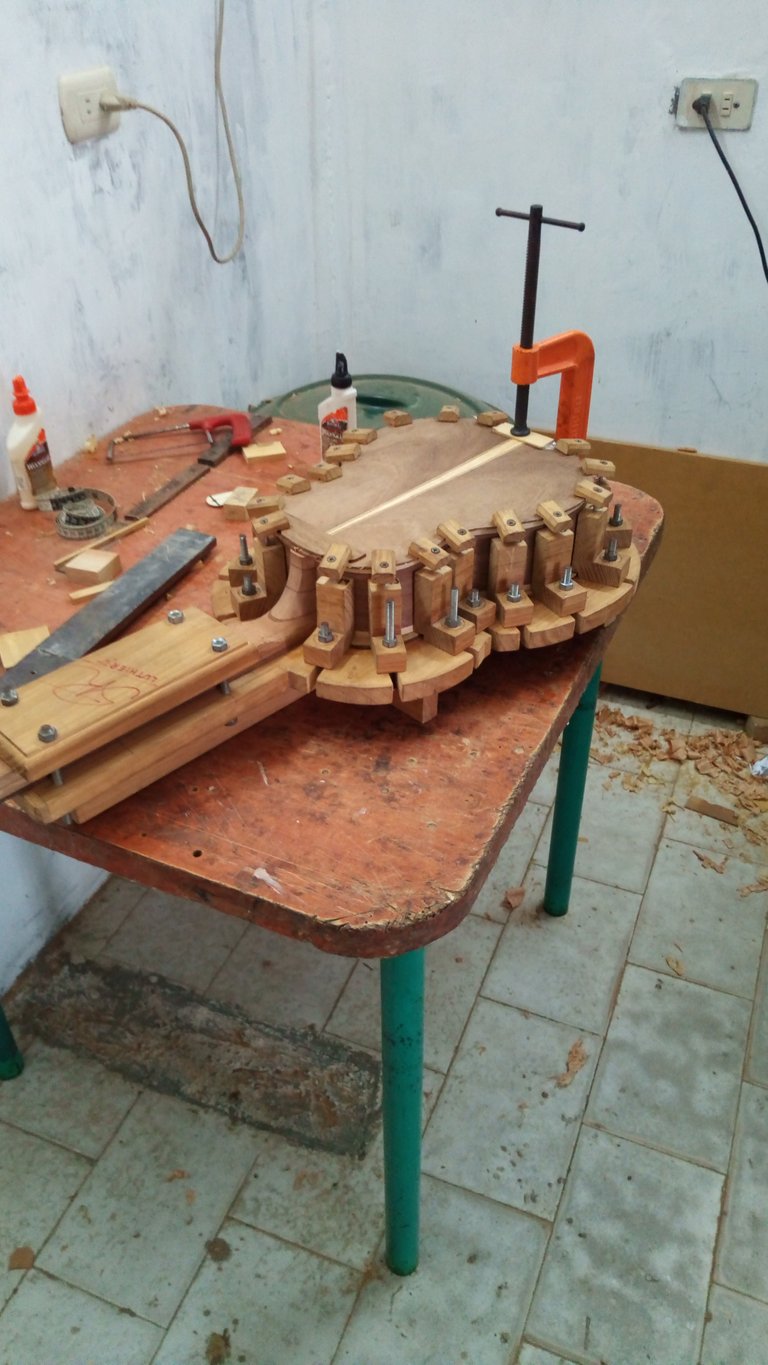 Esta será el post más lago en esta serie. Hay varios detalles que cubrir y por primera vez todas las piezas que han sido fabricadas se juntarán. Sí este es el día en que cerramos el cuatro.

Revisemos la lista: mástil, listo; fondo, listo; tapa armónica, lista. Solo falta una cosa para poder juntar todo esto, los aros o costillas. Este fue uno de los días más largos en el taller. Hubo mucho trabajo qué hacer. Para comenzar se necesitan las piezas de madera. Después de emparejarlas, se utiliza este artilugio de apariencia extraña. No es más que un bombillo dentro de una lata. Quizá hayas visto las planchas redondas que utilizan los luthieres en otros países. Esta es la segunda mejor opción. También es la más económica. Con esto, podremos doblar los aros para darle la forma característica de 8 que tiene este instrumento. Es aquí donde debo confesar que esta fue la tarea que me puso más nervioso durante todo el proceso. No quería que se quebraran los aros. Cada vez que escuchaba crujir la madera, me detenía. La dejaba reposar. Y volvía comenzar. Pero siguiendo los consejos y con mucha paciencia, lo logré.

Después de esto, el profesor puso a disposición la solera (este es el molde donde se pegan todas las piezas. Así, comenzamos a ensamblar el cuatro. Primero se fija la tapa al mástil. Esta es la base para este proceso. Luego, se colocan los aros encima de la tapa. Luego, te detienes. Como podrás adivinar por las fotos, hay varios refuerzos colocados a lo largo de los aros y sobre la tapa. Hay que trabajar en esto antes de sellar el instrumento.

Sin esperar más, comencé a elaborarlos. Esas barras verticales de cedro que van a lo largo del aro hasta la tapa cumplen función parecida a las costillas. Son un refuerzo estructural. Cuando vez algún instrumento que se rompe por el aro, es porque le hacen falta más de estas barras. Luego, se hacen los peones. Esos son mas divertidos. Primero, se cortan cubos de madera. Luego los cortas con la ayuda de un cuchillo. Y por arte de magia, tienes dos triángulos de madera. Repites esta acción hasta que tienes 40 o los que necesites. Estos se utilizan para reforzar la unión entre la tapa y los aros. Los últimos dos refuerzos son: el tacón interno y los arillos. El primero, es la pieza donde se juntan los aros en la parte inferior del cuatro. Los otros, son unas tiras de madera que se adhieren a los aros para reforzar la unión del fondo. Ellos son la razón por la cual hay tantos prendedores colocados alrededor de los aros.
La parte más relevante del día fue colocar mi etiqueta en el fondo del cuatro. Esto es la muestra de que este cuatro fue fabricado por mí (y claro, dándole el crédito merecido a mi profesor). Especialmente para quienes no han visto las fotos. Con cada pieza en su lugar, es la hora de sellar esta belleza.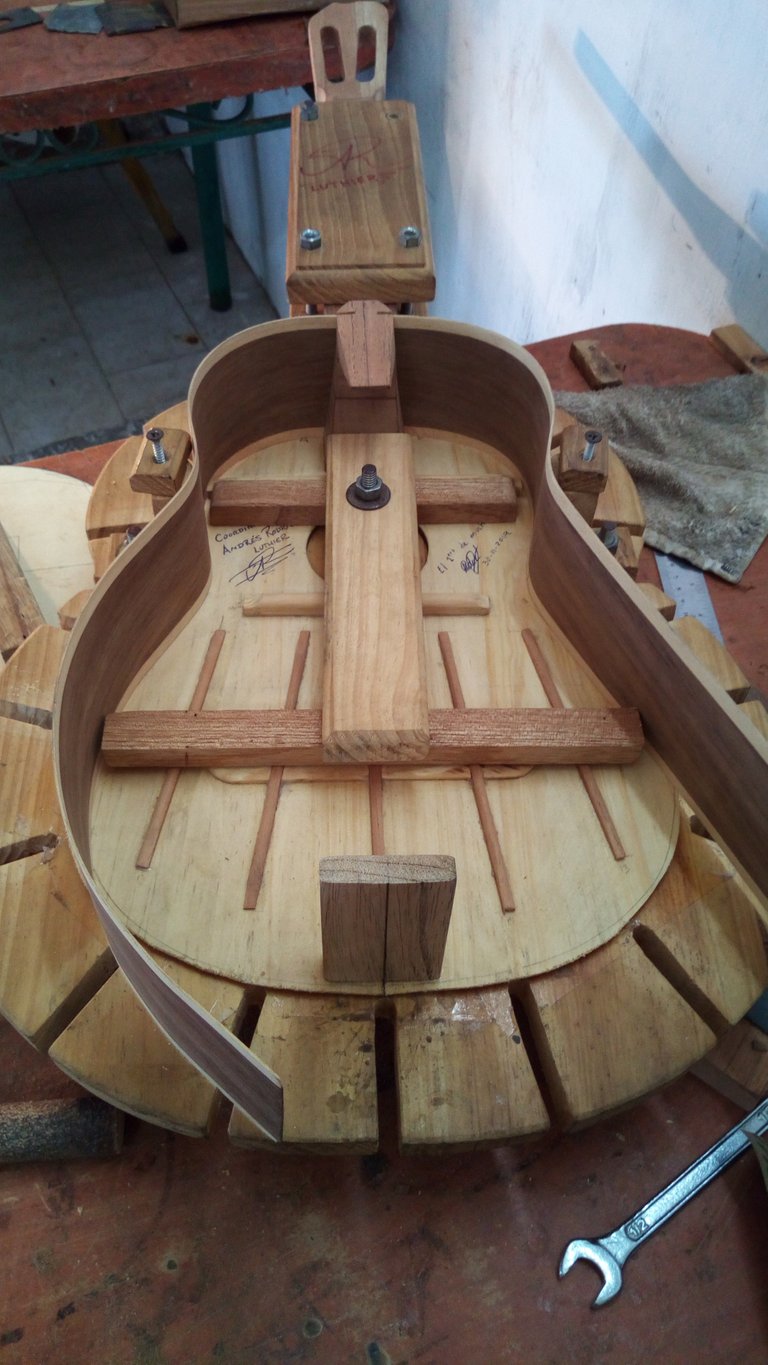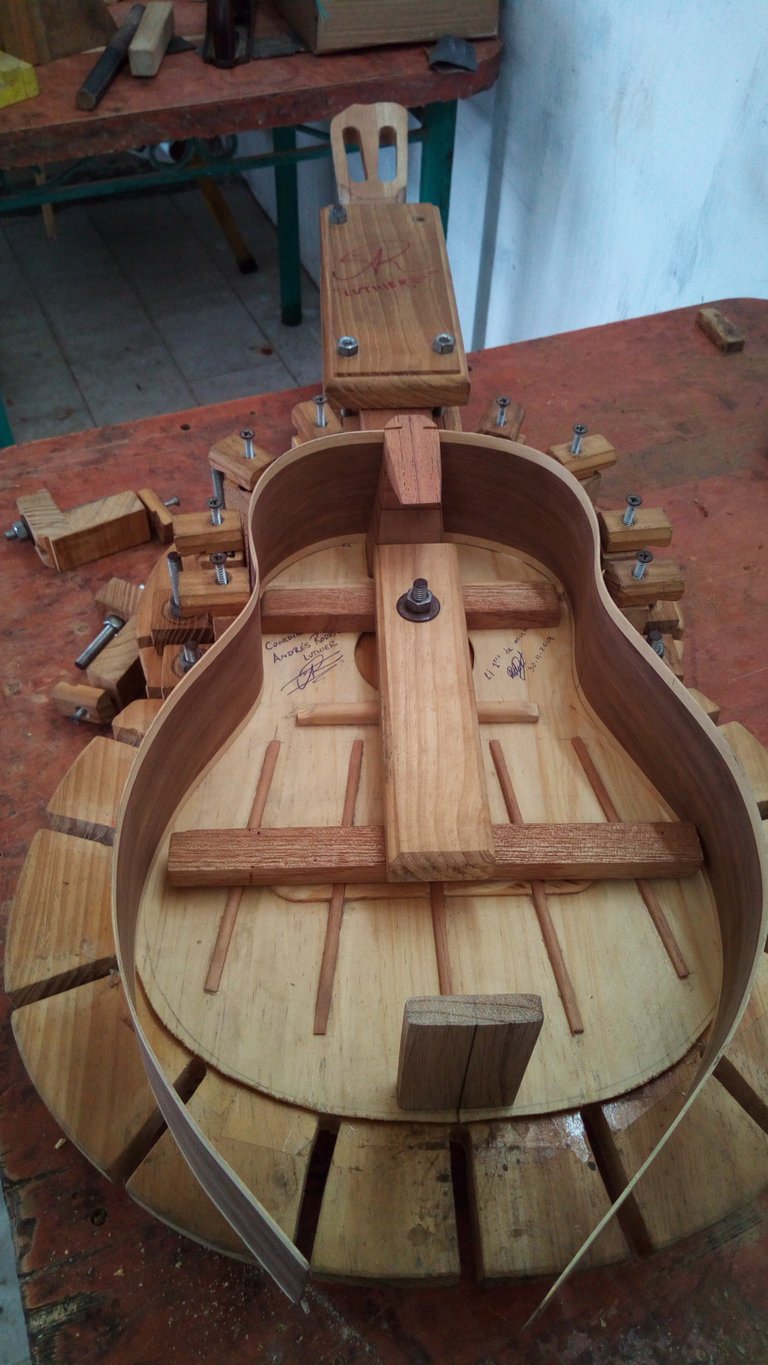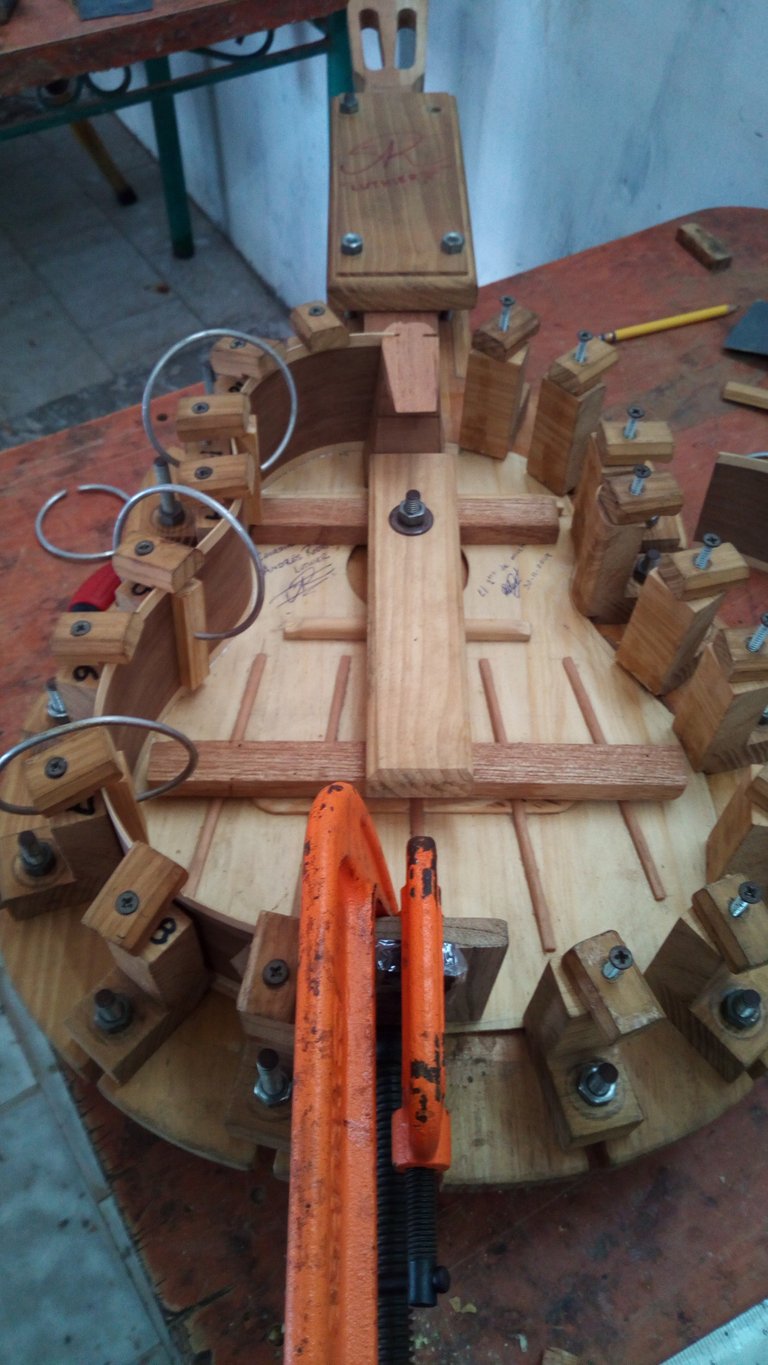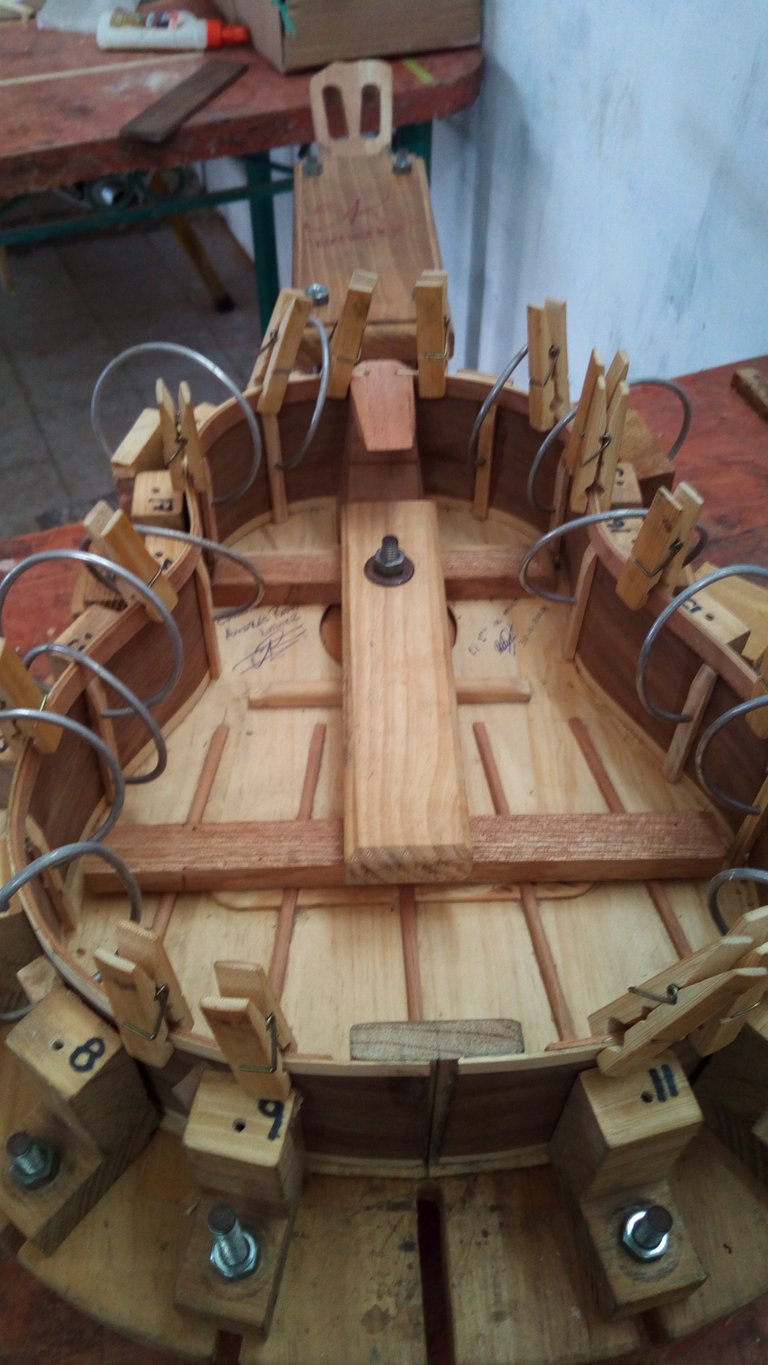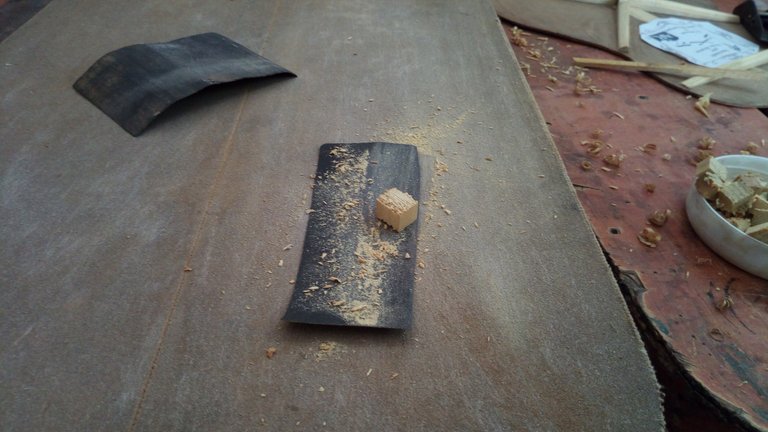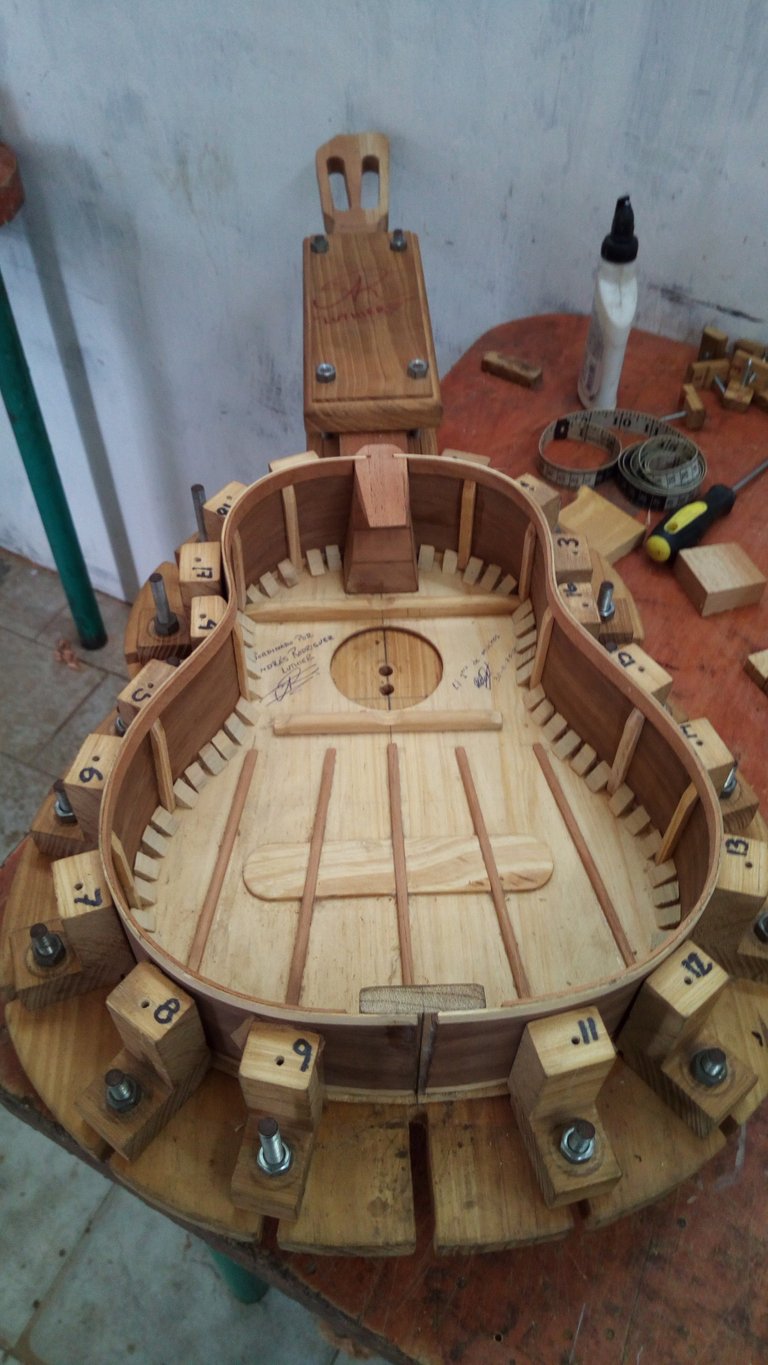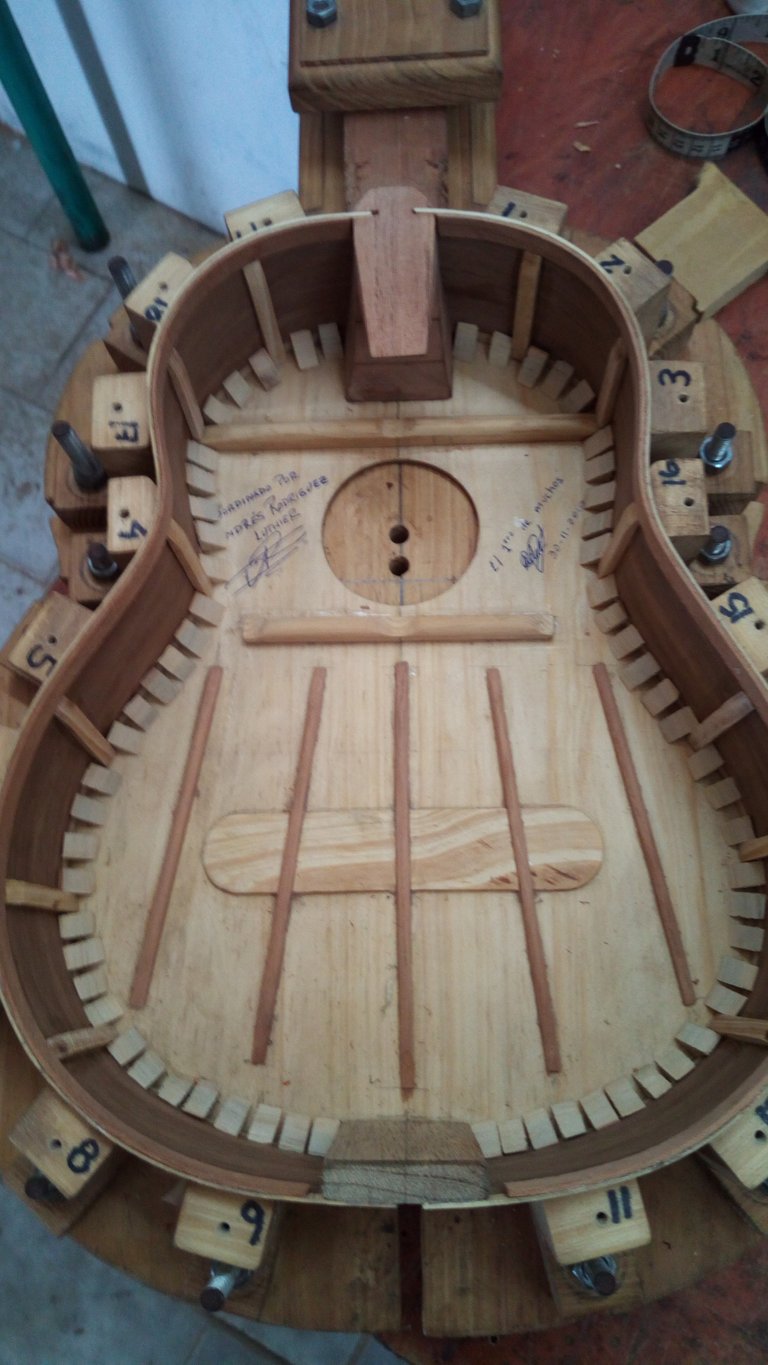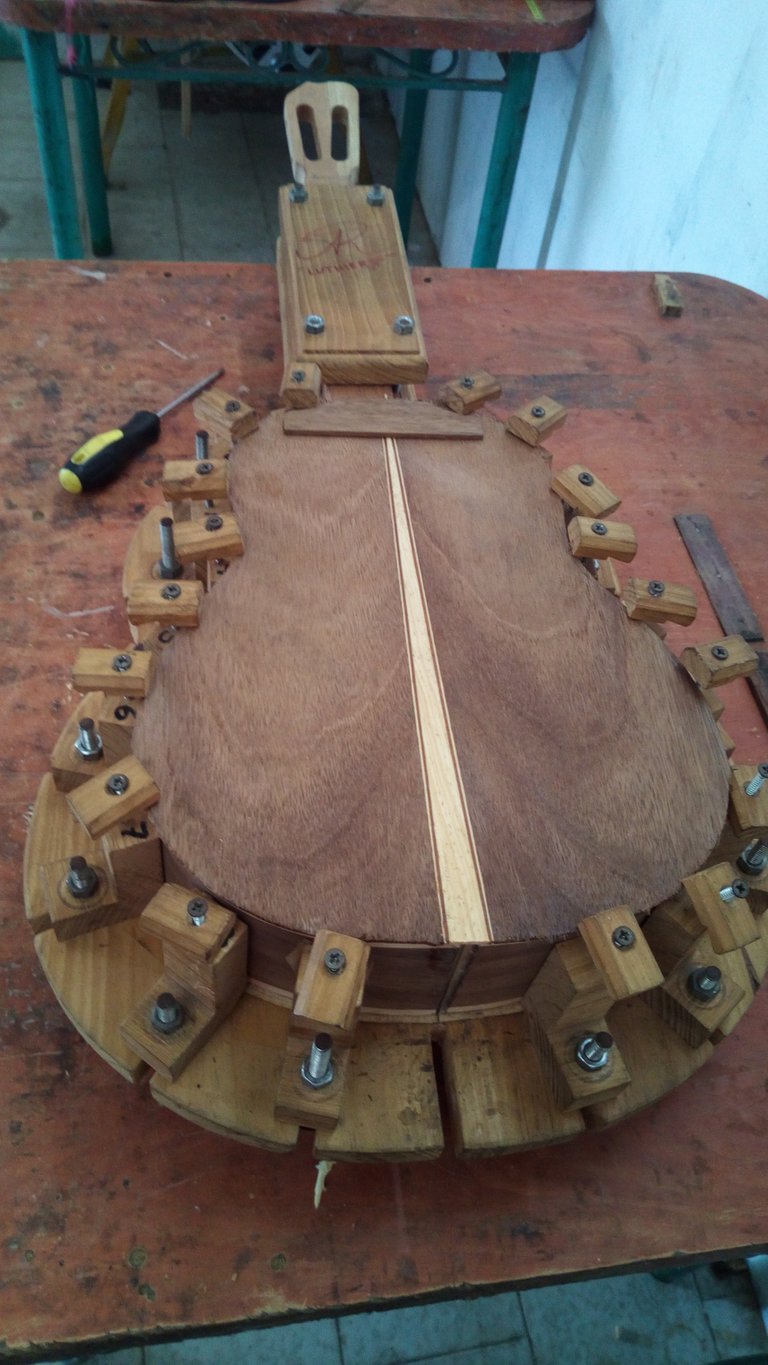 ---
         That is all for this entry. Thanks a lot for reading. See you in the next chapter.
Eso es todo por esta ocasión. Gracias por leer. Nos vemos en el próximo post.
         All the pictures used in these posts are either mine or from my teacher Andrés Rodríguez. He doesn't mind me using these.