Hello, dear readers
         Today, we continue the steps in the making of Embla, my first Venezuelan cuatro. If you found this story in this entry, please go and check the previous one here.
Buen día, estimados lectores.

Hoy continuaremos viendo los pasos en la construcción de Embla, mi primer cuatro venezolano. Si acabas de encontrar esta publicación, te sugiero que des click aquí para ver la primera parte.
---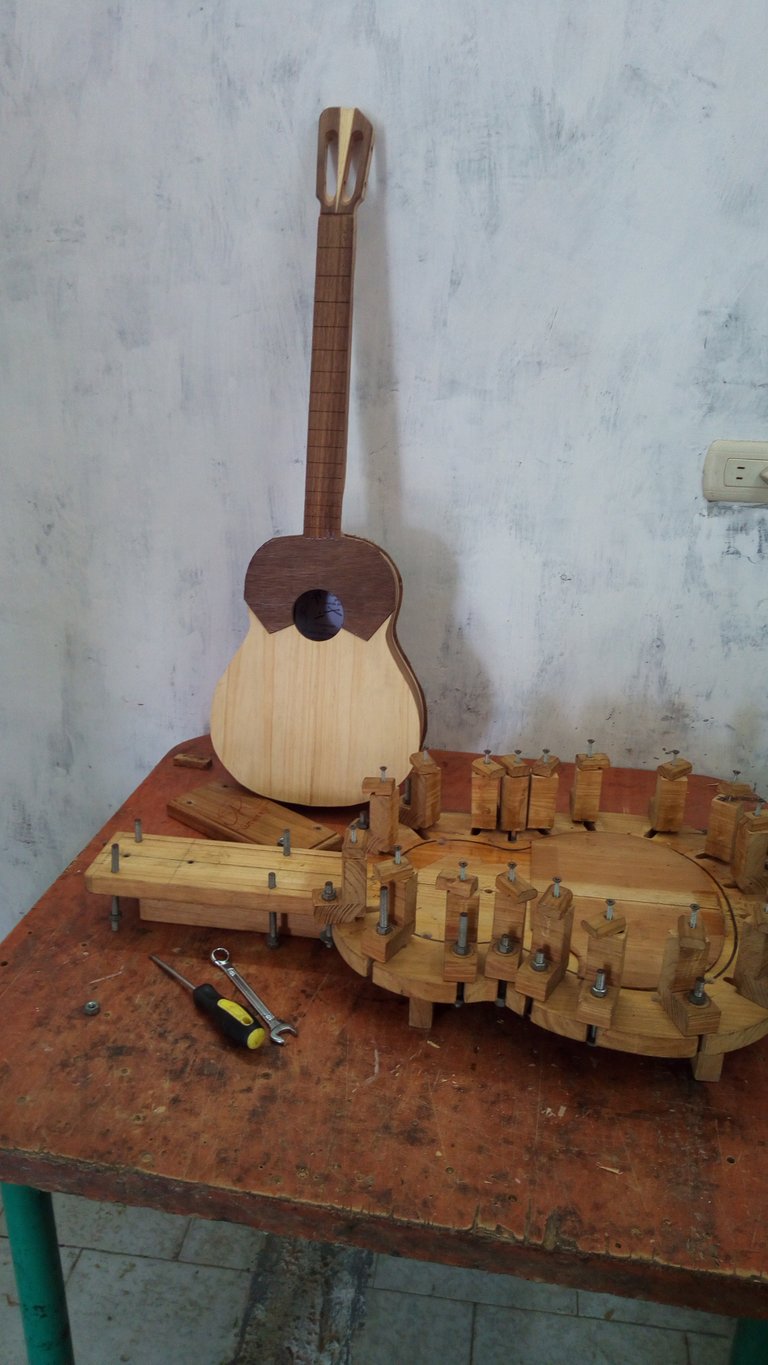 As exciting as it is to take a loaf of bread out of the oven when it is ready, or a cake. Just like when a sword is quenched. That's the feeling you get when you take an instrument out of the mold and see it is already together. The rest are details to polish.
         The cuatro in in good shape. It is time to trim both back and top. Also, put some other details in place.

         For the first part, there are things better than your trusty knife. For example, you could use a router and be done with this in a breeze. My teacher has been teaching about more traditional way of construction for the sake of having the knowledge to start making cuatros on my own once this one is ready. So, with a sharpened knife, a lot of patience, and a good and steady pulse this was done.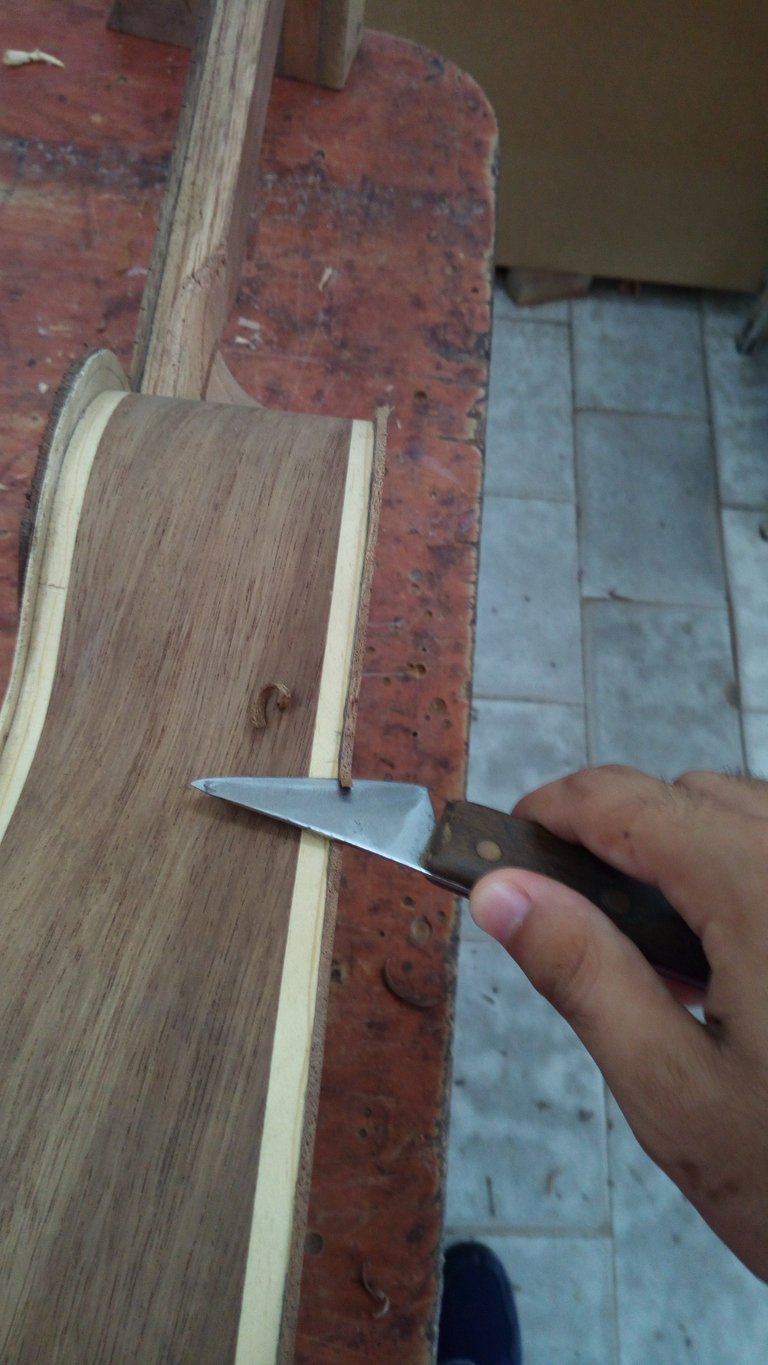 The last details are a wedge on the bottom and position markers. The former was made following the sandwich technique again. The latter require some precision. You see. These are inlayed in the fretboard. Maybe you have seen different styles. Nowadays, there's all kind of shapes and very artistic pieces put on fretboards that make instruments even better works of art. I went for a more conservative design: dots. These are part of an aluminum cylinder. Once the holes are made, the cylinder is put into them and cut. Then you file them to avoid any sharp edges. The position marker in Embla are on frets: 3, 5, 7, 10, 15, for the single ones, and the customary double dot for fret 12.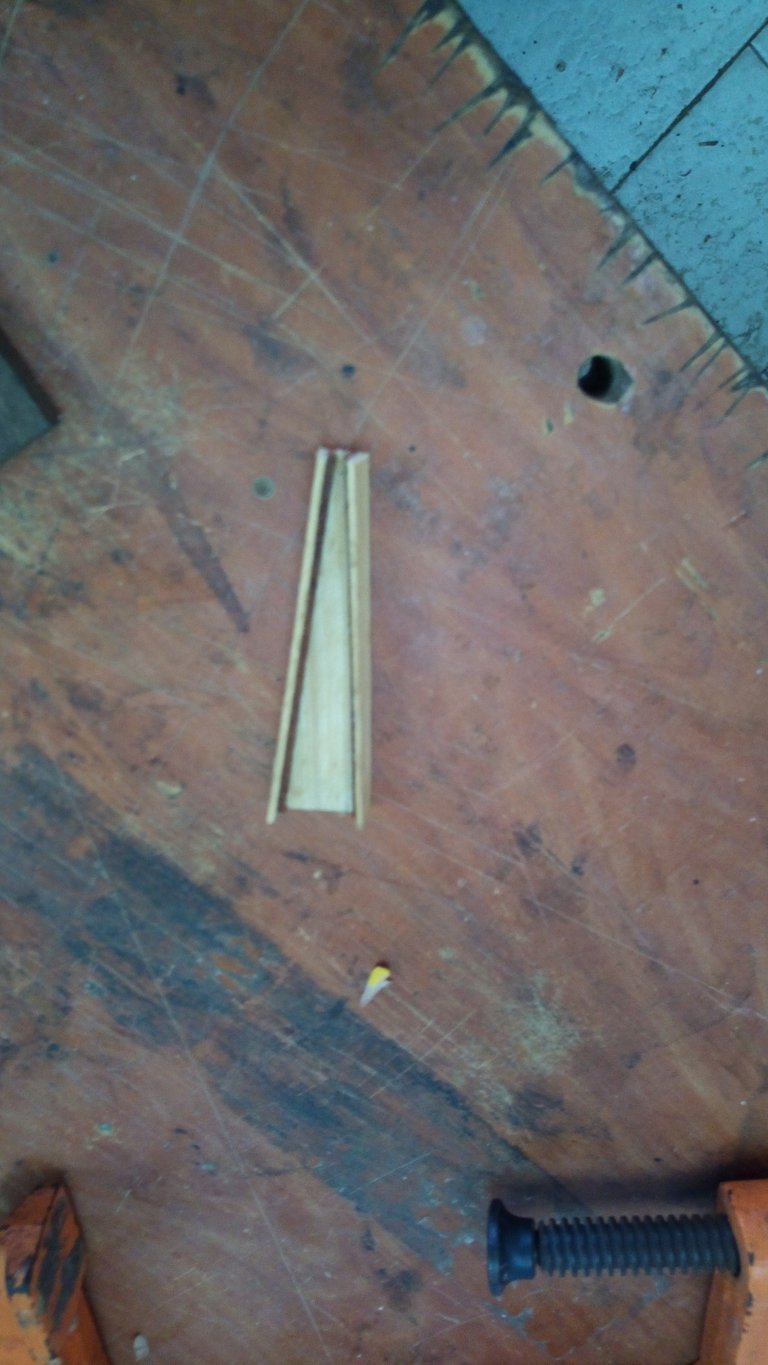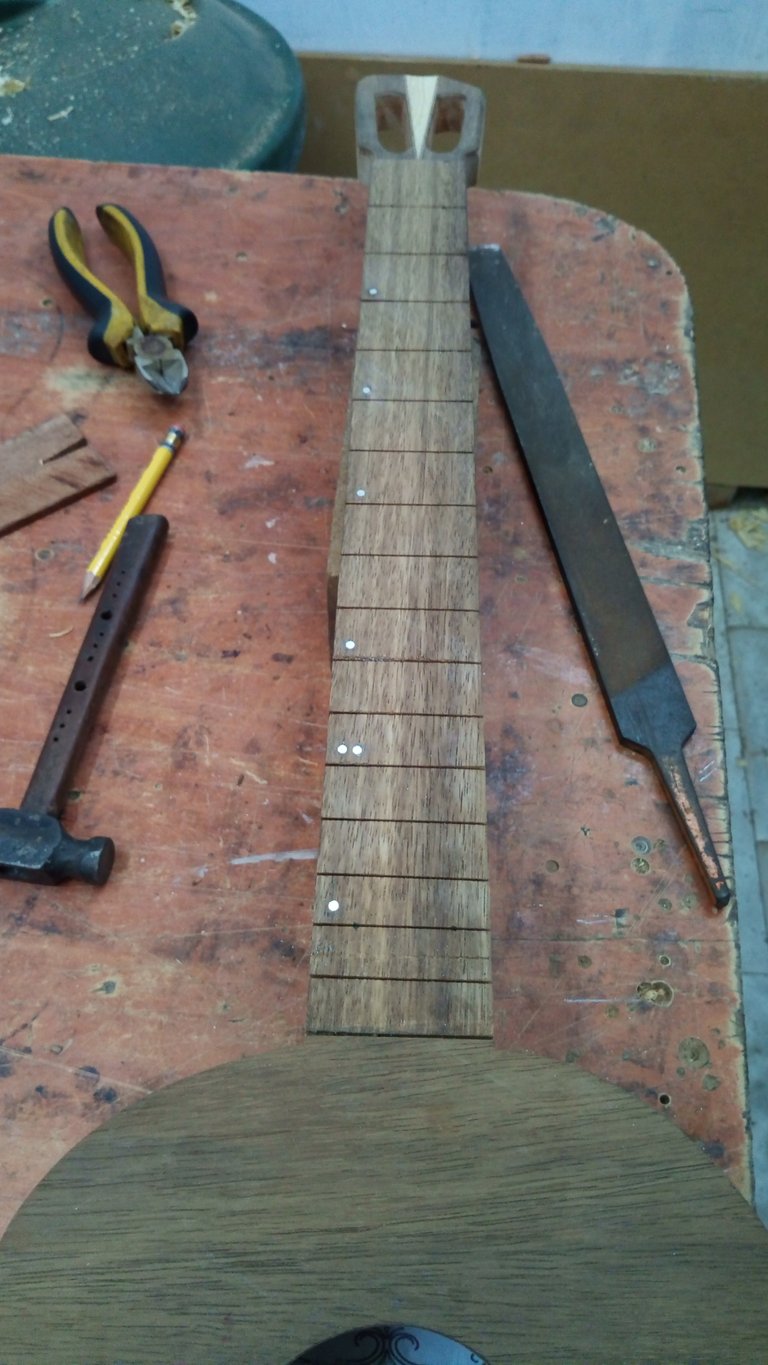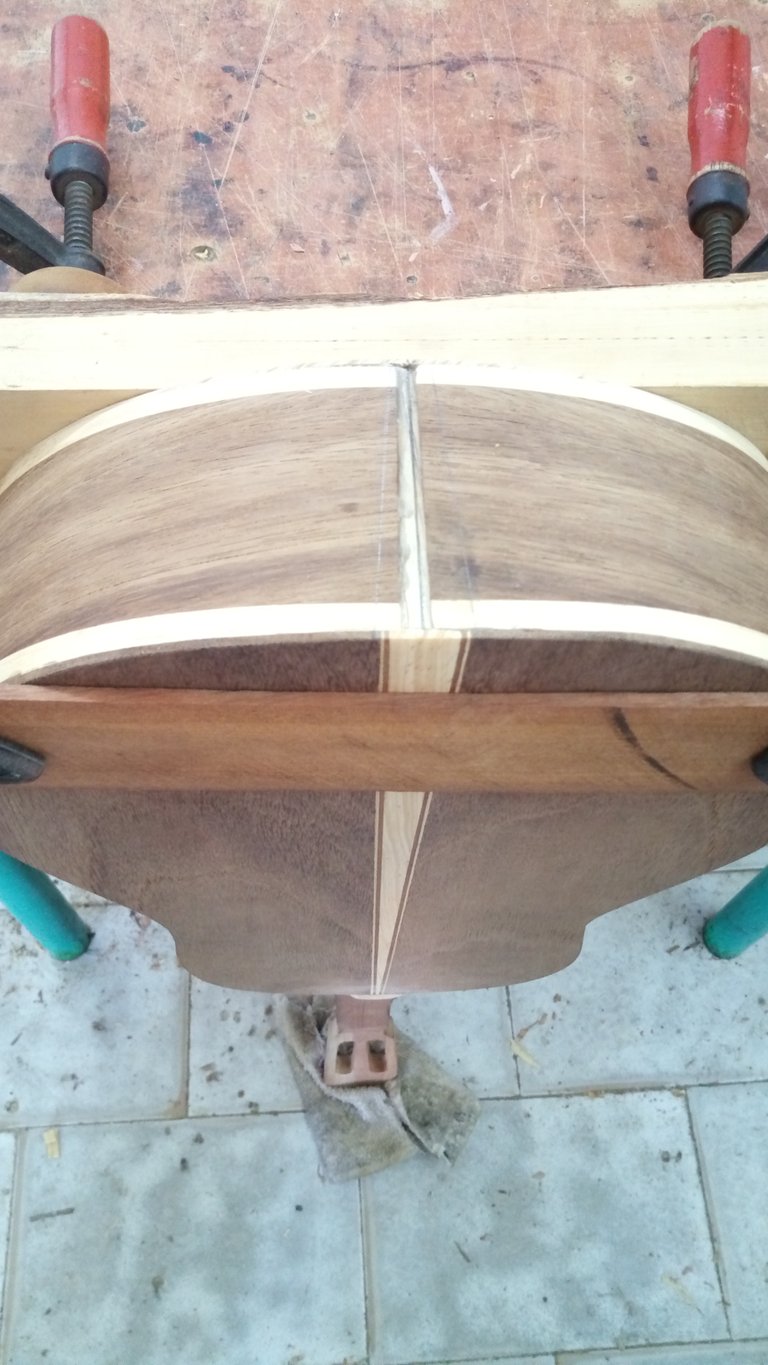 Last but not least, we complete the heel of the cuatro with a piece of pine. Heels vary in shapes, height and materials. Embla's heel is low profile, made of pine and has a trapezoid shape.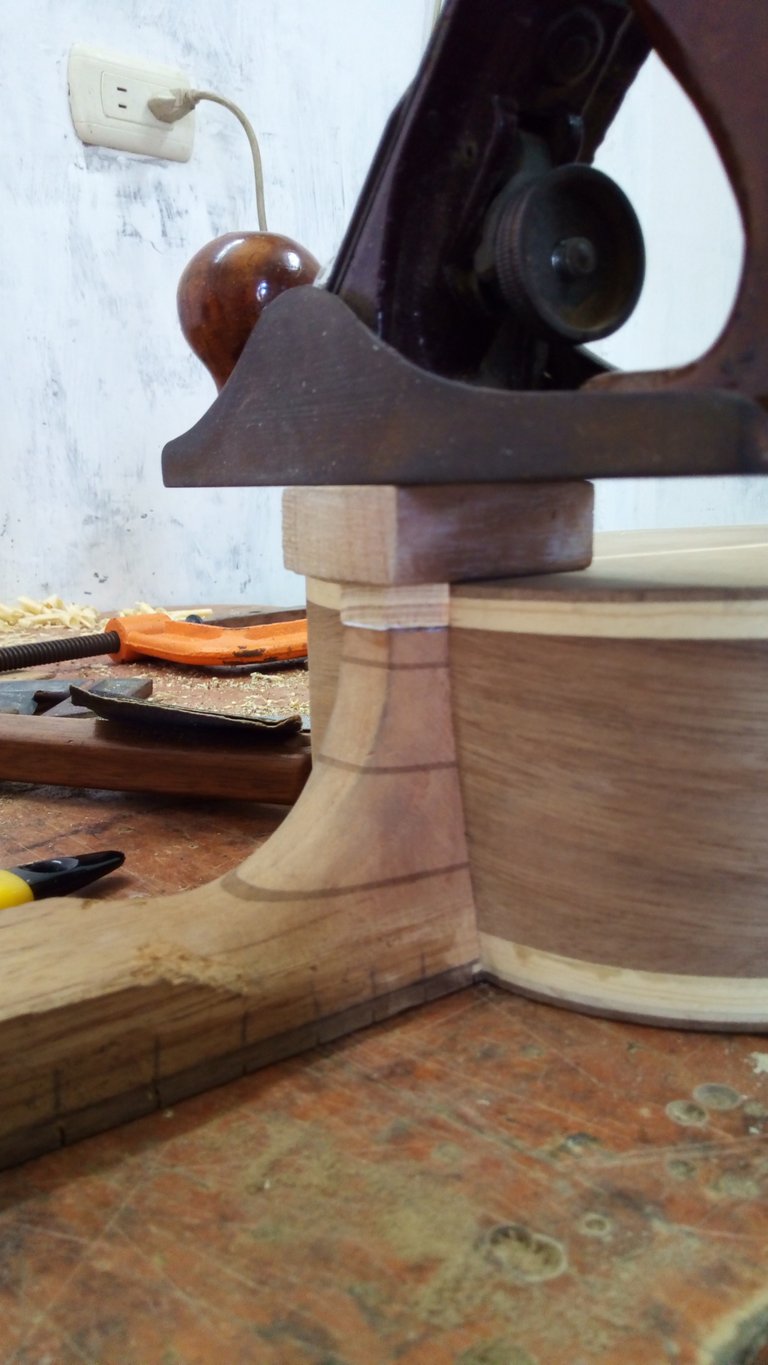 Nada más emocionante que sacar pan del horno después de que está listo o templar una espada en agua o aceite después de que estuvo en la fragua. Sacar el cuatro de la solera se siente como una mezcla de ambas cosas.

Ya está lista la forma, de ahora en adelante el resto serán detalles. Primero, hay que remover el exceso de material de la tapa y el fondo

Para esta primera parte, hay mejores opciones que el viejo y confiable cuchillo. Por ejemplo, podrías utilizar una fresadora y estar listo en un dos por tres. Sin embargo, mi profesor me ha estado enseñando sobre construcción tradicional para que pueda seguir haciéndolo sin tener herramientas eléctricas. Así que, armado con un cuchillo afilado, mucha paciencia y un pulso firme, completé esta tarea.

Los últimos detalles de esta sesión fueron los puntos armónicos y otro adorno triangular para la parte de abajo del cuatro. Este último se hizo siguiendo el patrón de sándwich de los anteriores. Los otros requieren más precisión. Para colocar estos puntos es necesario taladrar el diapasón. Quizá hayas visto algún otro diseño de puntos armónicos. Hoy en día, se pueden conseguir cualquier cantidad de obras de arte adornando el diapasón de un instrumento. Aquí tenemos un diseño más tradicional. Entonces, primero se hacen los agujeros y luego de colocar un cilindro de aluminio dentro de estos. Después, se cortan y lima. No queremos que haya ningún borde afilado. Los puntos armónicos de Embla están en los trastes: 3, 5, 7, 10 y 15, y hay puntos dobles en el traste 12 como se acostumbra.

Finalmente, se completa el tacón. Los tacones varían en forma, altura y materiales. El tacón de Embla es de pino, tiene un perfil bajo y una forma de trapecio.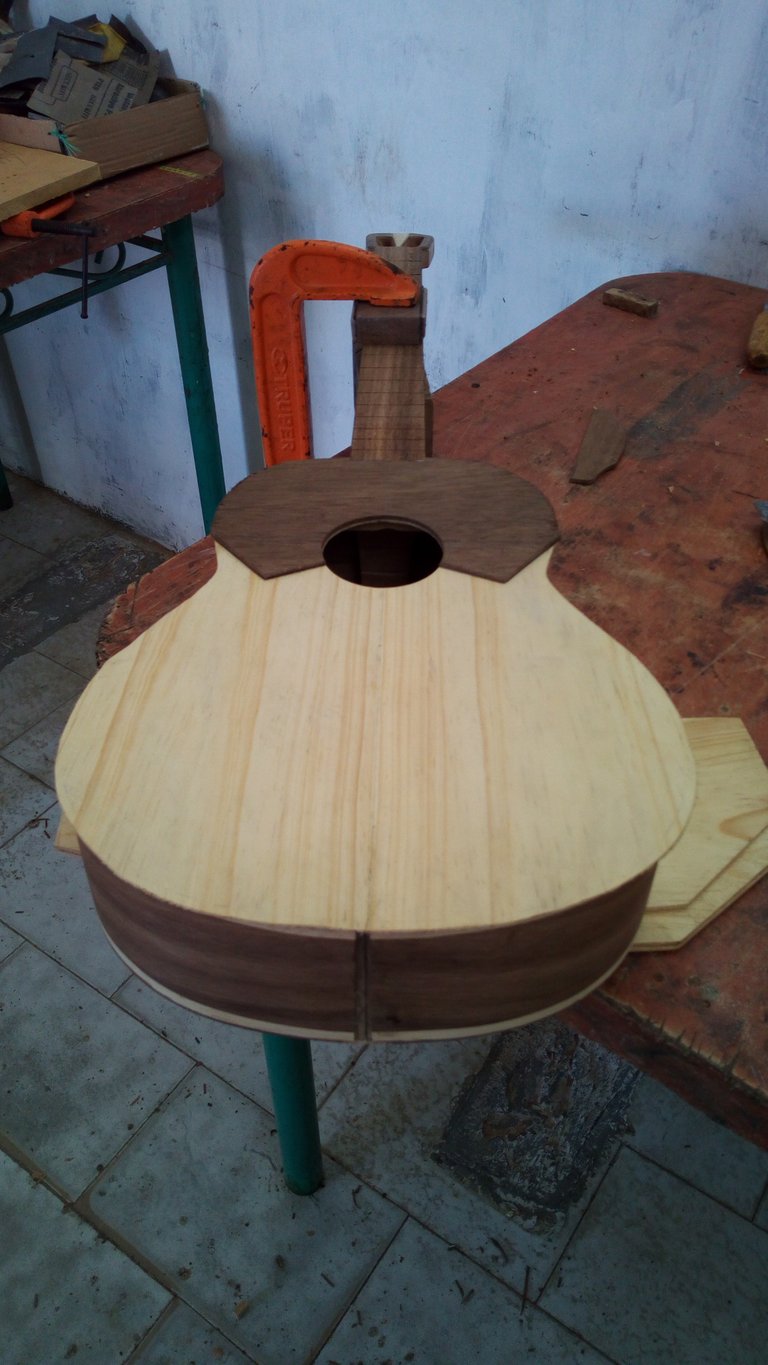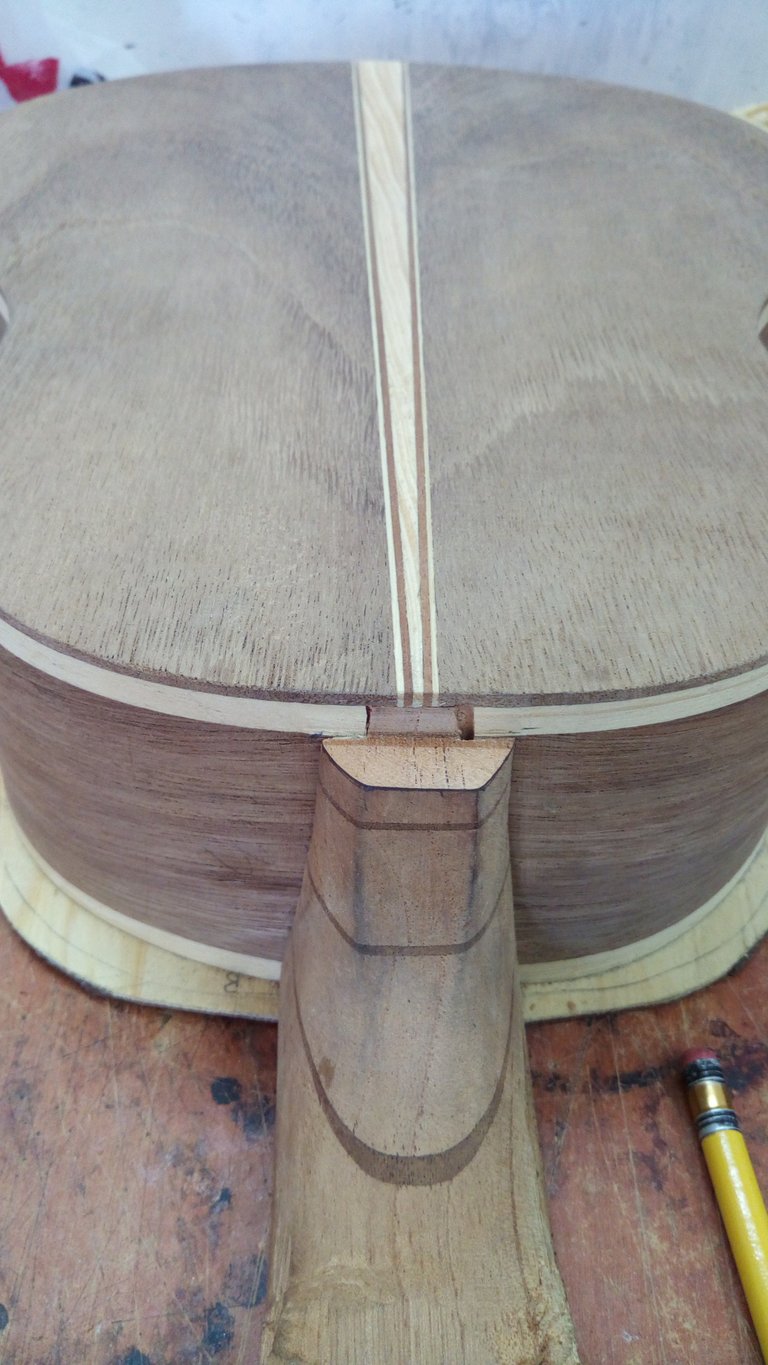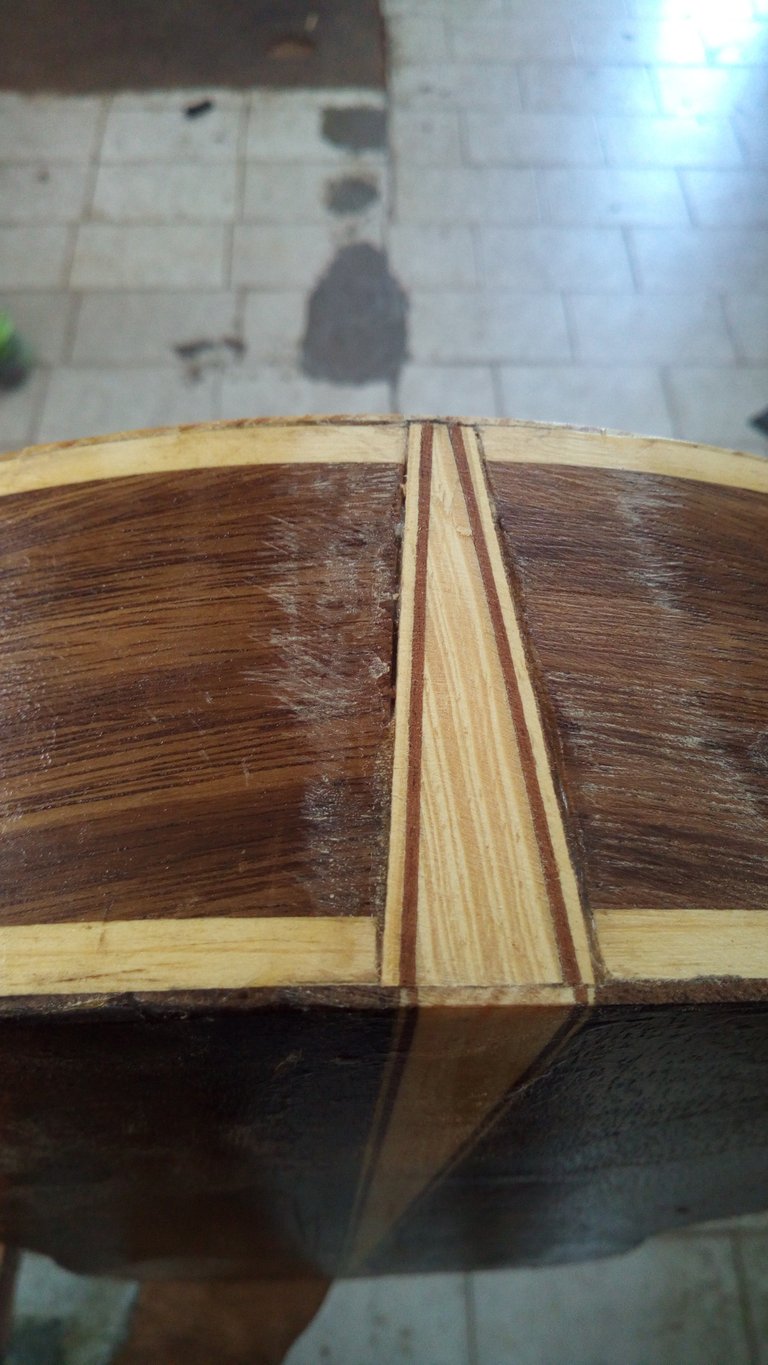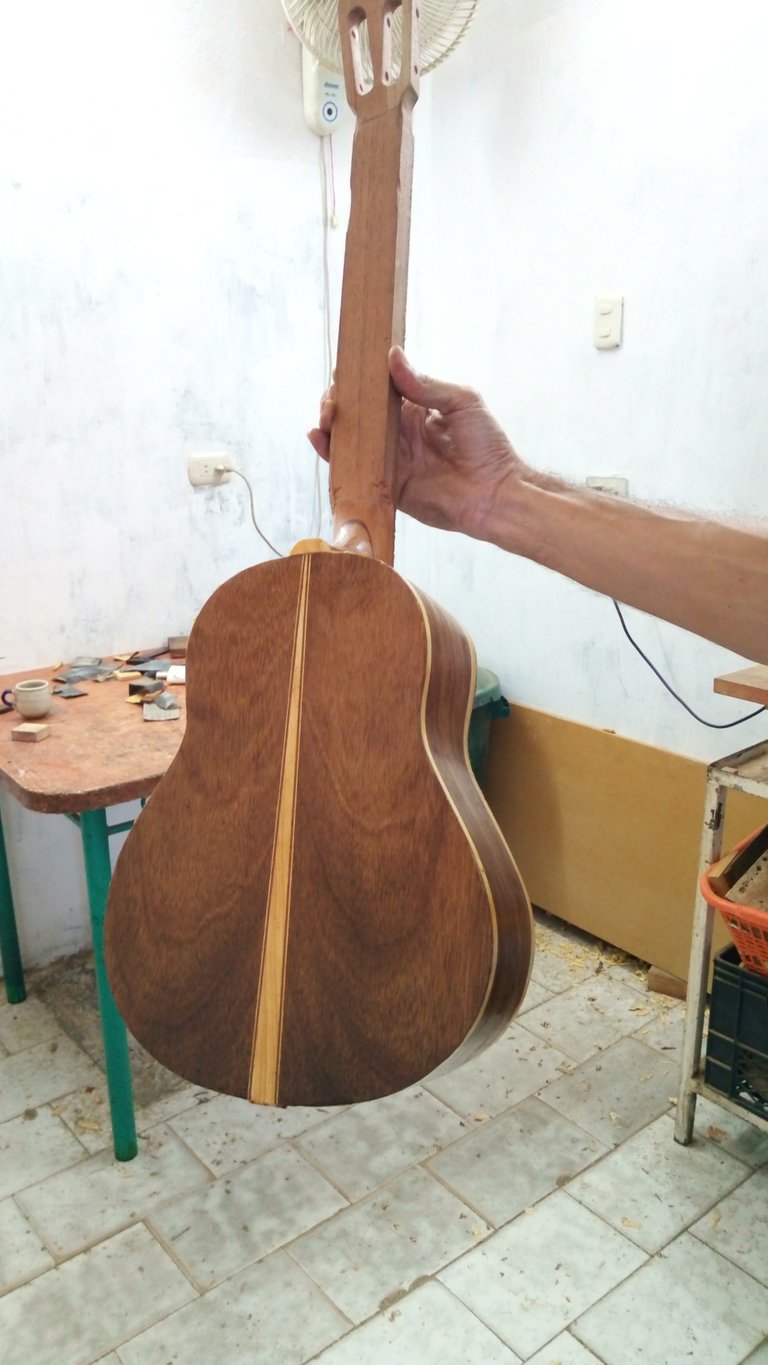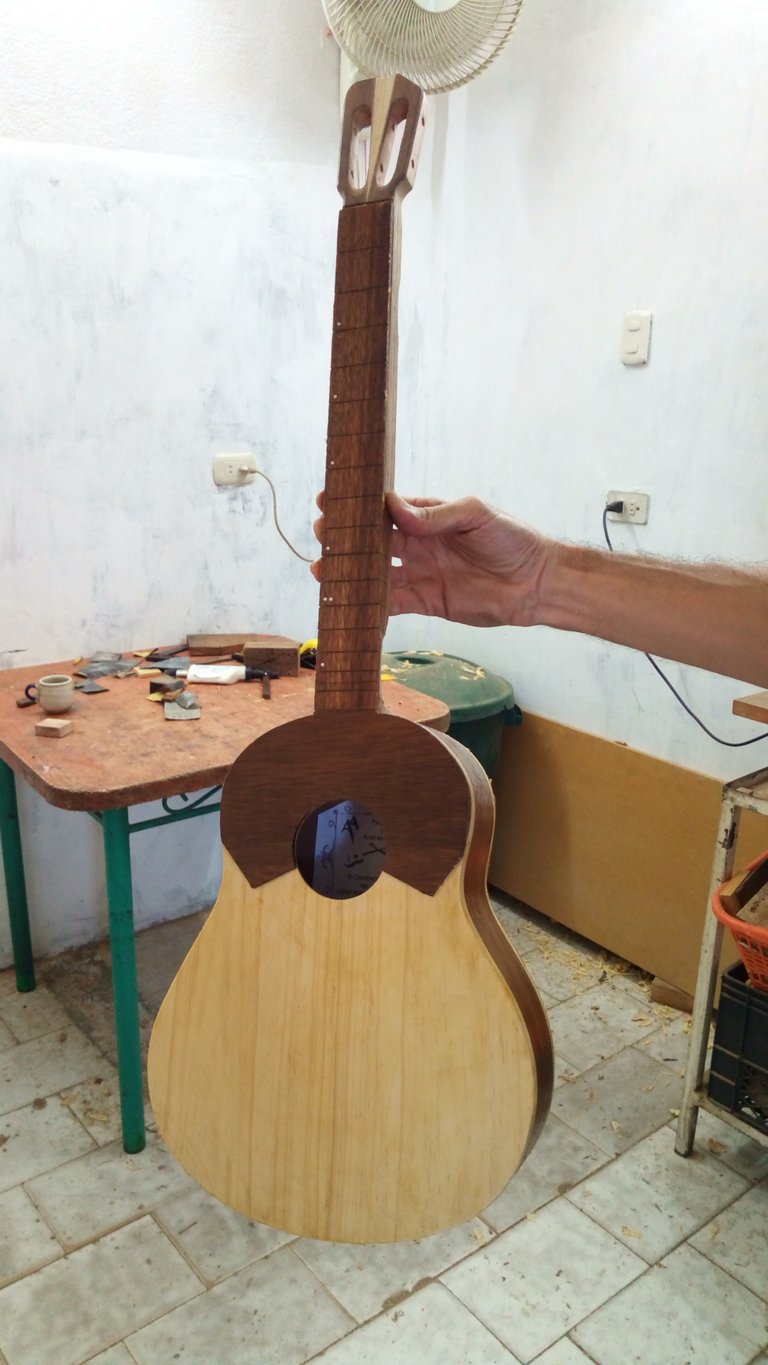 ---
         That is all for this entry. Thanks a lot for reading. See you in the next chapter.
Eso es todo por esta ocasión. Gracias por leer. Nos vemos en el próximo post.
         All the pictures used in these posts are either mine or from my teacher Andrés Rodríguez. He doesn't mind me using these.