Hola amigos de Hive, hoy compartiré con ustedes la elaboración de una pequeñas cajas para trasladar cualquier objeto o dulce que no quieras que se dañe. En mi caso las elaboro para repartir unos dulces milhojas que estoy empezando a vender, mi esposo los lleva para la empresa donde trabaja y necesitaba embalarlas para que no llegaran destruidas a su destino final, así que se me ocurrió hacer estas cajas y me han funcionado, es muy fácil y con pocos materiales.
Hello friends of Hive, today I will share with you the development of a small boxes to move any object or candy that you do not want to be damaged. In my case, I make them to distribute some sweet millefeuille that I am starting to sell, my husband takes them to the company where he works and I needed to pack them so that they did not arrive destroyed at their final destination, so it occurred to me to make these boxes and they have worked for me. It is very easy and with few materials.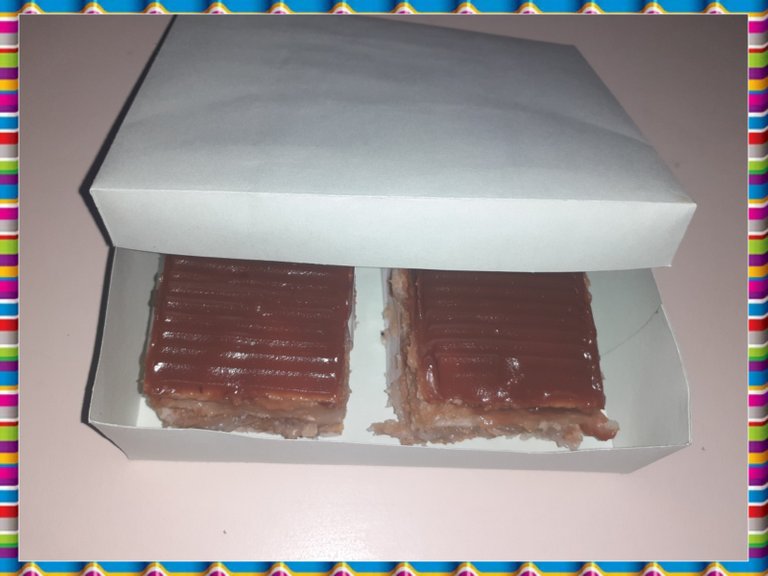 Materiales
Pega blanca
Cartulina.
Regla
Tijeras
Lápiz
Estas cajas tienen un fondo de 15x12 centímetros y de alto 4 centímetros, ustedes la pueden adaptar a sus necesidades, recuerda que son de cartulina así que no puedes guardar en ellas algo muy pesado, también puedes cambiar el material por un cartón mas resistente, el procedimiento seria el mismo.
Materials

White glue
Cardboard.
Rule
Pair of scissors
Pencil
These boxes have a depth of 15x12 centimeters and a height of 4 centimeters, you can adapt it to your needs, remember that they are made of cardboard so you cannot store something very heavy in them, you can also change the material for a more resistant cardboard, the procedure would be the same.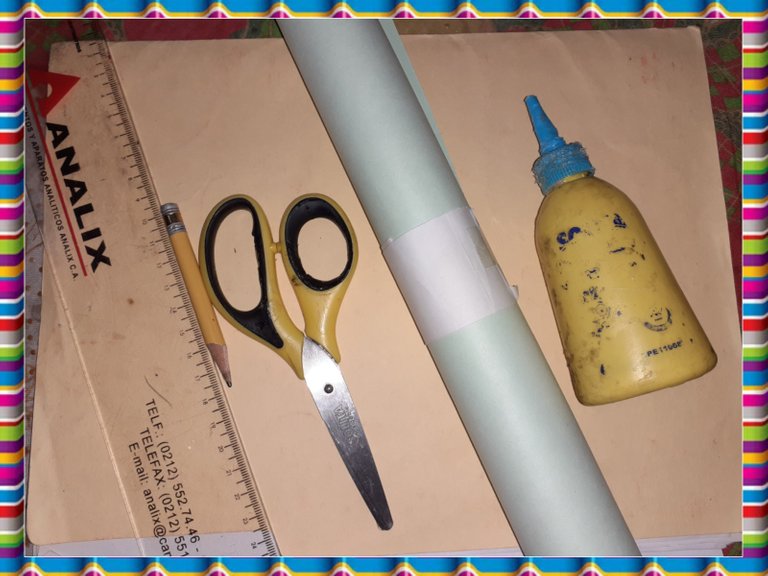 Lo primero que debemos hacer es cortar un rectángulo de 20x23 centímetros. Esto es porque sumamos 4 del lado derecho + 15 del fondo + 4 del lado izquierdo y nos da 23 centímetro igual lo hacemos con el otro lado 4+12+4 es igual a 20 centímetros.
The first thing we must do is cut a rectangle of 20x23 centimeters. This is because we add 4 from the right side + 15 from the bottom + 4 from the left side and it gives us 23 centimeters, the same we do with the other side 4 + 12 + 4 is equal to 20 centimeters.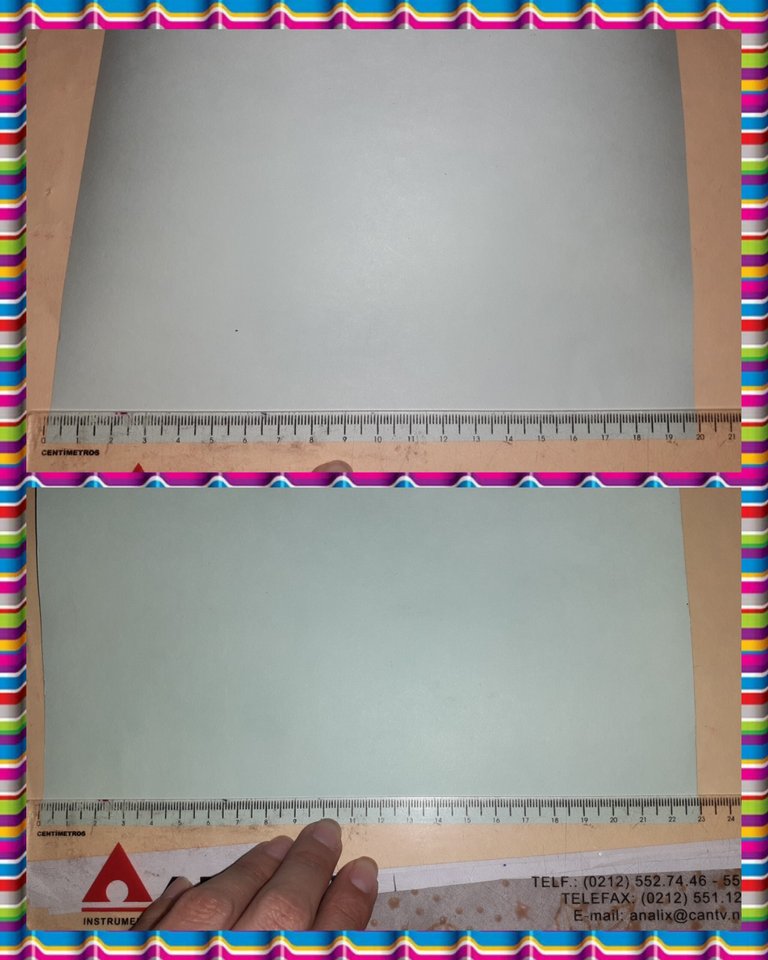 Luego medimos en las orillas 4 centímetros por cada lado y pasamos nuestra raya con lápiz como se muestra en la imagen.
Then we measure on the edges 4 centimeters on each side and we pass our line with a pencil as shown in the image.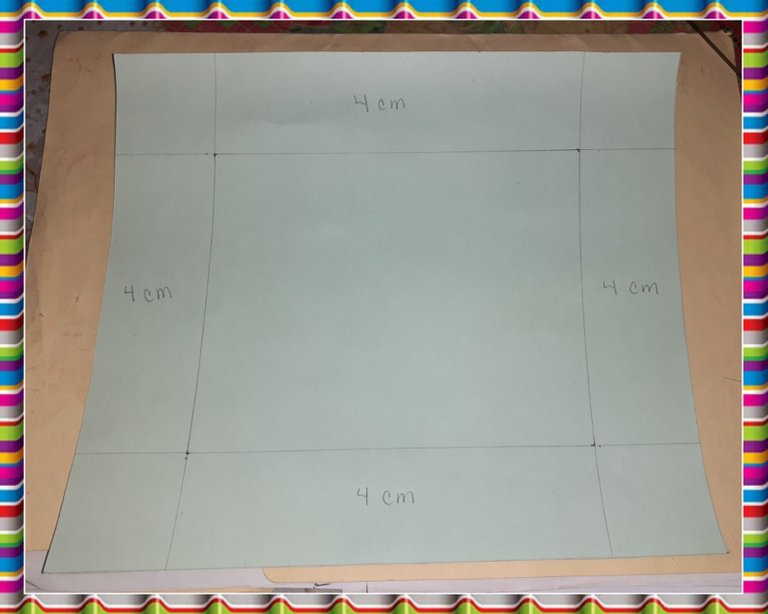 Seguido cortamos con la tijera las orejas que vamos a usar mas adelante para unir las paredes de la caja, para esto debemos cortar por un lado y luego voltear y cortar por el otro. Observa la imagen.
Next we cut the ears with the scissors that we are going to use later to join the walls of the box, for this we must cut on one side and then turn and cut on the other. Look at the picture.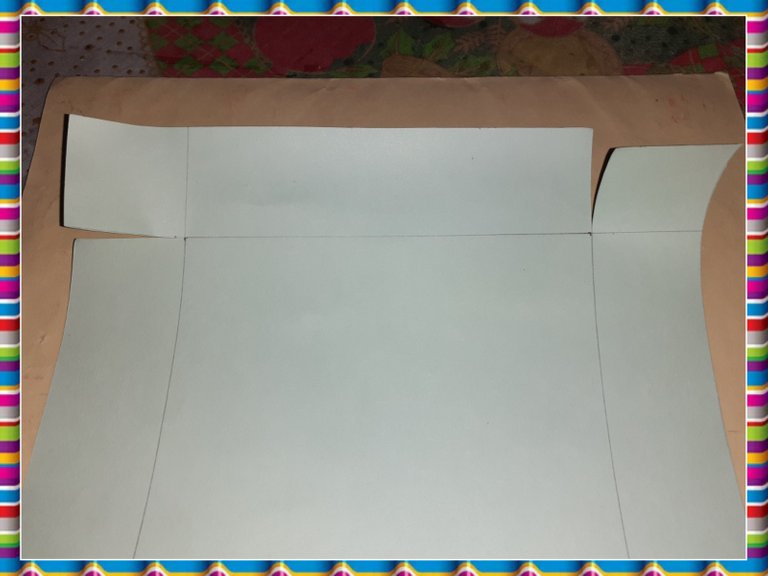 Cuando termines va a quedar así.
When you finish it will be like this.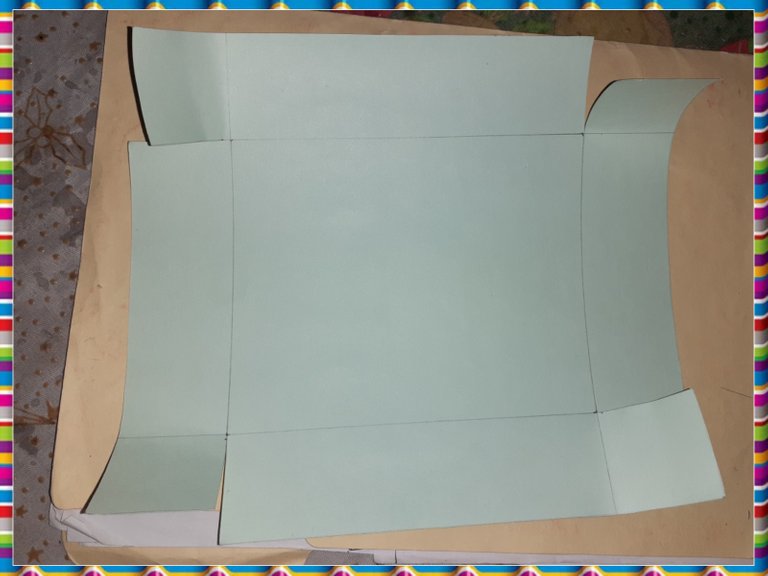 Después doblamos por donde hicimos la raya con lápiz, de esta manera.
Then we fold where we made the line with pencil, in this way.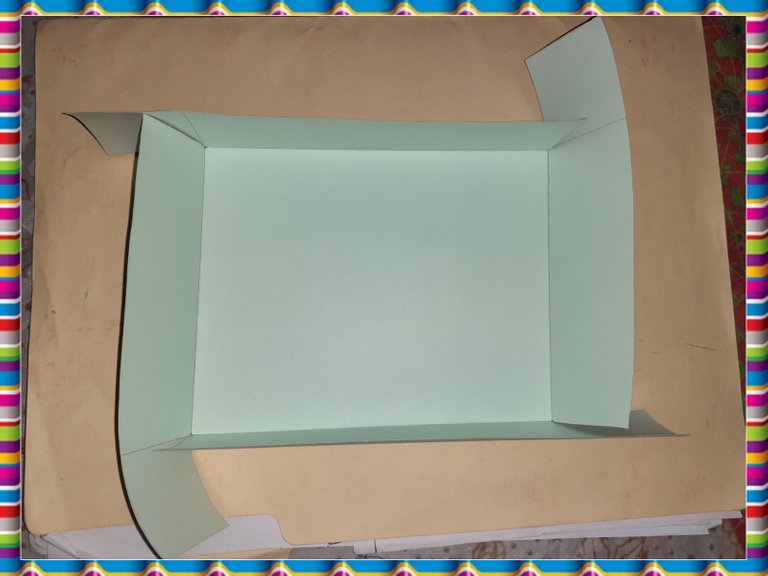 A continuación también doblamos hacia el lado de adentro las orejas que cortamos.
Next we also fold the ears that we cut to the inside side.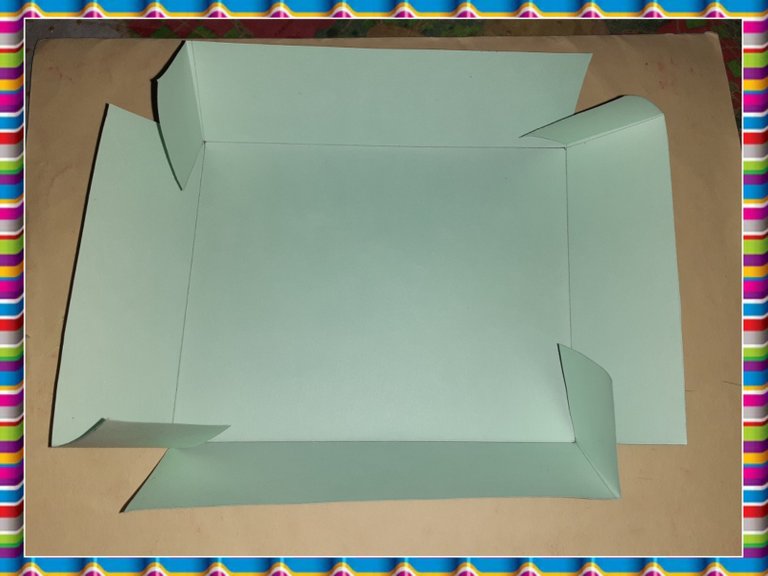 Comenzamos a pegar con mucho cuidado para no ensuciar nuestro trabajo y procurando que la oreja quede por dentro de la caja.
We began to paste very carefully so as not to dirty our work and making sure that the ear was inside the box.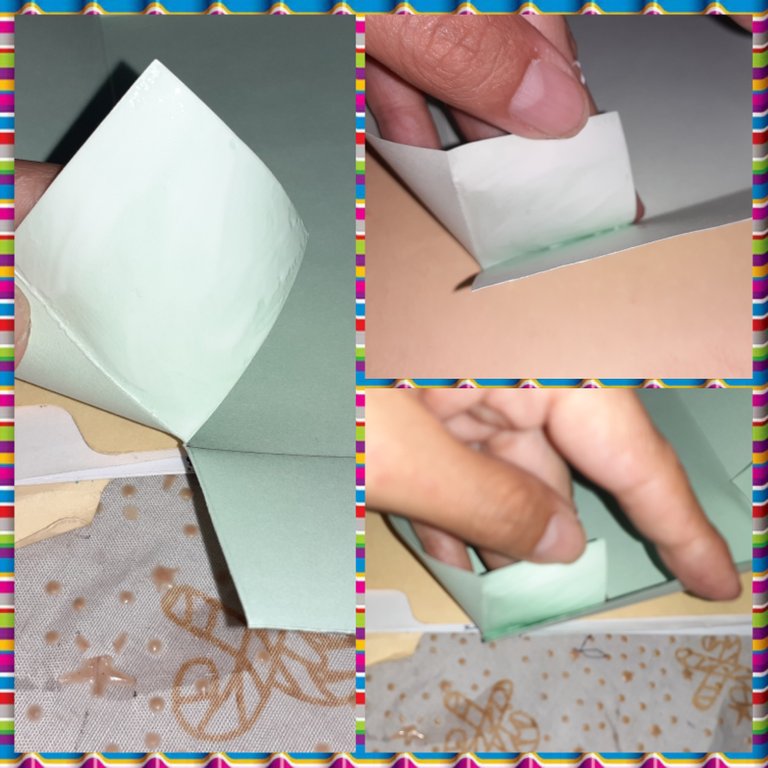 Así queda la esquina.
This is the corner.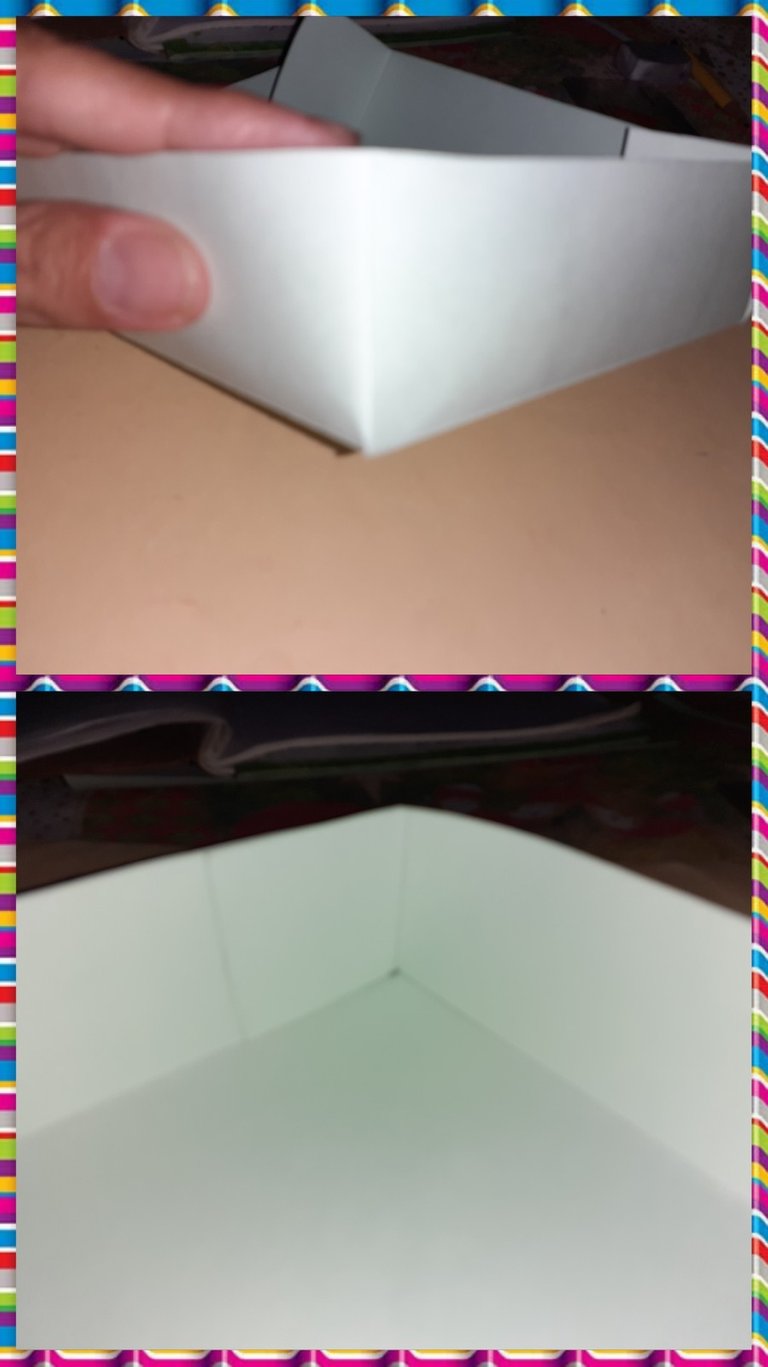 Repetimos el procedimiento con el resto de las esquinas y al final obtenemos la parte de abajo de la caja.
We repeat the procedure with the rest of the corners and in the end we obtain the bottom part of the box.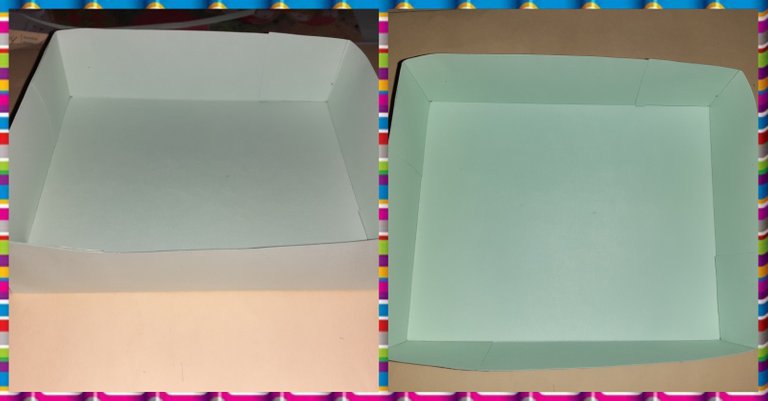 Para la tapa cortamos un rectángulo de 16,5x19,5 centímetros. Vamos a sumarle al fondo 0,5 centímetros para que la tapa entre en la caja y los lados los vamos hacer de 2 centímetro nada mas. Así que 2+15,5+2 es igual a 19,5 centímetros y 2+12,5+2 es igual a 16,5 centímetros. Con estas indicación puedes elaborar la caja de acuerdo a tus necesidades.
For the lid we cut a rectangle measuring 16.5x19.5 centimeters. We are going to add 0.5 centimeters to the bottom so that the lid fits into the box and the sides we are going to make 2 centimeters only. So 2 + 15.5 + 2 equals 19.5 centimeters and 2 + 12.5 + 2 equals 16.5 centimeters. With these indications you can make the box according to your needs.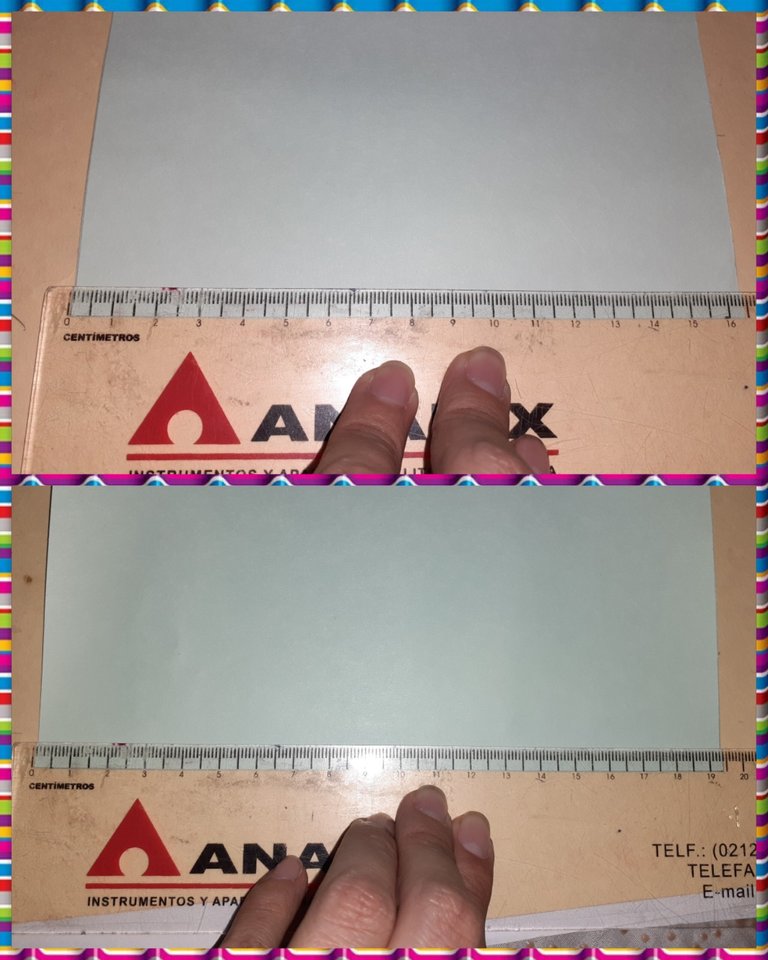 Al igual que en la primera parte medimos 2 centímetros por cada orilla del rectángulo y marcamos con lápiz.
As in the first part, we measure 2 centimeters for each edge of the rectangle and mark with a pencil.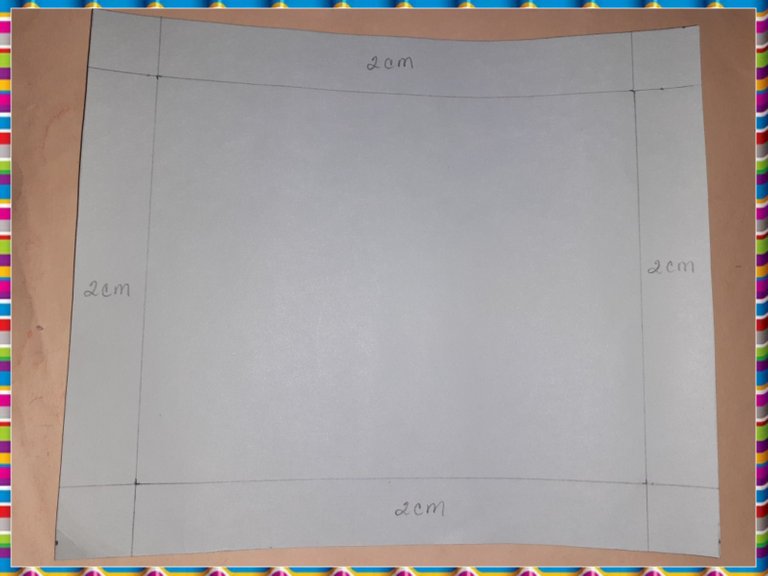 Cortamos unas orejas al igual que lo hicimos en la parte de abajo.
We cut some ears just like we did in the bottom part.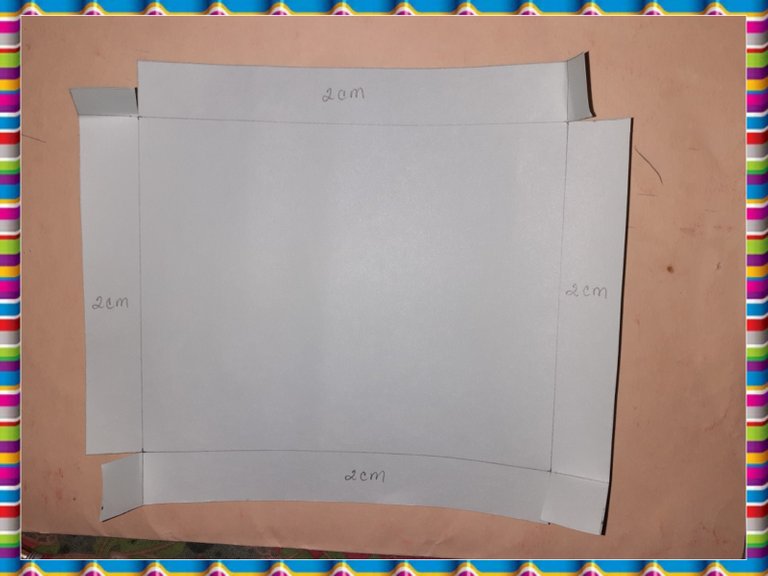 Doblamos.
We fold.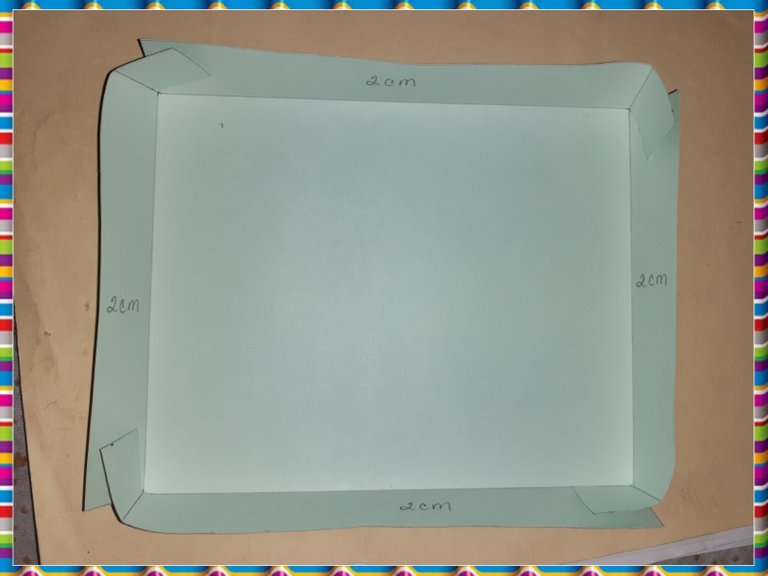 Pegamos. Recuerde que las orejas se pegan por el lado de adentro.
We hit. Remember that the ears are glued on the inside.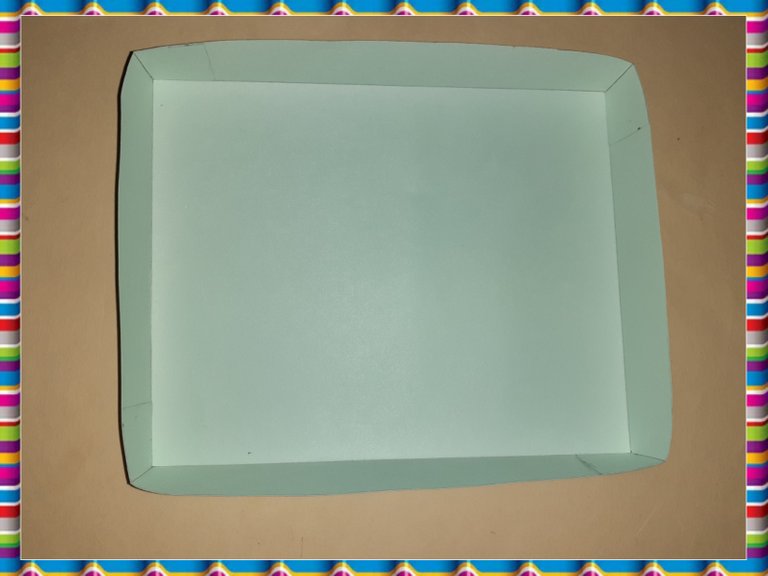 Tenemos las dos partes que se complementan adecuadamente.
We have the two parts that complement each other properly.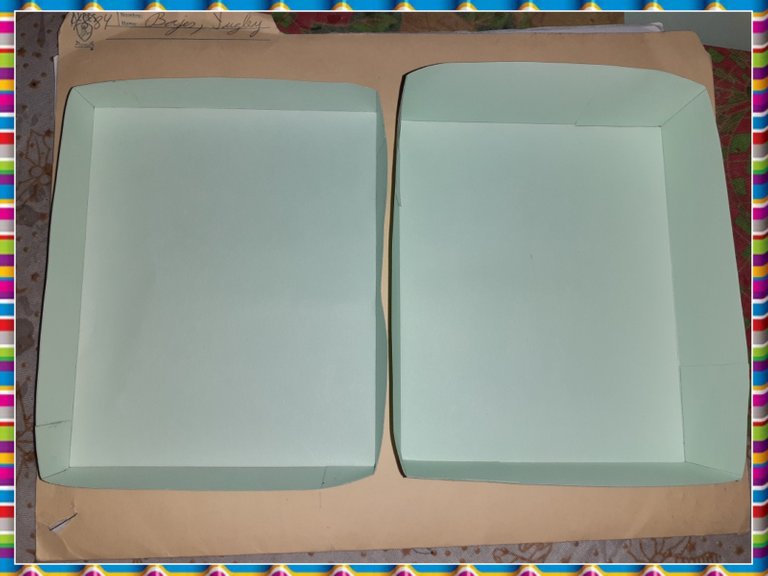 Como les comente yo las utilizo para trasladar las milhojas y por eso las medidas que uso ya que queda completa la mercancía en la caja.
As I mentioned, I use them to move the millefeuille and that is why the measures I use since the merchandise is complete in the box.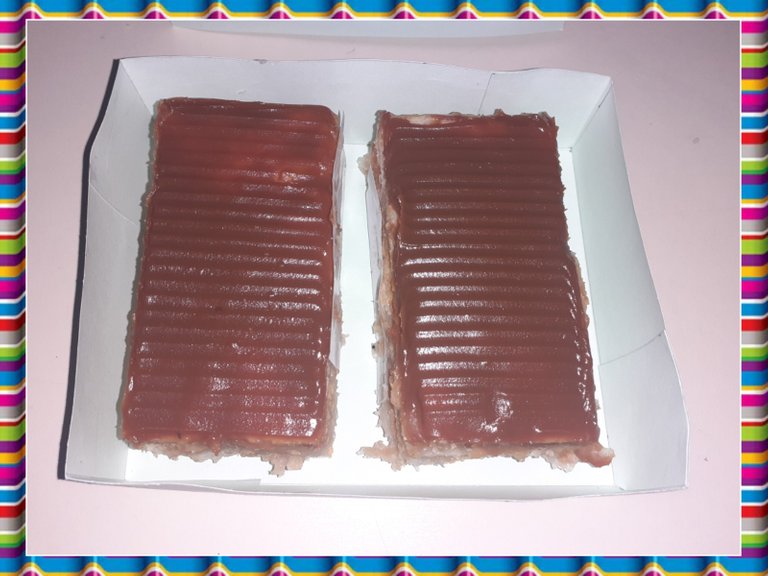 Espero que les haya gustado este tutorial y sea de gran ayuda para ustedes.
I hope you liked this tutorial and it will be of great help to you.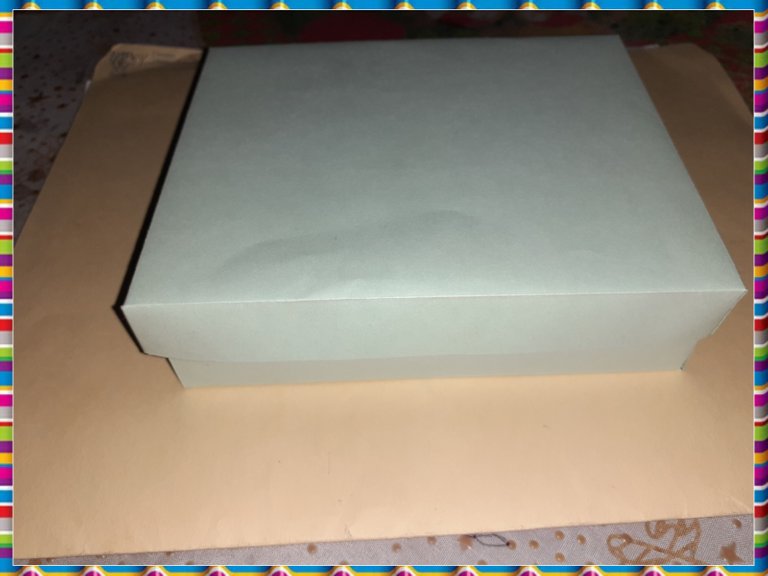 Todas las fotos son propias y editadas en la aplicación Collage Maker de mi teléfono celular.
All photos are my own and edited in the Collage Maker application on my cell phone.
HASTA LA PRÓXIMA
UNTIL NEXT TIME