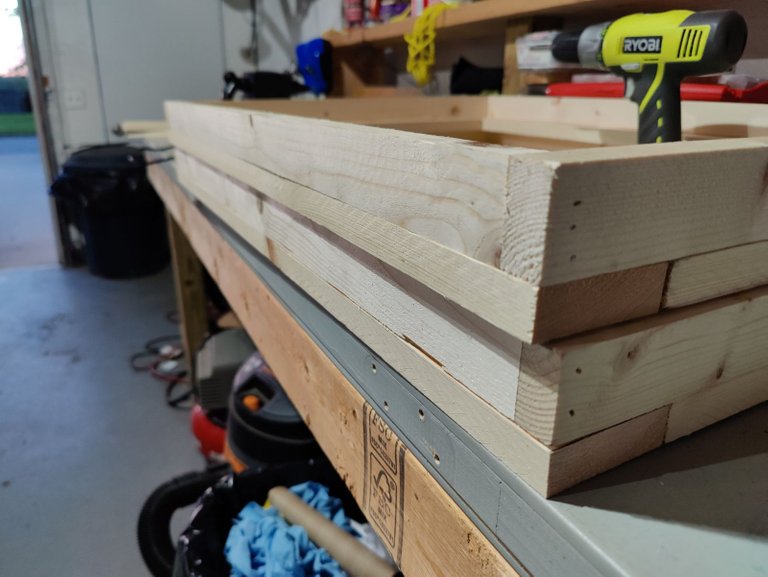 ---
You should know by now it is going to be a good time when @bozz starts busting out the power tools! Actually only three major tools were used for this build: A battery drill, miter saw, and brad nailer.
I will apologize in advance for the lack of pictures, I honestly didn't think this was going to turn out as good as it did.
My oldest niece is graduating from high school in just under a week. Given that fact, my wife sent me a message about a month ago with the picture below: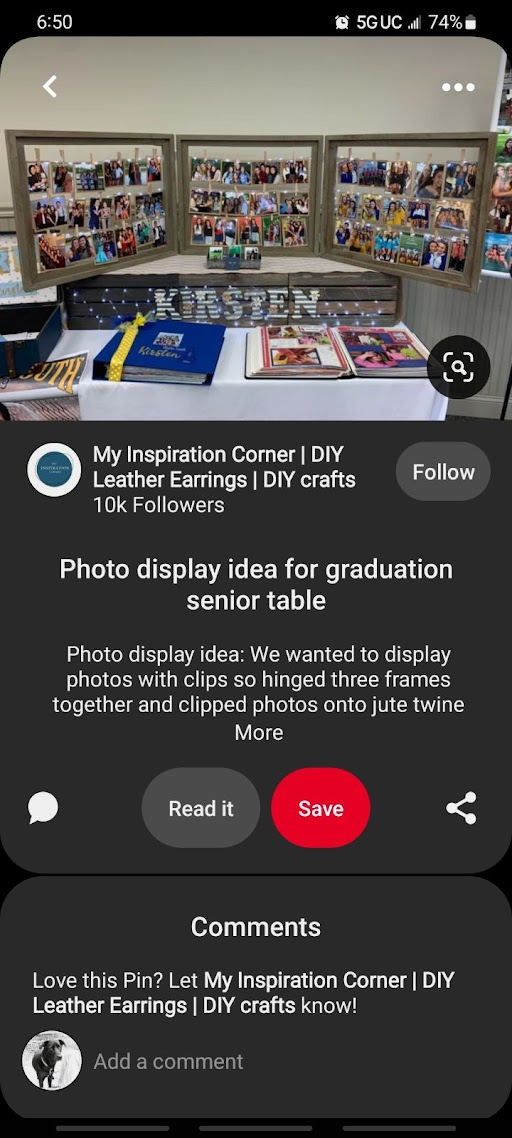 ---
She asked me if we could make something like the three fold picture frame at the top of the image. I did a little investigation and I decided that yes it should be pretty easy to accomplish. Like I was going to say no anyway...
Upon further inspection, it appeared that they had used three store-bought picture frames and attached them together. That seemed far too easy and cheap, so I decided to build the thing from scratch myself.
Looking back, it probably would have been cheaper to purchase the frames, but after a trip to the lumber yard and about $50 later, I was ready to start work.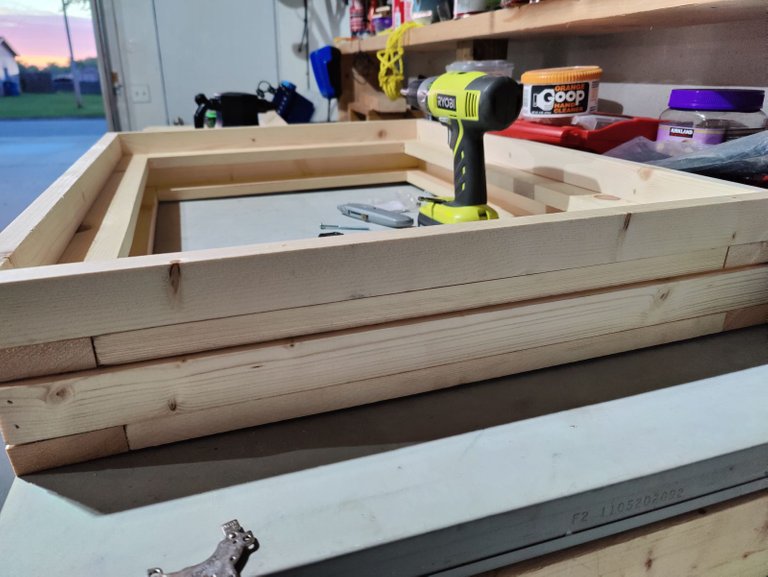 ---
Honestly, the hardest part was making sure I cut all of the boards the proper length. I didn't want to end up with one frame being obviously larger or smaller than the other one. It probably would have been better if I had bought some more premium quality lumber, but that could have easily bumped the price up to $100.
Instead, I just inspected the pieces of wood really closely for knots and warping before I purchased them. Of course building a project requires a new tool purchase as well. I picked up a nice set of nail punches since I didn't already own a set.
After the front part of the frame was assembled and fastened in place with the brad gun I flipped it over and started attaching the back pieces. My brads were a little shorter than I needed them to be, so I used some wood glue on the back piece to ensure it would stay fastened. I also adjusted the brad gun so it would shoot the brads a little deeper into the wood.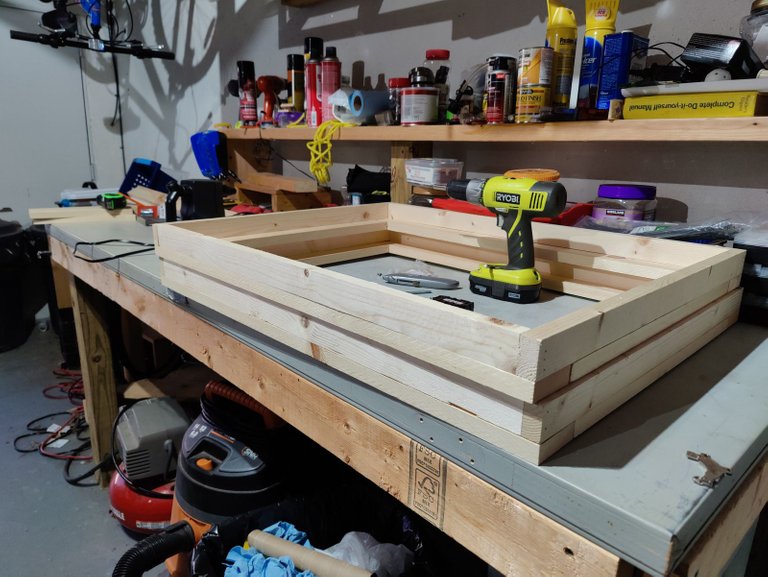 ---
Again, looking back I probably should have sanded the pieces before or after I assembled them, but I was kind of looking for a rustic look. If you look at them in the picture above, they really don't look like much. It wasn't until I added the stain that they really started to come alive.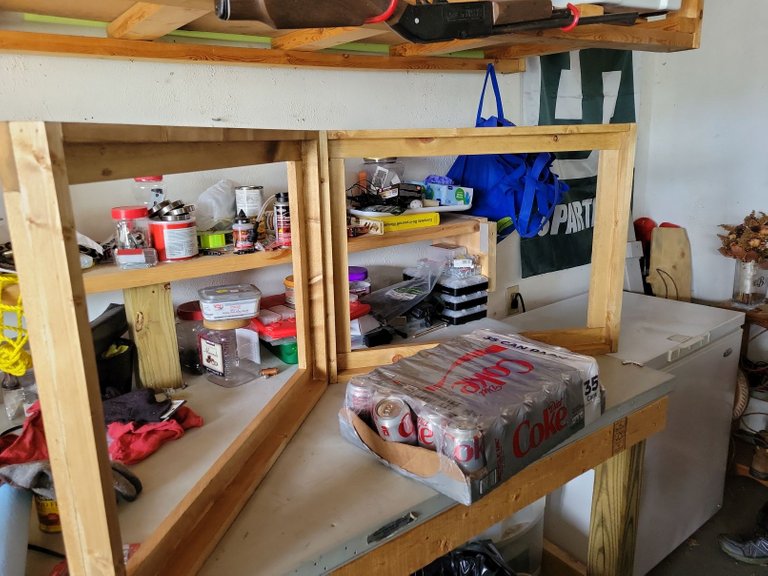 ---
Don't mind the case of Diet Coke, but you can see in the background that the frame came together really nicely. We decided on a dark walnut stain for the frames and although I think they (my niece and her mom) may have wanted it to come out a little darker, it still looks really good. I added two coats of stain just to make sure I didn't miss any spots and to make the finish a little deeper.
After the stain was dried, I used my hand chisels to carve out pockets for two hinges to be attached between the two of them. That allows the frames to fold up nicely and support each other so they don't fall over when you have the whole thing opened up.
That same day I added the hinges @mrsbozz came out and helped me attache the twine to the back with a staple gun and my nail punches to make the staples flush.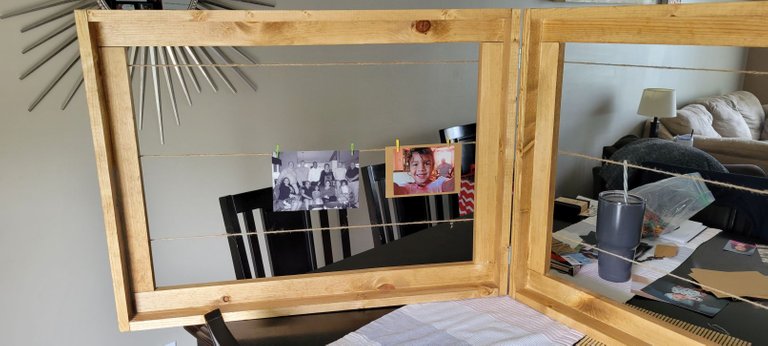 ---
Here you can see the finished product and some sample pictures that my wife attached to see how they would look. She is playing with the idea of adding a background to each one as she thinks it makes them "pop" a bit more. I would have to agree, but it might be too time consuming to add the background to each one.
I am pretty hard on myself and although every time I look at the frames I see all of the flaws and things I could have done better, I still think they turned out pretty dang good.
It is also sturdy enough that this could be used in the future for the rest of my nieces and nephews when they graduate from high school. Or other occasions too. It's crazy to think what started out as a small/simple project could turn into a multi-generational heirloom.
Or it falls apart in transit to Ohio...
Who knows!
---
---

---
All pictures/screenshots taken by myself or @mrsbozz unless otherwise sourced