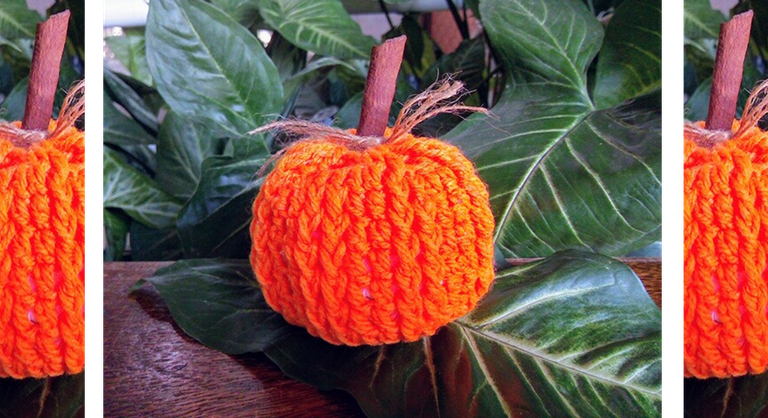 ~Hechizo de AMOR~
Ojos de sapo, ancas de rana,
que seas feliz toda la semana;
Alas de murciélago,
Cola de lombriz,
Que hoy y siempre seas muy feliz;
Muelas de hipopótamo,
Cuernos de dragón,
Que nunca nadie hiera tu corazón;
Uñas de gato,
Plumas de gallina,
que siempre te lleves bien con la vecina.


    Continuando con la celebración del mes de Halloween hoy vengo como la propia bruja a traer la fórmula de un hechizo para crear esta calabaza en crochet con tan solo unir varios ingredientes mágicos.
Halloween es una fiesta de origen pagano, que sé que se celebra el 31 de Octubre, y en el que es tradición disfrazarse. El origen de su celebración es el fin de las cosechas en Irlanda para dar comienzo al "año nuevo celta". Se pensaba que ese día los espíritus difuntos caminaban entre los vivos.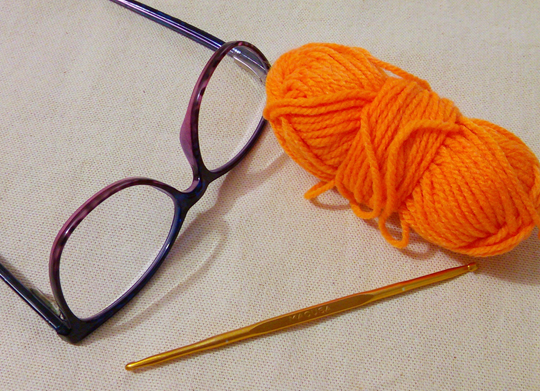 Materiales que utilicé:

Estambre naranja
Aguja #6 mm
Tijeras
Aguja lanera
Rama de canela.
---
Modo de tejer

Tejemos 30 cadenetas, cerramos con punto deslizado con la primera cadeneta para formar un círculo, luego tejemos 3 cadenetas que equivalen a nuestro primer punto alto, continuamos tejiendo un punto alto para cada cadeneta de base.
Ahora vamos obtener punto en relieve, iniciamos esta vuelta con tres cadenetas, en el siguiente punto de base tejemos un punto alto, ahora en los siguientes dos puntos de base formamos dos puntos relieve, luego dos puntos altos y repetimos dos puntos relieve, así continuamos hasta terminar la vuelta con punto deslizado en la 3ra cadeneta de inicio.

Seguimos repitiendo el mismo proceso de la vuelta anterior hasta tener el tamaño deseado. Cortamos la hebra y hacemos una puntada de seguridad.

Con una aguja lanera y una hebra de hilo recogemos el círculo y cerramos con algo de precio. Luego por el otro lado rellenamos y cerramos la abertura de la misma forma. Colocamos una rama de canela o un palito de madera y listo.
Una sorpresa más.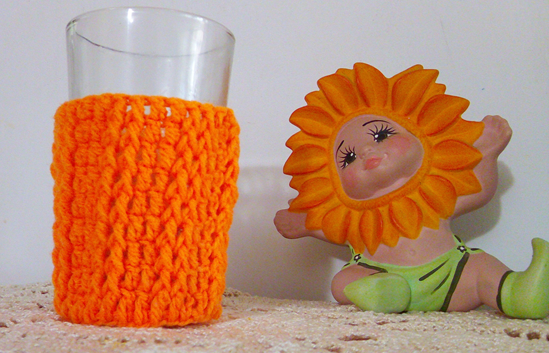 Con el tejido en crochet no paran las sorpresas, como ven con este mismo tejido podemos formar unos protectores de vasos con motivo de Halloween, si podemos colocamos ojos y detalles para formar la cara de la calabaza y así tenemos algo más para decorar. Hasta aquí llega mi tutorial de hoy, creo que hasta que termine el mes pienso hacer muchos proyectos sencillos que siempre veo y me provoca guardarlos y hacerlos en estos días. Les digo hasta luego y cuídense mucho de las brujas que andan por allí con sus pésimas y embrujos.
---
Post in english
---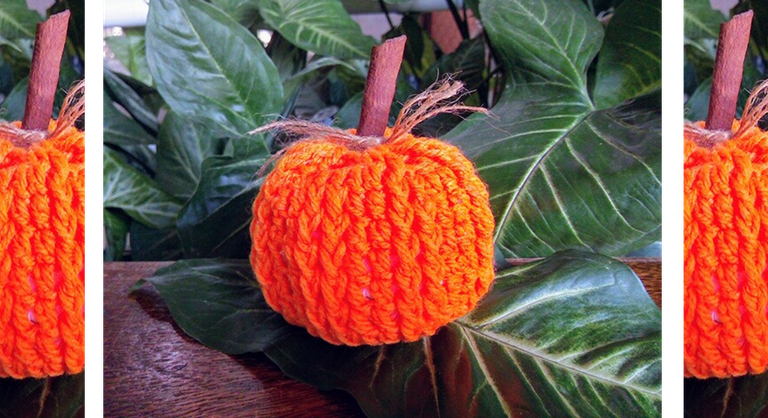 ~Love Spell~
Eyes of frog, legs of frog,
to be happy all week;
Bat wings,
Worm tail,
May you be very happy today and always;
Hippopotamus teeth,
Dragon horns,
May no one ever hurt your heart;
Cat's claws,
Chicken feathers,
that you always get along with your neighbor.


Continuing with the celebration of the month of Halloween today I come as the witch herself to bring the formula of a spell to create this pumpkin crochet with just join several magic ingredients.
Halloween is a holiday of pagan origin, which I know is celebrated on October 31st, and in which it is traditional to dress up. The origin of its celebration is the end of the crops in Ireland to start the "Celtic New Year". It was thought that on this day the dead spirits walked among the living.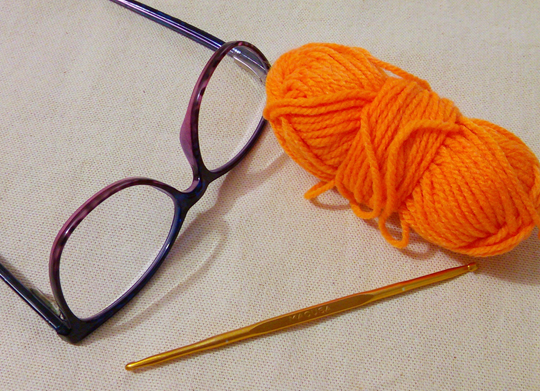 Materials I used:

Orange yarn
Needle #6 mm
Scissors
Wool needle
Cinnamon branch.
---
knitting mode

We weave 30 chains, we close with a sliding stitch with the first chain to form a circle, then we weave 3 chains that are equivalent to our first high stitch, we continue weaving a high stitch for each base chain.
Now we are going to obtain relief stitch, we begin this turn with three chains, in the next base stitch we knit a high stitch, now in the following two base stitches we form two relief stitches, then two high stitches and we repeat two relief stitches, this way we continue until finishing the turn with slipped stitch in the 3rd chain from the beginning.

We keep repeating the same process of the previous round until we have the desired size. We cut the thread and make a safety stitch.

With a wool needle and a thread thread we pick up the circle and close it with some price. Then on the other side we fill and close the opening in the same way. We put a cinnamon stick or a wooden stick and that's it.
One more surprise.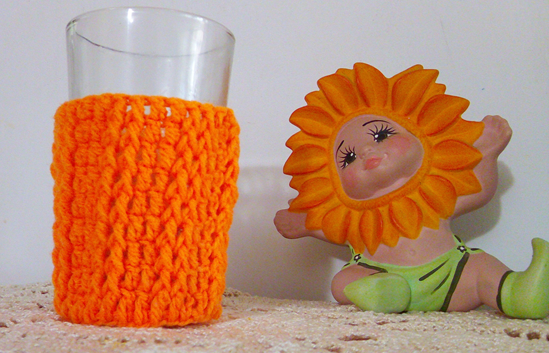 With the crocheted fabric there are no surprises, as you can see with this same fabric we can form some cup protectors for Halloween, if we can put eyes and details to form the face of the pumpkin and we have something else to decorate. So much for my tutorial today, I think that until the end of the month I plan to do many simple projects that I always see and it makes me save them and do them these days. I'll say goodbye and beware of the witches who are out there with their lousy spells and bewitchments.***
QUÉDATE EN CASA/ Stay at home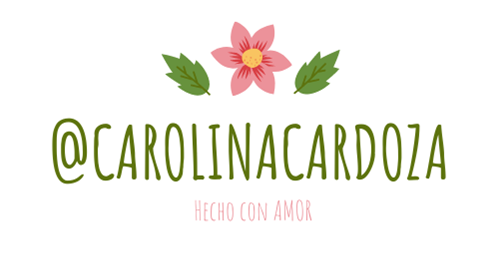 Imágenes tomadas con mi cámara celular Kronos-net